In need of a change? Here's how to make the most flavorful vegan butter chick'n – healthy, easy, creamy, and bursting with exotic aromas!
Ah, the Indian gastronomy… truly one of the most flavorful cuisines in the entire world, if you ask me! Although I love everything about Asian food, regardless if we're talking about Chinese dishes, Japanese soups, or a good Thai curry, nothing compares with an Indian stew. Indian flavors and spices are just so special and intense!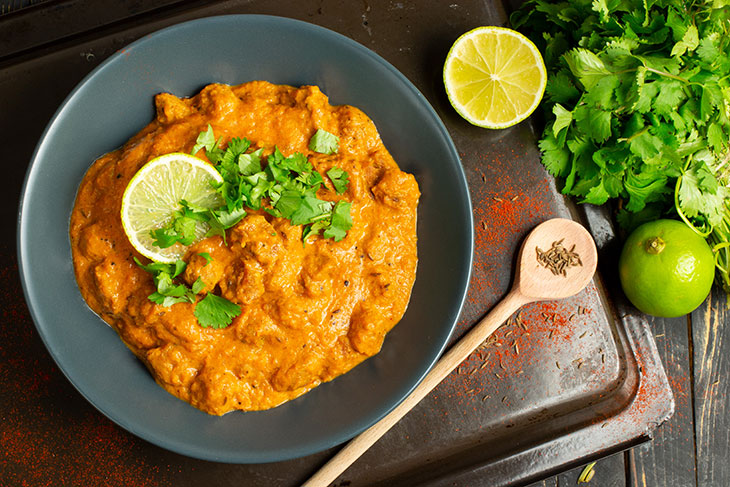 Butter chicken is a super popular Indian dish, consisting of chicken cubes (of course) and a rich, creamy dairy-tomato sauce, which is usually only mildly spicy. Butter chicken is usually served over rice, with a drizzle of lime on top, for one of the best lunches or dinners you can think of.
The good news: butter chicken is so easy to 'veganize'! Although the traditional dish contains both meat AND dairy, I have found an excellent recipe that perfectly mimics the original taste and texture. Are you ready for the best vegan butter chick'n you ever tasted? I hope so! 😉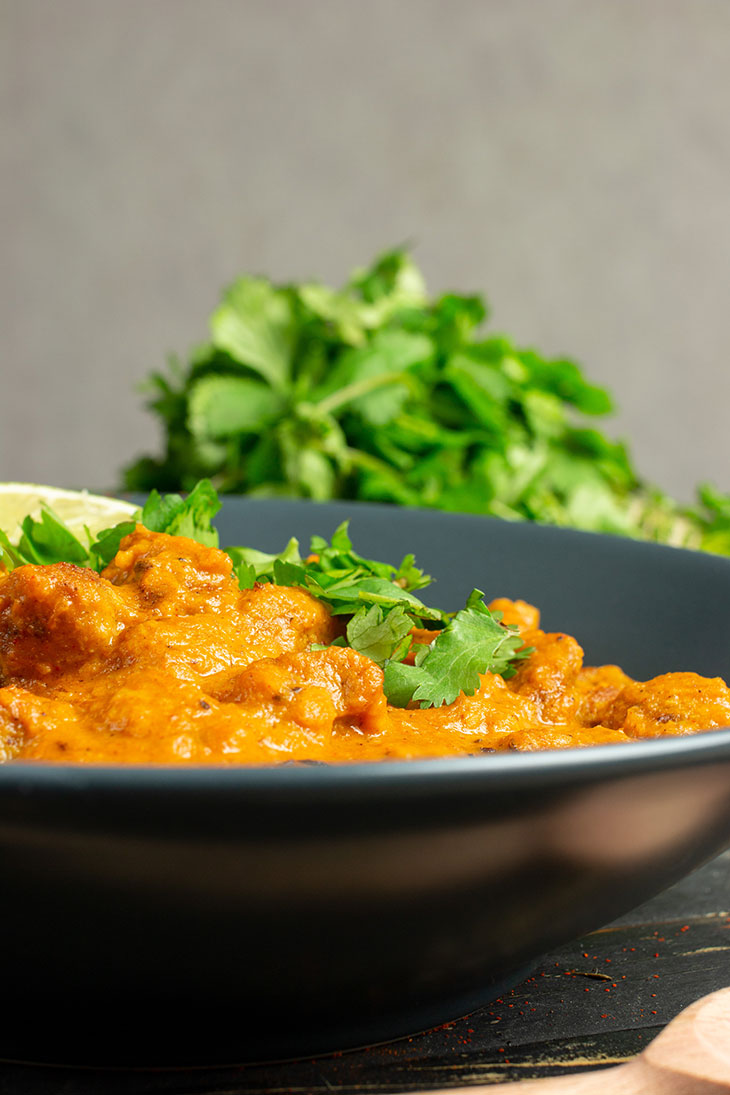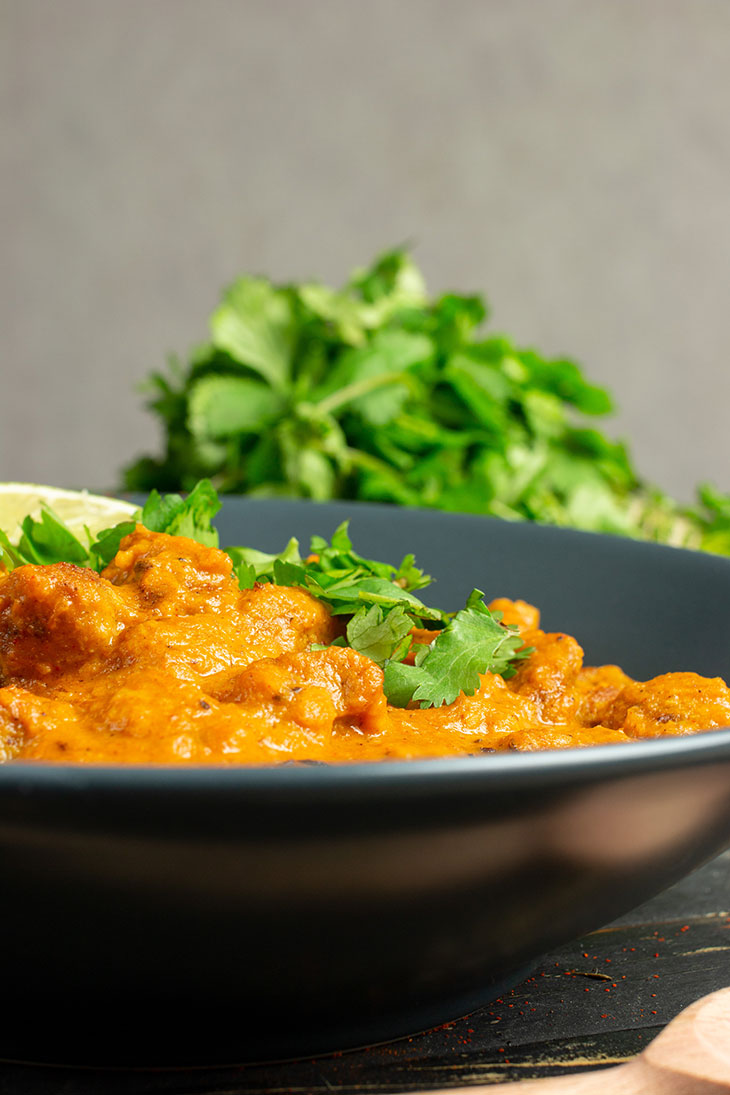 Now, there are many versions of this vegan recipe and you'll quickly discover this after a fast Google search. You can make vegan butter chicken with tofu cubes, cauliflower, chickpeas, or, my option for today – textured soy protein (TSP) cubes! Although all these options are super good and healthy, I opted for textured soy protein because it perfectly mimics the meat's texture and it absorbs all the spices and sauces like a sponge. This is exactly what we want for this dish!
If you're dreaming of a saucy, creamy vegan butter chick'n, then TSP is your top choice. The vegan chicken will end up being chewy and extremely rich in flavor – some might even consider this better than the real chicken, haha!
In order to make this flavorful vegan butter chick'n, you'll need, besides your base ingredients, some carefully chosen spices. And I'm talking about Indian spices, of course! Except for cloves, chili powder, cumin, ground coriander, and salt, which are very easy to find, the key to a real butter 'chicken' is garam masala.
In case you never heard of this spice, you're in for a real treat! Garam Masala is actually a wonderful spice mix that goes into many traditional Indian dishes. The mix usually contains the following spices, ground to a fine powder: cumin, cardamom, black pepper, cinnamon, cloves, nutmeg, and coriander. You can find garam masala online or in different specialty shops.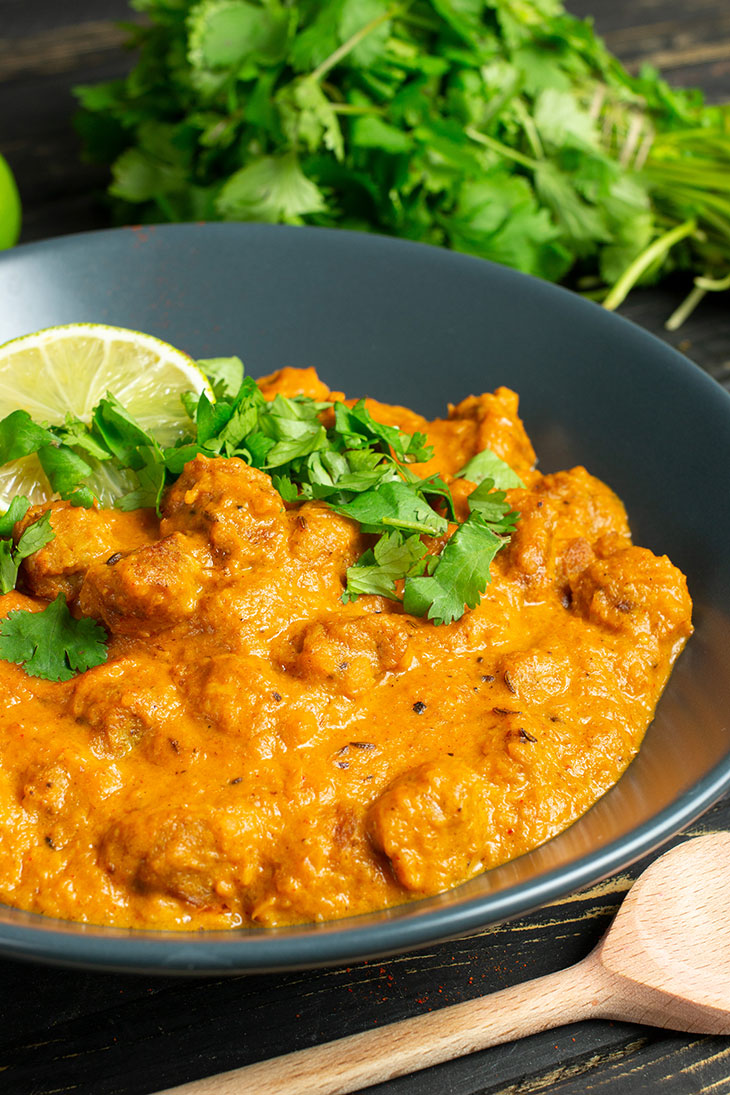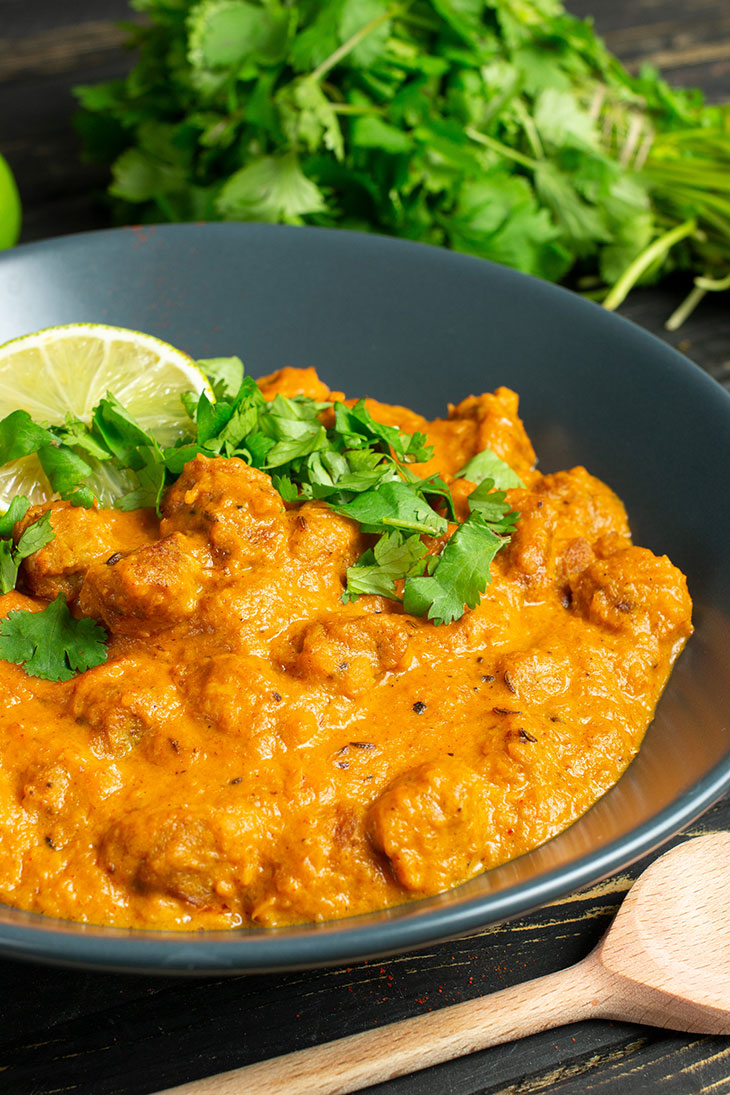 Okay, what about the name? I didn't mention anything about butter until now, although the dish is called butter chicken. Well, yes, you'll need some butter in order to make the traditional recipe but, luckily for us vegans, there are options for vegan butter in all supermarkets. I also used coconut milk for this recipe (instead of the dairy cream, of course) for an extra taste kick. Yum!
The end result? A creamy, dense, and flavor-rich dish that everyone will love, even avid meat-eaters. Everyone will ask for seconds and nobody will feel like the meat is missing. That's a promise!
Now that you know everything about the basics and spices, let's talk about the process for a bit. The good news is that this vegan butter chick'n only takes about half an hour to make – which makes it perfect for a weekday dinner together with your family!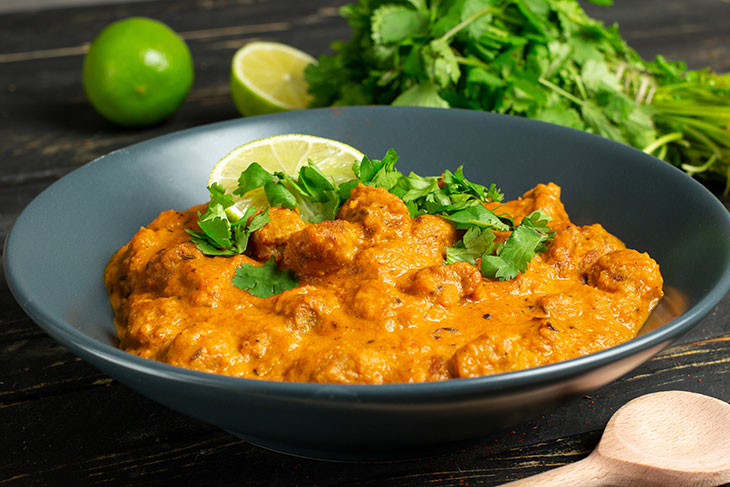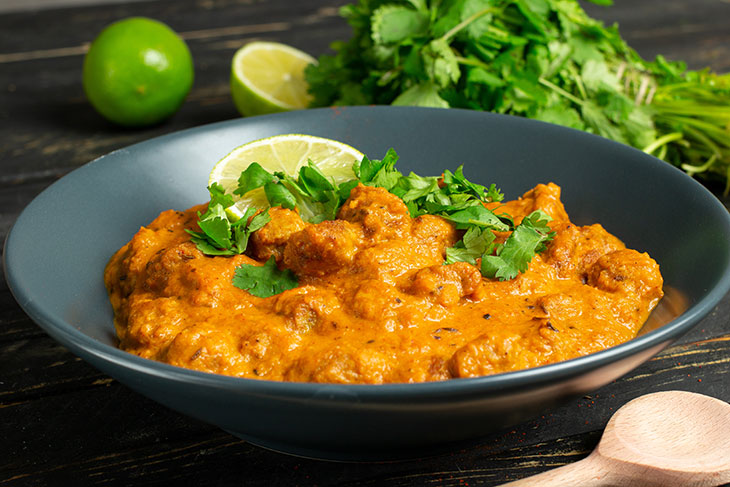 I simply love serving this vegan butter chicken with a bit of fresh cilantro and freshly squeezed lime on top. It's more flavorful this way and more refreshing, too! Boil or steam some fluffy Basmati rice to eat as a side dish (maybe you can fry it a bit in a bat with some vegan butter too!) and your meal is done. Alternatively (and even better, if you ask me), you can make some cauliflower rice as well as a healthier option. Or you can bake some fresh, hot naan bread. Ahhh, so many good options!
Healthy, delicious, and super special – what more can you wish for? And remember: a good vegan butter chick'n is all about the sauce. So regardless if you're choosing to use chickpeas, tofu, or textured soy protein as the main protein source for this dish, make sure you don't mess with the sauce and you're good to go.
I hope I've already convinced you to try this amazing recipe for vegan butter chick'n. Although the spice list is pretty long, don't stress! The recipe is actually extremely easy to make and it will be ready in less than half an hour, as I mentioned.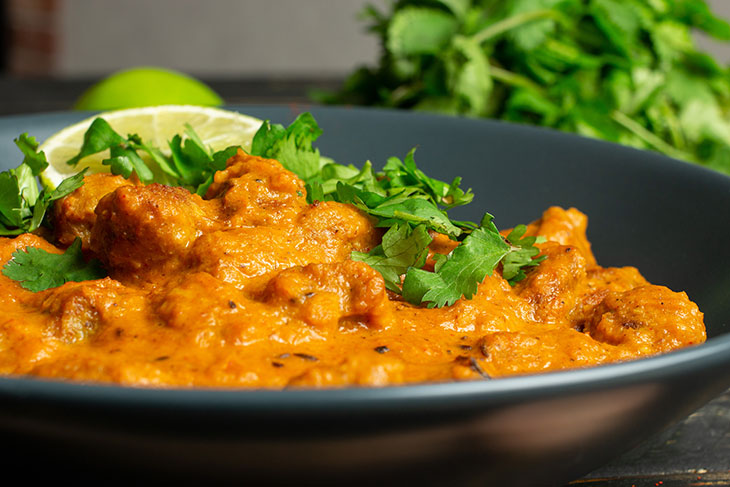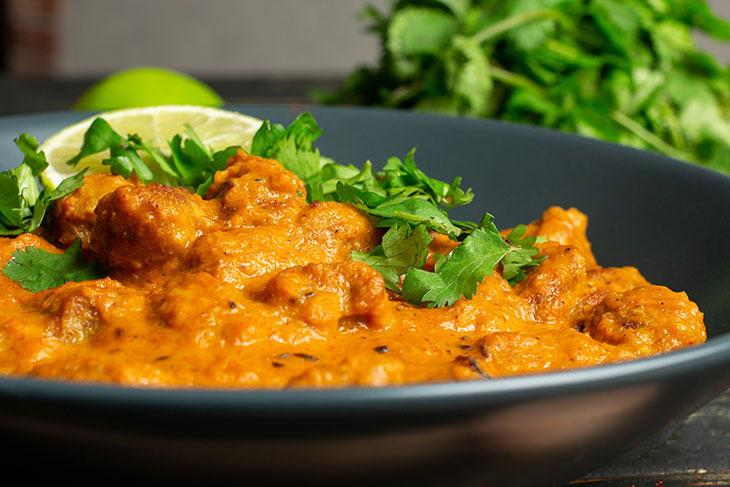 So what are you waiting for? Let's get cooking!
Yield: 2
Vegan Butter Chick'n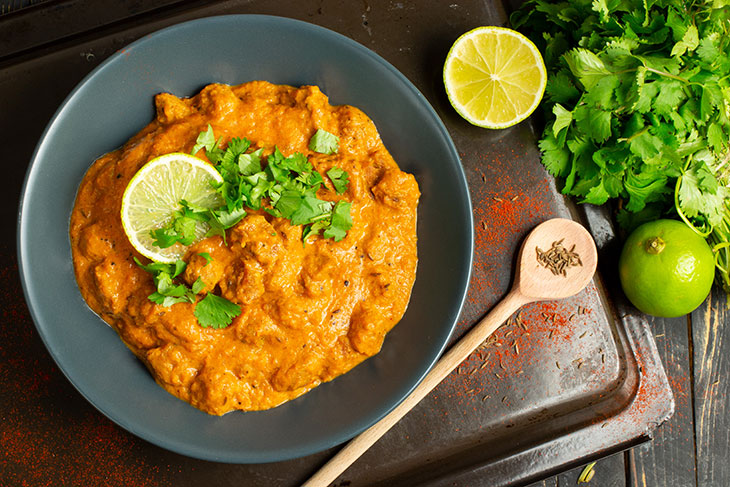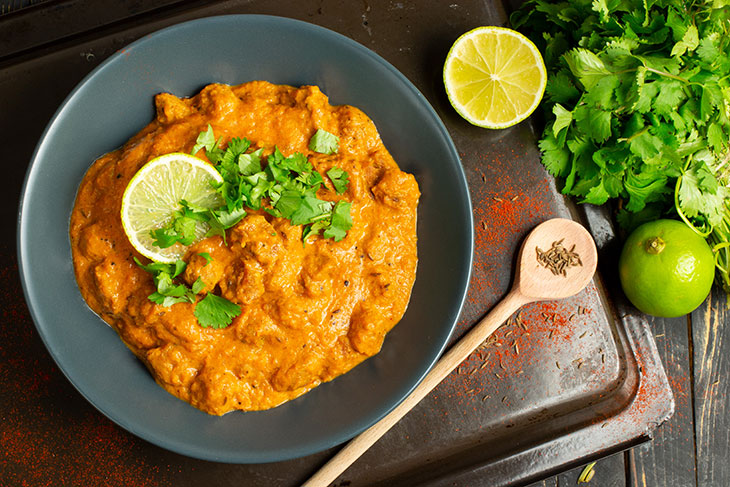 In need of a change? Here's how to make the most flavorful vegan butter chick'n – healthy, easy, creamy, and bursting with exotic aromas!
Ingredients
For the chick'n:
50g (½ cups) textured soy protein, cubes
1 tsp minced ginger
2 garlic cloves, minced
1 Tbsp garam masala
1 Tbsp coconut oil
For the sauce:
1 medium white onion, sliced
200g (1 cup) crushed tomatoes
2 garlic cloves, minced
¼ tsp chili powder
2 tsp ground coriander
1 tsp cumin powder
¼ Tbsp garam masala
2 Tbsp coconut oil
100ml (3.4 oz) coconut milk
Fresh cilantro
Fresh lime
Salt
Instructions
In a pot, bring some water to a boil, add the soy cubes and cook for 10-15 minutes.
Drain well and transfer to a bowl. Add ginger, garlic, garam masala, and coconut oil and set aside for 30 minutes.
In a pan, sautee the onion and garlic in 1 Tbsp of coconut oil.
Transfer to a blender with the tomatoes, ginger, all the spices and blend until it becomes a paste.
Add the remaining oil to the pan and fry the soy cubes for 3-5 minutes, stirring constantly.
Add the sauce and coconut milk. Cook for 5-7 minutes.
Season with salt to taste.
Serve with fresh cilantro and lime.
Nutrition Information
Yield
2
Amount Per Serving
Calories

368
Total Fat

25g
Saturated Fat

19g
Trans Fat

0g
Unsaturated Fat

4g
Cholesterol

10mg
Sodium

514mg
Carbohydrates

23g
Fiber

5g
Sugar

11g
Protein

19g
I strive to keep the information as accurate as possible but make no warranties regarding its accuracy. I encourage you to make your own calculations using your preferred nutrition calculator.