Sweet and refreshing? Yes, please! Here's how to make the best chocolate and lime tart – vegan, healthy and super addictive, trust me!
Chocolate and orange is a flavor combo loved by many, but have you ever considered chocolate and lime? If not, you should – it's really delicious! 🙂 I actually got the idea for this amazing tart because of Prajiturela's amazing and nation-famous lime tart (which I got to try during an Uber Eats campaign and I instantly fell in love), which I 'veganized' and combined with my key lime pie recipe.
What makes this combination so great and exotic is, yet again, its contrast, which our taste buds love. Chocolate is so sweet and creamy that sometimes we need to add an opposing flavor to get the best of it. That's why a pinch of salt works so well in any chocolate dessert, and that's also why we love flavors such as salted caramel.
But what about sweet and tangy? People don't really talk about this combo, do they? 😉 And it's a shame, because it works just as well, resulting in a fresh, exotic dessert. The tanginess of the lime is perceived by our taste buds as a nice break from the (sometimes) overly sweet chocolate. And it leaves us wanting more!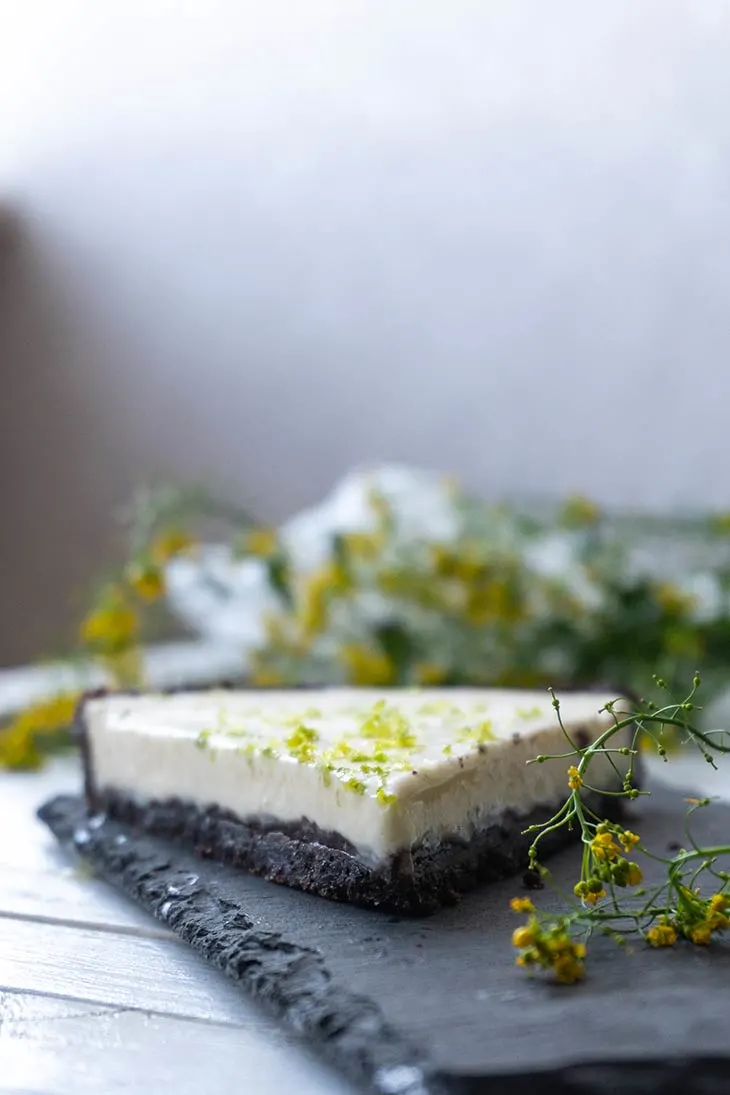 But limes are pretty amazing and interesting by themselves, as well, and sometimes they do not get as much credit as other citrus fruits, such as lemons. Limes have higher contents of sugars and acids than lemons do, which is why they're so great in cocktails, adding just the right amount of sweetness to the beverage. Just think how amazing limes work in gin and tonics!
They also have a very distinct, lovely floral aroma, which is why they're widely used in aromatherapy, for example – think candles, perfumes, essential oils.
As you might have guessed, limes are also loaded with nutrients, helping boost your immunity, reducing heart disease risk factors, preventing kidney stones and so many more. Due to their high vitamin C content, they also aid iron absorption and promote healthy skin. And speaking of vitamin C, did you know that limes were a huge part of the lives of 19th-century British sailors?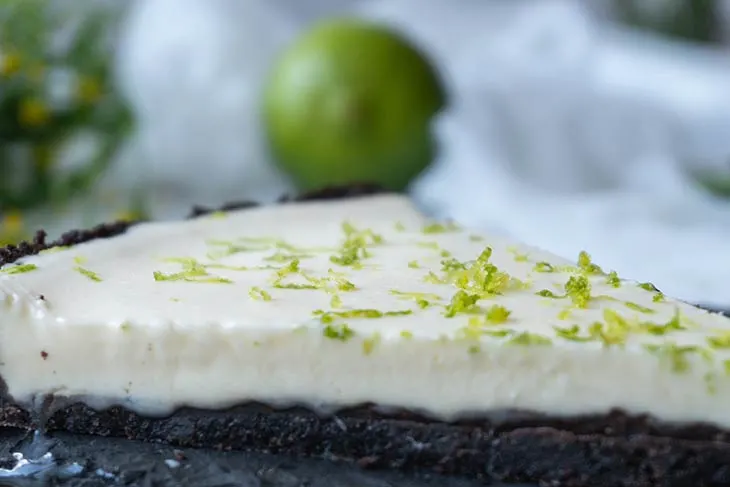 To prevent scurvy, they were issued a daily allowance of citrus – first, it was lemon, then it switched to lime. British sailors acquired the nickname "Limey" because of that – I found this unexplainably cute. 🙂
One whole, medium lime provides you with 1.9 grams of fiber, 22% of the reference daily intake of vitamin C, and also vitamin B6, thiamine, and potassium. They also contain small amounts of riboflavin, niacin, folate, phosphorus, and magnesium. Limes are also an important source of antioxidants, which we all know are great for our bodies and health in general.
So now that we know all about limes, what about this tart? And why is it so great? Well, first of all, it's refreshing. I like to think about it as one of those perfect summer desserts. It's amazing when served right out of the fridge on a hot summer day. And the lime makes it feels so exotic, you know? I just love it.
It also feels fancier and way more complicated to put together than it actually is. In reality, it's one of those desserts that you can basically make if you have zero experience in the kitchen. But that doesn't make it any less decadent and spectacular. If you bring this to a party, I can guarantee it's going to be the main star of the evening and everybody's going to be impressed by it.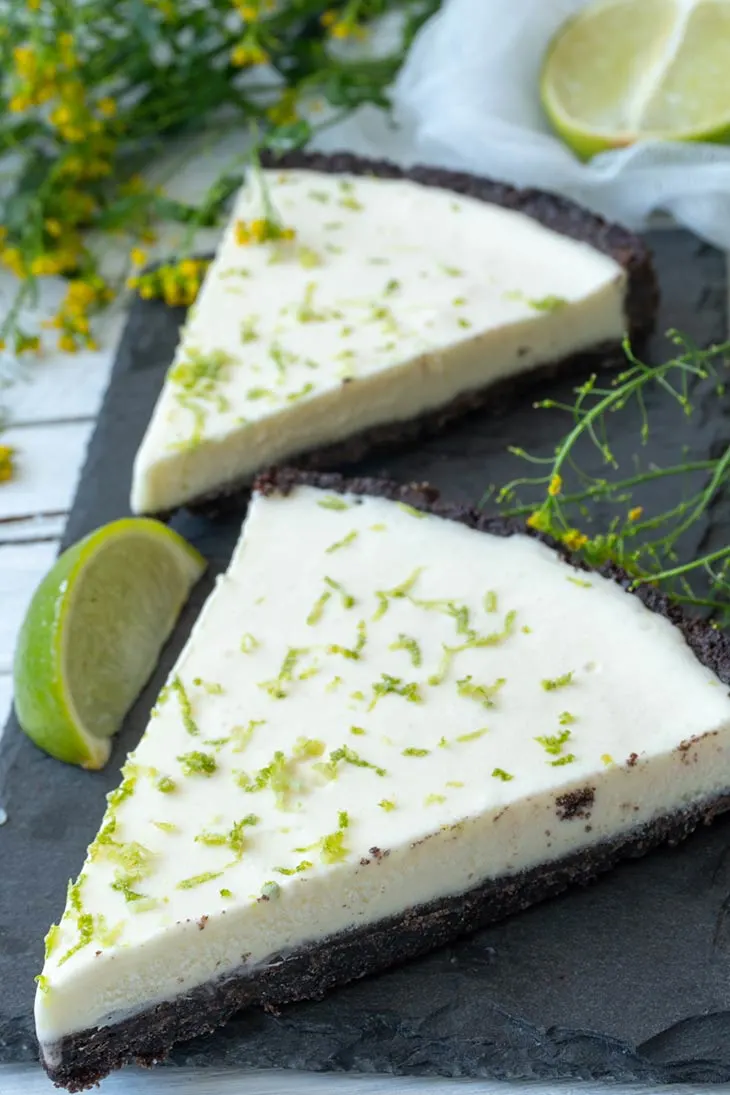 This recipe is also fairly easy to veganize. Easy peasy lemon squeezy. I meant limey… squeezy? Oh well. Bottom line is, it's a recipe that both vegans and non-vegans are going to enjoy because it's too delicious to care about its ingredients! 🙂
I love having this as an evening dessert option, for when that sweet tooth hits me hard. It fills the spot just right.
It goes amazingly well with a cup of iced coffee or ice tea. Great options would obviously be lemon, but also Earl Grey with a dash of milk or plant-based milk. This recipe just screams 'summer', so what best to pair it with than a cold drink of your choice, right?
Of course, if you want to spice things up a bit, you can also pair it with your favorite cocktail. A great option would be, as I mentioned above, gin and tonic with a squeeze of lime, but you can also opt for a lime mojito, a Moscow Mule, or the classic Cuba Libre.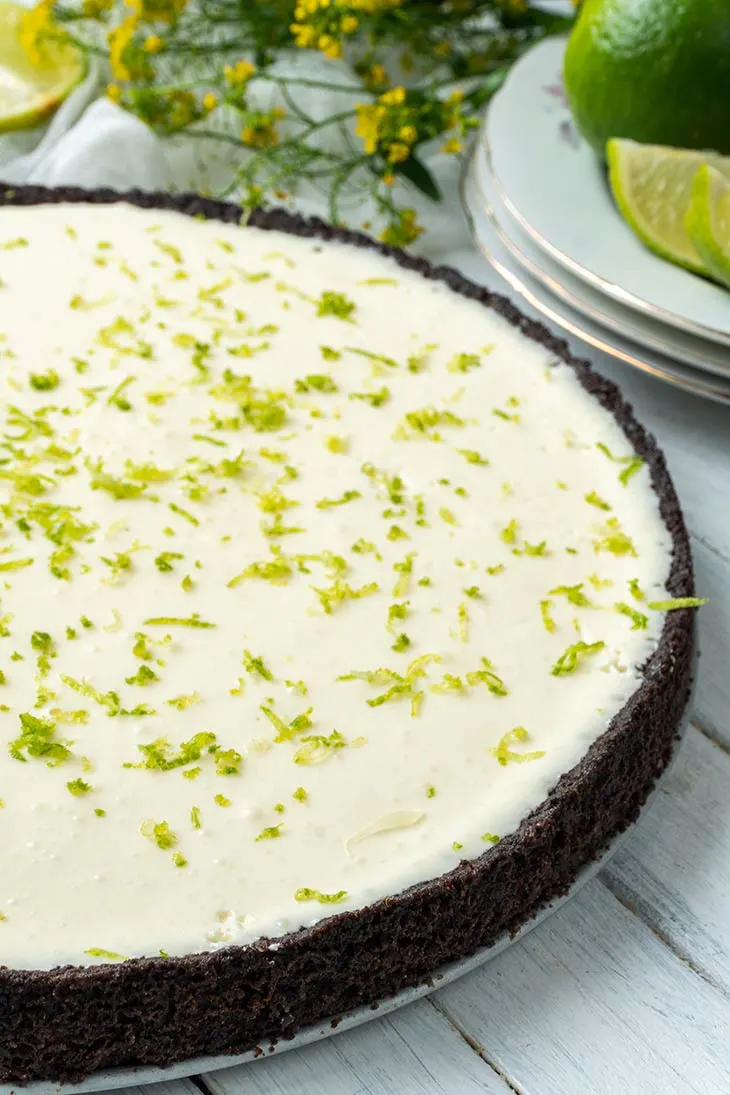 I hope you're going to try out my chocolate and lime tart. Now that the weather is starting to be all nice and hot, it's time for it to shine – it would be a shame if you didn't give it a chance, wouldn't it? 🙂
---
Personalized meal plans and workout videos | Get your customized meal plan today! [x_button shape="square" size="mini" float="none" target="blank" href="https://shop.gourmandelle.com/?utm_source=mainsite&utm_medium=site&utm_campaign=inpost" info="none" info_place="top" info_trigger="hover"]I WANT A MEAL PLAN![/x_button]
---
Yield: 8 servings
Chocolate and Lime Tart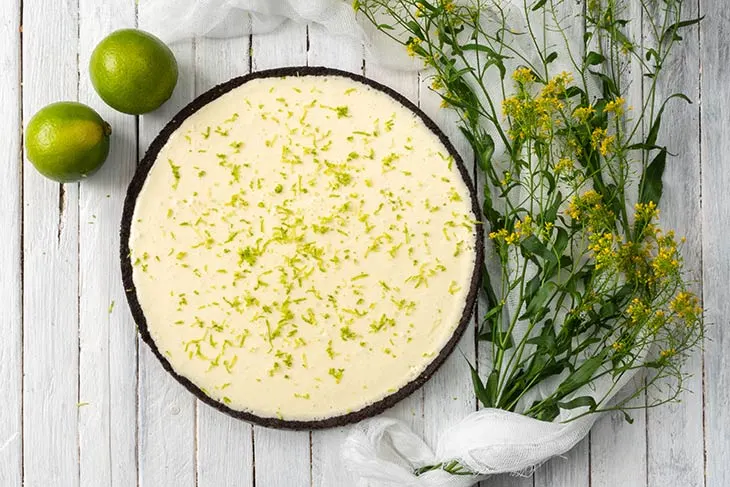 Sweet and refreshing? Yes, please! Here's how to make the best chocolate and lime tart - vegan, healthy and super addictive, trust me!
Ingredients
Base:
200g (2 cups) Oreo, remove the filling
70g (4-5 Tbsp) vegan butter, melted
Cream:
1 can (400g | 13 oz) coconut cream
240ml (1 cup) coconut water
100g (½ cup) sugar or stevia powder
2 Tbsp lime juice
½ tsp lime zest
2 tsp agar-agar
Instructions
Add the Oreos to a food processor (remove the filling of the Oreos) and grind into fine crumbs.
Combine the Oreo crumbs with the melted butter.
Pour the mixture into the pie pan and press into an even layer on the bottom and up the sides.
Refrigerate it for 30 min.
Stir together coconut cream, coconut water, agar-agar powder, and sugar in a pot.
Bring to a boil over medium heat.
Keep stirring with a whisk until the sugar and agar-agar powder is dissolved.
Turn off the heat and add in lime juice.
Pour it over Oreo crust and place in the fridge for at least 1,5-2h.
Sprinkle with lime zest before serving.
Nutrition Information
Yield
8
Amount Per Serving
Calories

330
Total Fat

16g
Unsaturated Fat

0g
Carbohydrates

44g
Protein

2g