Refreshing? Sweet? Healthy? Yep, I'm talking about this amazing vegan strawberry tart! Give it a try and I'm sure you won't regret it – it's the perfect summer dessert!
Who doesn't love strawberries? I think we all do. You already know *I* do for sure – I've talked a lot on this blog about my love for this wonderful fruit. How it reminds me of summer, childhood, and carefree times. And how I always find ways to incorporate it into delicious desserts. Cause what's better than plain strawberries? An amazing strawberry dessert which screams 'summer'! 🙂
My opinion is that strawberries are so delicious and versatile that you can include them in basically any dessert variation. From ice creams and milkshakes to cakes and cookies, strawberries are amazingly rich in flavor, they add sweetness and texture, plus they provide a lot of health benefits.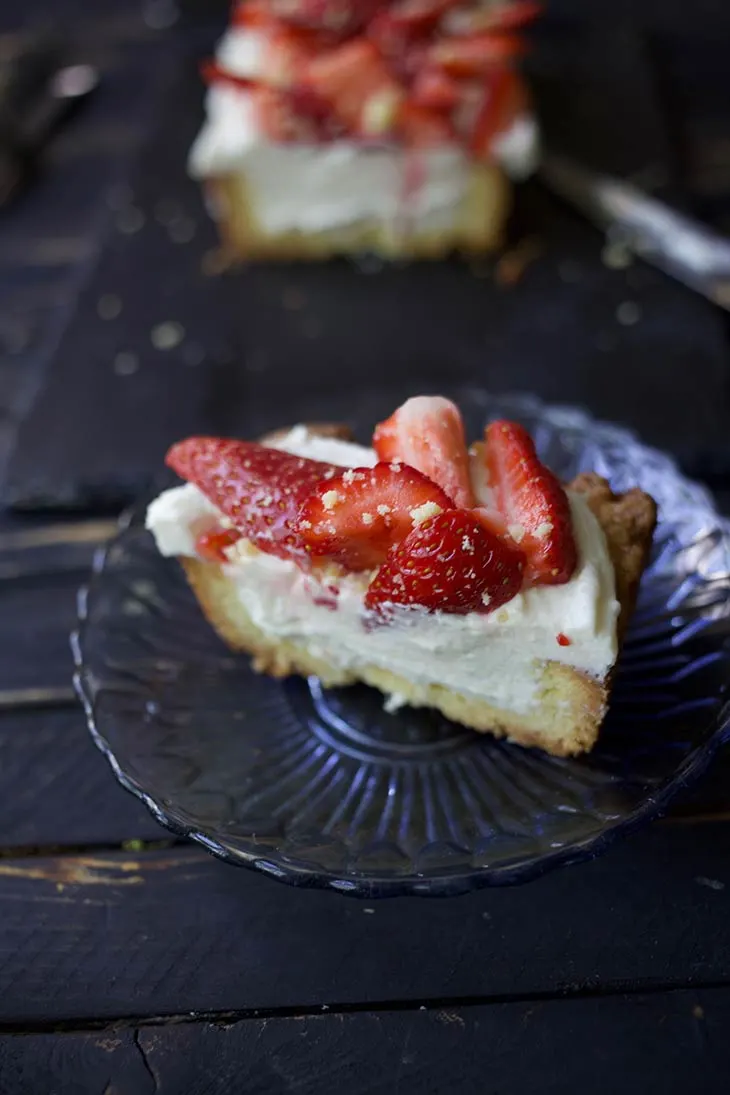 Now, I've talked about the health benefits of strawberries many times, but I cannot stress it enough: strawberries are amazing for your body. They're full of antioxidants, vitamins, and minerals. They increase your good cholesterol, lower your blood pressure, and guard you against cancer.
They're also a good source of manganese and potassium, both of these are highly needed for your body's good functioning. Also, their cute heart shape should give you another clue: yes, strawberries are good for your heart health as well. 😉 These being said, everybody should include strawberries in their diet – if they're not allergic, that is; sadly, strawberries are a famous allergen as well.
However, if you're fortunate enough not to be allergic to these beauties, I highly suggest you try using them in a deliciously refreshing summer tart. My vegan strawberry tart! 🙂 Because what's fancier than a tart without being overwhelmingly difficult to make? I figured I should get the most out of strawberries while they're in the season while making a simple dessert that's sure to impress anyone.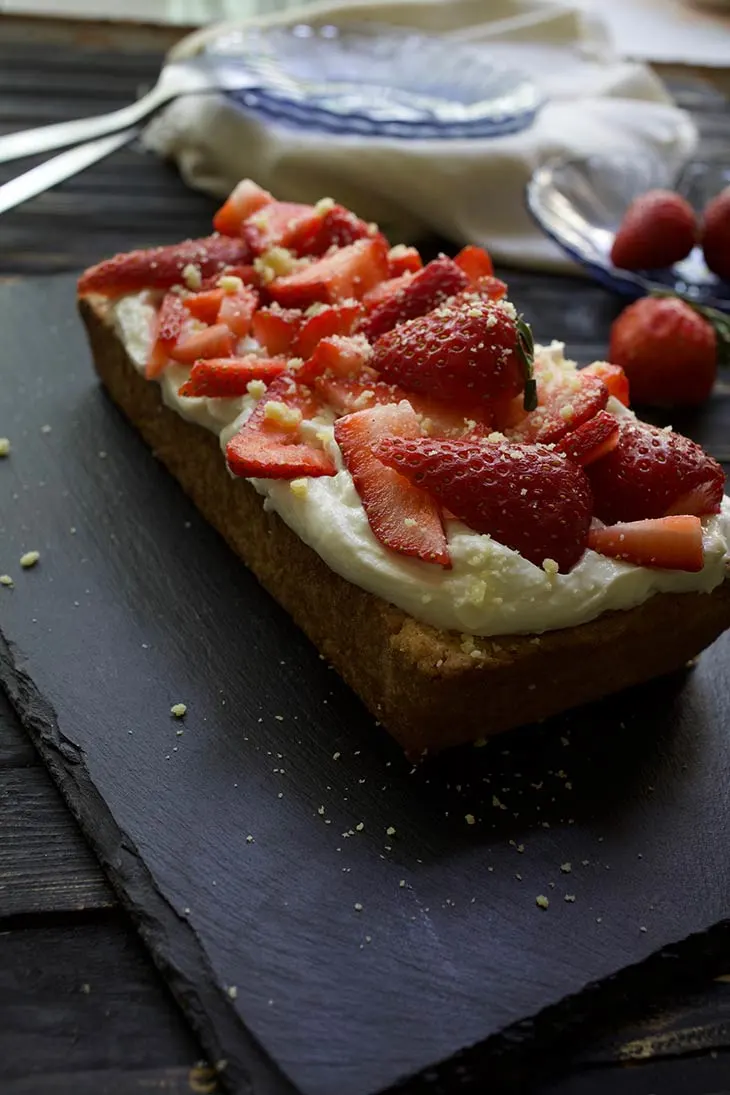 I know tart crusts are feared by a lot of people, but believe me when I tell you there's no reason for that. Baking a tart crust can be super easy if you just pay attention to the steps. And if you're really that scared of baking, but you still want to make something at home and not head for the pastry shop, you can always buy a premade tart crust.
This way, you're 50-50. You get a little help while still making something on your own, putting together a delicious dessert.
Of course, strawberries are delicious in a bunch of different combinations, so they'd work amazing in a lot of tart recipes. They go amazingly well with vanilla, for a subtle taste. They do wonders with chocolate for a rich, decadent dessert – because, let's face it: if you tried chocolate-dipped strawberries or even spreading some Nutella on a piece of bread, then topping it with this fruit, you know that chocolate and strawberries are a match made in heaven.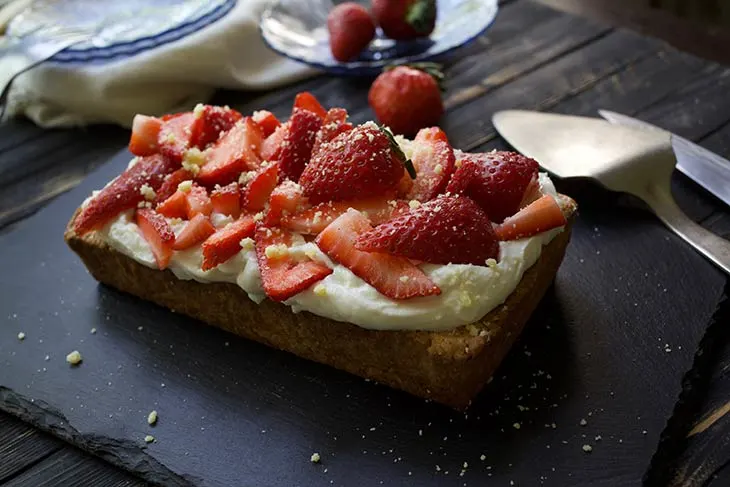 And then, of course, we have a favorite British and American dessert – strawberries and cream. Another great option for a tart flavor. And, finally, if you really love strawberries that much, you can opt for a strawberry filling. Cause strawberries go well with strawberries, right? If you opt for a strawberry tart filling you're gonna end up with a delicious looking, super pretty pink tart, topped with fresh pieces of fruit. Who doesn't love that?
No matter which way you like your strawberry tart, one thing's for sure: you can't really go wrong with it. Strawberries are an easy flavor to work with, they go with a lot of things. So just have fun and experiment with them. And maybe try my version to see if you like it! 🙂
I chose to make this tart vegan for obvious reasons: I hate cruelty among animals and, well, we should all try to consume just a little bit less dairy from time to time. It's said to be healthier for us and it's healthier for the ecosystem for sure, so why not give it a try?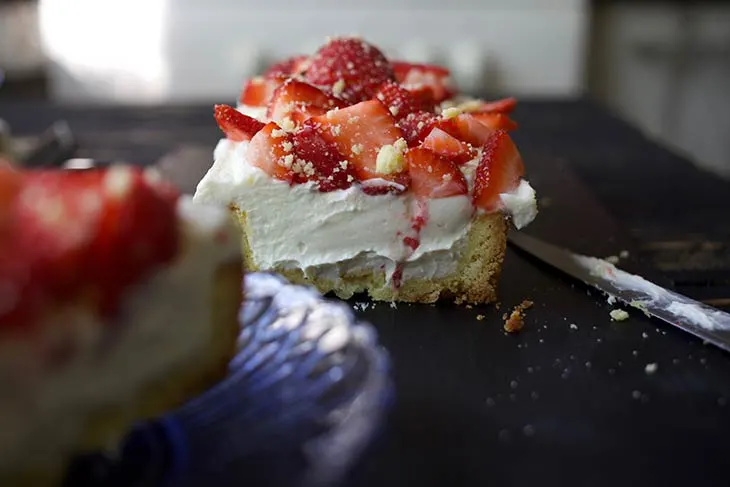 Also, if you happen to know someone who's lactose intolerant, or if you are lactose intolerant yourself, this tart would be a great treat. Too many decadent desserts seem to contain eggs or lactose, which are common allergens. So it's nice and refreshing to know that you can 'veganize' basically any recipes without going low on the taste.
I hope I've stirred your curiosity, even if just for a while. Because, hey, you don't have to go vegan to enjoy a vegan dessert every now and then, right? You might even like it better than the original thing.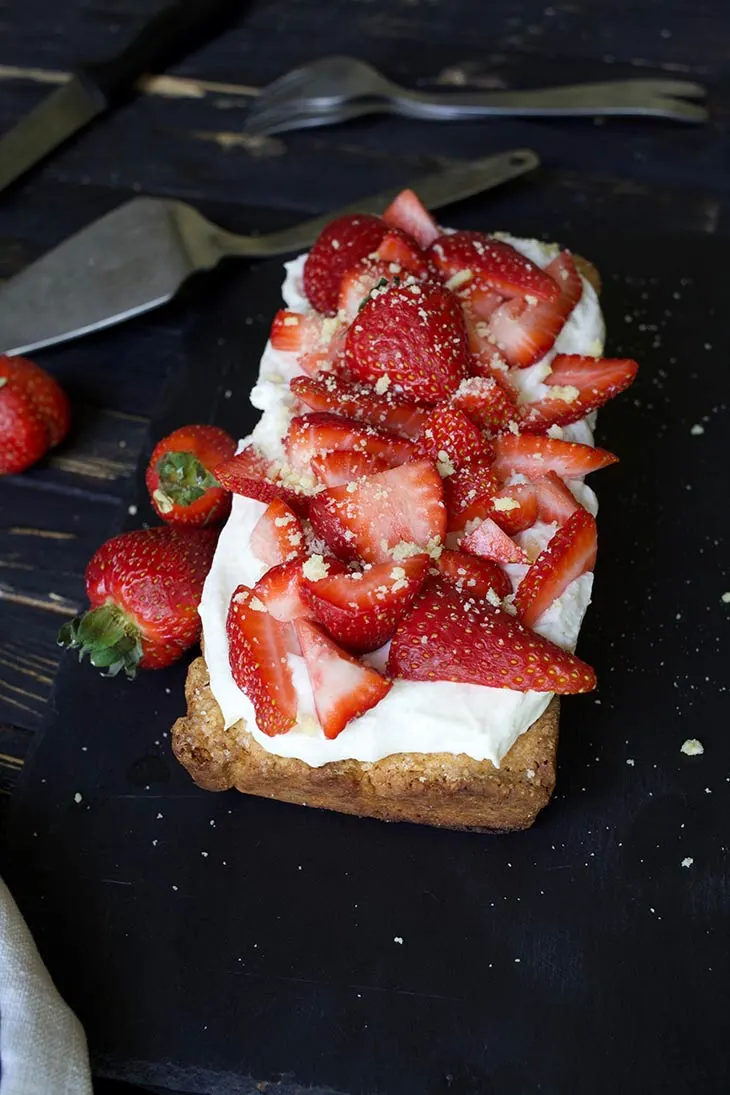 These being said, if you've got yourself some nice, fresh strawberries, I hope you're going to put them to better use with this refreshing summer tart. Oh, and send pics! I always love to see your kitchen creations!
---
Personalized meal plans and workout videos | Get your customized meal plan today! [x_button shape="square" size="mini" float="none" target="blank" href="https://shop.gourmandelle.com/?utm_source=mainsite&utm_medium=site&utm_campaign=inpost" info="none" info_place="top" info_trigger="hover"]I WANT A MEAL PLAN![/x_button]
---
Yield: 6
Vegan Strawberry Tart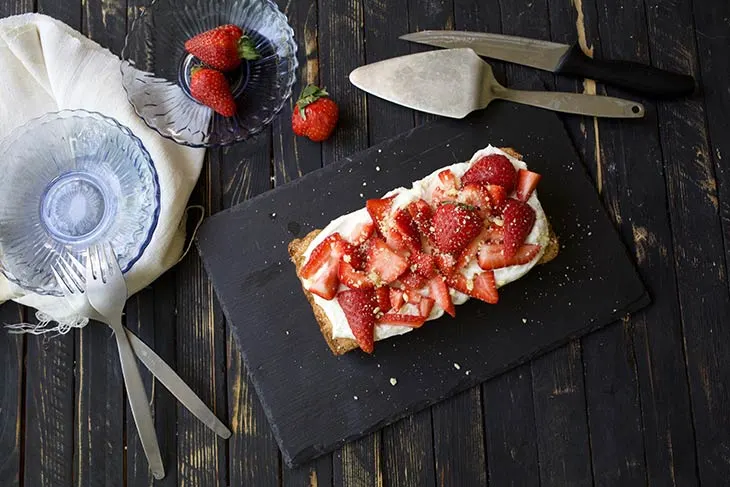 Refreshing? Sweet? Healthy? Yep, I'm talking about this amazing vegan strawberry tart! Give it a try and I'm sure you won't regret it - it's the perfect summer dessert!
Ingredients
For the crust:
10 vegan graham crackers
2 Tbsp sugar
75g (⅓ cup) vegan butter, melted
For the filling:
2 cans coconut milk, chilled overnight (cream of)
1 Tbsp tapioca powder
3 Tbsp sugar powder
½ tsp pure vanilla extract
For the topping:
70g (½ cup) fresh strawberries, chopped
1 tsp crushed graham crackers
Instructions
Preheat oven to 180 C.
In a food processor, process graham crackers until finely crushed.
Add sugar and melted butter and combine until incorporated.
Transfer the mix to the baking shape and press with your fingers to shape it as you like.
Let bake in the oven for about 10 minutes.
Meanwhile, in a bowl, add the coconut cream.
Mix with an electric mixer until whipped cream texture, continue mixing and add tapioca, sugar powder, and vanilla.
Let the baked crust completely cool, add whipped coconut cream, and top with strawberries.
Sprinkle with crushed crackers.
Refrigerate about one hour or overnight.
Nutrition Information
Yield
6
Amount Per Serving
Calories

438
Total Fat

33g
Saturated Fat

27g
Trans Fat

0g
Unsaturated Fat

4g
Cholesterol

5mg
Sodium

149mg
Carbohydrates

36g
Fiber

1g
Sugar

18g
Protein

4g
I strive to keep the information as accurate as possible but make no warranties regarding its accuracy. I encourage you to make your own calculations using your preferred nutrition calculator.