If you're a fan of Raffaello, I can assure you that you'll fall in love with this recipe in an instant! Here's how to make the ultimate vegan Raffaello cake – extremely delicious and healthy as well!
Remember the Rafaello candy? 🙂 They used to be one of my favorite candies before going vegan. Sweet, delicate, incredibly tasty, with whole almonds and coconut flakes… this candy is fit for the most pretentious taste.
But it's been quite some time since I couldn't enjoy a Rafaello candy. Although they contain no chocolate, they are most definitely not vegan: they are filled with a white (delicious, won't argue that) milk cream that makes these sweets incompatible with my dietary choices.
But as I said many times before, going vegan is not a story of giving up on stuff – especially if it's about stuff that you really used to enjoy! 😉 Going vegan should be a story about learning how to adapt, discover, create and recreate.
So today we are going to adapt and recreate!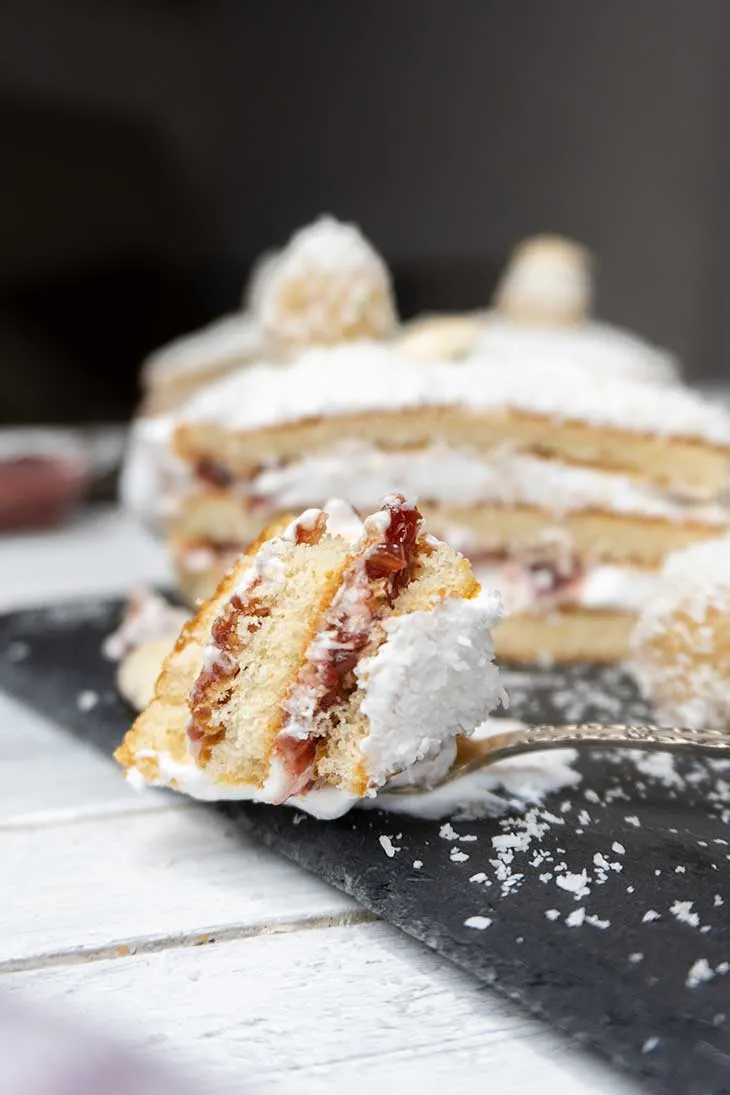 My goal here is to create a vegan Raffello cake that will give you the same sensation, the same base flavors and the same delicate and select taste and appearance as the Rafaello candy. Although Rafaello candies could be recreated just as they are – as candy balls – I wanted to try it in the cake form. I was really in the mood for a cake today, and I actually got some more time on my hands so I decided that there's no time like the present to try and create this Rafaello candy-inspired sweet delicacy.
I won't lie, the job wasn't easy! Not in the terms of the process of actually making the vegan Raffaello cake – that's not that hard. But I had to put quite a lot of thinking, trying, failing and repeating in order to get this cake right. Oh, but when it did happen it was marvelous!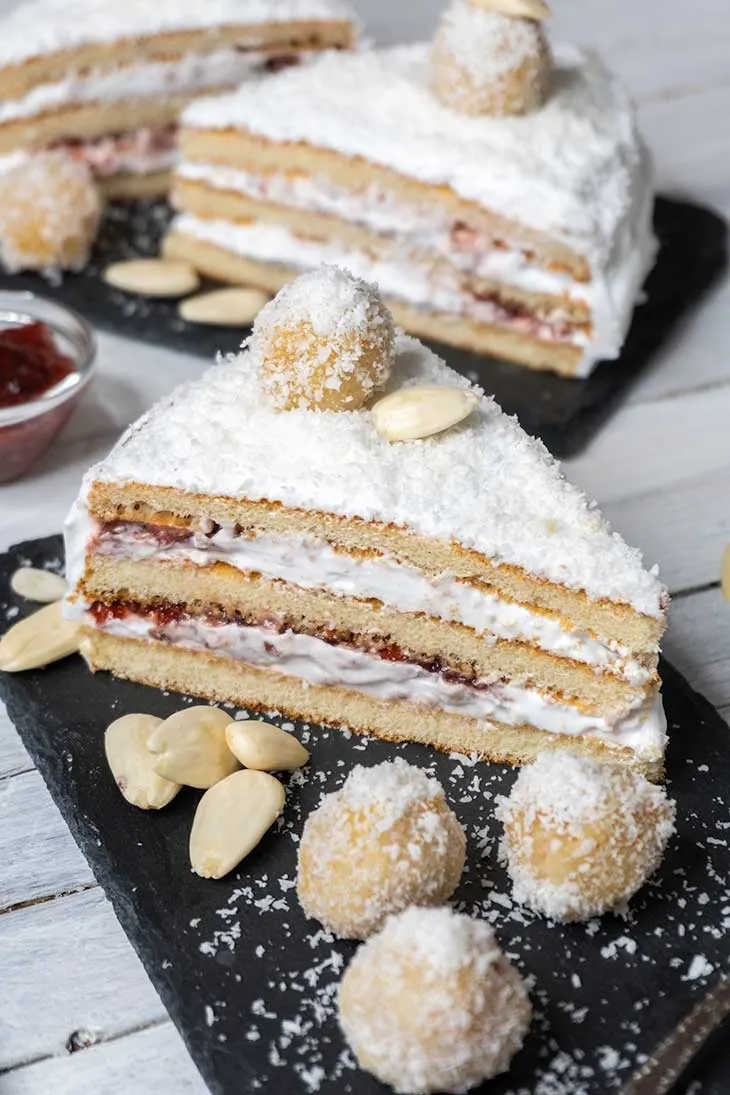 I don't want to sound like I'm overly proud of myself…but this vegan Raffaello cake really deserves some recognition. It is such a wonder to behold and taste. There are sweet subtle notes of coconut, a kind of milky flavor which is surprising given the fact there is no actual dairy in it, and overall pleasant experience. So get ready to fall in love after the very first bite!
It's definitely time to share this recipe with all of you! No matter your or your friend's taste in sweets, this cake has something for everybody! Maybe you're into coconut – then no worries, there's plenty of it! Maybe almonds are your thing – we've got plenty of those too! This cake really is a wonder of vegan cuisine and I really think it's a recipe that you should try.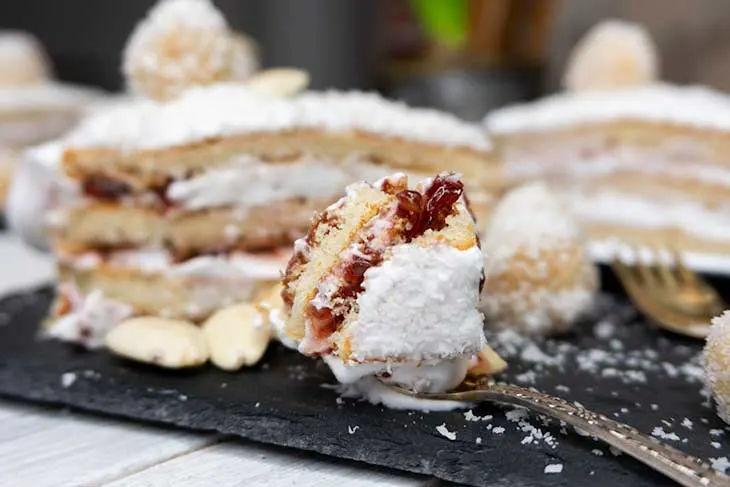 Not to mention that Valentine's is approaching and it would be such a nice way to celebrate and show your affection for your significant other! Thy would surely greatly appreciate both the effort and the taste – which is gorgeous.
Maybe I'm sounding more enthusiastic about this vegan Raffaello cake cake than usual, but that's only because it is THAT good! So no need to go into second thoughts, every minute of your time spent on this recipe will be immensely rewarded.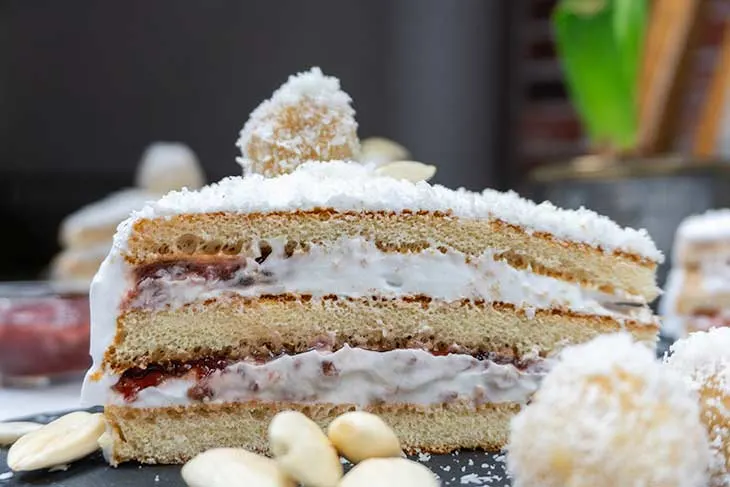 Now I'm not going to lie, this cake requires a bit of effort. But really great things require a bit of preparation. Of course, I'm not saying that you can't put together something delicious in ten or twenty minutes, but this super tasty cake needs a little bit more prepping! But as I said, it's all going to be worth it. This vegan cake is really impressive and a living proof that vegan cooking can be a state of the art cuisine, just like regular recipes can! 🙂
The resulting amount of vegan Raffaello cake will be quite large, so make sure you've got enough people to share it with! You can store it in the fridge, of course, but I strongly feel that certain foods and sweets are too good to be eaten alone. As you may have guessed… this is definitely one of them!
I think there's no need for further introduction. I could go on and on and on praising this cake but I think it's best to see it for yourself!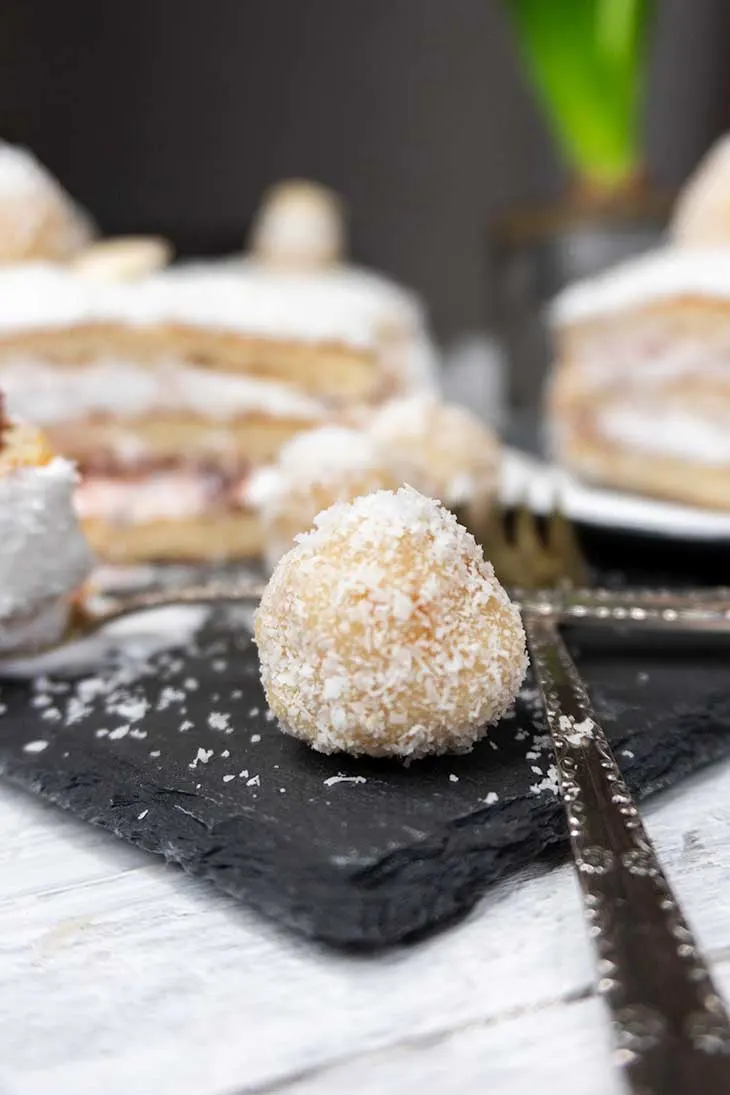 So let's gather the ingredients and trays and pots and pans (ok, maybe that's a bit overkill haha) and head to the kitchen. Follow the detailed steps below and the result will be one hundred percent amazing! And most importantly – please leave me a comment after you've prepared and tasted the cake! Your comments and feedback help me improve my recipes, so all you say here is used wisely! Don't be shy and let me know what you think!
---
Personalized meal plans and workout videos | Get your customized meal plan today! [x_button shape="square" size="mini" float="none" target="blank" href="https://shop.gourmandelle.com/?utm_source=mainsite&utm_medium=site&utm_campaign=inpost" info="none" info_place="top" info_trigger="hover"]I WANT A MEAL PLAN![/x_button]
---
Yield: 12
Vegan Raffaello Cake - Coconut/Raspberry Cake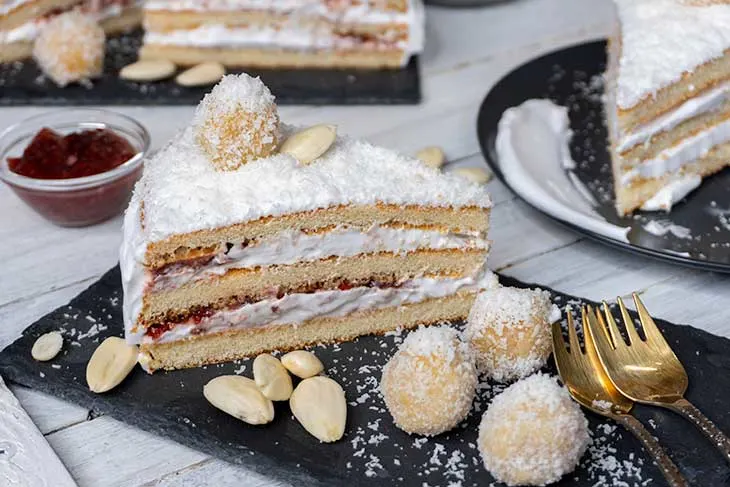 If you're a fan of Raffaello, I can assure you that you'll fall in love with this recipe in an instant! Here's how to make the ultimate vegan Raffaello cake - extremely delicious and healthy as well!
Total Time
1 hour
5 minutes
Ingredients
For the cake:
130g (1 cup) + 1 Tbsp flour
230ml (1 cup) almond milk
200g (1 cup) sugar
1 ½ tsp baking powder
½ tsp baking soda
¾ tsp salt
150ml (½ cup) coconut oil
1 Tbsp vanilla extract
2 tsp apple cider vinegar
For the cream:
400g (1 can) high-fat coconut milk
100g (3.5 oz) white chocolate, grated
1 tsp vanilla extract
4 Tbsps raspberry jam
100g (1 ½ cups) shredded coconut
For the balls:
5 Tbsp raw coconut oil, melted
100g (1 ⅓ cups) raw coconut flakes
15 raw peeled almonds
3 Tbsp agave syrup
1 tsp vanilla extract
Instructions
Make the cream first:
In a pot, bring the coconut milk to a light simmer.
Add the white chocolate and vanilla extract.
Mix until the chocolate melts and refrigerate for 2-4 hours.
For the cake:
In a mixing bowl, add the almond milk and vinegar and set aside for 5-10 minutes.
In a separate mixing bowl whisk together the flour, sugar, baking powder, baking soda, and salt.
Add the oil and vanilla extract into the milk and mix to combine.
Add to the dry ingredients and whisk until the batter is smooth.
Divide the batter into 3 equal parts.
Transfer to greased and lined pans.
Bake at 180 degrees C for 20 minutes.
Let them cool.
For the balls:
Mix coconut oil with coconut flakes, sweetener, and vanilla.
Let the composition sit in the fridge for at least 30 minutes.
Put the 4 Tbsp of coconut flakes in a small dish.
Make the bonbons. Use 1 tsp of the composition per coconut ball.
Add one almond in each one of them and coat them in raw coconut flakes.
To assemble, alternate 1 cake layer, spread cream, raspberry jam and then repeat.
Sprinkle coconut flakes on top.
Add one Raffaello ball to each piece.
Nutrition Information
Amount Per Serving
Calories

474
Total Fat

26.4g
Carbohydrates

54g
Protein

4.9g