Tired of the classic spaghetti recipes? Get ready to be amazed! Here's the best recipe for vegan spaghetti "meatball" cups – healthy, fun and easy to make!
Have you ever heard of spaghetti cups? Neither did I until recently, but as soon as I got the first taste, I knew they are going to become something regular in my kitchen. Do you know what food-love at first sight is? I'm sure you've had it too, and this is what happened with the spaghetti cups.
In case you've never tasted them before, here's what spaghetti cups are. It's pasta spaghetti baked in a muffin mold, with whatever spaghetti toppings you feel like eating. You can add loads of stuff but honestly, I think that toppings based on red tomato sauce work best.
They are super cute, you are going to love seeing and Instagramming them. I think our age is kind of obsessed with bite-sized food. And in a good way! 🙂 I am always impressed to see how creative people can get when it comes to adapting their food with their lifestyle.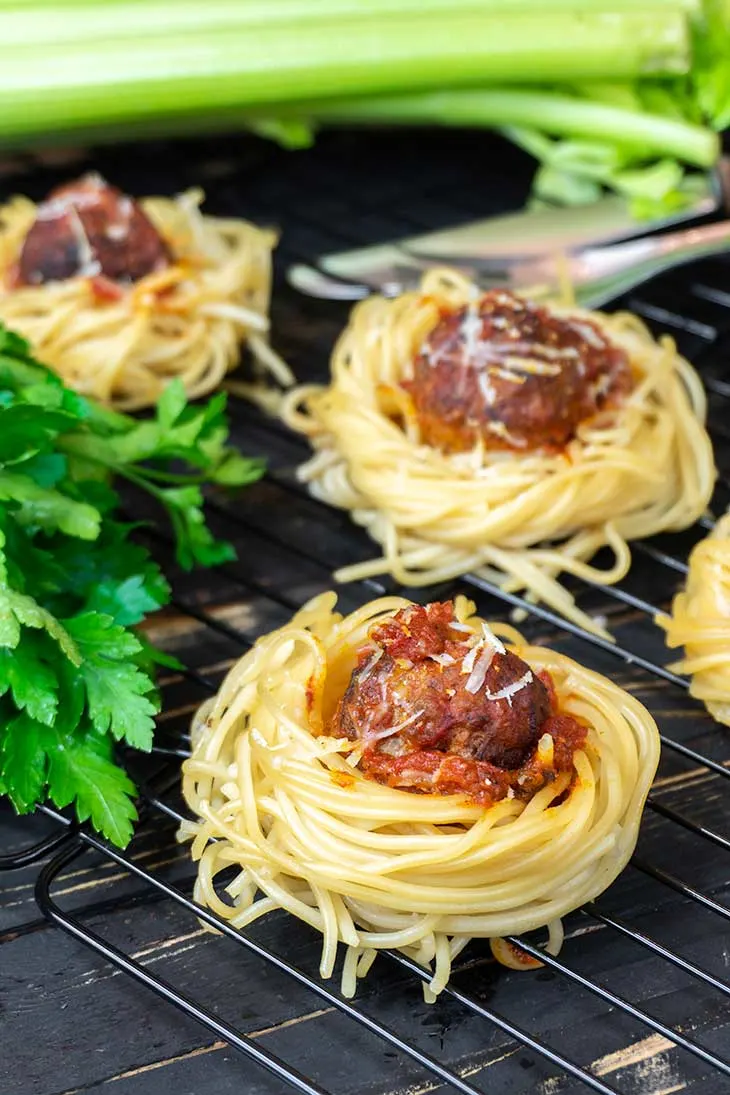 Spaghetti cups are a perfect fit in this category. They are super convenient to pack for lunch and overall a great way to make your dinner a little bit more fun. Not to mention – you get to eat baked spaghetti in some form other than the lasagna! If done right, the spaghetti cups should be both crispy and moist, super flavorful and an overall beautiful and tasty experience!
You probably noticed that we've got some "meatballs" in our recipe description and name. There's probably no need to say that everything I post here is strictly vegan and this recipe is no exception. But these spaghetti cups were inspired by the meatballs pasta that I absolutely loved back when I still used to eat meat. So I wanted to capture the essence of that in my spaghetti cups, without using any actual meat. And it turned out wonderful!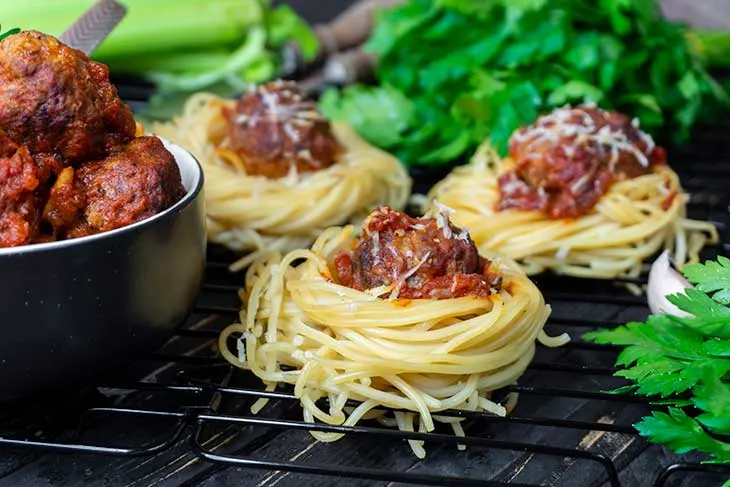 They really got some meatballs spaghetti vibes, while being totally meat-free. Any non-vegan would love them too, as they are absolutely tasty! 🙂
I often find that vegan food is actually much tastier than non-vegan, meat-containing foods. Most non-vegan people rely heavily on the meat to do its thing in the dishes and don't think to add much more than some salt and pepper to enhance the taste of their recipes. But once I became vegan, I discovered a whole new world out there. With the meat out of the pictures, other ingredients can really shine you get so much more creative with spices and seasoning.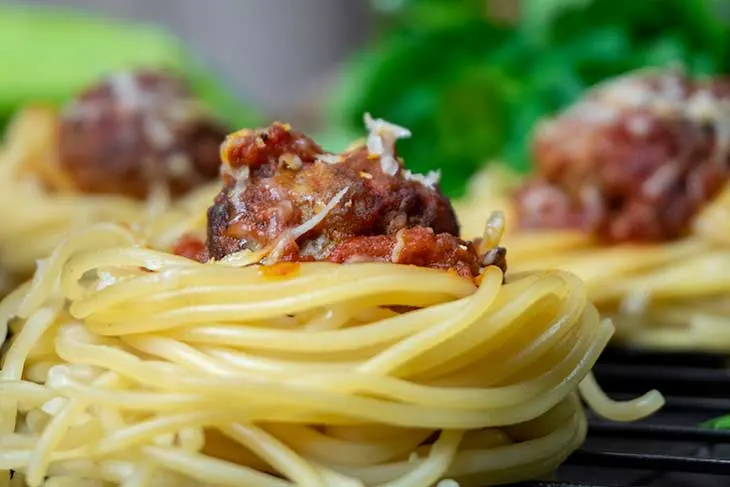 There's so much more you can find in the spice section than salt and pepper, and it's such a shame that so few people are taking advantage of that. This recipe is a perfect example of what the right seasoning can accomplish! 😉
You will see that these spaghetti "meatball" cups are so, so tasty and yet so incredibly simple. It's one of those recipes ready in no time, yet so delicious and so pleasing. The kids also love this recipe quite a lot because it's a fun new creative way to have their spaghetti. They really love that! 🙂
Another thing that I love about this recipe is how customizable it is. Of course, if it's the first time you try something like this it is always safer to follow the given steps and ingredients.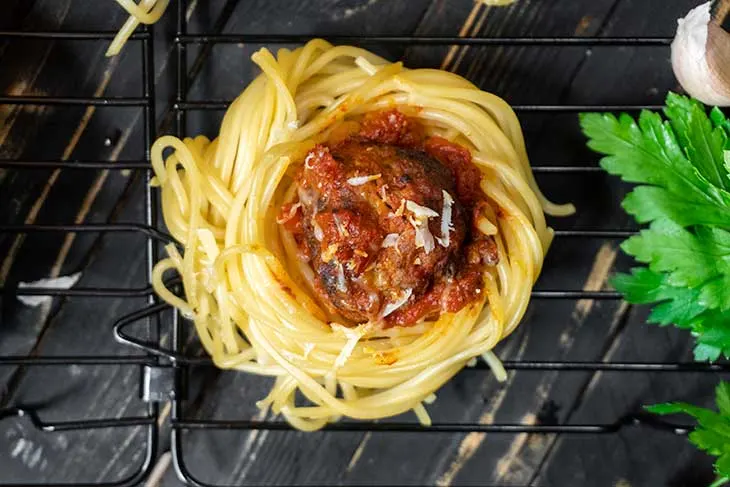 But once you know what this thing should taste like, you are more than welcome to play with toppings and make it perfect for you. I love talking to people to find out their take on recipes that seem plain and simple. You should try asking around – you would be surprised to know that almost everybody has their own little "secret" ingredient and how a new interesting taste can be created!
That being said, we're ready to get to the cooking part. For me, that's always the fun part. Especially when it's something like this, a fun new way to prepare something, I am always anxious to give it a try. And if you're in the right mindset, cooking can be a really fun, relaxing experience. No need to run away from it!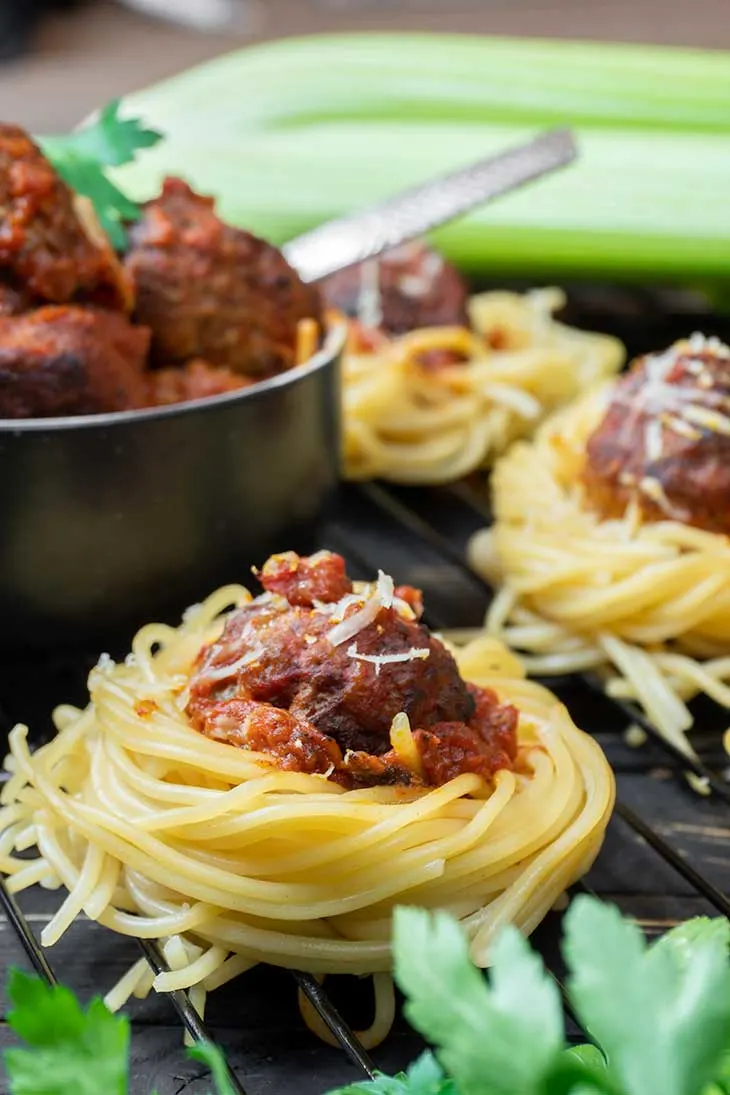 Put on your favorite music and get the fun going! And when you are done, don't forget to leave a comment. I'd love to know what are your thoughts on this recipe and if you decided to change it, what were your little secret ingredients!
---
Personalized meal plans and workout videos | Get your customized meal plan today! [x_button shape="square" size="mini" float="none" target="blank" href="https://shop.gourmandelle.com/?utm_source=mainsite&utm_medium=site&utm_campaign=inpost" info="none" info_place="top" info_trigger="hover"]I WANT A MEAL PLAN![/x_button]
---
Yield: 7
Spaghetti 'Meatball' Cups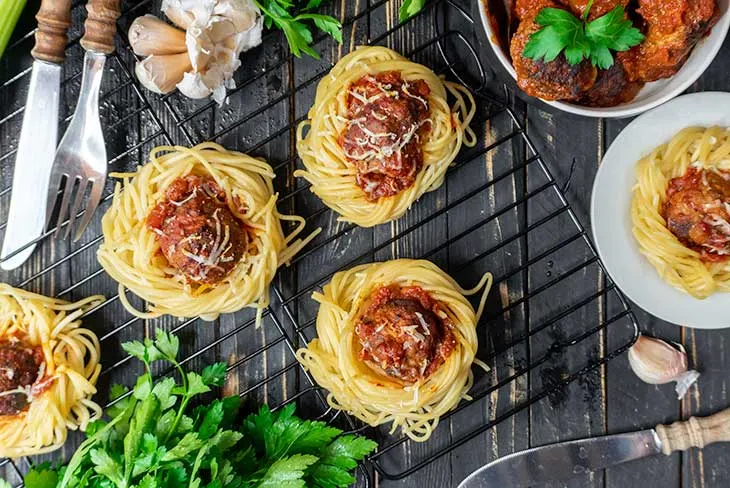 Tired of the classic spaghetti recipes? Get ready to be amazed! Here's the best recipe for vegan spaghetti "meatball" cups - healthy, fun and easy to make!
Ingredients
1 pack of cooked spaghetti
For the meatballs:
140g (1 ½ cup) oat flour
1 can black beans, strained and drained
2 Tbsp extra virgin olive oil
1 Tbsp beetroot paste or cooked beetroot
2 cloves of garlic
1 small white onion, chopped
1 Tbsp sesame seeds
1 Tbsp parsley, chopped (plus more for garnish)
2 Tbsp psyllium husks
1 Tbsp coconut aminos or soy sauce
2 Tbsp nutritional yeast
1 tsp smoked paprika
1 tsp white pepper
1 tsp salt
For the tomato sauce:
1 Tbsp extra virgin olive oil
1 medium white onion, chopped
1 clove garlic, finely chopped
1 red bell pepper, roasted and peeled
360g (1 ½ cup) crushed tomatoes
1 Tbsp tomato paste
2 Tbsp coconut sugar
2 Tbsp white wine
1 tsp dry oregano
1 tsp dry basil
1 tsp mustard powder
1 tsp white pepper
1 tsp salt
Instructions
Making the meatballs:
Line a cutting board with parchment paper.
Add all the "meatballs" ingredients to a food processor. Blend until smooth.
Transfer to a bowl, cover, and let sit for about 10 minutes.
Use a Tbs to measure 1 meatball.
Scoop a Tbs of the bean mixture and roll one meatball with your hands.
Transfer to a prepared cutting board. Repeat with the rest of the bean mixture. Set aside.
For the sauce:
Heat some oil in a skillet on medium heat. Add the onion and garlic and saute for about 2 minutes.
Add the crushed tomatoes, tomato paste, coconut sugar, white wine, basil, oregano, and mustard powder.
Let it simmer for about 4 minutes. Set aside.
Add the tomato mixture to a food processor together with the roasted peppers, salt, and pepper.
Blend until the mixture is smooth.
Heat another skillet with olive oil on medium heat. Add the meatballs and cook, stirring for about 2 minutes.
Add the blended sauce to the meatballs, turn the heat to low, cover and let it cook for about 7 to 10 minutes.
Undercook the spaghetti by 1-2 minutes.
Roll them into little beds and place one meatball on each one. You can grate some nut cheese on top.
Bake at 200 degrees C for 5-7 minutes.
Nutrition Information
Yield
7
Amount Per Serving
Calories

420
Total Fat

9g
Carbohydrates

69.2g
Protein

15.5g