This amazing recipe for vegan pineapple muffins is the perfect blend of sweet and refreshing. Plus, they're super healthy. Give them a try!
Prepare for your day to get amazing! 🙂 I prepared the most delicious dessert for you, a recipe that is both quick and super tasty!
We are going to make vegan pineapple muffins! With only a handful of simple ingredients, this treat is going to make your afternoon snack a delight. It's also a super fresh alternative to regular chocolate muffins, a little bit lower in sugar with a nice veeeery subtle sour tint.

I am a really big fan of muffins. I can have them anytime and anywhere! And it's no wonder since it's so easy to get some. You can buy them virtually everywhere. That's why the temptation is high – every coffee break is a muffin opportunity! But as convenient as that is, baking your own sweets is much better. It's not only cheaper, but it's healthier too.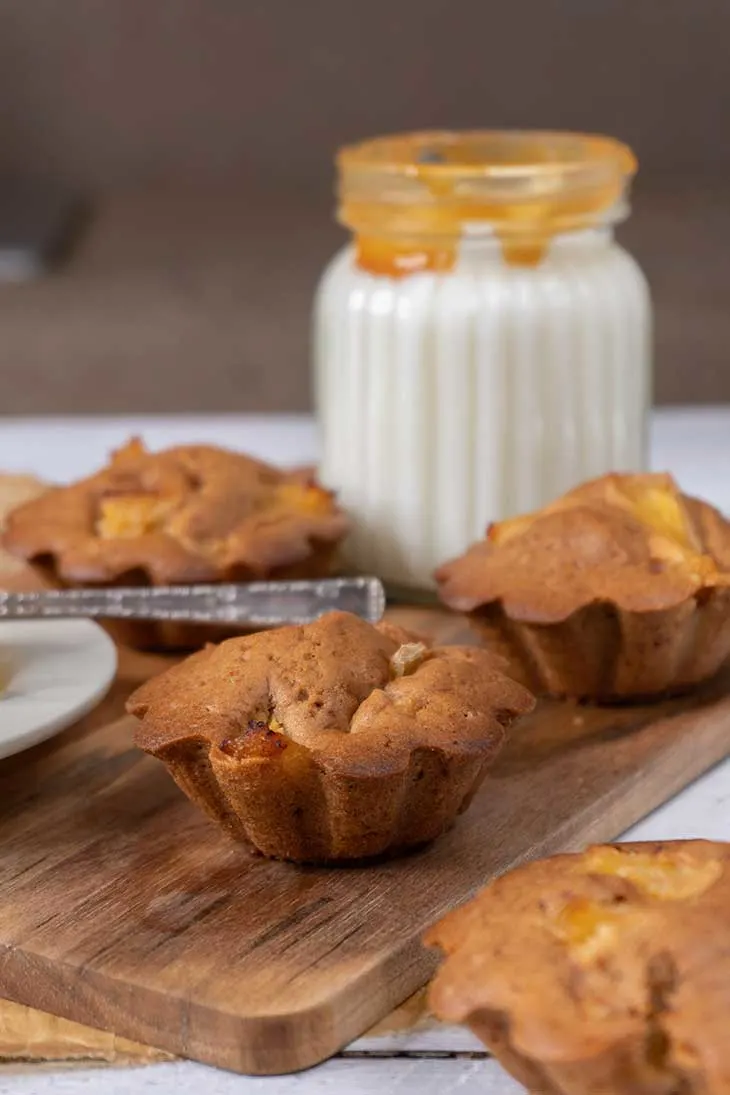 As it happens to any home-cooked meals and sweets, preparing your own food gives you the advantage of controlling everything that goes in there!
With this recipe, you are going to be sure that your muffins are made out of 100% natural ingredients, completely vegan and adapted to your dietary choices. You can make them gluten-free, you can add more or less sugar depending on how sweet you want them, and you can eat them without any worries. And preparing them won't even take that long!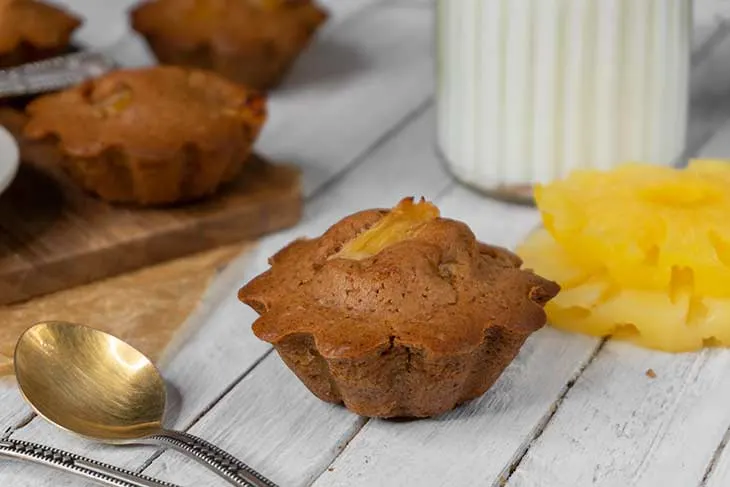 Muffins are all about being quick! You just mix together the ingredients, throw them in the oven (or better yet, muffin maker) for 25 minutes or so and you're ready! Being the master of your food makes eating and enjoying your food so much better! Quite often, when I eat store-bought stuff I get a little bit anxious.
There are, of course, some bakeries and restaurants that I know and trust, but besides that, I feel like I'm taking a shot in the dark. Who knows how bad those ingredients we can't even pronounce on the food labels actually are. Making your own muffins will help you skip the doubt! 🙂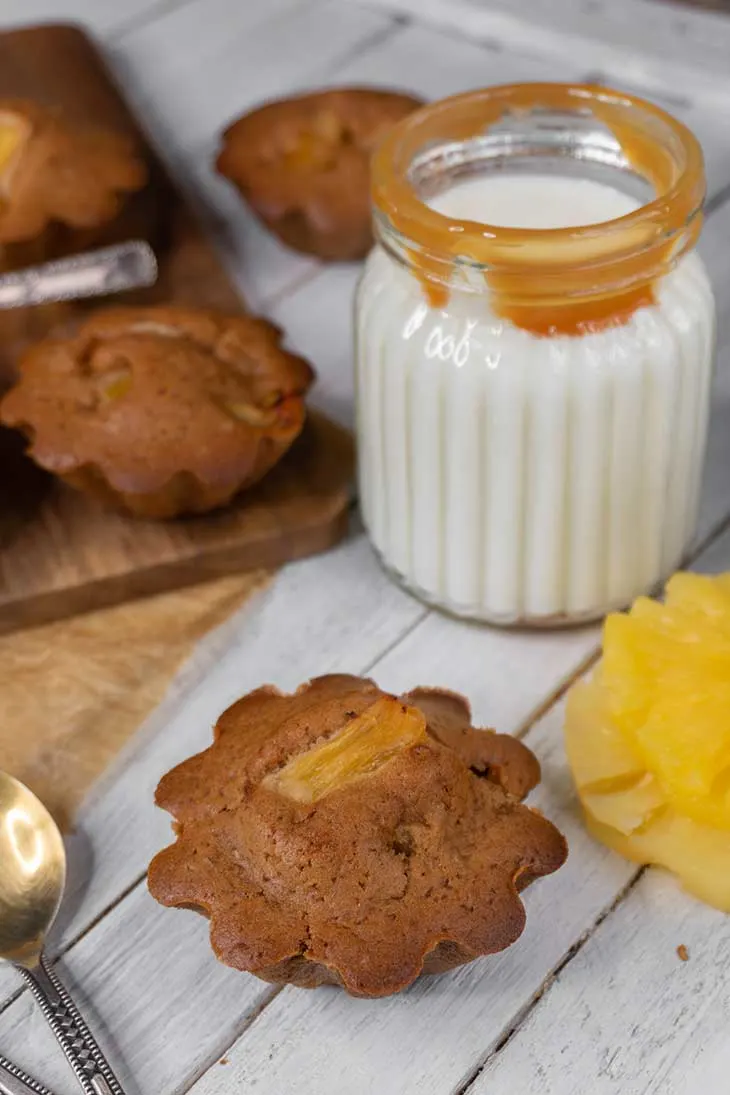 Muffins are a favorite dessert all over the world. They are cute, colorful, easy to make and so tasty! And the fact that they come out as distinct little cakes makes them so convenient for sharing with others. You can take them to a party, tea party, evening with friends and everybody will have their own little muffin to enjoy!
When you bake a full-size cake, the part where you start cutting will eventually get dry. Unless you eating all once, of course. Which, you know, sometimes happens. Oops! 🙂 But that won't be a problem with muffins. You can eat one, and then still have 10 other perfect, intact little muffins waiting for you.
They're perfect to bake in advance and then take them to work, one by one (or two by two, it'll be out secret) and day by day to work or school. Super convenient! 🙂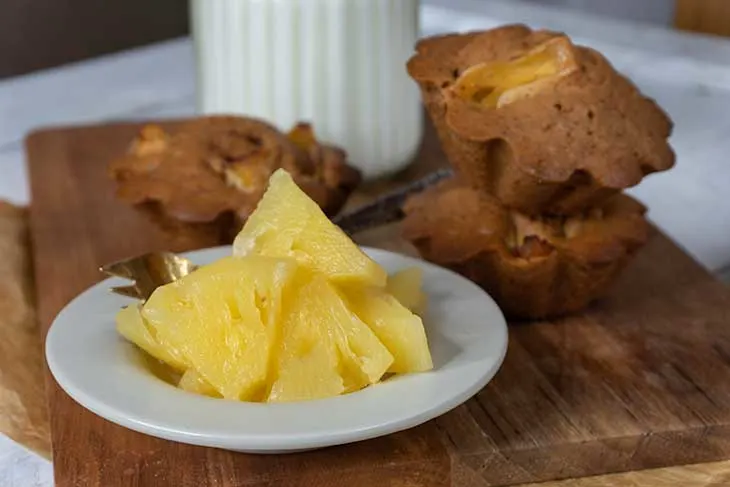 But I don't think you need me to convince you how great muffins are. We all know it already! Let's talk a little bit about the history of muffins. The word may actually refer to two quite different things!
The first muffins to appear are the English muffins. They were invented somewhere in the 10th or 11th Century in Whales. The English muffins are baked into a round shape, then cut in half and served with butter. American muffins, on the other hand, didn't appear until the baking powder was invented. And American muffins almost always have baked-in toppings – such as some fruit or chocolate chips. And of course, that's what we're making today, and our topping is going to be one of my favorite fruit – pineapple!
I am quite sure that you are going to enjoy these amazing muffins. They are nice and soft, flavorful and absolutely delicious. Whether you share them with your friends or keep them for you and your family, these muffins are going to be a huge success!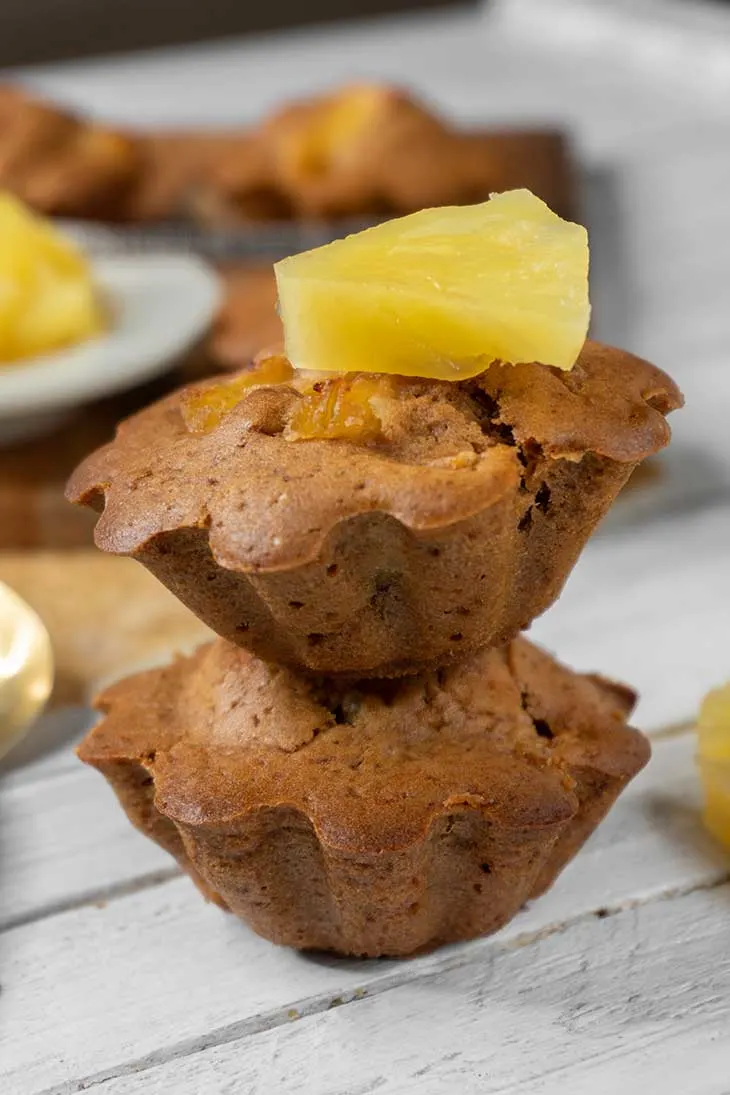 Not going into any more detail, just follow the detailed instructions below and you are going to see for yourself! Just don't forget to leave a comment and tell me what you thought about this recipe. As I always tell you, your feedback helps me make this food blog better and better!
---
Personalized meal plans and workout videos | Get your customized meal plan today! [x_button shape="square" size="mini" float="none" target="blank" href="https://shop.gourmandelle.com/?utm_source=mainsite&utm_medium=site&utm_campaign=inpost" info="none" info_place="top" info_trigger="hover"]I WANT A MEAL PLAN![/x_button]
---
Yield: 6
Vegan Pineapple Muffins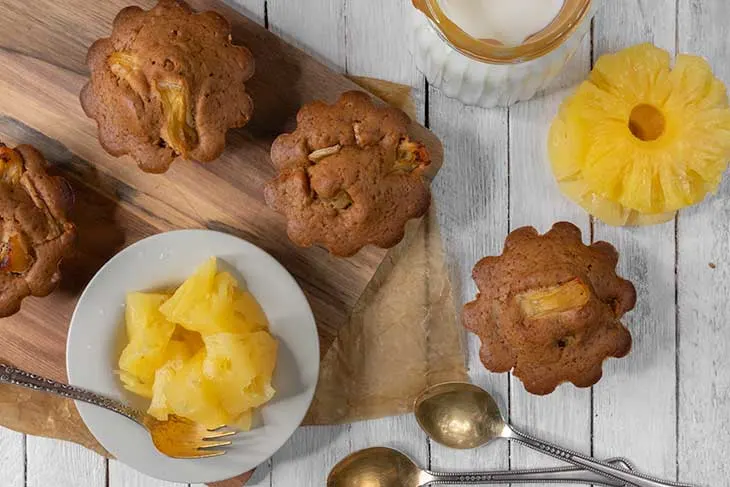 This amazing recipe for vegan pineapple muffins is the perfect blend of sweet and refreshing. Plus, they're super healthy. Give them a try!
Ingredients
200g (1 1/2cup) flour
1 tsp baking powder
100g (½ cup) sugar
110g (½ cup) vegan butter
240ml (1 cup) coconut milk
1 tsp vanilla extract
80g (½ cup) chopped pineapple, I used canned
Instructions
If you use canned pineapple, take it out of its juice and let it drain on a clean towel.
In a bowl, mix the flour, baking powder, and sugar.
In a separate bowl, combine the melted butter, milk and vanilla.
Transfer to the dry ingredients and mix to combine.
Add the chopped pineapple and transfer it to a paper-lined muffin tin.
Bake at 180 degrees Celsius for 20-25 minutes.
Nutrition Information
Yield
6
Amount Per Serving
Calories

217
Total Fat

9.5g
Carbohydrates

30.7g
Protein

2g