Are you out of ideas on how to treat yourself? I have prepared a great vegan recipe for you that is guaranteed to sweeten your day! Here's how to make vegan chocolate poke cake!
It's a classic recipe – vegan chocolate poke cake! I adapted this delicious treat and now it's completely vegan, ready for you to enjoy. This recipe is definitely worth a try, as it's the kind of rich chocolate taste that will linger in your memory. It's not an easy-to-forget cake! Warning: possibly addictive.
The poke cake is a classic recipe – probably the image that comes into your mind when you think about cake. A fluffy and spongy cake base filled with deliciously sweet cream.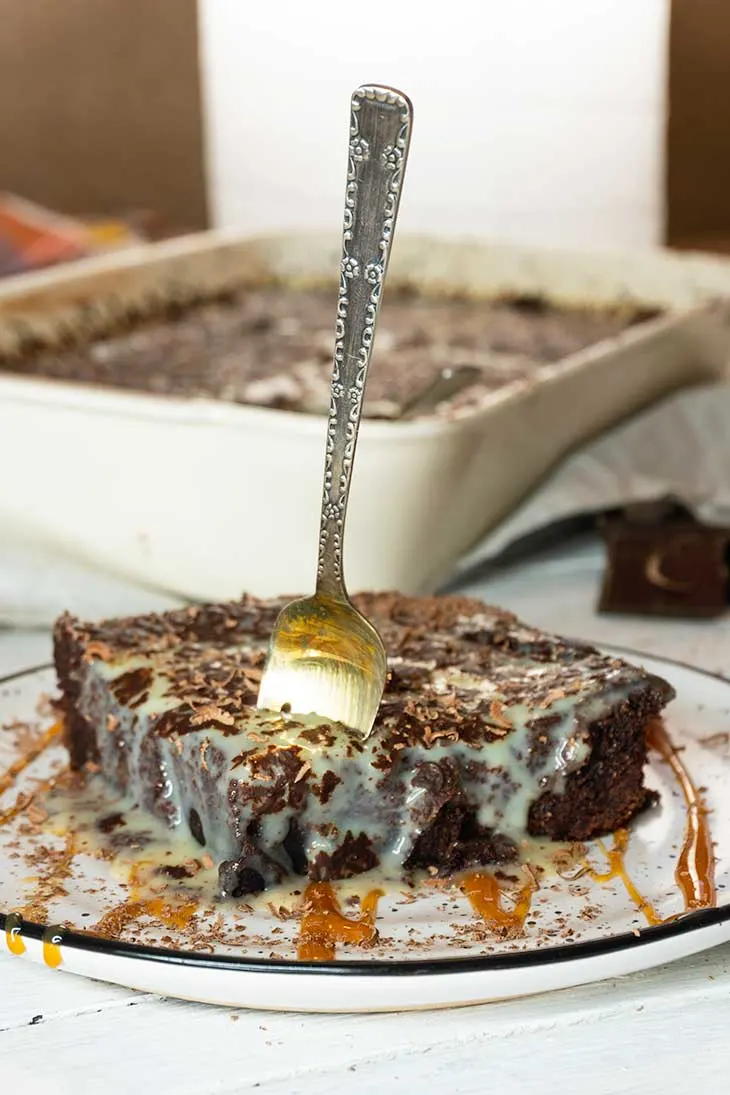 The main feature of this cake? Well, the pokes! What gives this cake its unique look, texture, and taste is the fact that it is crossed by streams of colorful and tasty cream, chocolate or Jell-O. This happens thanks to the poke holes.
When the cake is out of the oven, you need to let it cool for about half an hour and then, using the handle of a wooden spoon or something similar, poke holes along the whole cake. Then you pour the topping and it will beautifully spread throughout the cake. Yum!
But what I love most about this recipe is that it is actually a cake that is fun and invites you to be playful! While still delicious, creamy and decadent, it's not the kind of pretentious cake that requires classical music playing in the background. When this cake is on your table, so is the party!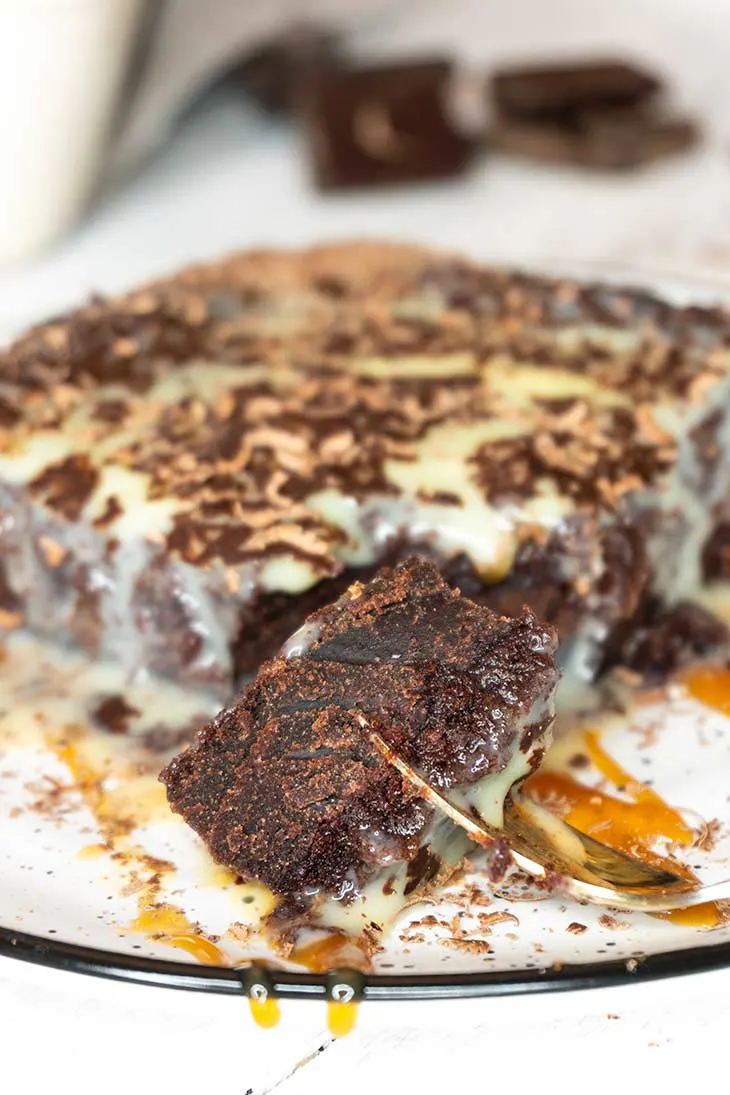 Let me tell you a little bit about the history of this cake and why it acquired this fun allure. Although it seems that is has been around for ages, it is not quite so. The poke cake became popular in the 1970s – golden times for boxed cake mixes. It was created to increase the sales of the Jell-O gelatin.
As you can guess, Jell-O gelatin was the topping choice that was poured through the poke holes. The cake became widely popular all over the US – there was no pool party or barbecue where you couldn't find this cake!
And gradually, the recipe evolved and the Jello-O was substituted with richer creams and puddings, even taffy ore fudge. And today, people all over the world are having fun with this cake! Rainbow dough, colorful filling, sparkling cotton candy and oh, yes, sprinkles! – you can go as extravagant or crazy as you want!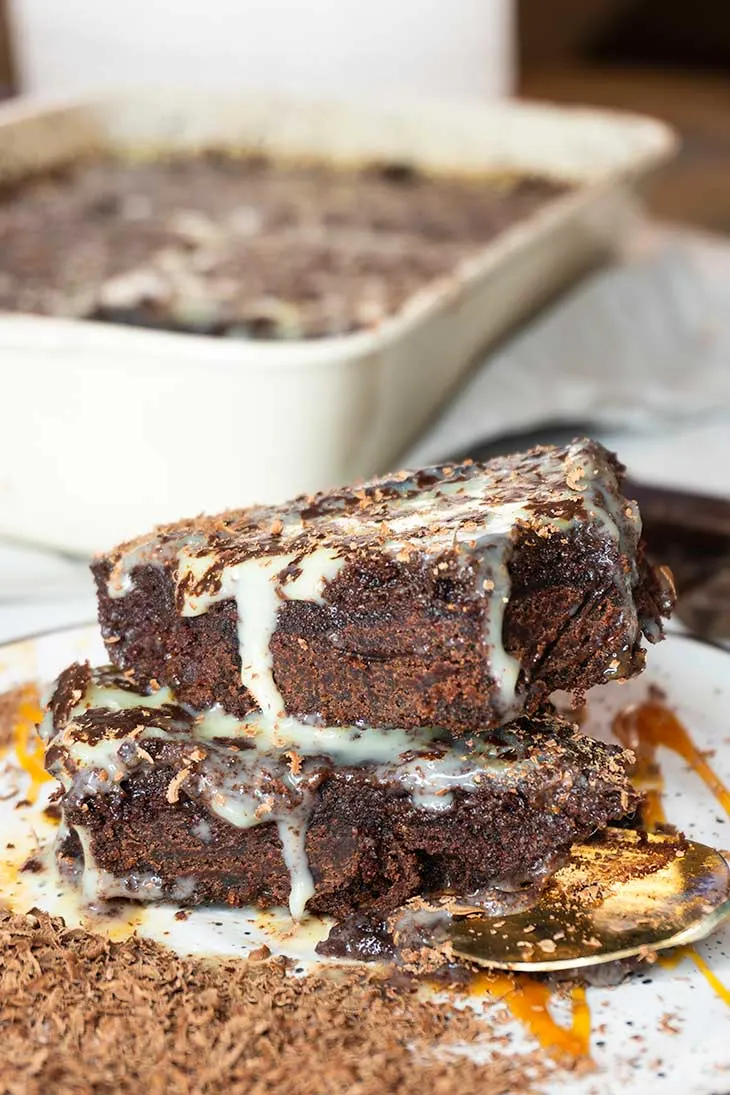 My take on this recipe remains on the safe side. You can't go wrong with chocolate! First, I wanted to make sure that I can adapt the recipe to vegan standards.
It worked wonderfully – it turned out super tasty, the texture is excellent and I kept the ingredients as healthy as possible! And while I made sure that everything is as natural as possible, with high-quality ingredients – it's still a sweet dessert so try not to eat it all at once! (I know for sure that will be hard).
It's the perfect cake to prepare for a party. No matter your taste in cakes, you will for sure fall in love with this one! If you bring this to a gathering, make sure you've got enough for everyone – the word of its deliciousness will spread fast!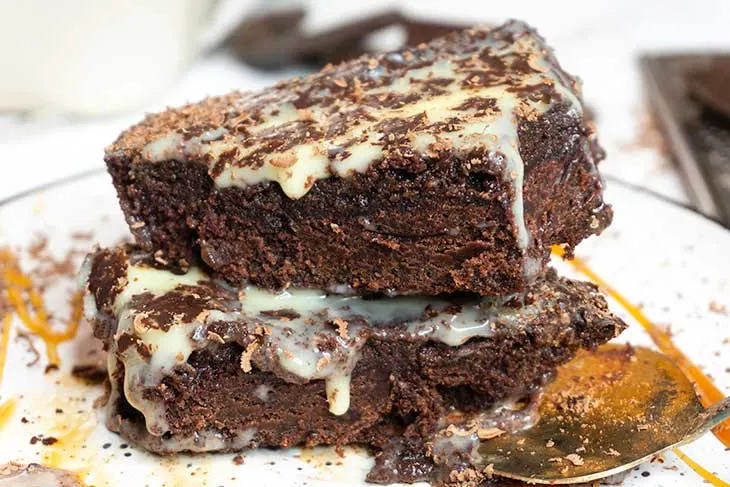 I am sure that you will appreciate every bite of this cake! Its "designers" – if we can call them that – made sure that each bite had a good amount of both cake and creamy filling! So it's not one of those cakes that might feel too dry or boring after one or two bites. Each bite of each piece is a feast!
Here's why I love this dessert so much:
It's super fun to make and it's the kind of cake that allows you to play a little bit
It's incredibly tasty
The fluffy cake pairs wonderfully with the rich chocolate taste
Thanks to the holes, each bite is filled with flavor
Great to prepare for a party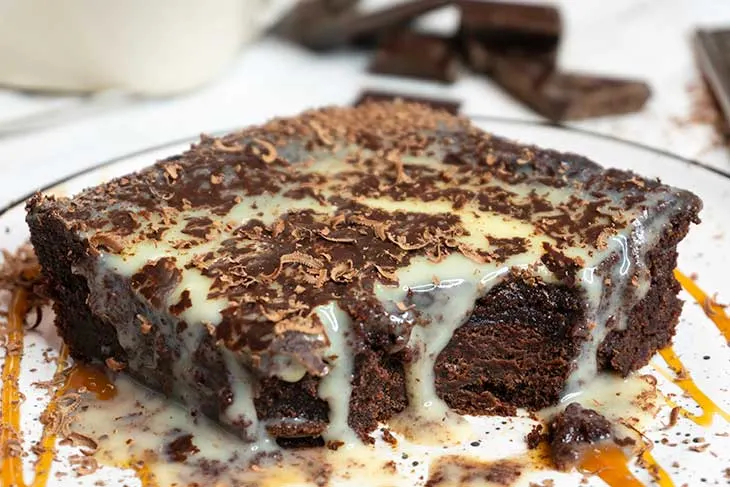 Enough talking! Let's prepare the ingredients and let the fun begin! 🙂
Cakes are a little bit more pretentious than most of the meals that I prepare here, so make sure to follow the steps below! You want the right texture which means the right ratio of ingredients!
But overall, it's definitely worth the effort of weighing everything a little bit more carefully. And don't forget that I am eagerly waiting to read your comments – so don't forget to let me know about the results!
Yield: 8
Vegan Chocolate Poke Cake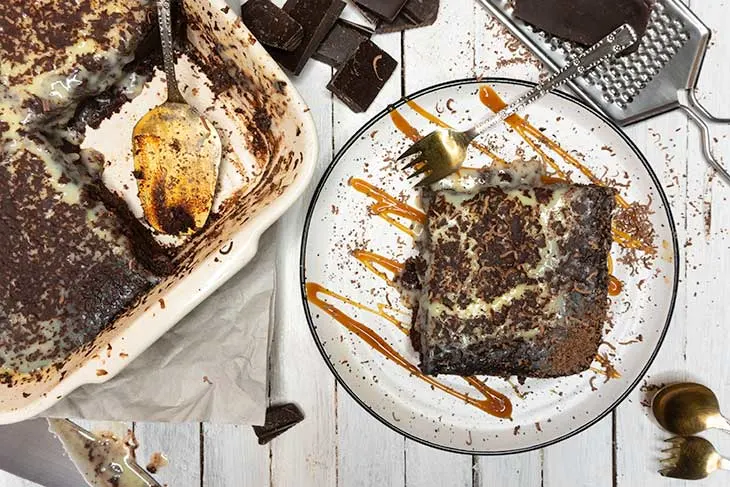 Are you out of ideas on how to treat yourself? I have prepared a great vegan recipe for you that is guaranteed to sweeten your day! Here's how to make vegan chocolate poke cake!
Total Time
1 hour
15 minutes
Ingredients
240g (2 cups) all-purpose flour
50g (½ cup) cocoa powder
200g (1 cup) sugar
150g (⅔ cup) vegan butter
360ml (1 ½ cup) almond milk
360ml (1 ½ cup) coconut milk, canned, full-fat
4-5 Tbsp agave syrup
3-4 Tbsp strong coffee
2 tsp baking powder
1 tsp baking soda
1 tsp salt
1 ½ tsp vanilla extract
1-2 tsp white wine vinegar
dark chocolate
Instructions
In a large bowl, add the flour, cocoa powder, baking powder, baking soda, and salt. Mix well.
In a separate bowl, whisk together the butter and sugar until creamy before adding the coffee.
Add the vinegar to the almond milk.
Transfer the milk and dry ingredients to the butter and sugar mixture.
Add the vanilla extract and mix well.
Transfer the batter to a baking dish and bake at 180 degrees Celsius for 45 mins to 1hr or until a toothpick comes out clean.
Put the coconut milk and agave syrup in a pan and simmer while stirring over low heat for 15 minutes or until it reduces by half.
Once the cake is out of the oven, poke the holes in it using the stick part of a wooden spoon and pour the coconut cream on top.
Grate dark chocolate on top and let it sit in the fridge for at least 2 hours.
Nutrition Information
Yield
8
Amount Per Serving
Calories

436
Total Fat

19g
Carbohydrates

66g
Fiber

2g
Sugar

37g
Protein

5g