Looking for a healthy, comforting and super filling dish? Search no more – this vegan burrito casserole is the perfect answer! Quick, simple and super yummy!
Today's recipe is all about comfort. I know I have some long days ahead, so I decided to be ready and embrace them fully and make my life easier by preparing some meals in advance.
Too often, when we find ourselves in the middle of a busy week, we just turn towards not-so-healthy meal options. But I decided not to fall into that trap this time, so now I am going to prepare something that will get me through my busy week!
And what works better for a make-ahead meal than a casserole dish? Today's recipe is something that I am sure you will love because it's really tasty, comforting and healthy at the same time: burrito casserole! It contains all the flavors and ingredients that we love in a burrito, but in a form that's easier to prepare.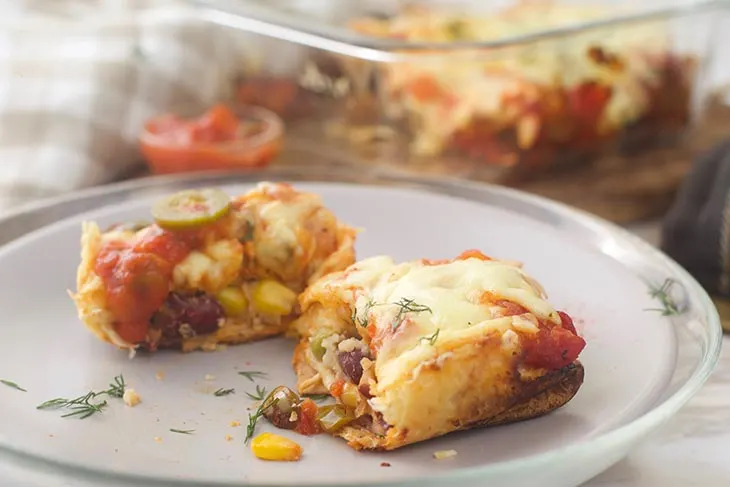 When I make classic burritos, it gets a little tiring to roll each burrito individually. Plus, we all know what a mess eating a burrito can be! But no worries, with this healthy burrito casserole recipe you won't have to worry about anything like that. It's super easy to make and super easy to eat as well!
And one of the best parts about it is that it lasts for a couple of days in the fridge, while the taste remains fresh and delightful. Which is really great, as you will be able to enjoy this delicious meal for a couple of days (it's also great for a family meal prep as well). No worries about food for the rest of your week!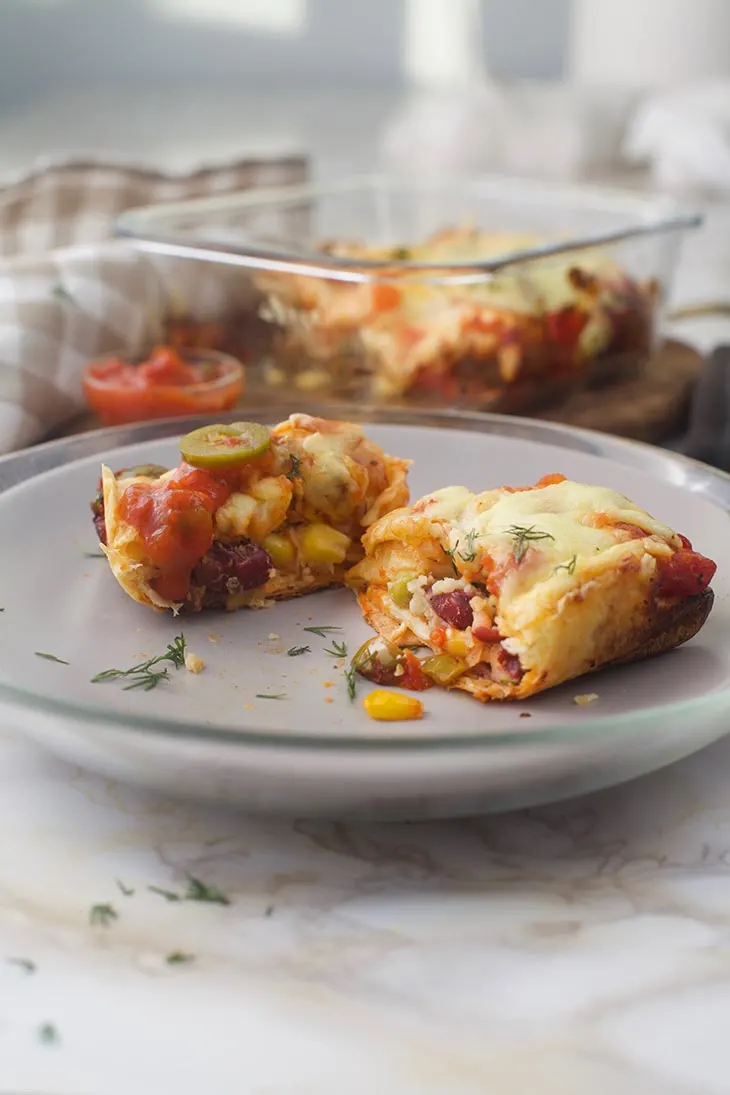 Casseroles are a really classic meal choice and I'm sure that you already know by now how much I love them and how much I enjoy experimenting with different casserole recipes.
Casseroles combine the tastes and flavors of various ingredients and usually lead to a hearty and filling meal that will save you the trouble of cooking for some days to come.
But I've talked so much about casseroles these years but I cannot help but wonder – when were the casserole meals invented and how did they become SO popular?
The name of this kind of meal actually comes from the vessel they are cooked in – the casserole that is nowadays usually made out of glass. But, after some research, I found that casserole cooking has been around since prehistoric times!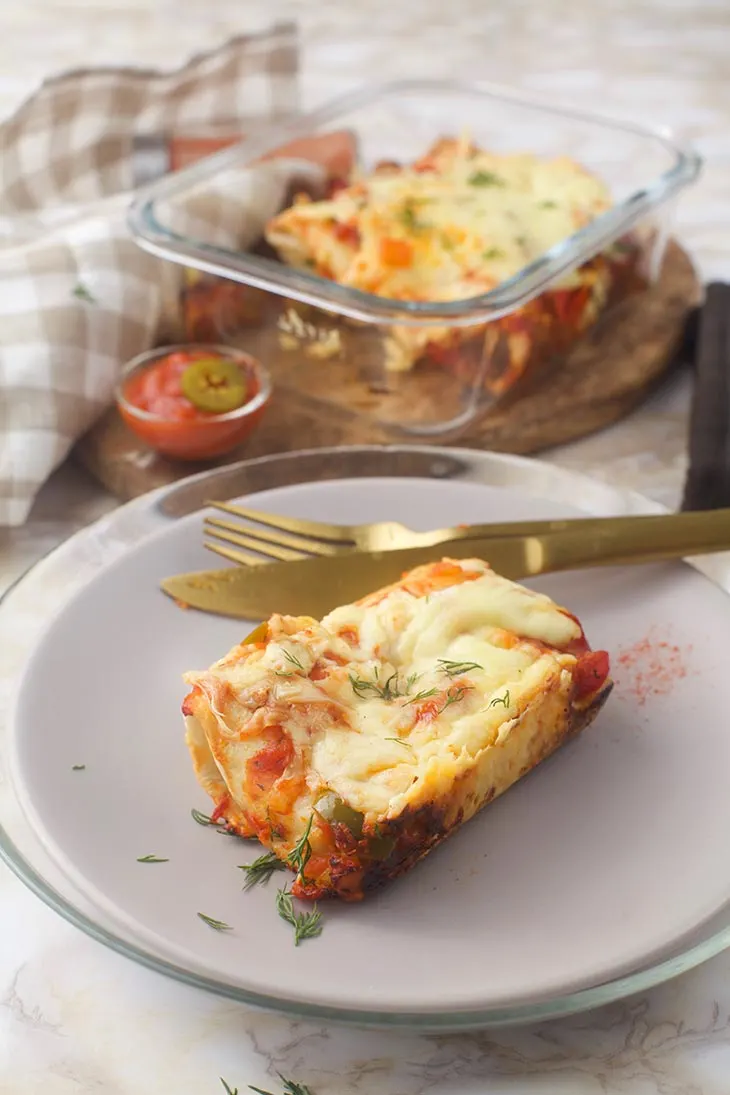 Prehistoric people discovered that cooking in a vessel made out of some sort of clay is great to soften the meats and vegetables, and they have continued to use and perfect this method ever since!
Fast forward some centuries later, the casserole has gained a lot of popularity in America during the Great Depression. That's because casserole dishes were made using cheap but filling ingredients – and this was essential in those times. But I think the casserole probably hit the peak of its popularity during the 50s and the 60s.
By the 70s, the casserole gained the image of being an easy, not-that-sophisticated food. That's because, in those times, casserole dishes usually contained leftovers, canned foods, and processed sauces.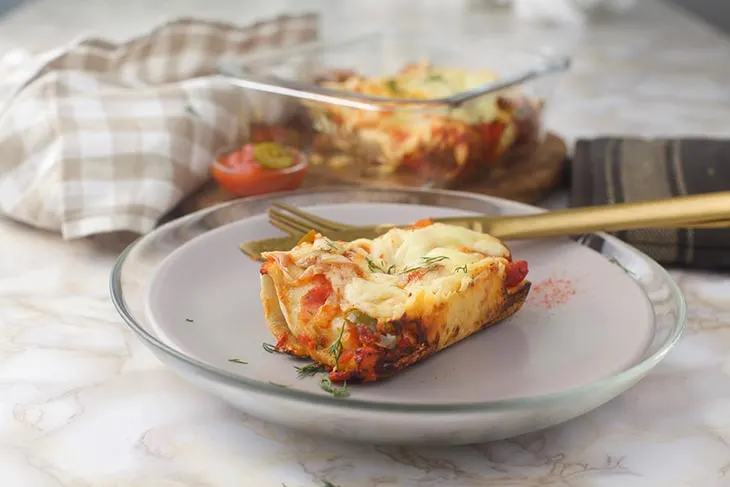 Today's burrito casserole really shows that this kind of meal can really please any type of foodie out there! Why? Because my version is really healthy, uses fresh ingredients and it's absolutely delicious! Needless to say – it's completely vegan.
Just imagine all the ingredients of a delicious burrito combined together in a much easier to make recipe. It's honestly all I could wish for! This is the kind of recipe that will make you eager to come back home knowing that this meal is waiting for you! And this recipe is specifically made to be super healthy so that all the ingredients are carefully chosen to make sure that you will get a perfect combination of nutritious elements.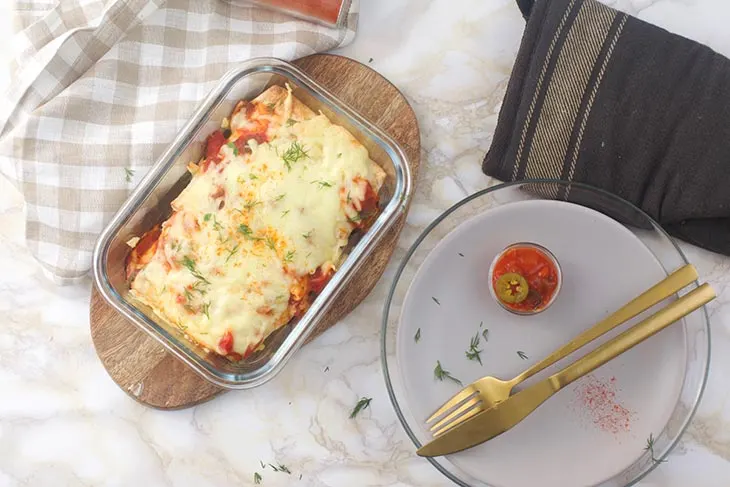 I think I've done enough talking and you are ready to start preparing! So get ready, gather all the ingredients and follow my detailed step-by-step recipe below. You won't regret it for a second!
Share the deliciousness with your closed ones, and you will enjoy a memorable dinner together. And while you are here, I'd really appreciate your comments to tell me what you thought of this recipe!
Yield: 8
Healthy Burrito Casserole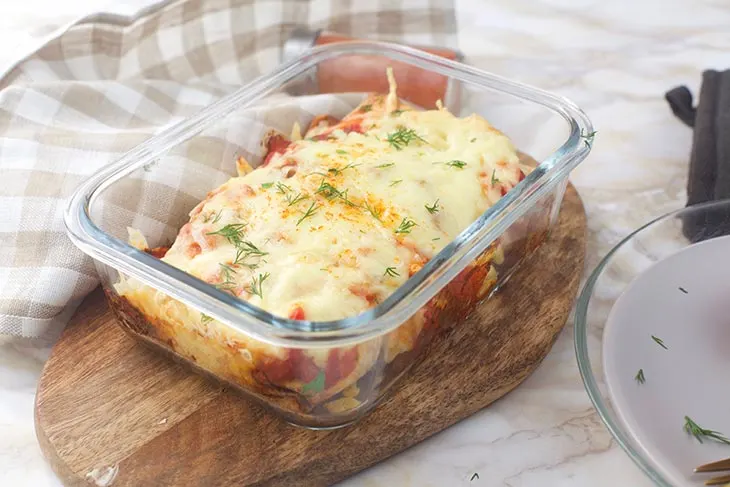 Looking for a healthy, comforting and super filling dish? Search no more - this vegan burrito casserole is the perfect answer! Quick, simple and super yummy!
Ingredients
For the casserole:
3 vegan tortillas
1 Tbsp tomato sauce
3 Tbsp grated vegan cheese
For the filling:
80g (½ cup) black beans, cooked
80g (½ cup) corn, canned
80g (½ cup) green bell pepper, chopped
2 Tbsp onion, finely chopped
1 tsp cumin powder
½ tsp smoked paprika
⅓ tsp chili powder
2 Tbsp hot salsa/sauce
180g (1 cup) quinoa, cooked
salt and pepper to taste
Instructions
Preheat the oven to 200 C
Spray a baking pan with olive oil. Set aside.
In a medium bowl, combine all the filling ingredients except for the quinoa and hot salsa.
On a flat clean surface, lay the tortillas, divide the cooked quinoa between tortillas, top the quinoa with a tablespoon of salsa and with about 2 Tbsp of the beans mixture.
Fold the tortillas into burritos and transfer the burritos to the prepared casserole.
Top with 1 Tbsp of tomato sauce and cover with a layer of vegan shredded cheese.
Bake for about 20 minutes or until golden on top.
Enjoy!
Nutrition Information
Yield
8
Amount Per Serving
Calories

103
Total Fat

2.5g
Carbohydrates

16.2g
Protein

3.7g