This is a creamy avocado pasta recipe with basil and tomatoes is a 15-minute easy spaghetti meal with healthy, fresh ingredients, great textures, and lovely flavors. It's also gluten-free and vegan!
Laziness took over again this week! Less work, more vacation! Yes,well… I deserve it! I spent all my time with Costin, stayed indoors and played computer games all day. I played Fallout 3, he played RAGE, just perfect! By the way, I finished Fallout 3 today, hehe! 😀 Maybe I won't feel the need to play other PC games too soon and start working! No more going to bed at 3 a.m! …Who am I kidding?! I will probably keep on doing that. 😛
Other than that, I was planning on posting the gluten-free vegan pancakes recipe today I told you about on Facebook, but I just realized I forgot the recipe. I'm not sure about the quantities of some ingredients and the recipe turned out too perfect not to share it with you in its exact form! So, I will try it again this weekend and will post it most likely on Monday. 🙂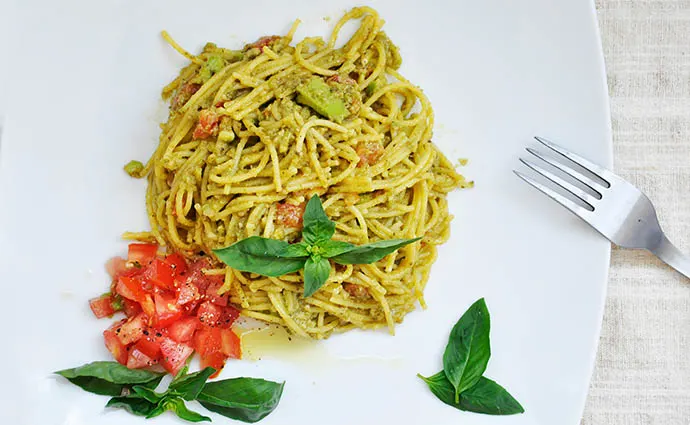 I cooked a lot lately and I have so many great recipes to share with you. Hopefully, my laziness will soon fade away and I will start working as I should!Now about this creamy avocado pasta recipe, I loved it! I just love avocados so why not use them as a creamy sauce for pasta! This creamy avocado pasta recipe is just perfect for summer. It's light, full of flavors, green and healthy! I made it vegan and gluten-free too!
Enjoy 🙂
P.S. Want it raw? Try this zucchini pasta with avocado sauce on Gina's blog. YUM! Or… if you are a huge avocado fan like me, you should check this out: New Ways to Eat Avocado | 10 Best Avocado Recipes.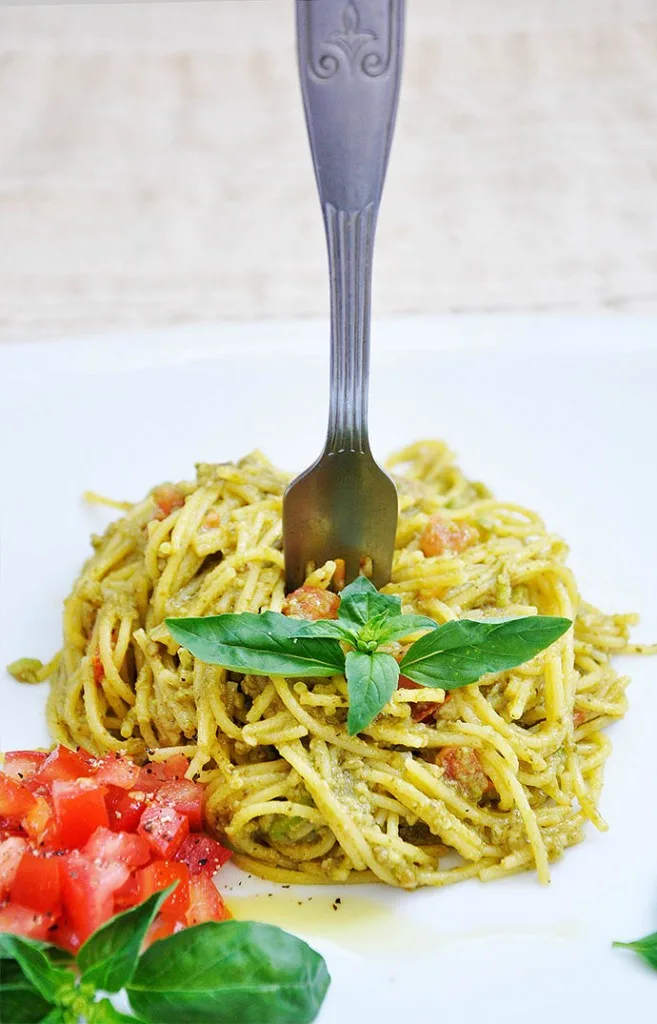 Yield: 2 servings
Creamy Avocado Pasta with Basil and Tomatoes | Gluten-Free!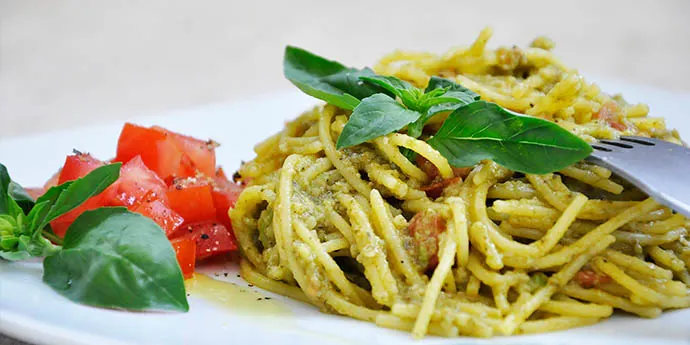 This is creamy avocado pasta recipe is a 15-minute easy spaghetti meal with fresh ingredients, great texture and lovely flavors. Gluten-free and vegan too!
Ingredients
200g (7oz) gluten-free spaghetti, I used Schar spaghetti
1 ripe avocado, mashed
½ lemon, juiced
1 garlic clove, mashed
1 small tomato, chopped
2 Tbsps vegan basil pesto, optional
3 Tbsps olive oil
a few fresh basil leaves
sea salt and ground pepper, to taste
Instructions
Boil pasta following the instructions on the package (about 10 minutes + add salt in the boiling water).
In a medium bowl mix mashed avocado, lemon juice, mashed garlic, chopped tomato, olive oil, salt, pepper and basil pesto or chopped basil leaves.
When ready, add pasta.
Mix and serve.
Nutrition Information
Yield
2
Amount Per Serving
Calories

592
Total Fat

24.2g
Carbohydrates

79.4g
Protein

14g