When people think of English comfort food, they immediately imagine a plate of fish and chips – and with good reason! Learn how to create the most delicious vegan fish and chips using this recipe – quick, healthy and super tasty!
Fish and chips is a common English food and an amazing example of culinary fusion. This popular dish consists of fried battered fish with a side of hot potato chips, and it's a lot older than you'd think, making its first appearance in the 1860s! Can you believe it?
Nowadays, there are literally thousands of fish and chips restaurants in England, and they go by the name of chippies or chippers. You can get fish and chips as a takeaway food as well, this option being, in fact, the UK's favorite. Other English-speaking countries, such as Canada, Australia, and New Zealand adopted this recipe as well.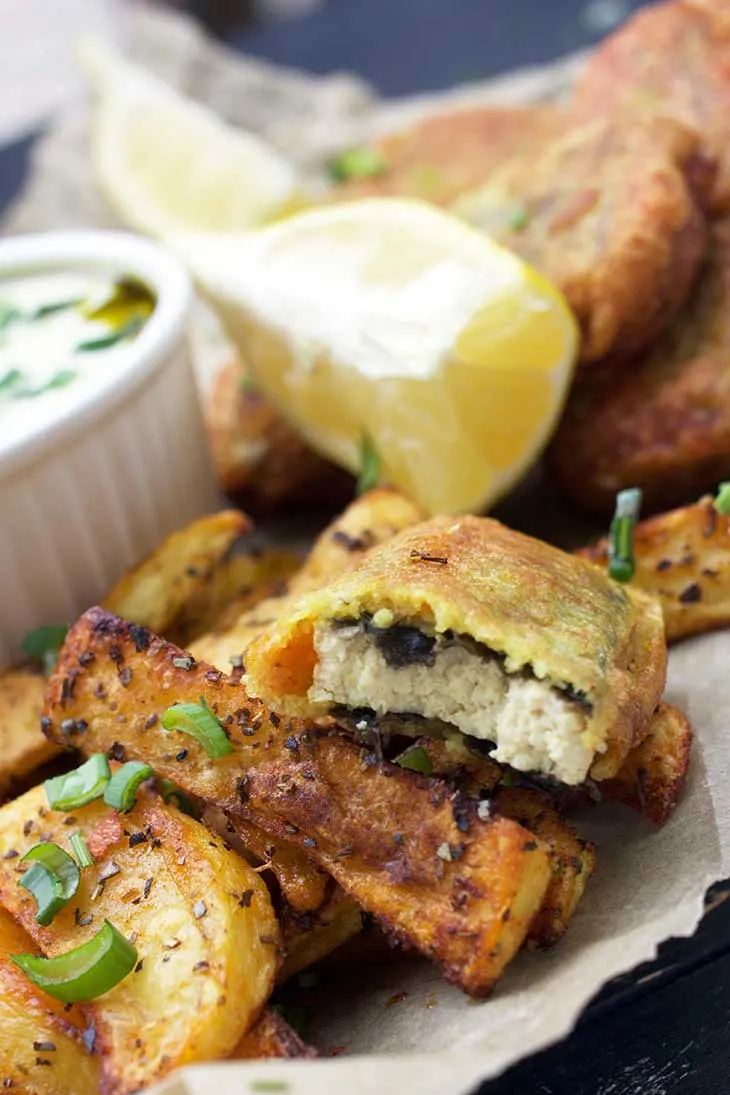 Fish and chips became popular during the First World War because they were a means to feed the masses in a super cheap way, as fish and potatoes were one of the very few foods that were not rationed during this horrible time.
Since then, this dish and the restaurants that promote it became so popular that in the 1930s there were as much as 35.000 restaurants in the UK alone. That is an insane number and quite a good indicator of how much the people love this dish! 🙂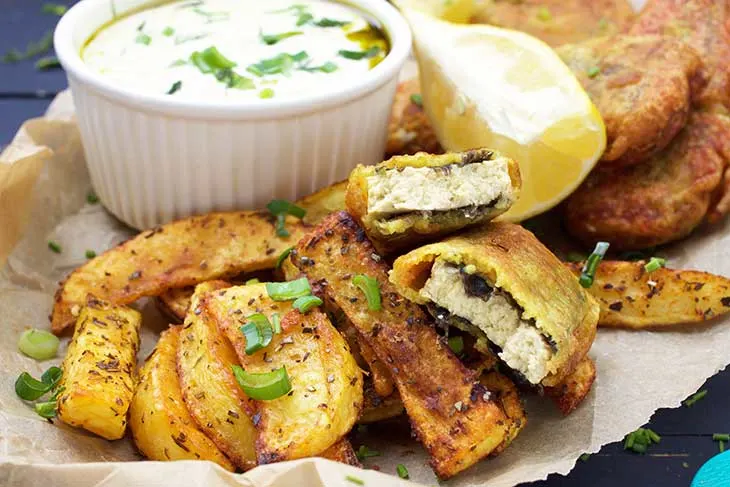 A perfect portion of fish and chips gets only as good as the ingredients that are used for preparing it. Traditionally, cod is the favorite option when it comes to fish, haddock being a second favorite.
Of course, as with any recipe, you will find tons of variations depending on the region. When it comes to the potatoes, you'd better not make a confusion between chips and fries, as chips are definitely crispier.
The best potato varieties are King Edward, Maris Piper, and Sante. When it comes to frying, nowadays vegetable oil is the most popular option, although traditionally you would use beef drippings or lard. A bit EW! in my opinion…however it is said that this gives amazing texture and flavor, making the fish and chips a ton crispier and more delicious. However, cooking with vegetable oil is healthier and easier, so it's the most common option.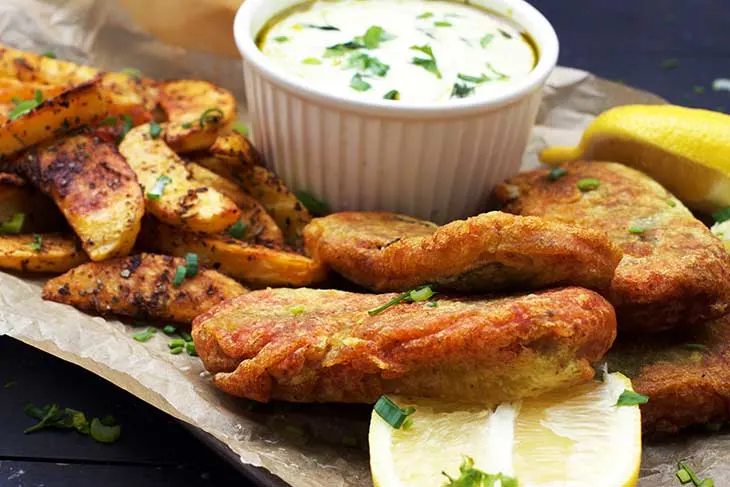 For the batter, the original recipe requires to prepare a mixture of flour, baking powder, salt, and pepper. You will then add milk and eggs (or their guilt-free alternative if you are making the vegan version of this recipe) and stir until you've reached a smooth consistency overall.
You'll need to let the mixture sit for around 20 minutes until you can dredge the fish in this batter. The fish needs to be fried until golden brown; it's extremely important to not under-do this step, as it is the element that makes or breaks a fish and chips recipe. This dish is all about the crisp, so you will not want to end up with a soft fish texture, will you?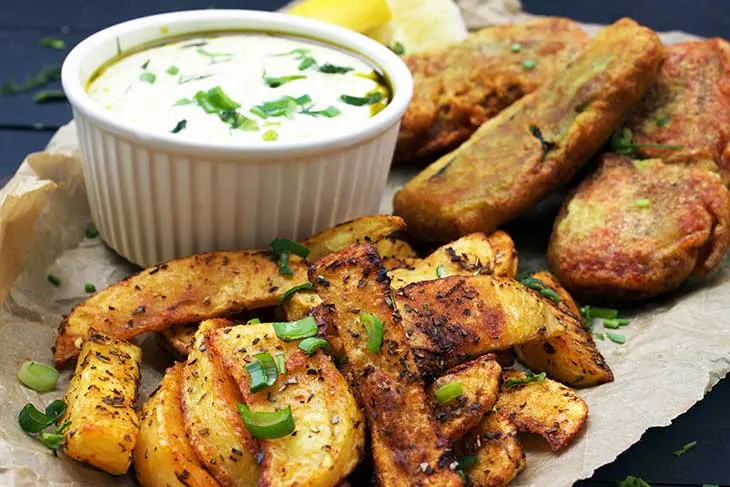 The most common seasoning to this delicious dish is vinegar and salt, which is simply sprinkled all over them. Popular sides include a bit of ketchup, curry sauce, and even a creamy pea puree.
Although I really can't give it a prize for the "Healthiest Meal Ever", fish and chips is certainly a better takeaway food than, let's say, a slice of pizza or a hamburger. Even though it's really high in calories, it actually has a lower fat content and the ingredients are infinitely more nourishing – even when you are preparing the vegan version! For my vegan fish and chips recipe, I used one of the best fish replacements ever: smoked tofu!
Even if you are not a big tofu lover, you will have to trust me with this one, as the results have just the perfect taste and texture and you won't even realize you are eating tofu!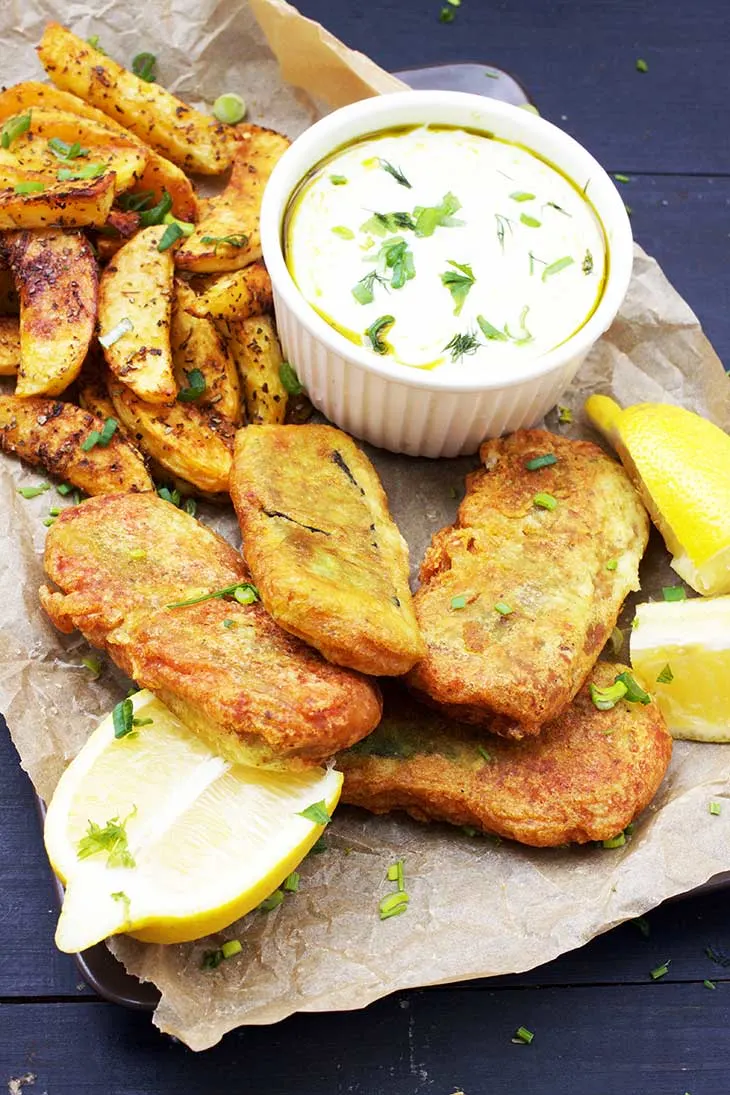 Needless to say, this dish would also go amazing with a pint of cold beer – just as a true Brit would obviously do it! 😉 You don't have to roam the streets of England in order to get a bite of this delicious dish. Just try the healthier vegan version at home and see how it turns out! I promise you'll impress everyone!
Yield: 2 +
Vegan Fish and Chips
When people think of comfort food, they immediately imagine a plate of fish and chips - and with good reason! Learn how to create the most delicious vegan fish and chips using this recipe - quick, healthy and super tasty!
Ingredients
For the chips:
4 large potatoes, peeled and sliced
2 Tbsp olive oil
½ tsp salt
½ tsp freshly cracked black pepper
½ tsp oregano
½ tsp basil
For the fish:
1 block firm smoked tofu, sliced
2 Tbsp fresh lemon juice
3 nori sheets
500ml (2 cups) oil, for frying
For the batter:
120g (1 cup) flour
2 Tbsp gram flour
1 Tbsp flaxseed flour
2 Tbsp nutritional yeast
1 Tbsp corn starch
1 tsp salt
⅓ tsp black salt
½ tsp white pepper
½ tsp baking soda
1 Tbsp vegan fish sauce
240ml (1 cup) beer
Instructions
Preheat the oven to 200C.
Lay a sheet of parchment pepper on a baking tray.
Spread the sliced potatoes in a single layer on the tray.
Sprinkle with oil, salt, pepper, oregano and basil. Toss to cover and spice every chips.
Bake until golden.
Meanwhile, prepare the fish:
Cut the nori sheets into the tofu slices shape and cover every tofu slice with a piece of nori, on both sides. Sprinkle with lemon juice to stick and set aside.
Add some oil to a pan and put it on medium heat until it reaches the proper deep-frying temperature.
In a medium bowl, add all the batter ingredients. Stir well to combine.
Dip every tofu slice in batter and deep-fry for about a minute until golden.
Place on a kitchen towel to get rid of the excess oil.
Serve your tofu fish warm with crispy fries and your favorite sauce.
Nutrition Information
Yield
2
Amount Per Serving
Calories

1193
Total Fat

30g
Saturated Fat

5g
Trans Fat

0g
Unsaturated Fat

23g
Cholesterol

0mg
Sodium

3232mg
Carbohydrates

191g
Fiber

22g
Sugar

10g
Protein

51g
I strive to keep the information as accurate as possible but make no warranties regarding its accuracy. I encourage you to make your own calculations using your preferred nutrition calculator.