If you're dreaming of a hearty, healthy and super delicious soup, I'm here to help! Here's how to prepare the ultimate vegan hearty beans soup!
Besides being full of all that bean goodness (protein, fiber, calcium, iron), this recipe is also very quick and easy to make. It might, in fact, probably going to be your new favorite dish! 🙂
Beans are native to South and Central America; they originated among indigenous tribes of Mexico and Peru, over 7,000 years ago. The cultivation of beans spread across America through the migrations of Native Americans, becoming a staple of their agriculture.
Using a technique called companion planting, corn, squash, and beans, also known as the "Three Sisters", were planted together as the corn provided a structure for the beans to climb on, the bean roots fixing nitrogen, an essential nutrient for healthy plants, and the squash plants shade out emerging weeds and help retain moisture. Clever, right?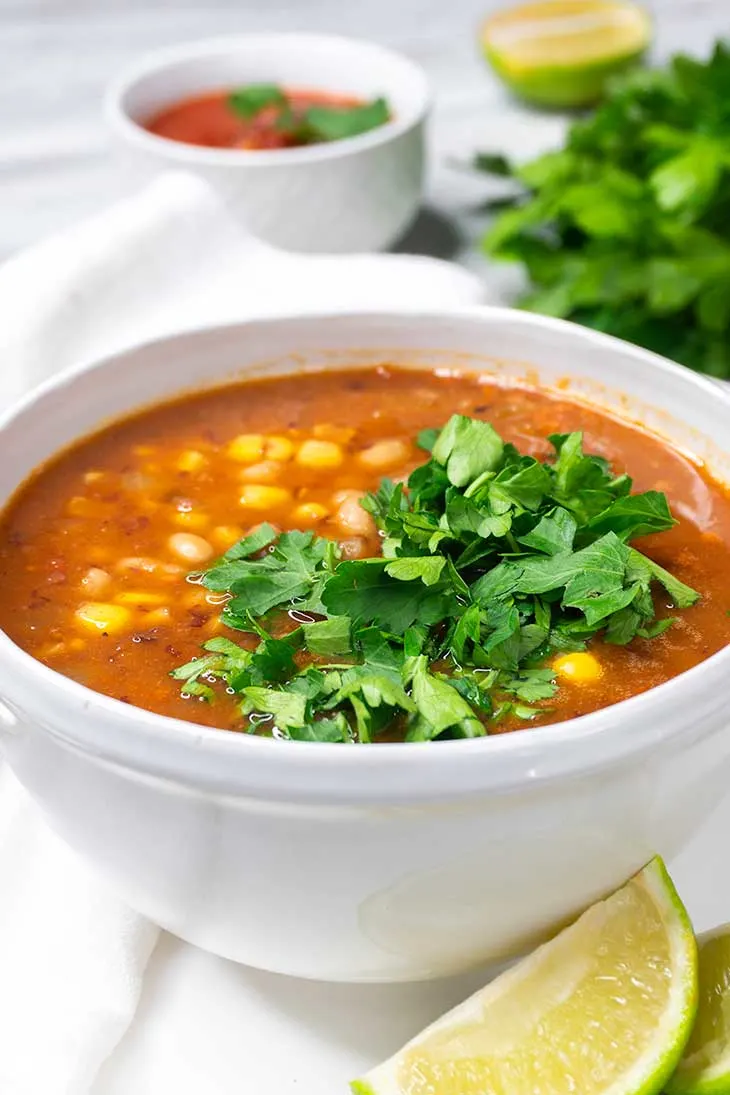 Did you know that in ancient Rome, legumes were so highly prized that the four leading families took their names from the emperors? Cicero (chickpea), Fabius (fava), Lentullus (lentil) and Piso (pea).
Fun fact: Jequirty seeds (also known as the Rosary Pea) are bright red and black beans that are used across the globe for jewelry making. The plant is native to Indonesia, but it has been introduced to subtropical and tropical regions throughout the world. The beans are strikingly beautiful, but unfortunately, they are poisonous.
Black beans came out on top (having more antioxidant activity, gram for gram, than the other beans) concluded a study published in the Journal of Agricultural and Food Chemistry in 2003 investigated the antioxidant activity of 12 common varieties of dry beans. The researchers also found that the darker the seed coat of the bean, the higher the flavonoid content (in general). Among the tested varieties, white beans had the lowest levels of flavonoids and yielded the weakest antioxidant activity.
In today's recipe, I am going to use Cannellini beans, which are not as antioxidant-rich as black beans, but they're still incredibly delicious and good for your health!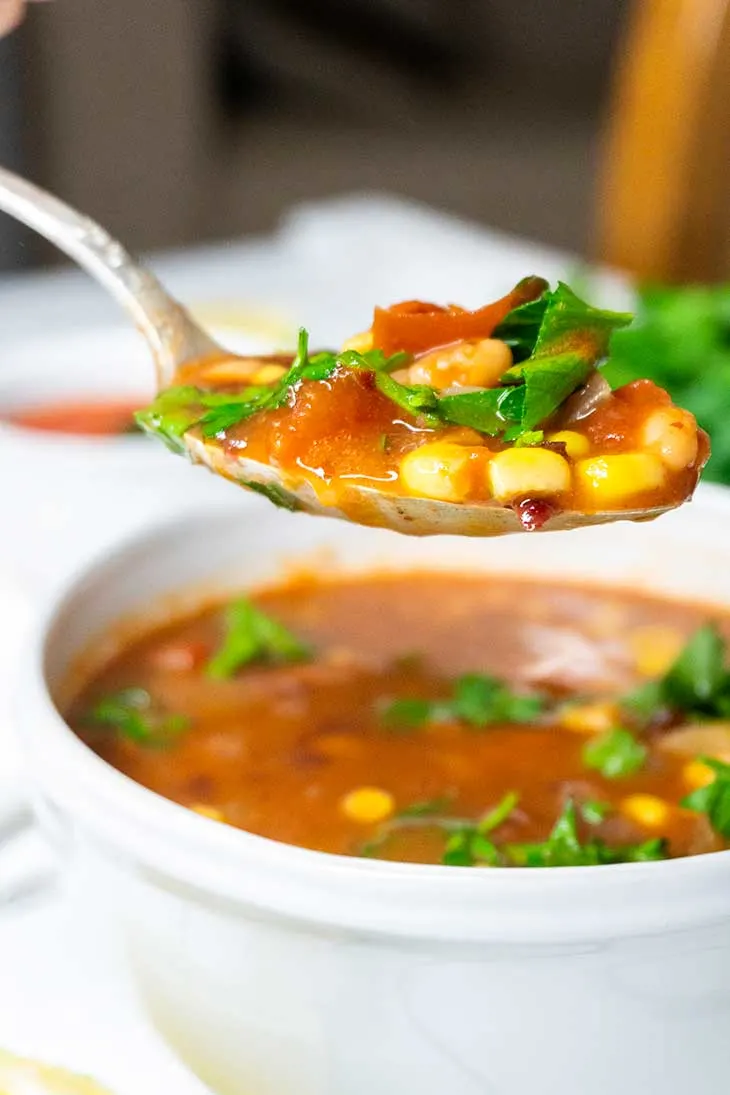 The strong antioxidant properties of beans are largely attributable to their high concentration of anthocyanins such as delphinidin, petunidin, and malvidin. The overall anthocyanin content of black beans is estimated to be around 214 milligrams per 100 grams. Anthocyanins are healthful flavonoid pigments that give foods like blueberries, blackcurrants, raspberries, red grapes — and black beans — their intense color and superior antioxidant properties.
Antioxidants protect cells from free radicals which are harmful atoms that can cause damage to the cells in your body. The cellular damage caused by free radicals can lead to several degenerative and chronic diseases such as Alzheimer's disease, many cancers, heart disease, immune system problems, atherosclerosis, dementia, diabetes, thrombosis, and even certain eye disorders.
Apart from providing protection against diseases, the free-radical fighting properties of anthocyanins and other flavonoids present in the beans can deliver beauty benefits by preventing signs of premature aging of the skin induced by an overdose of sunlight.
Here's a tip: If you don't have that much time, canned white beans for the win! They're easy to find and they take all the time-consuming aspects out of the equation for this soup. In this recipe, I also used frozen corn, which adds an amazing texture to the dish and, of course, a better taste! 🙂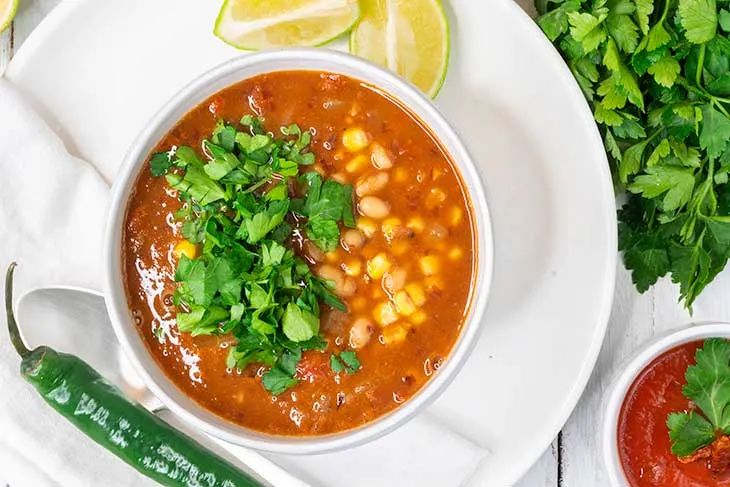 I will explain the step-by-step process of making this incredible hearty beans soup down below, but here are the steps in general:
Sauté some onions with some delicious spices like oregano, cumin, smoked paprika, coriander powder, and cayenne pepper and then add in the rest of the veggies that you are going to use.
Then add the beans, some chopped tomatoes, tomato paste, and vegetable stock. And, of course, corn!
Bring to a boil and then let it simmer until the veggies are softened and all the flavors are blended.
Add in a pinch of salt and pepper if needed and your beans soup is ready!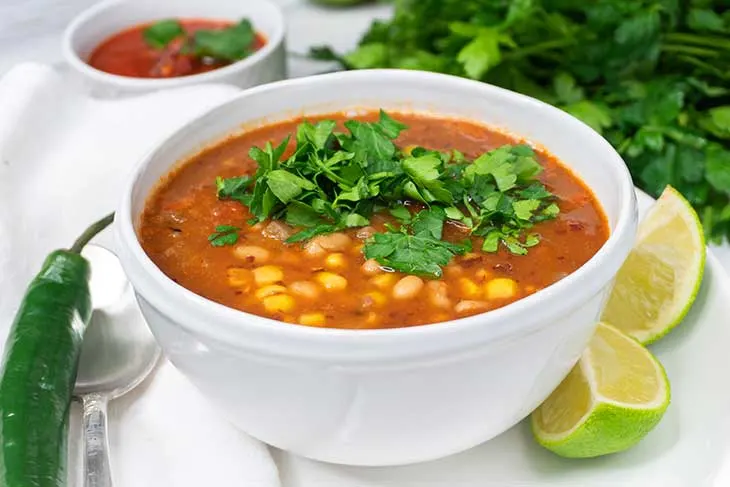 So let me know what you think of this vegan beans soup in the comments and please share with me your cooking stories! 🙂 Bon appetite!
---
Personalized meal plans and workout videos | Get your customized meal plan today! [x_button shape="square" size="mini" float="none" target="blank" href="https://shop.gourmandelle.com/?utm_source=mainsite&utm_medium=site&utm_campaign=inpost" info="none" info_place="top" info_trigger="hover"]I WANT A MEAL PLAN![/x_button]
---
Yield: 4
Hearty Beans Soup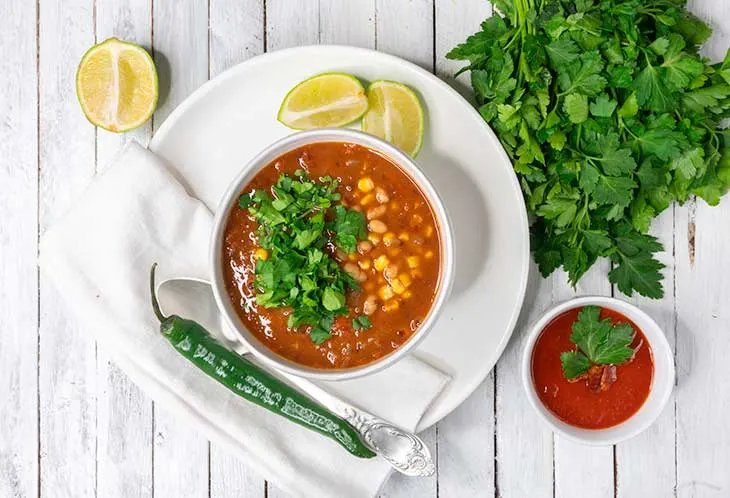 If you're dreaming of a hearty, healthy and super delicious soup, I'm here to help! Here's how to prepare the ultimate vegan hearty beans soup!
Ingredients
1 medium yellow onion, chopped
4 garlic cloves, minced
1 can (400g | 15 oz) diced tomatoes
2 cans (800g | 30 oz) Cannelini beans
600ml (2 ½ cups) veggie broth
1 fresh green chili, finely chopped
165g (1 cup) frozen corn
1 Tbsp olive oil
1 tsp ground cumin
½ tsp chili powder
½ lime, juiced
fresh parsley
Instructions
Pulse 1 can of undrained beans in a blender or food processor. Don't mash them completely.
In a pot, sautee the onion and garlic in 1 Tbsp of olive oil until translucent.
Drain and rinse the second can of beans and add them to the pot.
Add the pulsed beans, diced tomatoes, corn, veggie broth, green chili, chili powder and season with a little salt and pepper.
Partially cover and simmer for 15-20 minutes.
Add more broth if the soup thickens too much.
Adjust the seasoning and squeeze the juice of 1/2 lime.
Serve with fresh parsley.
Nutrition Information
Yield
4
Amount Per Serving
Calories

236
Total Fat

4.8g
Carbohydrates

39.8g
Protein

8.3g
I strive to keep the information as accurate as possible but make no warranties regarding its accuracy. I encourage you to make your own calculations using your preferred nutrition calculator.