You may already know about my love for patties and fritters, but these vegan corn fritters are truly something special! Try them the next time you're craving a quick and easy lunch and you won't regret it!
Today we're going to try something quick and easy. For me, it was one of those days when I didn't have much time available and I needed a quick fix. I find fritters are always a good solution when these kinds of situations arise.
These vegan corn fritters turned out really great, so I decided to share this recipe with you! 🙂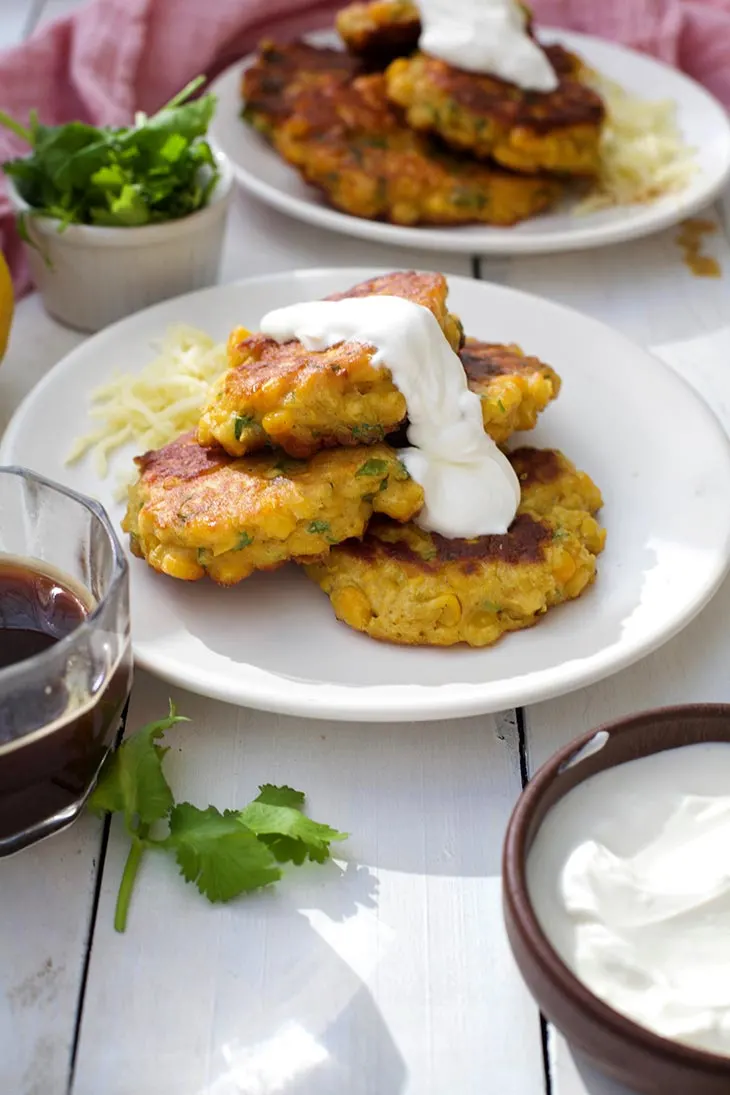 They are really easy to make, so they are absolutely perfect for those days when you only have a couple of minutes to put together a good meal. And while I like my food to be ready fast, I wouldn't ever sacrifice neither its taste nor its quality for the sake of speed.
So, while this recipe is there for you to save the day when you are short on time, you will still have a tasty, delicious and fulfilling meal on the table. What more can you wish for? This is exactly what makes the corn fritters so great!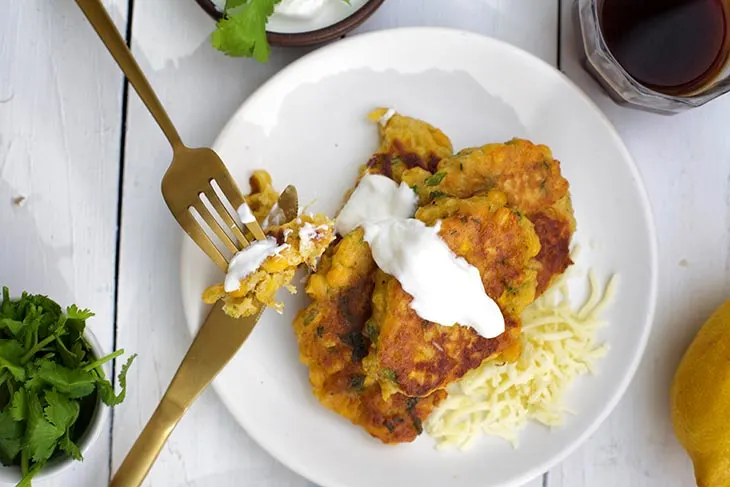 You may already be wondering what you need to have in your kitchen in order to start preparing your fritters. Chances are, you already have everything you need! The main ingredient is corn, obviously.
The good news is that this recipe works with both fresh and frozen corn. So no worries here, you can enjoy this delicious fritters any time and day of the year. Just remember: if you decide to use frozen or canned corn, make sure to drain all the excess liquid. You will want your corn to be dry when you are mixing it with the other ingredients.
Because corn is not the only ingredient in this magical recipe, of course! I like to keep things flavorful and fulfilling, so we are also going to add other spices and ingredients as well. Extra toppings can be added for serving, such as scallions and some garlic if you prefer. Don't forget the oil for frying – and this is all you will need!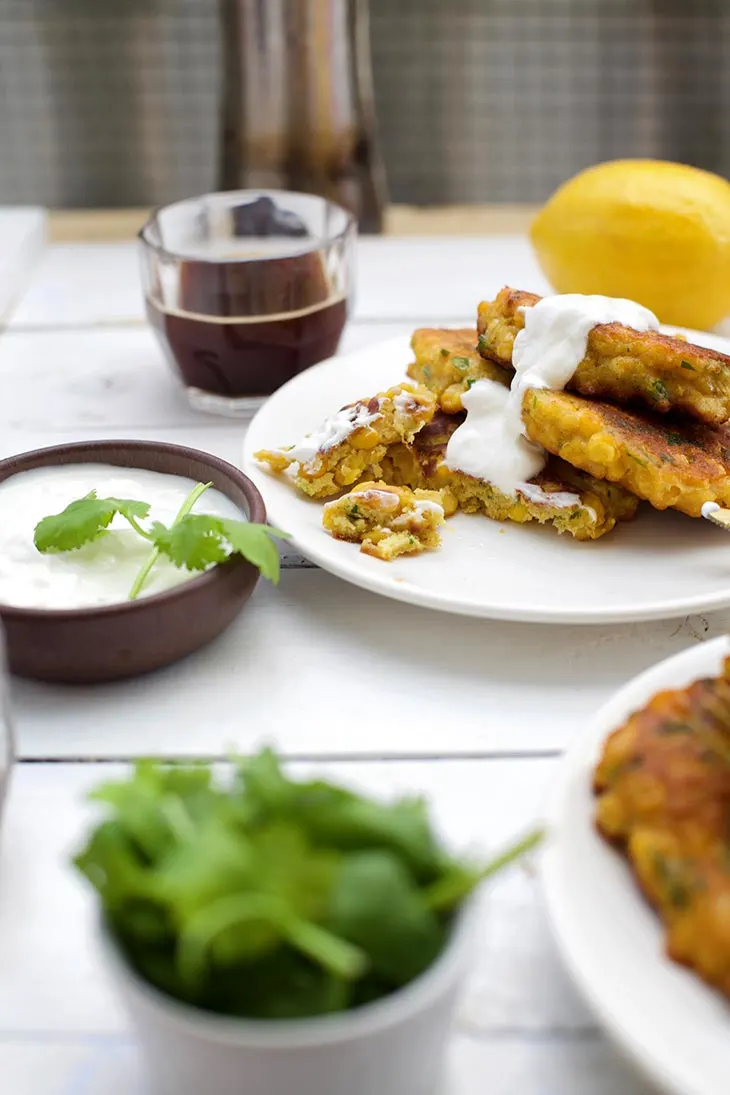 As I told you, you probably already have everything in your kitchen and pantry already!
Now, what about the procedure? Couldn't be easier! This is the classical situation in which you need your ingredients, a big bowl, and everything will be mixed there! And cooking them couldn't be easier, either. First, prepare the plate where you are going to place the fritters. Coat it with some paper towels, as this will help absorb any excess oil. We want things as healthy as possible!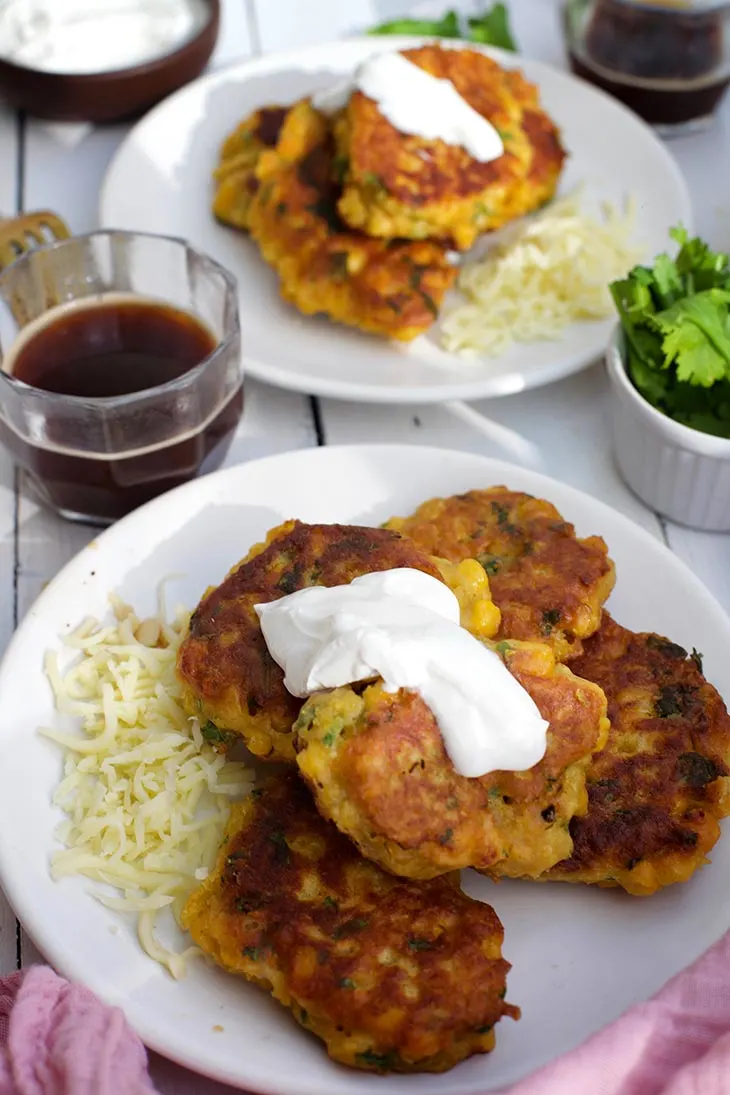 Afterward, it's time to prepare the pan. Once the oil is heated, add about 2-3 tablespoon of the fritters batter into the pan. Spread it into a nice, circular shape. Cook them for 2 to 3 minutes and then flip them on the other side. Be sure they are evenly and thoroughly cooked. When the fritters are done, take them out and place them on the plate coated with paper towels. Season them with salt and pepper. Repeat the process and don't forget to add more oil as needed.
When everything is done, add the toppings and that's it! Dinner (or lunch, maybe breakfast, no judgment) is ready!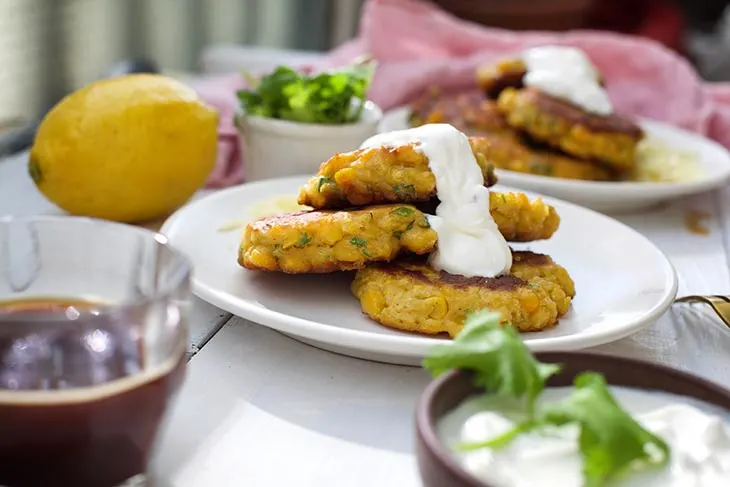 Did you know that, although it contains carbohydrates, corn is quite good for you? It is rich in vitamin C, magnesium, B vitamins and carotenoids, such as lutein and zeaxanthin. Corn contains very little fat and it is also a good source of ​​fiber. Another good reason to choose this recipe!
I think I've done enough talking and it's time to get to the cooking part! Get together all the ingredients and follow the steps below and I am sure your fritters will end up great!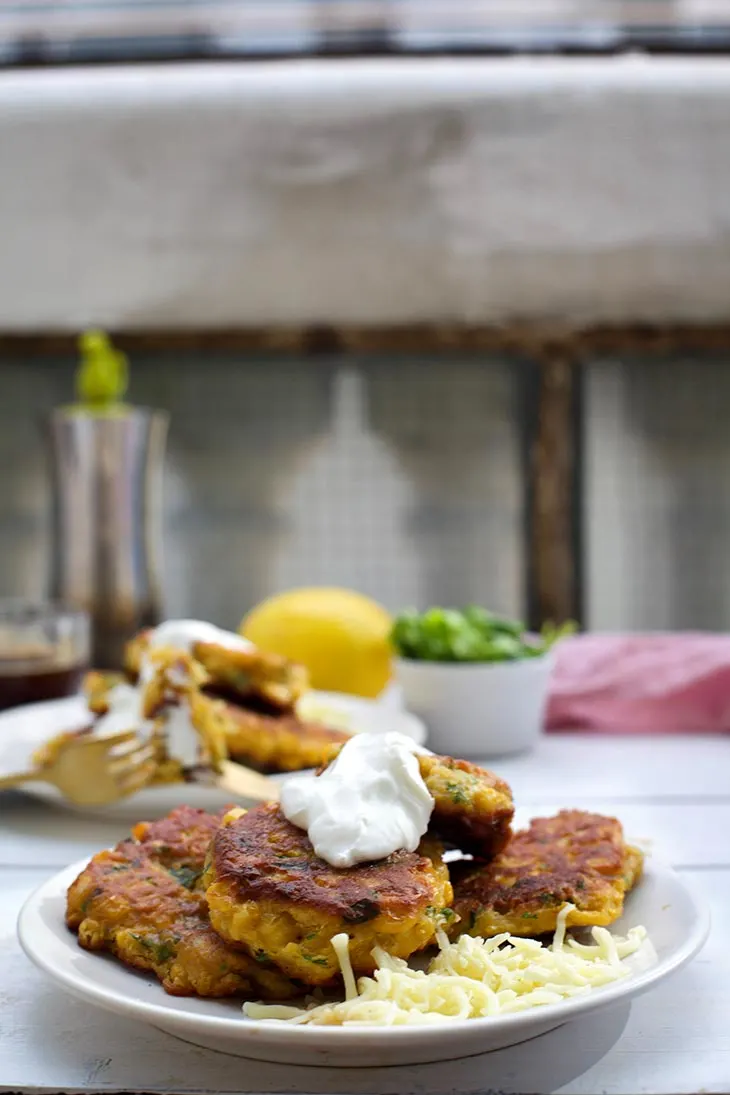 And if your batch ends up too big for you to handle at once, keep in mind that these fritters will keep very well in the freezer. Share them with your friends and family, eat them alone all at once, enjoy them however you like! I hope you will like them – and don't forget to tell me how it went in the comments! 🙂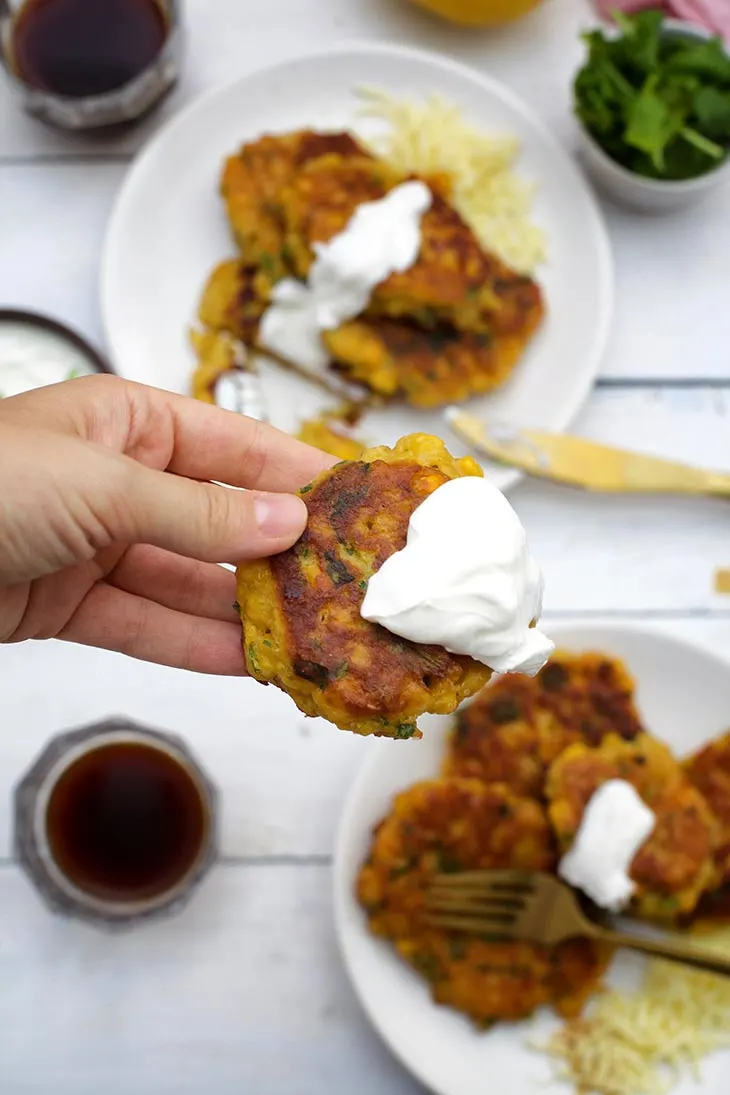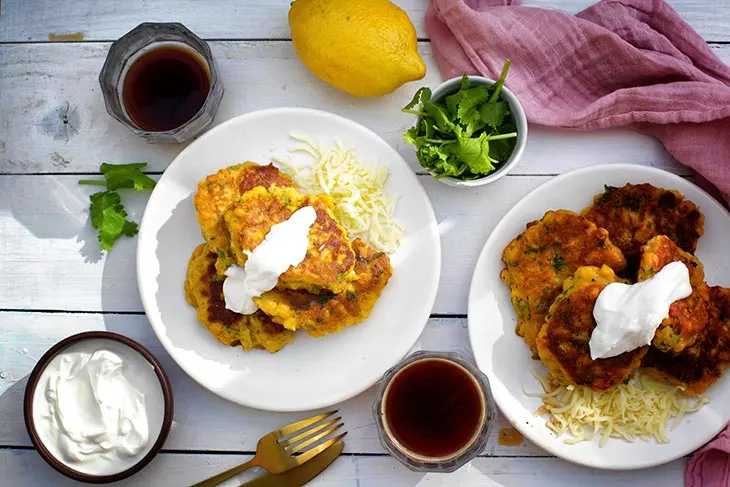 You may already know about my love for patties and fritters, but these vegan corn fritters are truly something special! Try them the next time you're craving a quick and easy lunch and you won't regret it!
Ingredients
For the batter:
250g (1 ½ cup) sweet corn
1 Tbsp flax meal + 2 Tbsp water = flax "egg"
1 tsp green curry paste
1 tsp baking powder
120g (1 cup) flour - use GF if needed
1 tsp sea salt
⅓ tsp pepper
1 Tbsp lemon juice
½ tsp garlic powder
Additional ingredients:
250g (1 ½ cup) sweet corn
4g (¼ cup) finely chopped cilantro
2 Tbsp spring onion, finely chopped
2 Tbsp oil, for frying
For serving:
120g (½ cup) shredded vegan cheese
For the sauce:
250g (1 cup) vegan yogurt
2 Tbsp tahini
1 Tbsp lemon juice
½ tsp garlic powder
½ tsp salt
½ tsp white pepper
Instructions
Add all the batter ingredients to a food processor and mix until fully incorporated. Do not overmix.
When the batter is ready, set aside to chill for about 10 minutes.
Using a spatula, stir in the additional ingredients: corn, cilantro, spring onion.
Meanwhile, prepare the sauce:
Add all the sauce ingredients to a bowl and mix with a hand mixer until fully incorporated.
Set in the fridge to chill.
Set a skillet with a little oil to medium heat.
Using an ice-cream scoop, add the batter to the skillet to cook the fritters.
Cook on both sides for about 5 minutes, until golden brown.
Serve with the chill yogurt sauce. Enjoy!
Nutrition Information
Yield
10
Amount Per Serving
Calories

148
Total Fat

7g
Carbohydrates

19g
Fiber

2g
Sugar

3g