This vegan chocolate banana bread is extremely easy to make and has a rich, decadent chocolate taste you'll love!
This vegan chocolate banana bread recipe is very similar to my all-time favorite, easiest vegan chocolate cake recipe, I made a couple of weeks ago. I actually decided to make this chocolate banana bread right after the vegan cake recipe because I was so amazed by its simplicity and great texture. You can use my vegan chocolate cake recipe as a base for so many other types of desserts.
This is a simple chocolate banana bread but you can think of other ways you can adapt this versatile recipe. You can opt for the chocolate glaze topping I used in the cake recipe, add some chopped walnuts inside or as a topping, mix it up with peanut butter and so many other variants. Imagination is the limit!
This is a very easy recipe, all you have to do is pretty much just mix and bake! It was tested multiple types and turned out perfectly each time, so don't worry, it will rise nicely and taste amazing! 🙂
I also added some sliced banana on top and inside, so you can have a little surprise with each slice of this chocolate bread. You can see how it looks, in the photo below. 🙂
Also, this vegan chocolate banana bread recipe is gluten-free! I used my favorite gluten-free flour, Mix It Universal by Schar.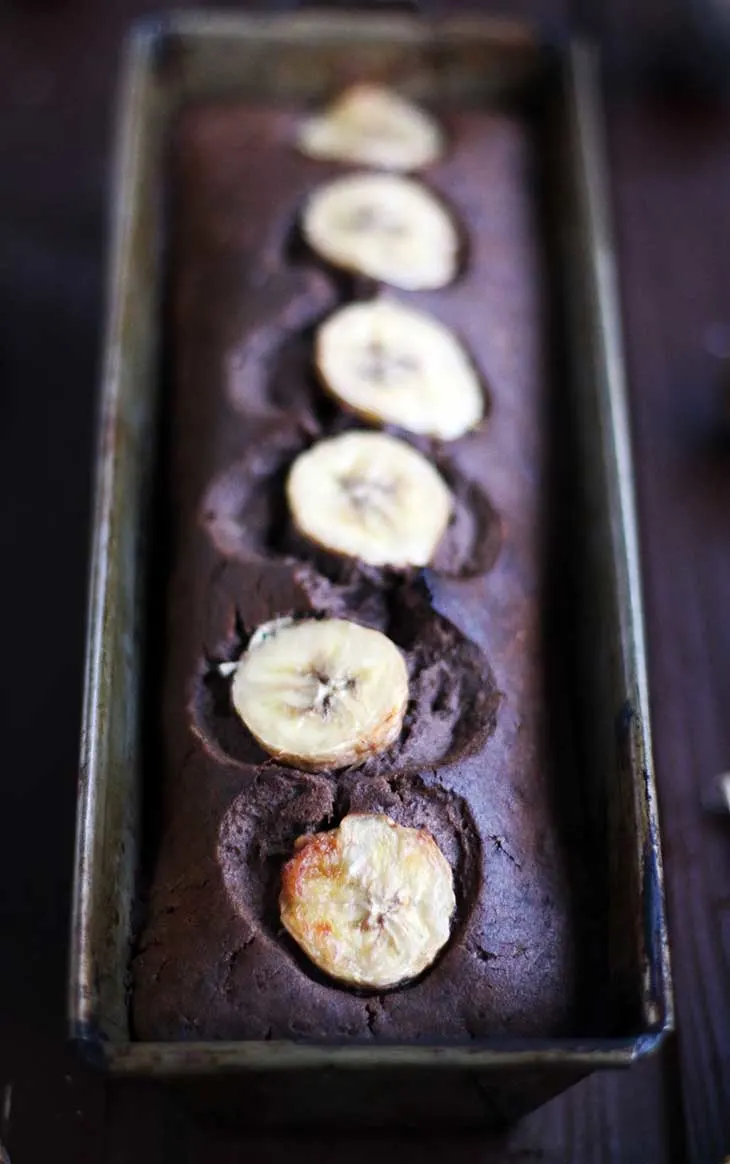 Origin of Banana Bread
What really brought banana bread into being, was baking powder! Or, more accurately, the acceptance of baking powder by American housewives as a baking ingredient. Banana bread became very popular in American cookbooks around the 1930s and some variations include: banana raisin bread, banana nut bread, chocolate chip banana bread, and banana bread muffins.
As a little bit of backstory, let me tell you that bananas first appeared in the United States in the 1870s and it took a while for them to start being used as ingredients for desserts. Naturally, it happened, and we're really thankful for it. I'm sure that a banana based dessert is definitely on your list of favorites!
As for why American housewives came up with this banana bread idea, some food historians believe it was one of the effects of the Great Depression. During this time, people had to make do with the food that they had available because it was hard to come by and it was expensive. That's why housewives found a way to use overripe bananas instead of throwing them away.
Nonetheless, other historians believe that banana bread was developed to promote the use of flour and baking soda products. If you ask me, I think that the resourceful housewives theory seems a lot more spontaneous which makes it more likely in my eyes. But that's just me!
Hope you'll give it a try and let me know how this turned out for you! This gluten free banana bread recipe is perfect if you want to impress your friends and family!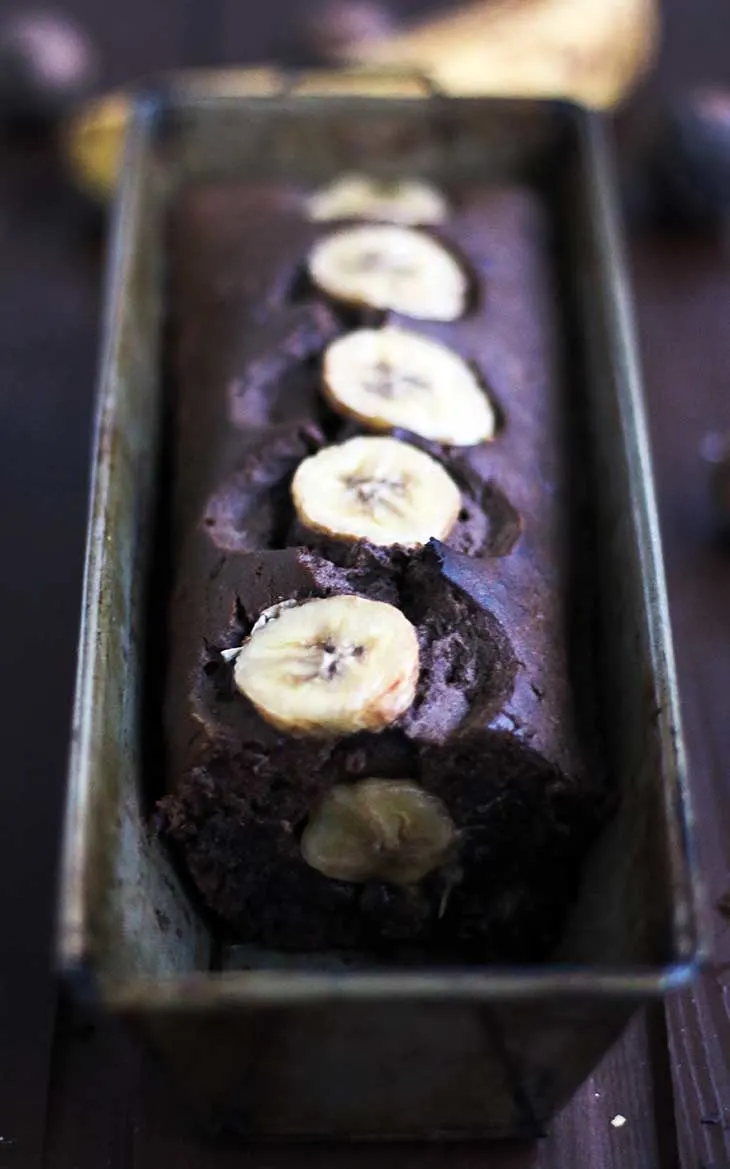 Yield: 10+
Vegan Chocolate Banana Bread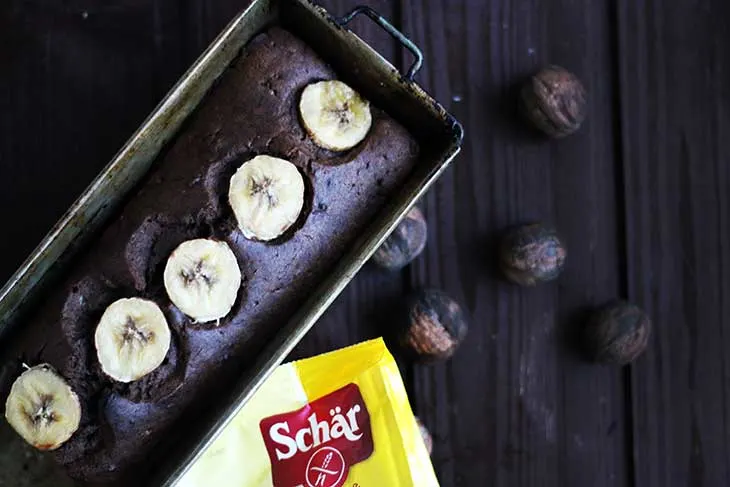 This vegan chocolate banana bread is extremely easy to make and has a rich, decadent chocolate taste you'll love!
Ingredients
150g (1 cup) - I used gluten-free flour, Mix It Universal by Schar)
100g (½ cup) brown sugar
1 tsp baking soda
1 Tbsp apple cider vinegar
4 Tbsps cocoa, high-quality
4 Tbsps oil
125ml (½ cup) soy milk (or any other vegan milk)
2 bananas, very ripe, mashed or blended
1 banana, sliced
Instructions
Preheat oven to 350F (175C). Grease the pan.
Mix flour with brown sugar, cocoa, and baking soda.
In a separate bowl, mix soy milk with oil.
Pour wet ingredients over the dry ones, slowly, while mixing using a hand-mixer.
When incorporated, add vinegar. Mix some more.
Blend 2 ripe bananas in a blender (or mash them very well with a fork). Pour it over the batter and mix well.
Pour half the composition into the pan. Add some banana slices and cover with the rest of the batter. Top with banana slices and bake for ~25 minutes.
Nutrition Information
Yield
10
Amount Per Serving
Calories

172
Total Fat

6.7g
Carbohydrates

26g
Protein

1.8g