Make these delicious, crispy vegan zucchini fries / zucchini sticks and enjoy a crunchy snack or side dish, that's also secretly healthy!
This is the first time I write a blog post entirely from my phone. For the past week I didn't have any access to my laptop, as it is broken and currently in service. Repairing takes way longer than expected and this caused quite a few issues with work and my blogging activity. I decided to try writing a post from the phone, and I can say it goes pretty well so far. I have to keep switching from app to browser, because some functionalities are missing, so it will probably take me longer, but hopefully it will turn out ok. 🙂
I have two video recipes on stand by and five more regular text recipes waiting to be posted on the blog. I didn't have time to promote my meal planner this month either, so here it is! I did add some new recipes to it and lots of cool improvements will come soon.
So, about this awesome zucchini fries recipe… I kept on seeing similar zucchini sticks recipes on Pinterest and decided to give it a try myself. It is completely vegan, which is a plus, so no real cheese or eggs on this one. The texture turned out amazing with vegan cheese too.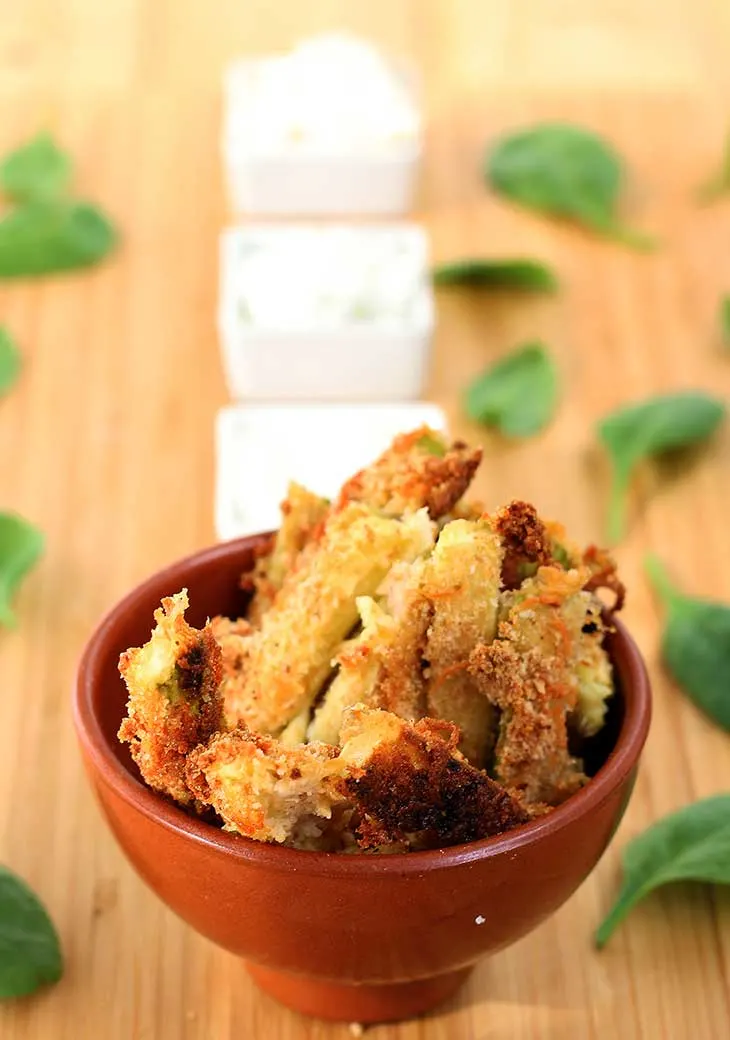 These zucchini fries, zucchini sticks or vegan fried zucchini, whatever name you prefer, are really easy to make. They're not actually fried, but baked, so less time spent in the kitchen plus they're healthier too!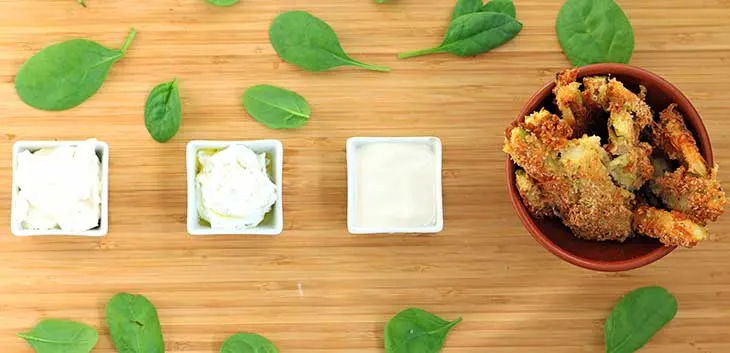 I served them with three types of sauces: tahini, aioli and labneh. I prefer tahini, plus it's vegan too, unlike the other two options. You can try different dips, like ketchup or pesto, depending on your personal taste.
P.S. I discovered some really cool kitchen utensils from Dreamfarm! See pic below. These were sent to me by Smartha.ro, but this smart and fun brand is also available on international shops as well. Their products are high quality and have some really cute names – Chopula – how funny is that?! ?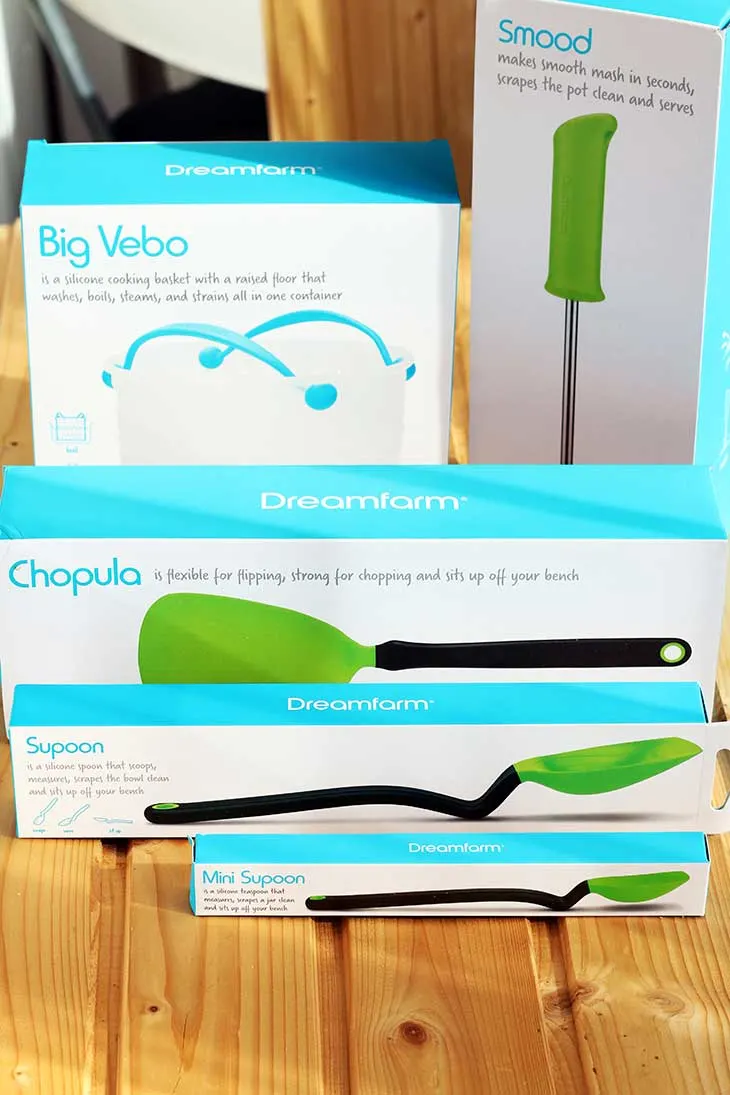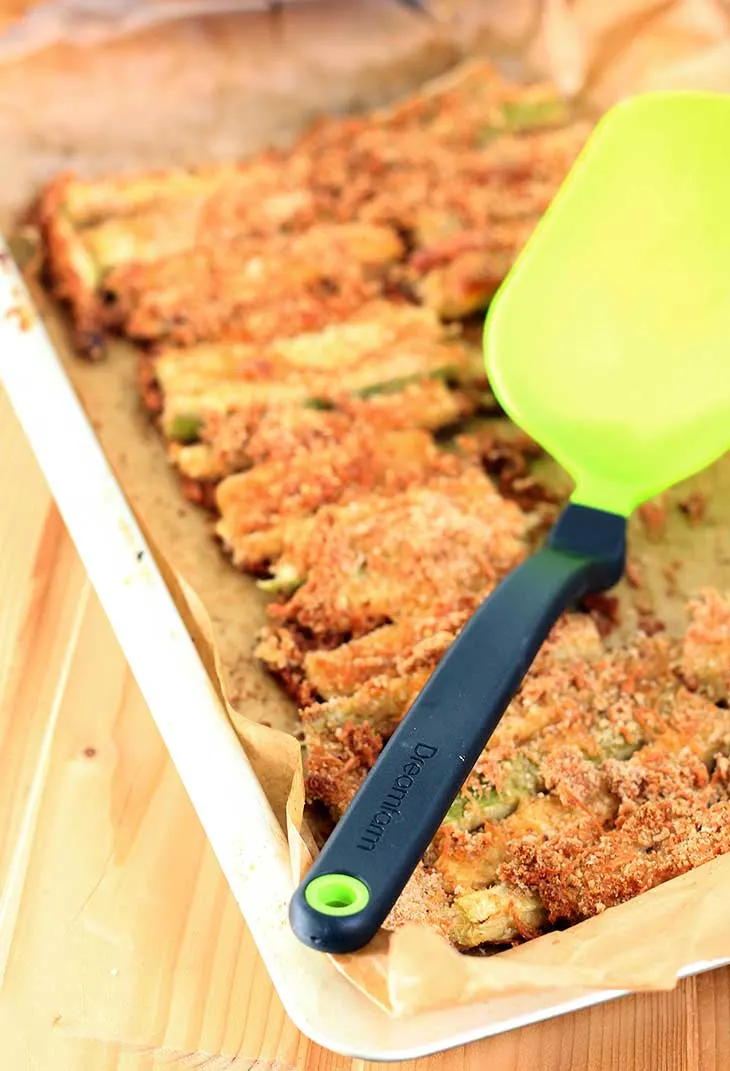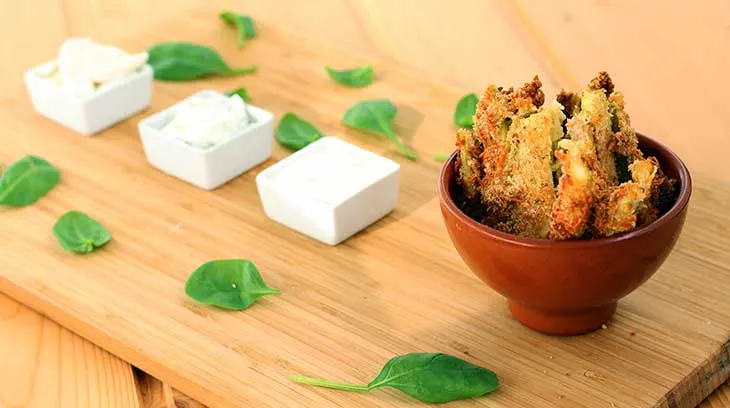 Make these delicious, crispy zucchini fries / zucchini sticks and enjoy a crunchy snack or side dish, that's also secretly healthy!
Ingredients
1-2 zucchinis
100g (½ cup) breadcrumbs, I used GF PanGrati by Schar
55g (½ cup) vegan cheese, a kind that melts, grated
Olive oil
Salt and pepper, to taste
Sauces/Dips, optional - ideas
Tahini
Labneh
Aioli
Ketchup
Pesto
Instructions
Cut zucchinis in sticks.
Pour some olive oil in a bowl.
Add breadcrumbs and grated vegan cheese in a separate bowl. Add some salt and pepper and mix.
First dip each stick in the olive oil, then cover in the dry mix.
Place the zucchini fries on an oven tray, lined with parchment paper.
Bake in oven at 375F/180C for about 15-20 minutes, until crispy.
Serve with sauces of choice.
Nutrition Information
Yield
4
Amount Per Serving
Calories

472
Total Fat

31.9g
Carbohydrates

39.2g
Protein

6.9g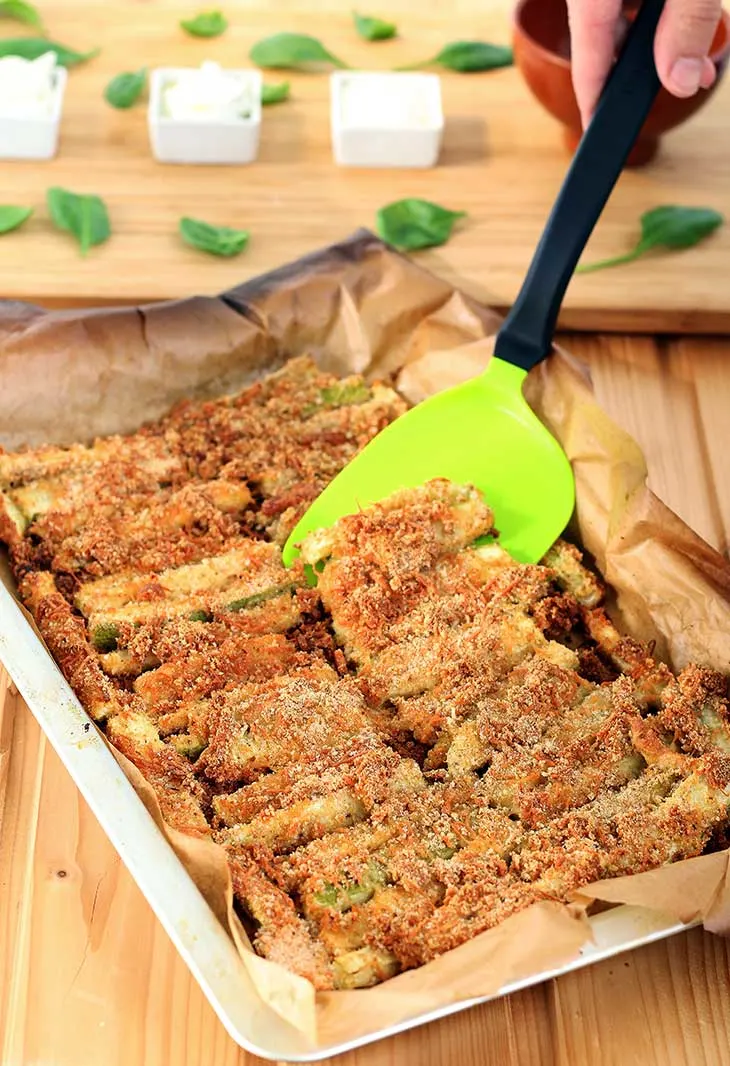 Did you liked this recipe? You should try this Zucchini Casserole recipe.