Craving something comforting, but also exotic and special? Here's how I make the most flavorful and delicious vegan green curry!
Curry encompasses a variety of Indian dishes using a combination of spices or herbs, the ones most used being turmeric, cumin, coriander, ginger, and fresh or dried chilies. This combination varies from one region to another, depending on tradition and family preferences.
Curry is usually made into a sauce and served on top of rice. That's actually what its name suggests, the word curry being anglicized from the Tamil word kari, which literally means sauce for the rice. And it might be no wonder that this food is extremely old, as well!
Archaeological evidence dates mixing spices into a paste to as far back as 2600 BCE, with black pepper being popular in Indian cooking since at least 2000 BCE. Those are a lot of years and eating curry is eating history, as odd as it may sound!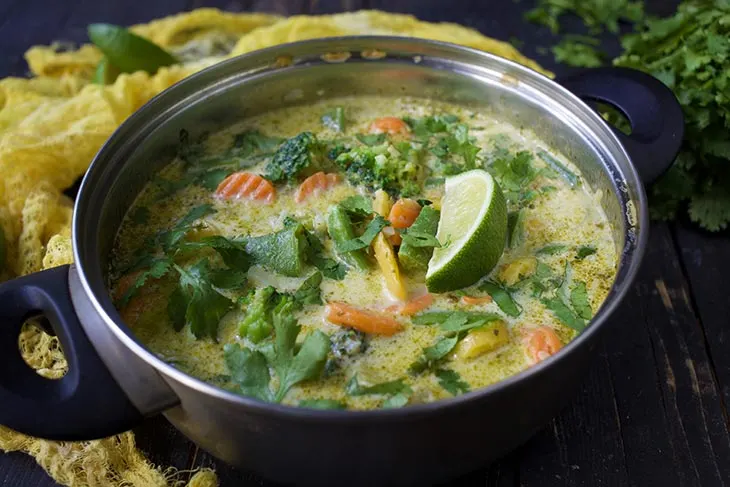 This food was introduced to English cuisine in the 17th century; later on, Hannah Glasse's The Art of Cookery (1758) mentioned a recipe for Indian curry. Along with curry's increase in popularity came a wide variety of curry powders.
These are a commercially prepared mixture of spices and, as you may have guessed, the idea belongs to Western people who liked Indian cuisine but didn't have the time (or patience) to commit to it fully. Alas, curry became a popular food adapted by each and all countries, and part of what's called fusion cuisine.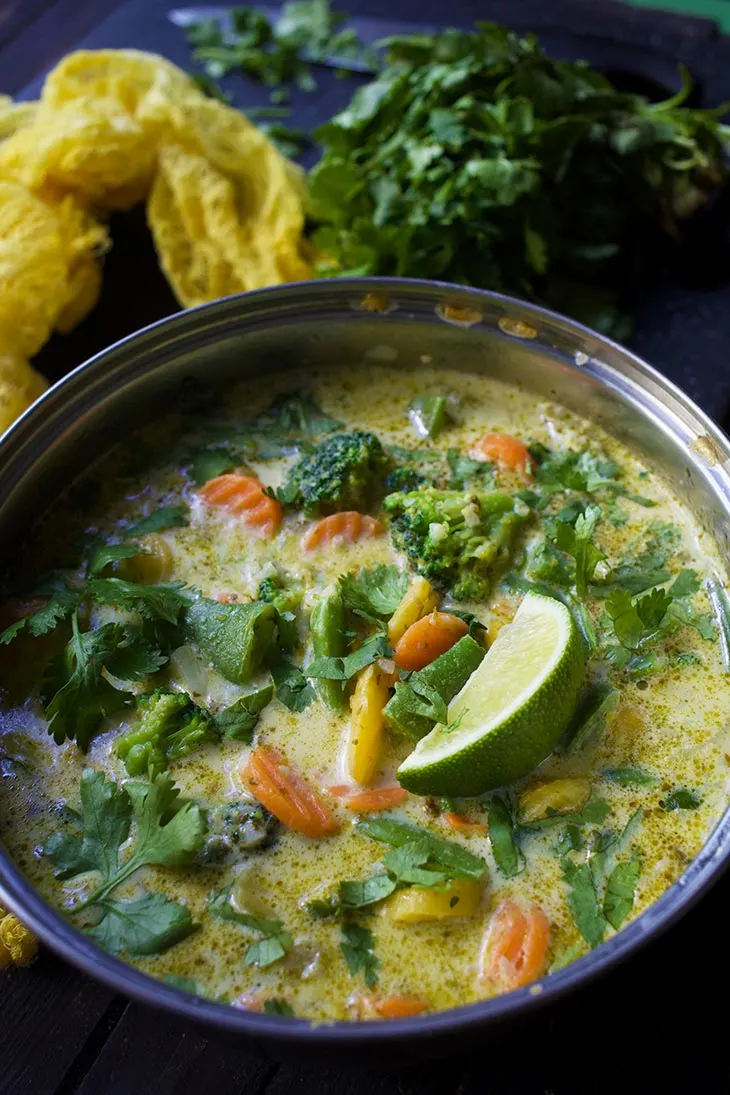 Traditional curry dishes may contain a type of meat, fish or poultry, but always alongside lots and lots of vegetables.
This is why you'll also find entirely vegetarian versions that are also as traditional as they can be – and no wonder why – in that part of the world, you'll find a lot of people holding ethical or religious proscriptions that won't allow them to eat meat – and that's great.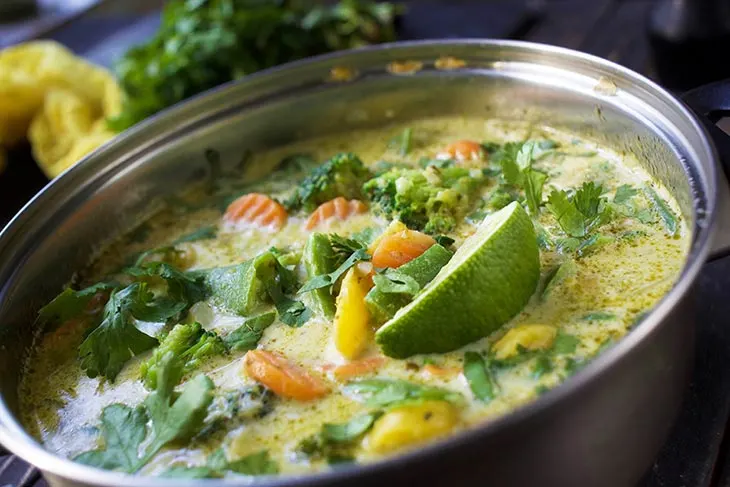 By the way, did you know that curry is very easy to 'veganize'? And this is why I love it so much! It's nutritious, delicious and super delicious, making for the perfect, hearty comfort food with none of the nasty attributes of a burger or bag of Doritos, you know?
This vegan green curry could not have been easier to make! You're going to need some sort of Thai green curry paste. You can either buy a pre-made one or make your own from scratch – and today we'll learn how to make the spice combo ourselves!
The homemade one is obviously better and whips up in minutes. Not to mention that it's super versatile and good to have on hand -just a few tablespoons pack a ton of flavor which you can then use to level up any meal!
If you want to make things even more delish, you can add tofu to the dish in a variety of ways. Traditionally, the tofu is left plain, scrambled and added to the mixture for a wider variety of texture. However, you can add it on the side, together with the rice, or, to level up, you can either marinate it or grill it. Trust me, it's worth the effort – I honestly could eat grilled tofu every day, it's just so good if done right!
This is also an amazing dish to reheat for leftovers. If you leave it a day or so, the flavors blend better and everything becomes more delicious. It's perfect as dinner after a busy day, or to pack for a healthier lunch option. And you're getting in your vegetables in the most delicious and fun way possible. Even kids are going to love it – and we all know how picky they can be when it comes to vegetables!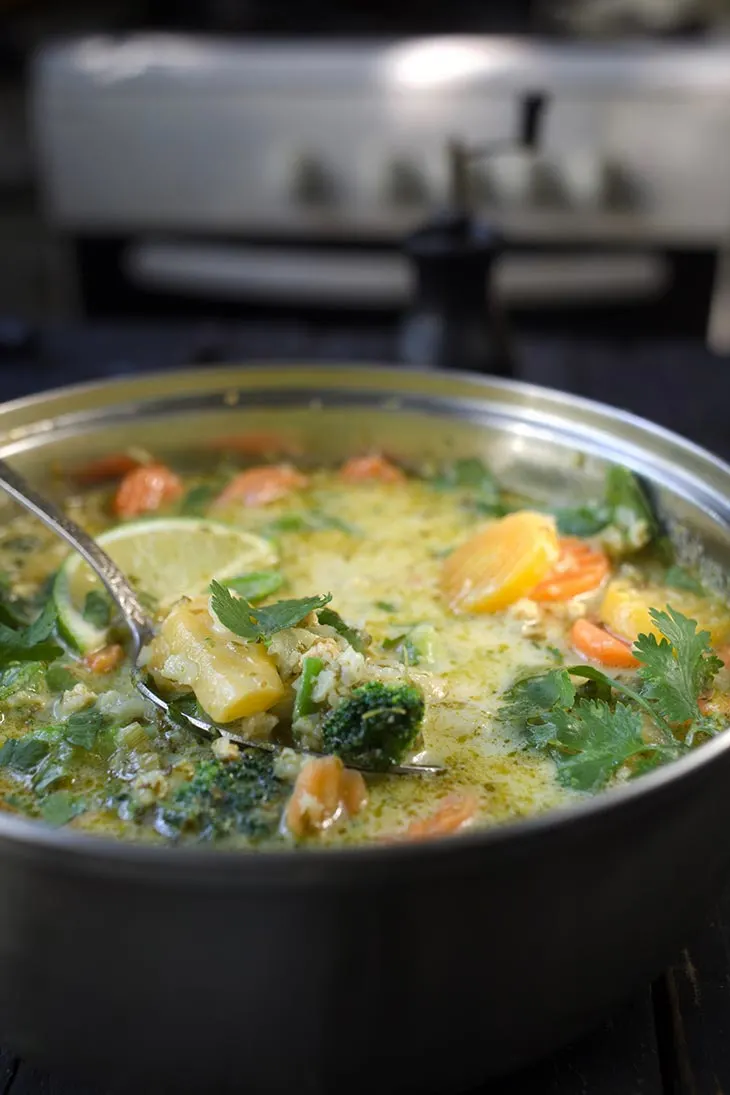 I recommend trying this recipe next time you feel like getting the taste of different cuisines. I'm pretty sure you're going to be impressed with the results. And, as always, make sure to tell me what you thought of it!
Yield: 4+
Vegan Green Curry
Craving something comforting, but also exotic and special? Here's how I make the most flavorful and delicious vegan green curry!
Ingredients
For the curry paste:
1 stalk lemongrass
1 green chili, chopped
1 onion, chopped
4 cloves garlic
1 Tbsp ginger, chopped
8g (½ cup) cilantro, chopped
8g (½ cup) fresh basil
½ tsp ground cumin
½ tsp ground white pepper
½ tsp ground coriander
3 tsp soy sauce
2 tsp lime juice
1 tsp brown sugar
3 to 4 Tbsp coconut milk
1 tsp salt
For the curry:
100g (1 cup) finely chopped cauliflower, rice size
1 red onion, chopped
4 cloves garlic, minced
½ head broccoli, chopped
3 colored carrots, sliced
1 zucchini, chopped
80g (½ cup) green beans, chopped
¾ tsp sea salt, to taste
½ tsp ground black pepper, to taste
1 Tbsp coconut sugar
300g (1 can) coconut milk
3 Tbsp cilantro, chopped
half a lime
Instructions
To make the curry paste, add all the paste ingredients to the blender and pulse until you have a smooth paste.
Add coconut oil in a skillet over medium heat.
Add in the curry paste to fry it (about 2 Tbsp), stirring into the coconut oil for about 1 minute.
Add in the chopped onion and cook until translucent.
Add in the garlic and continue cooking.
Add the broccoli, cauliflower, green beans, carrots, and zucchini.
Add sea salt, black pepper, coconut sugar, and stir everything together. Reduce the heat to medium and cook, stirring, until the carrots are tender-crisp, for about 15 minutes.
Add in the coconut milk, stir, and then let it simmer for about 5 minutes. Squeeze the lime over, stir, and then remove from heat.
Top with chopped cilantro and enjoy.
Nutrition Information
Yield
4
Amount Per Serving
Calories

476
Total Fat

39g
Carbohydrates

27g
Fiber

7g
Sugar

10g