Have you heard of hot pockets before? If not, you have no idea what you're missing on! Here's how to make the most delicious pizza hot pockets – the ultimate snack!
For those of you who don't know what Hot Pockets are, I'm going to get right into the subject. Hot Pockets is an American pre-prepared, microwavable food brand. It commercializes dough turnovers filled with a variety of foods.
Hot Pockets are so popular that, nowadays, there are more than 50 assortments available. The fillings are usually different types of cheese, meat, or vegetables. With this brand, hot pockets became a thing on their own, and people started to recreate them at home.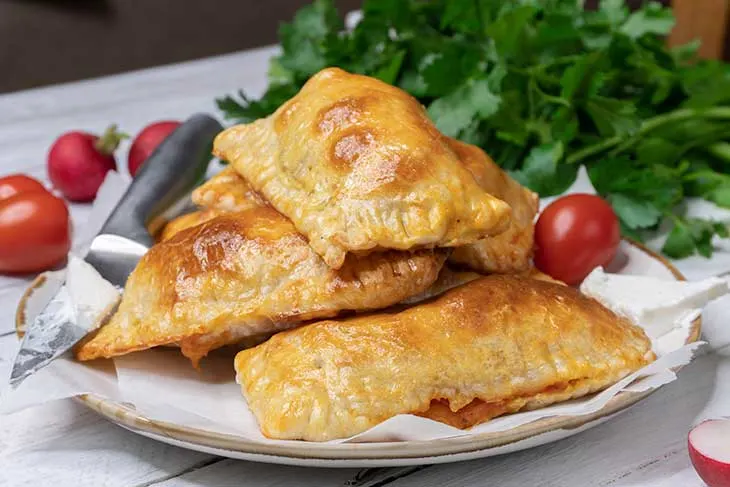 And for good reason. Hot pockets are fairly easy to make from scratch, plus you get to know what you put inside them. Don't get me wrong, the store-bought stuff is delicious as well, but when you think about all the yucky ingredients, it starts to fade in comparison.
Making hot pockets at home can be a very relaxing experience. You get to make your own dough, which, in my opinion, is pretty therapeutic. Another great thing is that you get to choose your own fillings, so you can bake a tray with different hot pockets and everyone gets what they like. Vegan mom, but meat-eater dad? Fussy kids? It's no problem with this recipe. You can choose a different filling for everyone and make them as healthy (or decadent) as you wish.
For mine, I chose the vegan version. They basically taste like a vegan pizza, but a little bit more comforting, since the filling is so delicious and starts oozing out when you take a bite. Simply amazing. Needles to say, there are many filling possibilities – as they are vegan pizzas. One key ingredient is melty vegan cheese.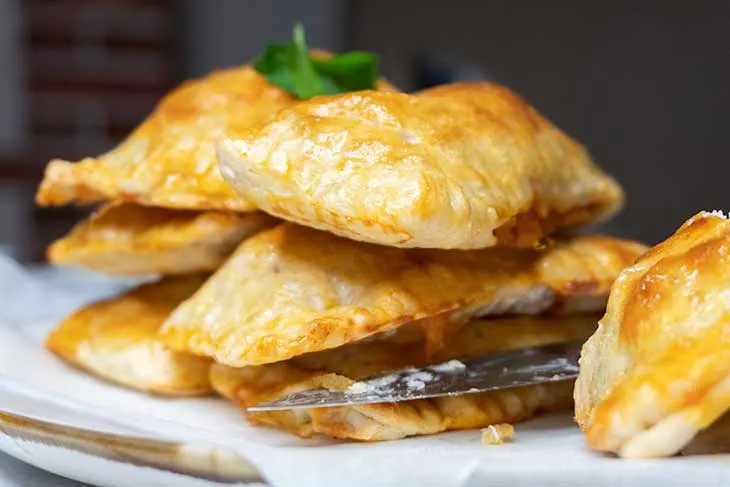 Tofu tastes awesome as well, but it's not going to melt so nicely, so mozzarella-type vegan cheeses work best with pizza pockets. Other amazing options are vegetables (think peppers, sun-dried tomatoes, zucchini and so many more) and/or mock-meats. These hot pockets go amazing with faux prosciutto or crumbled vegan sausages.
I think this meal is super fun to make. If you have kids, you can bring them inside the kitchen to help you as well. Just pre-cut the ingredients for them, so there won't be any accidents. Then they can take care of the filling part. And I can guarantee they're going to have a lot of fun eating these, too.
Pizza Hot Pockets keep for several days in the fridge, but, as you might have guessed, they also freeze very well – just think how great frozen pizza works, this is kinda the same deal. So what I like to do is prepare a big batch and have them whenever I need them. They're amazing for lunch and dinner, or as a more hearty on-the-go snack.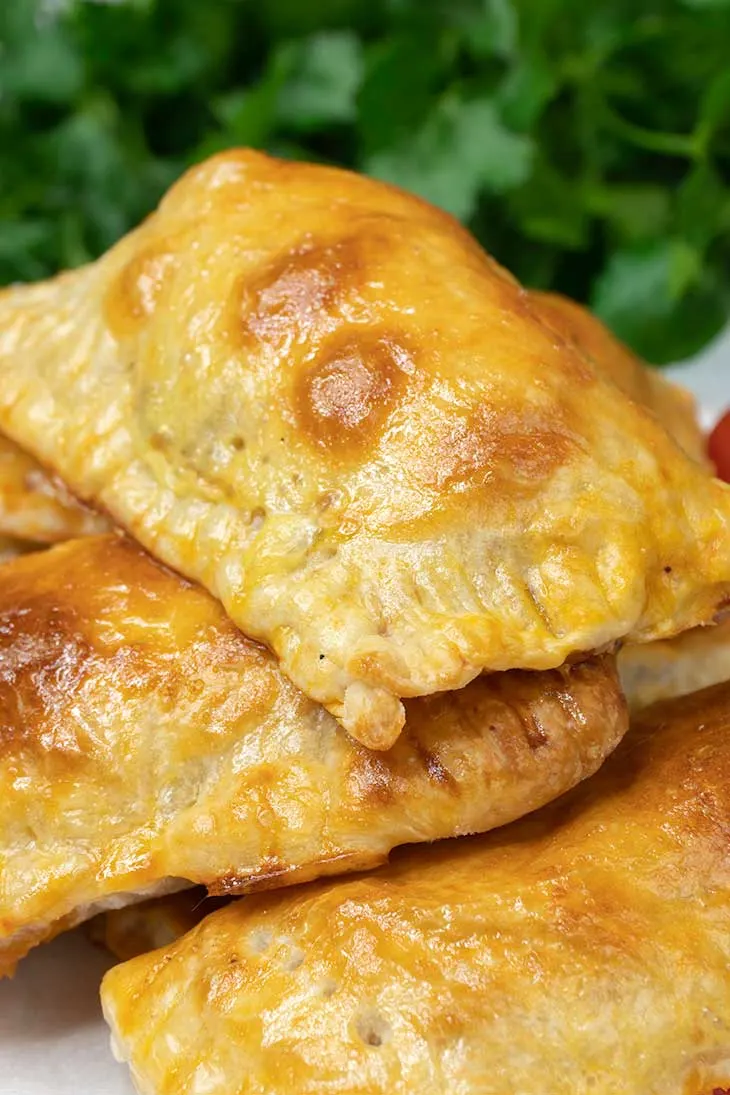 Another thing you can do is prepare your dough in advance and freeze your empty pizza pockets individually. This way, you can get them out of the freezer and refill them with your favorite stuff. And if you won't feel like pizza… Why stop there? You can also try dessert hot pockets, and fill them with chocolate cream, caramel, or cheesecake filling. They should work wonders – I mean, the dough is pretty neutral on its own.
By popping these hot pockets in the oven, they're going to get the most amazing golden-brown color. That's how you know they're ready and perfect – crispy on the outside, bursting with filling on the inside.
I like to serve these pizza hot pockets either on their own or with a side salad for extra crunchiness and nutrients – you know, balancing things out. Though I think they're not the most unhealthy thing ever, and they're surely healthier than the regular, store-bought version, I think more vegetables are always welcome in our lives.
If you want to make them extra-healthy, though, you can always opt for the whole wheat version when it comes to the dough. This way, you're getting extra fiber which is going to keep you fuller for longer. Win-win.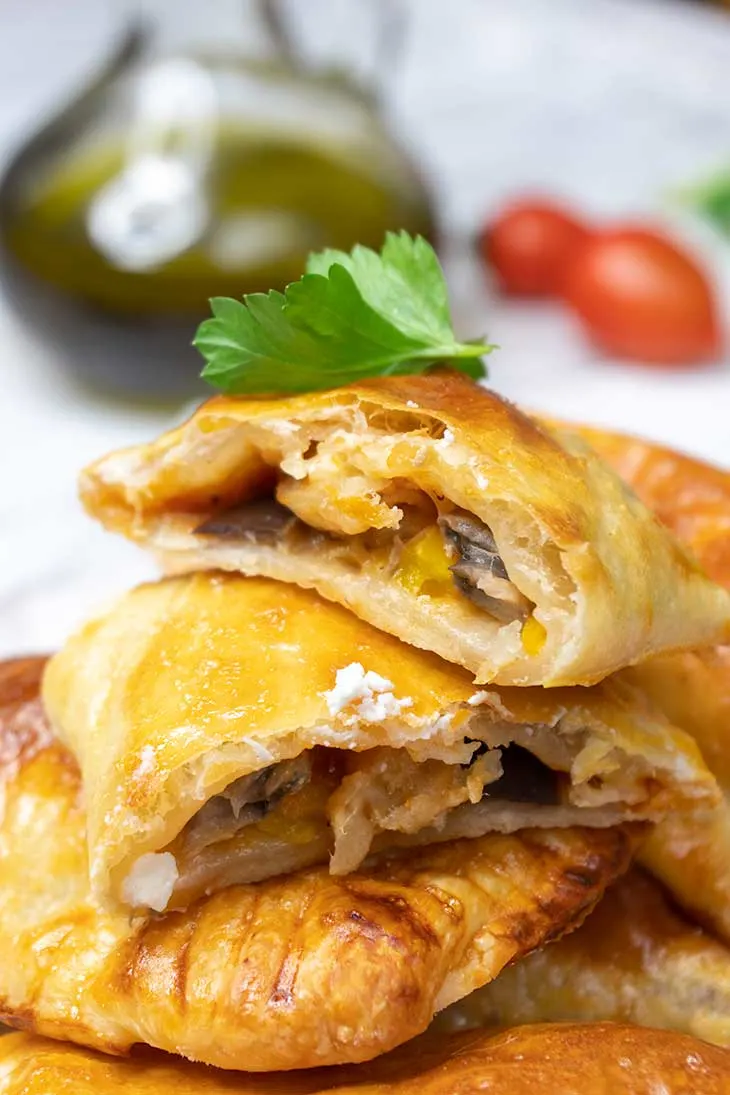 These being said, try not to wolf these down in one seating. The struggle is real! 🙂
---
Personalized meal plans and workout videos | Get your customized meal plan today! [x_button shape="square" size="mini" float="none" target="blank" href="https://shop.gourmandelle.com/?utm_source=mainsite&utm_medium=site&utm_campaign=inpost" info="none" info_place="top" info_trigger="hover"]I WANT A MEAL PLAN![/x_button]
---
Yield: 8
Pizza Hot Pockets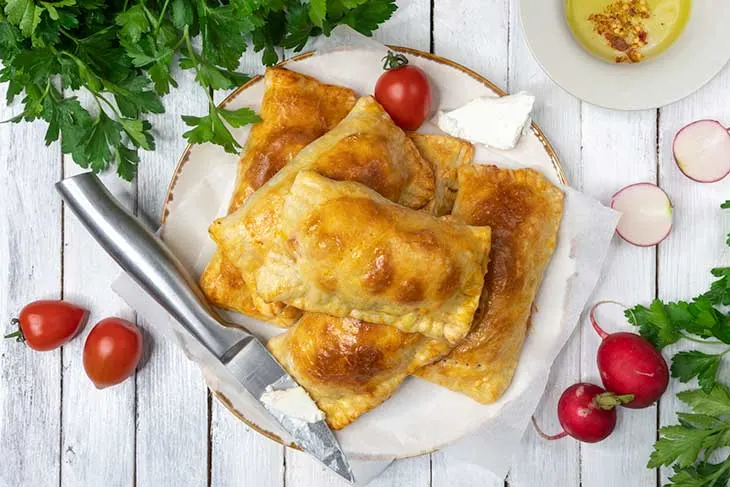 Have you heard of hot pockets before? If not, you have no idea what you're missing on! Here's how to make the most delicious pizza hot pockets - the ultimate snack!
Ingredients
400g (1 sheet) pastry dough
pizza sauce or ketchup or any tomato sauce you like
1 red onion, chopped
35g (½ cup) mushrooms, sliced
¼ medium eggplant, chopped
Vegan cheese - you can try my recipe or buy any melting cheese from the store
1 tsp dried basil
Olive oil
Salt
Pepper
Instructions
In a pan, heat up 1-2 Tbsp of olive oil and sautee the onion.
Add the mushrooms, eggplant, and dried basil.
Season with salt and pepper and cook until they develop a little color. Set aside to cool.
Roll out the dough, cut into squares and spread 1 Tbsp of pizza sauce on each.
Add some shredded vegan cheese.
Add the filling and pinch them shut with a fork.
Brush them with olive oil.
Bake at 180 degrees C for 20 min or until golden brown.
Serve with pizza sauce.
Nutrition Information
Yield
8
Amount Per Serving
Calories

370
Total Fat

23.6g
Carbohydrates

34g
Protein

5g
I strive to keep the information as accurate as possible but make no warranties regarding its accuracy. I encourage you to make your own calculations using your preferred nutrition calculator.