Almond flour waffles are not only a delicacy for the taste buds, but also offer an energy boost for busy mornings. With a perfect balance between sweet and salty, this protein-rich recipe combines nutrition with sublime taste. If you haven't tried this version of waffles yet, now is the time to enjoy something really special!
Ever since I bought a waffle maker, I started experimenting with all kinds of waffle recipes ideal for breakfast or simply for when you want a quick dessert. I recommend you to try the coffee waffles and the crispy waffles with leftover rice. I hope this gluten-free waffle recipe with almond flour, will inspire you.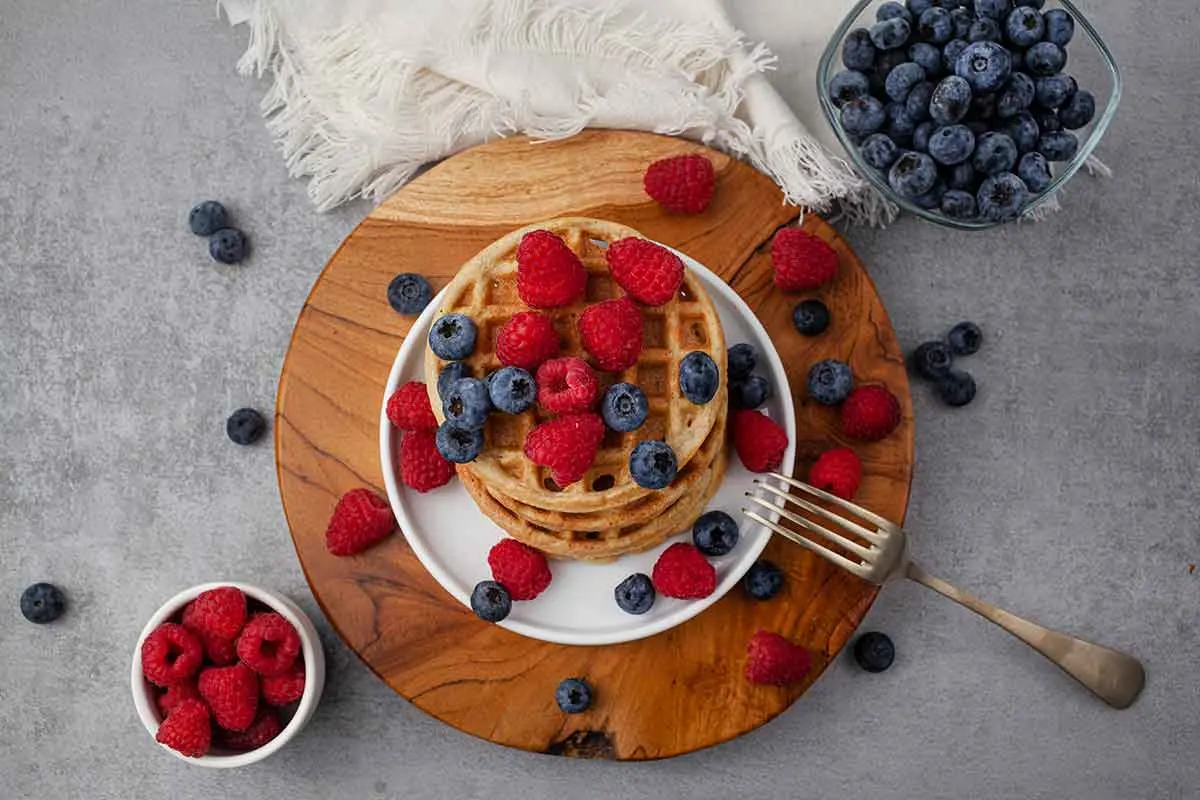 Topping suggestions for gluten-free waffles
To turn these protein waffles with almond flour into a real culinary feast, choose from a variety of healthy and delicious toppings. Each topping gives you the opportunity to customize and enrich each portion of almond waffles: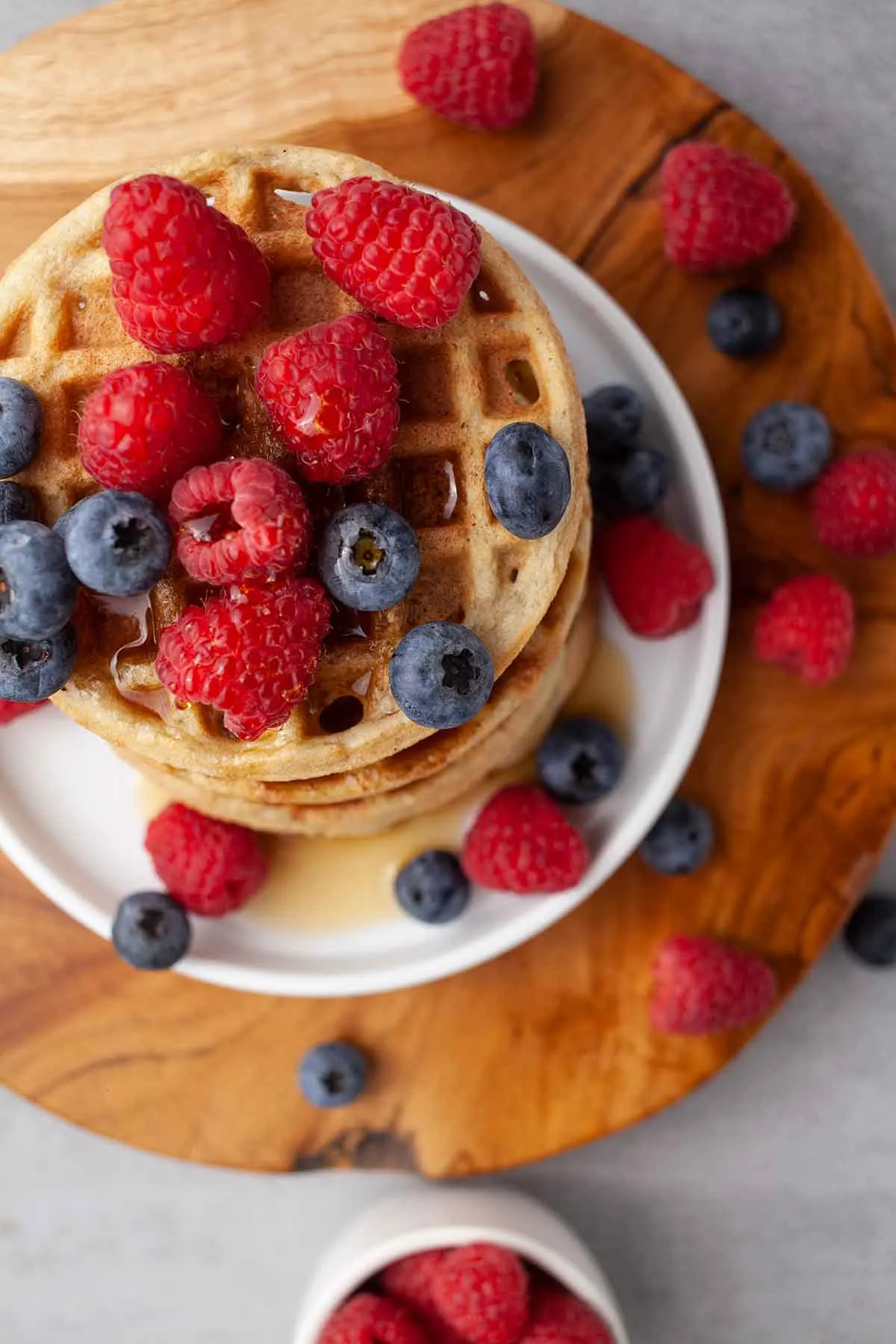 Fresh fruits:

Strawberries, raspberries, blackberries: These berries add a sweet-sour note and a juicy texture.
Sliced bananas: A classic that adds natural sweetness and creamy texture.
Kiwi or pineapple: For a tropical note and a dose of refreshing acidity.

Nuts and Seeds:

Almonds, walnuts, hazelnuts: For crunch and an additional supply of healthy fats.
Chia or flax seeds: Add an omega-3 boost and interesting texture.

Natural syrups:

Maple syrup: With a rich aroma and distinct sweetness.
Raw honey: A natural sweetness with antibacterial and anti-inflammatory benefits.
Agave syrup: A vegan alternative to honey with a lower glycemic index.

Creams:

Hazelnut cream or peanut butter: For a rich and creamy taste that goes perfectly with waffles.
Tahini (sesame paste): An unexpected, but delicious option that adds a nutty note and creaminess.

Chocolate and Cocoa:

Pieces of dark chocolate or cocoa flakes: For those who want a chocolate indulgence in their morning.

Spices

Cinnamon, cardamom or nutmeg: Add a little flavor and warmth, suitable for cold days.

Yogurt:

Greek yogurt or coconut yogurt: Adds a creamy and refreshing texture, perfect for balancing fluffy waffles.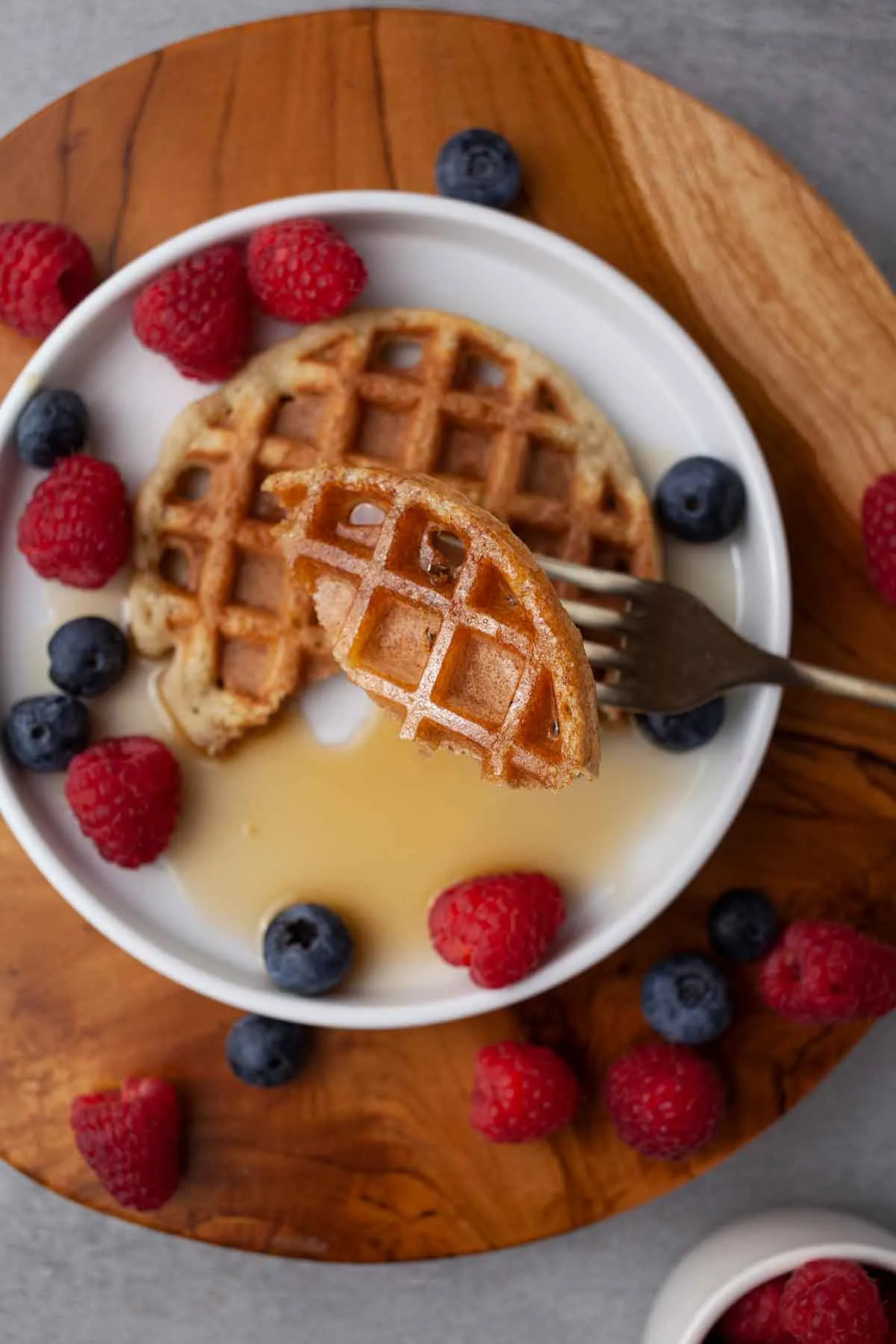 Tip:

Combine different toppings to discover new and delicious combinations. For example, a layer of hazelnut cream, with sliced bananas and a splash of maple syrup can turn your waffles into a real morning treat. Experiment and enjoy every bite!
Keto almond waffles – protein powder additions
When it comes to adding protein powder to your waffle recipe, there are several options you can explore. Each of these proteins can influence the taste, texture and nutritional profile of your waffle: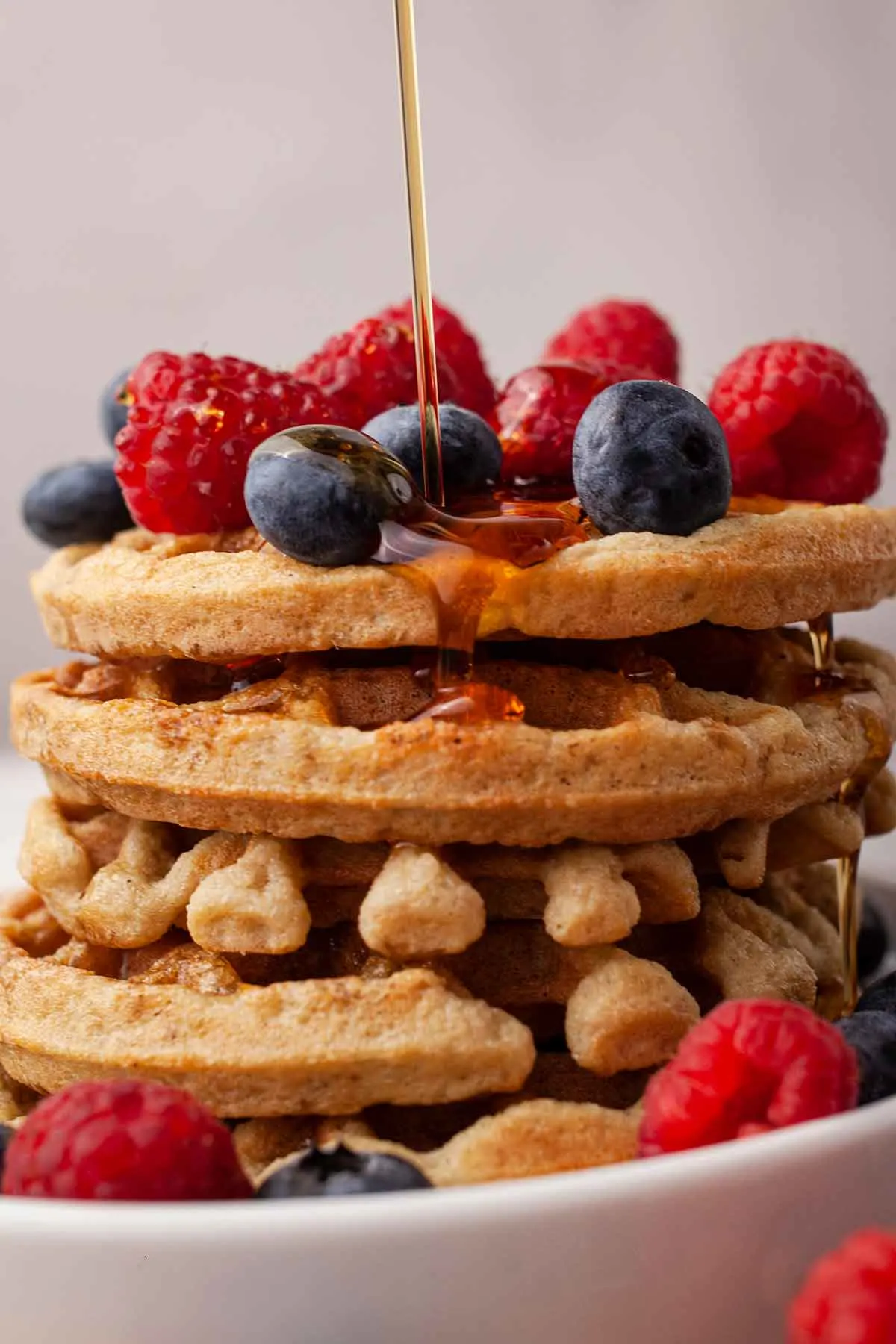 Whey protein:

Taste: It has a neutral or slightly sweet taste, depending on the chosen brand.
Texture: Adds a soft and fluffy texture to this almond flour waffle recipe.
Recommendation: It is ideal for those who do not have dietary restrictions and want a quick protein boost.

Vegetable Protein (e.g. peas, brown rice, chia):

Taste: It may have a more "earthy" taste or specific to legumes.
Texture: It can make the waffles a bit denser, but still pleasant.
Recommendation: Ideal for making vegan almond flour waffles or those who avoid animal products.

Casein protein:

Taste: Similar to whey protein, but may be less sweet.
Texture: Gives these keto almond flour waffles a creamier texture.
Recommendation: Good for those who want a slow release of proteins, but it is not recommended for those who are lactose intolerant.

Egg protein:

Taste: Neutral, without a predominant egg taste.
Texture: Can add fluffiness to these almond meal waffles.
Recommendation: An excellent option for those looking for a natural source of protein, but you have to be careful about egg allergies.

Hemp Seed Protein:

Taste: Slightly nutty and earthy.
Texture: Can add a light sandy texture.
Recommendation: Ideal for vegans and those looking for an additional supply of omega-3 fatty acids.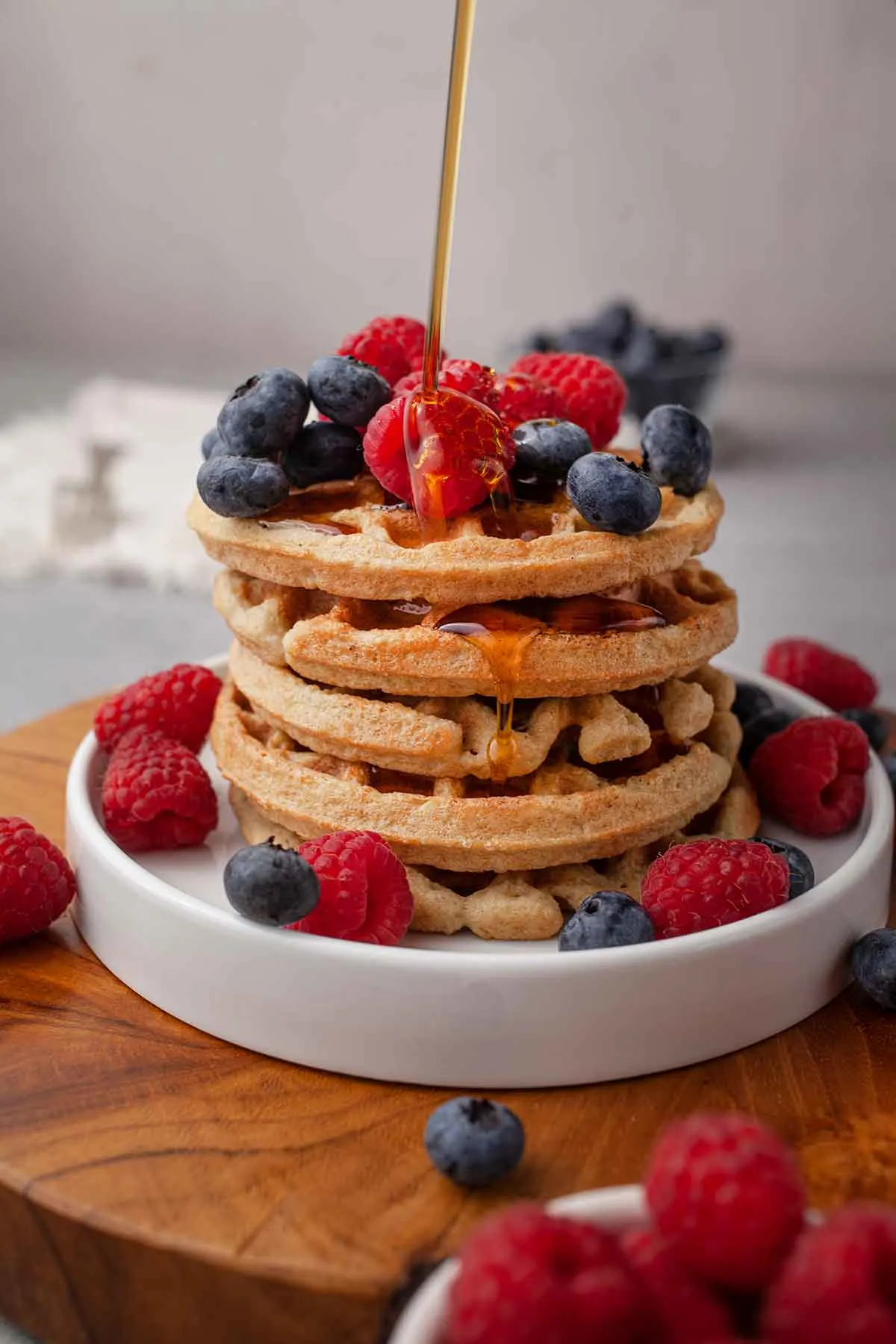 Tip:

Regardless of the protein powder you choose, it is essential to adjust the liquids in the recipe if you feel that the waffle batter is too thick or too liquid. Experiment with different proteins until you find the perfect combination for the desired taste and texture. And don't forget, the protein powder added to the waffles not only enriches the nutritional profile, but can also vary the taste and texture, offering a new culinary experience with each try.
Almond flour waffles recipe
Yield: 6 almond waffles
Almond Flour Waffles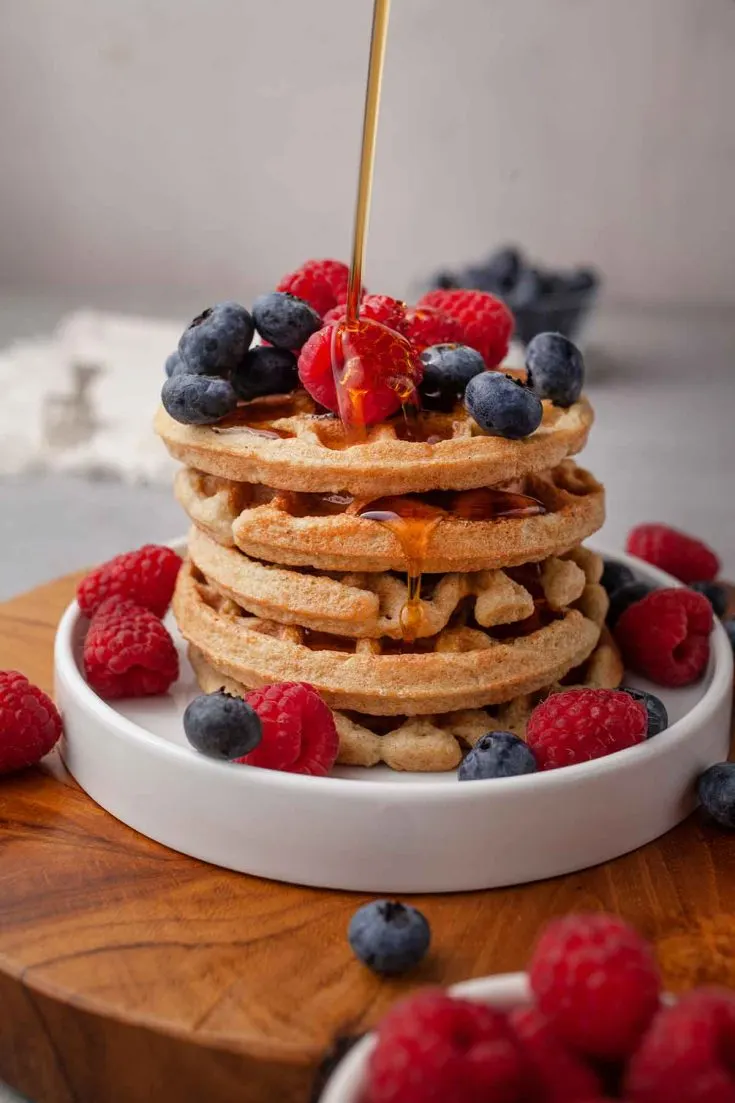 Delight in a guilt-free breakfast with our almond flour waffles – light, fluffy, and perfectly crisp. An ideal gluten-free alternative to start your morning right!
Ingredients
1 cup almond flour
1 tablespoon tapioca starch
1 teaspoon baking powder
¼ teaspoon salt
2 eggs
1/3 cup milk
1 teaspoon vanilla
1 tablespoon butter, melted
Instructions
In a bowl, mix the dry ingredients: almond flour, starch, baking powder and salt.
In another bowl, combine the liquid ingredients, mix eggs, milk, vanilla and melted butter.
Mix the dry ingredients with the wet ones.
Heat the waffle maker and grease it with oil or butter.
Fry the waffles for 3-4 minutes until they are golden-brown.
Serve the waffles warm, with maple syrup and fresh fruit.
Nutrition Information
Yield
6
Serving Size
1
Amount Per Serving
Calories

163
Total Fat

13g
Saturated Fat

3g
Trans Fat

0g
Unsaturated Fat

10g
Cholesterol

68mg
Sodium

215mg
Carbohydrates

6g
Fiber

2g
Sugar

2g
Protein

7g
I strive to keep the information as accurate as possible but make no warranties regarding its accuracy. I encourage you to make your own calculations using your preferred nutrition calculator.