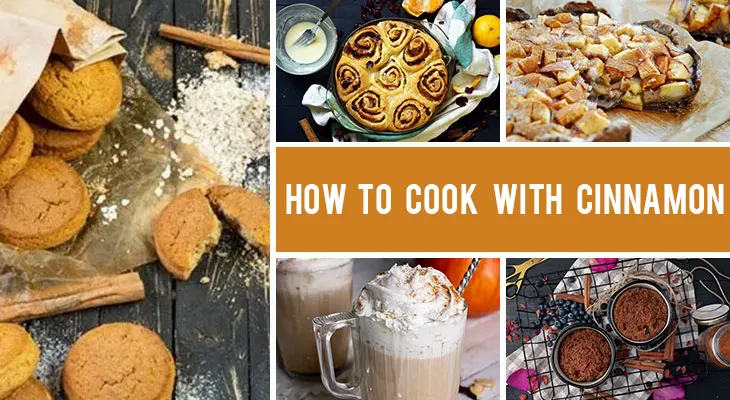 Are you looking for some food inspiration? In this list, you will learn how to cook with cinnamon and you'll also get 10 recipes with cinnamon to get you started. Give them a try!
Cinnamon (Cinnamomum Lauraceae) is a delicious, world-renowned spice used in different cuisines and endless types of dishes, both sweet and savory. In case you want to find out more about it, I have prepared this thorough article that explains everything from the ancient uses of cinnamon to modern methods, plus 10 inspiring vegan recipes to try at the end!
What is cinnamon?
Cinnamon is an amazing spice with an intense, sweet & spicy aroma that comes from the cinnamon tree. Cinnamon is sold in two different forms: cinnamon sticks and fine ground powder. Both of them have the same intense aroma, but they go through different processing methods and they're used in different cooking methods. Additionally, you can also get the cinnamon extract.
Cinnamon was first being used as a medicinal ingredient in China with antibacterial properties. Nowadays, this spice is found and used all around the world, from America to Mexico, Asia, and, of course, Europe. There are different kinds and species of cinnamon – Chinese cinnamon, Vietnamese, Indonesian, or Sri Lankan cinnamon, which is said to be the "true" one.
How to cook with cinnamon
One of the best things about cinnamon is that it can be used in desserts AND in savory dishes (mains, sides, entrees, and anything in-between) as well, both with excellent results!
Let me tell you some info about how to cook with powdered cinnamon:
Use it in spice mixes (such as pumpkin spice mix);
Use it in pie fillings (such as an apple pie);
Mix it with cream cheese for a delicious frosting;
Sprinkle on top of oats and cereals then bake to make a delicious homemade granola;
Add it to pancake batters for an extra kick;
and more!
And when it comes to cinnamon sticks, the required method is a little bit different because you can't just add it to a batter or sauce. What you need to do is to infuse a liquid with it or simmer it into a mixture.
For example, you can take your cinnamon stick and simmer it into a pot of cooked whole grains. Or you can add it to your stock or broth. Oh, and here's another excellent idea: slow cook your meat or roast (beef, pork, lamb) together with a piece of cinnamon for a more intense aroma.
Long story short: there are SO many ways of using cinnamon regardless if we're talking about the ground powder or the classic sticks.
And here's a very short list of dishes and beverages you can make with cinnamon (scroll down for more):
Health benefits of cinnamon
In all honesty, the health benefits of cinnamon are not 100% certain. Thousands of years ago people said that cinnamon could treat heart disease and multiple other conditions. A certain thing is that it has antifungal and antimicrobial benefits, which is why you'll find cinnamon toothpaste on the market, for example (nope, its amazing taste is not the only reason!). It is also said that cinnamon helps lowering blood sugar and cholesterol levels and improves blood pressure.
In short, cinnamon is pretty amazing and, unless you have a cinnamon allergy or intolerance (or you completely dislike its flavor), I see no reason not to add it to your next batch of cookies or apple pie!
That being said, I'm pretty sure you're already super eager to try some exciting recipes with cinnamon soon that will show you just how intense and amazing this spice really is. If that's true, then you'll be happy to scroll through my list of 10 hand-picked cinnamon recipes below. From an amazing American apple pie to quick and easy cinnamon cookies, I'm pretty sure you'll find something to your own liking below.
All you need to do is to choose your favorite recipes and get cooking. Bon appetite!
How to Cook with Cinnamon | Methods, Recipes, and More!
Are you looking for some food inspiration? In this list, you will learn how to cook with cinnamon and you'll also get 10 recipes with cinnamon to get you started. Give them a try!