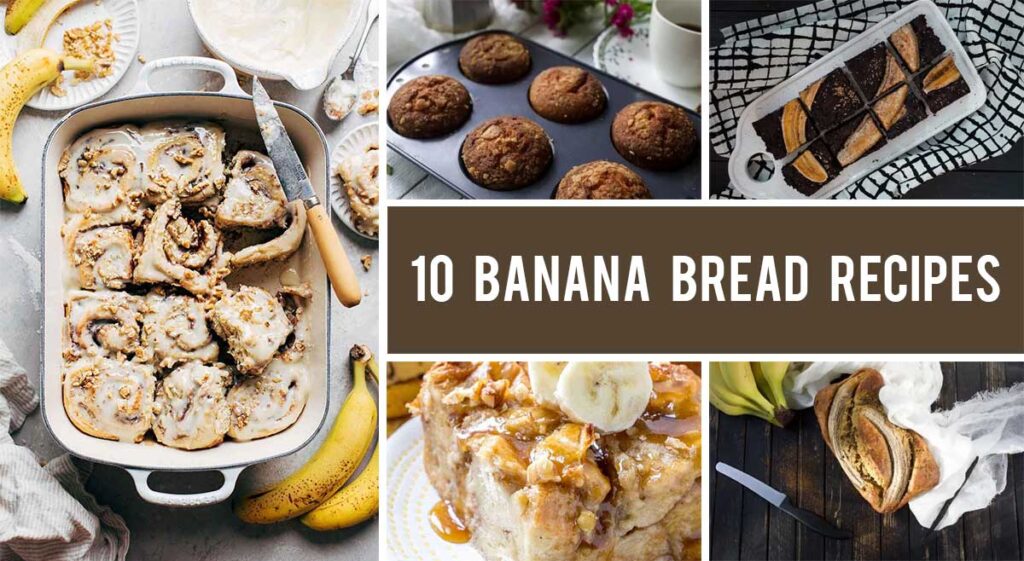 Bored of the classic banana bread? In this list, you will find 10 deliciously creative banana bread recipes and variations. Get ready to be surprised!
When it comes to banana bread, the opinions are divided into two very different groups, at least in my experience, from the people I know. While some people love it and could eat it every single day, others despite its weird texture or strong banana flavor.
Only a few people can say that they're indifferent to this dessert – usually, you MUST have an opinion about the classic, coffeeshop favorite banana bread.
Although I'm a strong believer that all people are unique and they shouldn't like the same things, I also believe that most of the people that dislike banana bread didn't get the chance to taste a really GOOD one. A moist, fluffy, flavor-balanced banana bread that perfectly complements the taste of coffee.
Although it sounds like the easiest dessert in the world, mastering the art of baking a loaf of perfectly flavorful and balanced banana bread is a really hard task. It takes a bit of trial and error to make it perfect. But it's definitely not impossible!
Of course, this article is dedicated to all those of you that are in love with banana bread. And maybe for those of you that don't really love it, but are up to trying something new today. Anyways, in case you're bored of the classic banana bread, you have ended up in the right place because I'm ready to change your perspective and add some excitement into your life – and your mornings.
Because banana bread is, quite literally, a sponge cake, this means that the composition is extremely versatile and can be transformed into various other shapes, flavors, or types of desserts.
Although you'll see exactly what I mean below, let me offer you some quick examples. You can, of course, bake a nice loaf of banana bread. But you can also add the composition into muffin tins and bake some individually portioned pieces of banana bread. Or you can swirl it, add some frosting and transform it into rolls, similar to cinnamon rolls.
You can add chocolate to the composition, ending up with something similar to a brownie. Or chocolate chips to spice things up just a bit. Or you can add another fruit – forest fruits are my favorite in combination with banana if you want my honest opinion.
Anyways, one thing's for sure: there are endless ways of transforming and experimenting with banana bread and I really encourage you to do it today.
For inspiration, I have created this article that reunites some of my favorite deliciously creative banana bread recipes I could find on the web (together with some of my own versions, too!). I'm sure you'll be impressed by some of these interpretations and that all of them will make you fall in love with banana bread even more.
Click on the images, titles, or buttons in order to access each of the recipes below. And don't be afraid to experiment. Happy cooking! 🙂
10 Deliciously Creative Banana Bread Recipes and Variations
Bored of the classic banana bread? In this list, you will find 10 deliciously creative banana bread recipes and variations. Get ready to be surprised!