Bake today the most beloved dessert in the world: cinnamon rolls! Make these vegan cinnamon rolls and enjoy the fluffiest, most flavorful sweet treat ever!
In the world of dessert, chocolate, vanilla and cinnamon reign supreme as some of the world's favorite flavors. They all get added to basically anything, from toast to croissants and coffee. Who doesn't enjoy a simple slice of bread and Nutella? Or a crunchy croissant with creamy vanilla or chocolate filling? Or that pinch of cinnamon spice dust in your Monday morning latte? People never hesitate to make their life sweeter, if possible.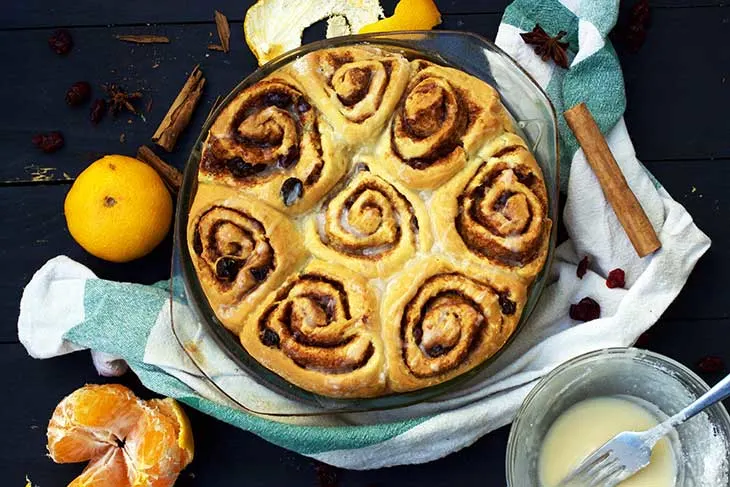 Dessert connoisseurs will agree that cinnamon is often a more acquired taste than the other two. You can't have it raw – you might choke (see 2014's internet cinnamon challenge).
But that's beside the point. Cinnamon is a very potent spice, and it is very easy to add too much in any recipe. In short, a little goes a long way. Cinnamon dates back to year 2.000 B.C., when it was imported from Egypt to China and was so highly prized that it was regarded as a gift fit for monarchs.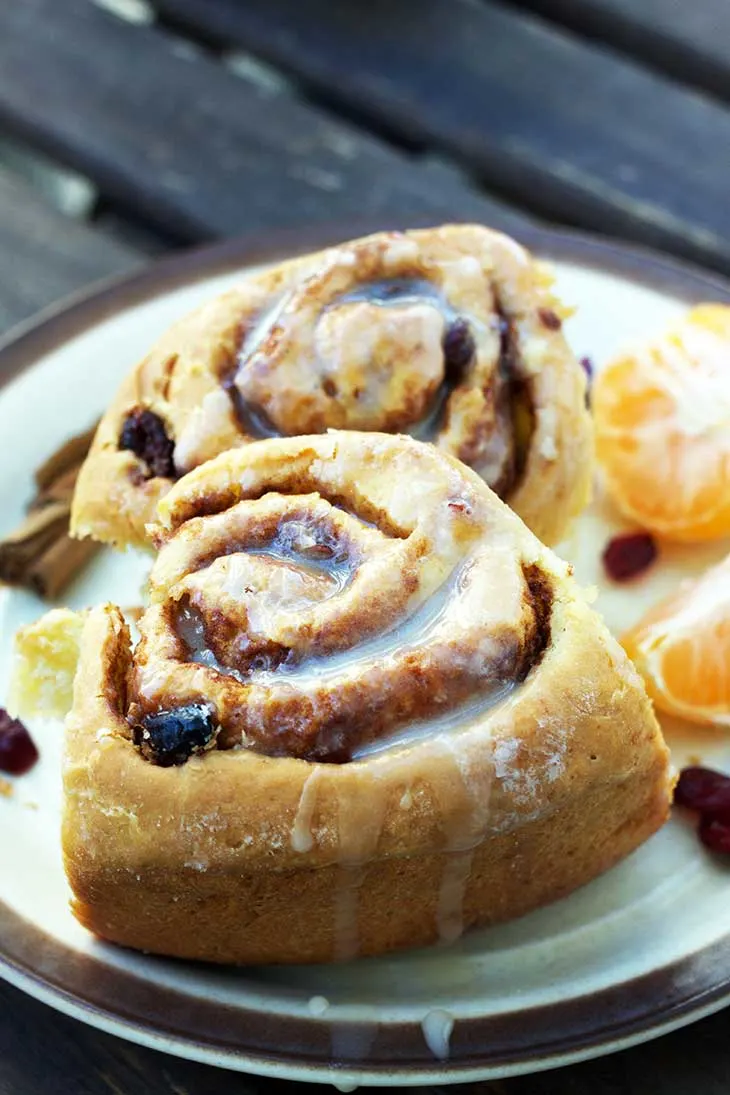 The world-famous cinnamon roll has a diverse and multicultural past. Around the mid-1700s, Northern European bakers began mastering the art of making super-rich, butter-infused yeast doughs.
The French shaped them into buns, followed by the Dutch frying them in oil. Around this time, the British invented the Chelsea bun, a type of currant bun; all while the Germans developed the schnecken, a bun rolled with sugar and currants. These buns laid the groundwork for the Swedish to add cinnamon creating the very first cinnamon rolls ever! 🙂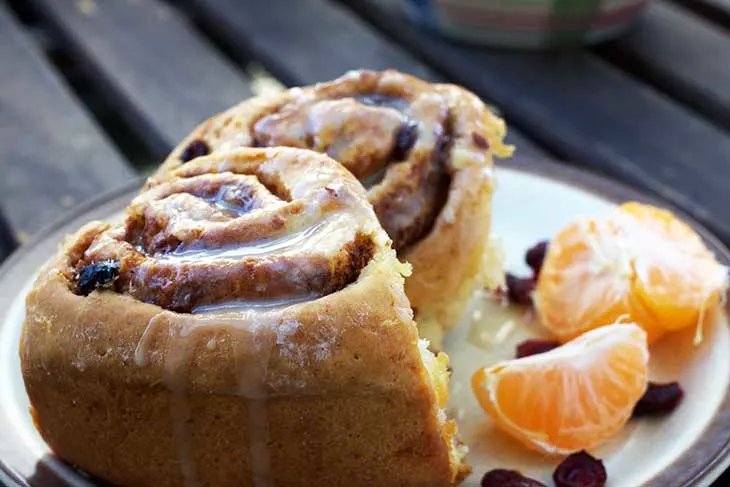 Cinnamon rolls have become extremely popular around the globe. You can walk into any pastry shop and see them being displayed proudly, near the muffins and donuts. They go great with coffee – many eat them for breakfast, along with a big cup of hot coffee or tea. What's there not to like about this oven-baked, sugar-glazed dessert?
Cinnamon rolls are so popular that they even got their own International Day (mark your calendars – it's October 4th!). This was decided in 1999 in Sweden, the country whose chefs conceived this sugary treat. The Swedish Home Baking Council set October 4th as the International Day of the Cinnamon Roll in order to celebrate their 40th anniversary.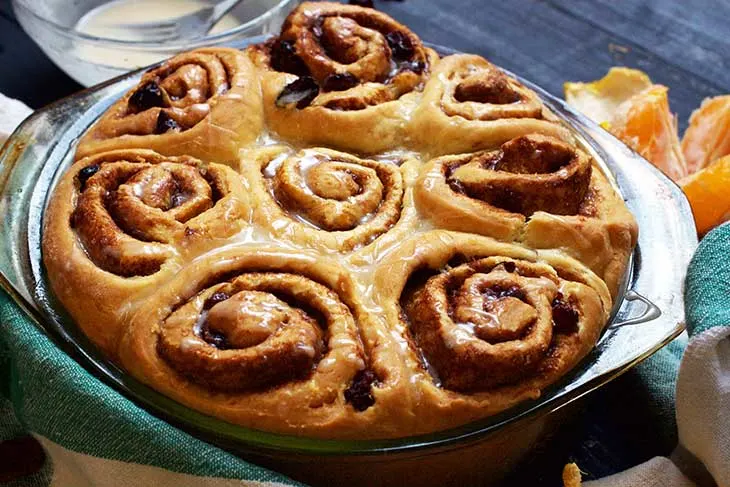 However, the kanelbulle (lit. cinnamon bun) didn't stay in Sweden for too long – the world had to taste it! Different countries and cultures have been cooking the cinnamon roll differently for decades, putting their own unique spin on it.
Cinnamon rolls come in different sizes. The size of a cinnamon roll depends on where you eat it from. They are usually 2 inches in diameter. You can find some of the largest ones in Haga, an area of Gothenburg in Sweden. Appropriately titled hagabullar – Queen of the kitchen – they measure up to 12 inches in diameter – some of the largest rolls that you can still eat by yourself!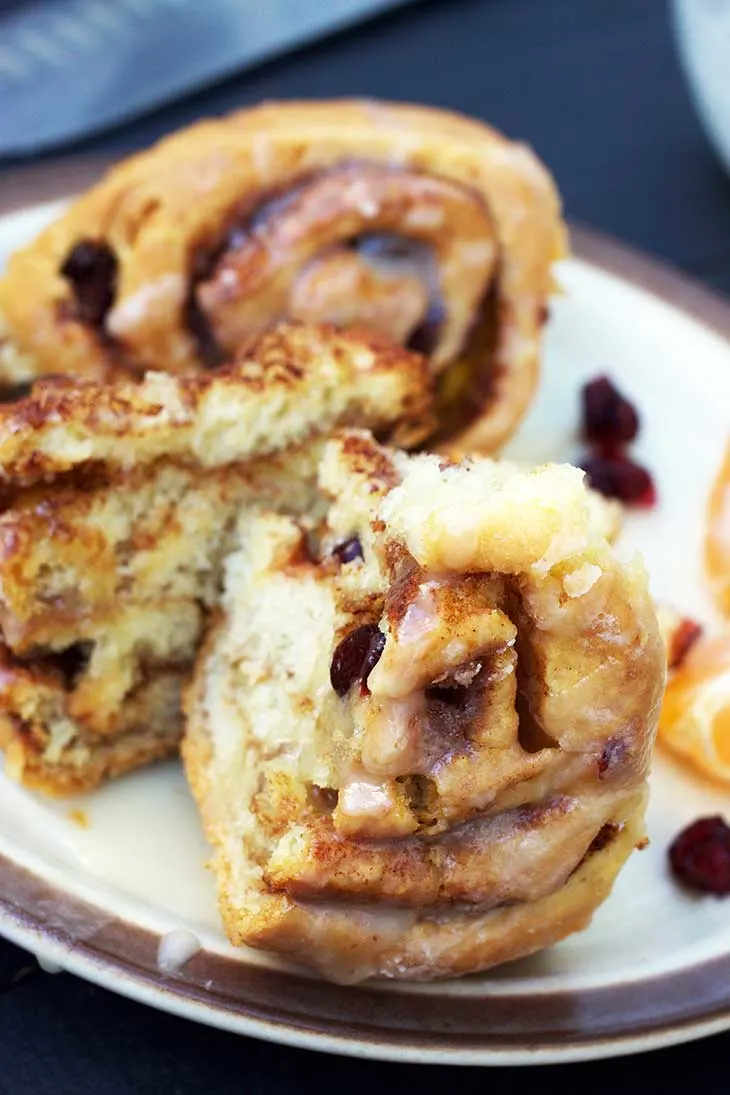 Things are a bit different outside of Sweden, though – The Finnish also have a large variety of cinnamon rolls, or korvapuusti as they call it (literally: a slap on the ear).
These are about 8cm in diameter (and still not as large as the Swedish hagabullar!). :)) The Finnish also had the idea of stacking more cinnamon rolls on top of each other and baking them together in what they call bostoninkakku (Boston cake).
Even the time of the day when cinnamon rolls are served is special: the Swedish usually eat cinnamon rolls during Fika – a Swedish word for taking a pause in your day to sit down with people and share pastries and coffee.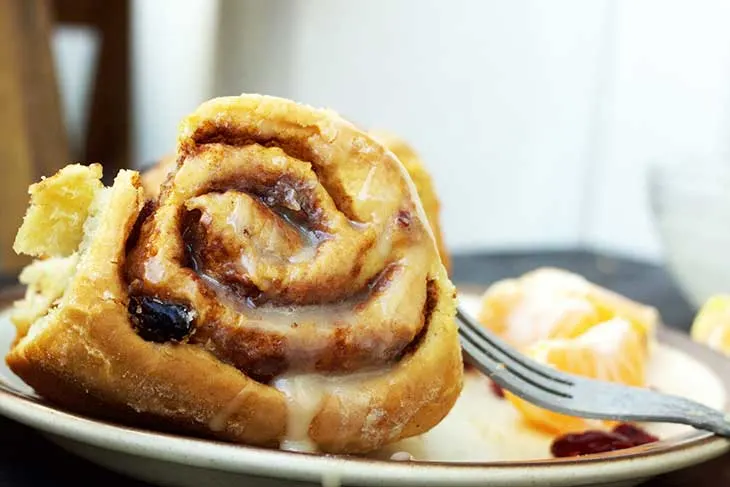 Weirdly enough – even though cinnamon rolls by definition are a type of dessert, there are still some places in the world who appear to have missed the memo. In certain areas of the American Midwest, especially Kansas, cinnamon rolls are eaten with chili – dipped into it or even smothered! In America, cinnamon rolls are also heavier and sweeter – hardly surprising from the country that managed to turn bagels into donuts!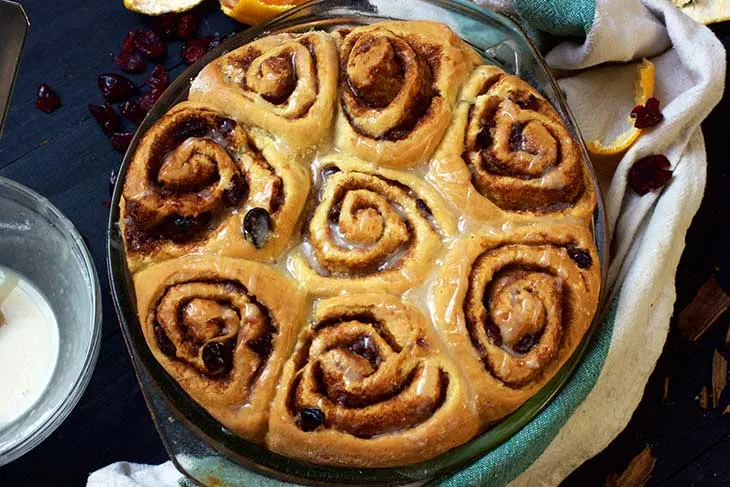 Plus, the cinnamon roll is the symbol of Cinnabon – an American chain of baked goods and pastries, that has helped along with the worldwide popularity of cinnamon rolls and buns.
Cinnabon is present throughout America in most airports and train stations, where weary travelers can sit down and enjoy a cup of coffee and a sweet glazy roll. But even though a cinnamon roll from Cinnabon is a good treat when you are in a rush, nothing can compare with a hot cinnamon roll made at home!
If you want to try this amazingly simple dessert yourself, I urge you to try my vegan cinnamon rolls! They're soft, they're sweet and, most importantly, they're vegan and healthy too! But shhh, nobody will ever be able to tell! 🙂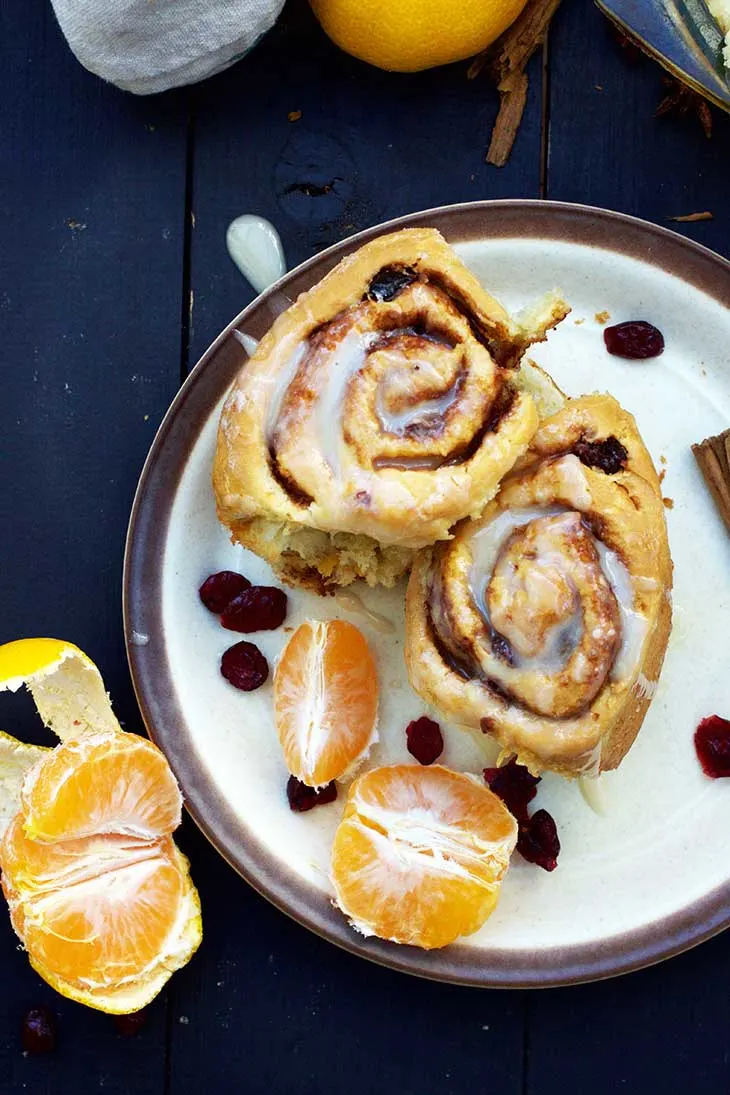 There's nothing like enjoying a cinnamon roll on a cold winter day! It is a delightfully pleasant experience, as the oozing icing courts the sweet cinnamon dough, creating a marriage of sweetness that leaves one swooning over how pleasant it is! Phew, now let's get to the recipe!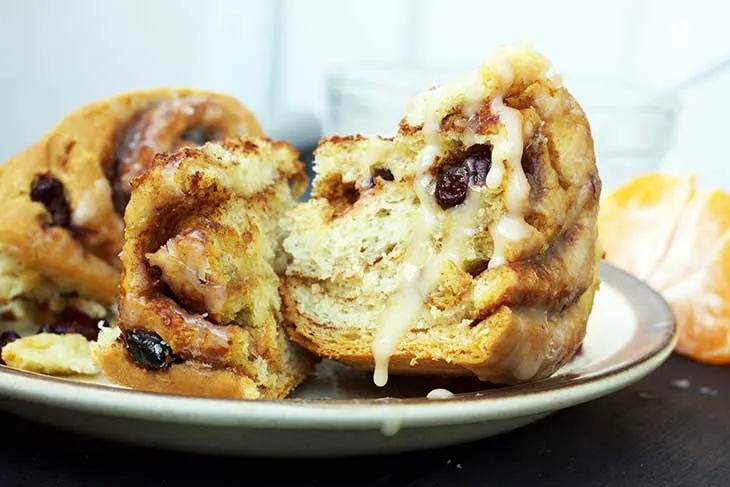 Yield: 8 rolls
Vegan Cinnamon Rolls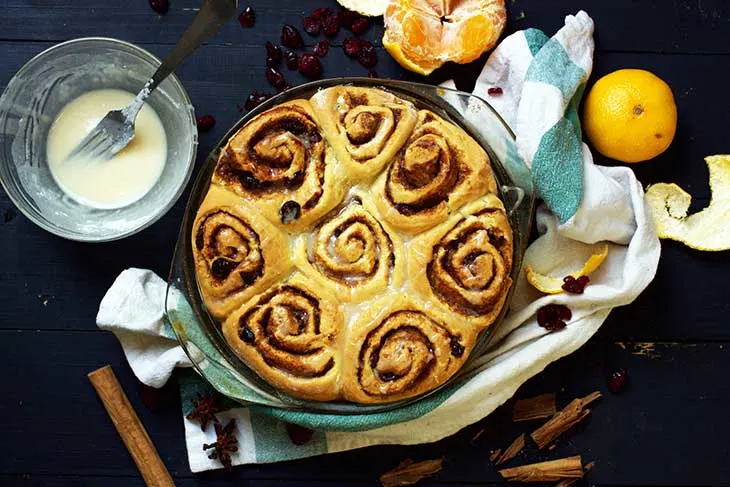 Bake today the most beloved dessert in the world: cinnamon rolls! Make these vegan cinnamon rolls and enjoy the fluffiest, most flavorful sweet treat ever!
Ingredients
For the rolls:
240ml (1 cup) almond milk, at room temperature
50g (¼ cup) vegan butter, melted
2 Tbsp organic sugar
½ packet fresh yeast
180g (2 ½ cups) flour, divided + 60g (½ cup) for dusting
½ tsp salt
For the filling:
70g (⅓ cup) vegan butter
70g (⅓ cup) brown sugar
1 Tbsp ground cinnamon
½ tsp cardamom
¼ tsp nutmeg
1 tsp orange zest
20g (2 Tbsp) cranberries
For the icing:
50g (½ cup) powdered sugar
2 Tbsp almond milk
½ tsp vanilla extract
Instructions
In a big bowl, whisk the warm milk with 1 Tbsp sugar and fresh yeast until dissolved.
Sieve in 1 cup flour and gently whisk.
Cover with a towel and let sit for about 40 minutes in a warm place.
Preheat oven to 180˚C.
After 40 minutes, the dough should be bubbly and double in size.
In a small bowl combine the melted butter with the rest of the sugar and salt.
Add the mixture to the dough and gently combine.
Add one and a half cup flour while sieving.
Stir well, cover and let sit for 40 more minutes.
When the dough is double in size, remove it to a floured surface.
Knead the dough lightly, adding some more flour as necessary, until the dough just loses its stickiness and does not stick to the surface anymore.
Roll the dough out into a large rectangle.
In a small bowl, prepare the filling. Combine all the filling ingredients except for the cranberries and whisk until smooth.
Spread the filling mixture evenly over the dough.
Sprinkle evenly with cranberries.
Roll up the dough, forming a log, and pinch the seam closed. Place it seam-side down.
Cut the log in half, then cut halves in half until you get 8 rolls.
Place 8 cinnamon rolls in baking pan.
Cover with plastic wrap and place in a warm place to rise for 20 more minutes.
Remove the wrap and place in the oven. Bake for about 30 minutes until golden.
Now make the frosting:
In a small mixing bowl whisk together the powdered sugar, almond milk, and vanilla until smooth.
While the cinnamon rolls are still warm, drizzle them evenly with the frosting.
Nutrition Information
Yield
8
Amount Per Serving
Calories

254
Total Fat

9.4g
Carbohydrates

38.3g
Protein

4g