Here's how you can make the best eggplant caviar ever! It will turn out light, sweet and delicious, every time you make it!
Eggplant caviar is one of my favorite traditional Romanian recipes! This and the famous "zacusca" – roasted peppers and eggplant spread are two recipes I ALWAYS make when eggplants are in season. They are amazing as appetizers or quick snacks and they're really easy to make! Even though they may keep you a while in the kitchen, especially if you like making them in larger batches, as I usually do.
I love it when Autumn comes and the whole neighborhood smells like roasted eggplant and peppers. That's when canning season begins. 🙂 It's such a lovely time.
There are many ways you can make eggplant caviar. Below, you will find the basic eggplant caviar recipe which you can "upgrade" using these tips:
Add mayo! Some people like to add a little bit of mayo. It will lighten the color of the eggplant caviar even more, and it will taste even better. Sure…it will add some extra fat, but it's worth it! A couple of tablespoons should be enough for the quantities in the recipe below.
Add garlic instead of onion! Onion fans or garlic fans, choose a side! You can make eggplant caviar with any of these two flavors. Two-three mashed garlic cloves should be enough for the eggplant caviar recipe below.
Make it simple! I added some chopped onion in the recipe below because this is the "basic" eggplant caviar recipe I was taught by my mom. The really basic version is without onion, just eggplants, oil, lemon juice and salt.
Change the texture. If you want to try this with a different texture, take a look at my Roasted Eggplant Mousse recipe. The ingredients are almost the same, what differs is the technique. I used a blender instead of a hand mixer and this gave it a foamy, mousse-like texture.
Spice it up! I love the Lebanese version of this eggplant caviar recipe! Have you tried Mutabal so far? It is very similar, but it has one special ingredient – tahini! The guys from The Kitchn also made an interesting combination of ingredients. Their smoky eggplant recipe looks amazing!
Tips for the most delicious eggplant caviar recipe
My mom also taught me some useful tips for making the best eggplant caviar recipe. Here they are:
Always let the eggplants drain, after roasting them. This will take out all the bitterness inside them. Also, drain them on a wooden surface, not on a metal one. Metal oxidates them faster and they will turn dark.
Store them in a plastic or glass container. Never in a metal one! This is for the same reason mentioned above.
Roast eggplants on an open flame on the stove, rather than on a grill pan. Even though I used the grill pan technique in the recipe below, eggplants taste best when cooked directly on the flame. It will make a huge mess and cleaning the stove will be a nightmare, but if you make these in larger batches and freeze them for later, it will be worth it!
Choose the smaller, thinner eggplants. These have a sweeter taste. The large ones have a lot of seeds and are more bitter.
Store it in the fridge for at least an hour before serving.
Love eggplants? Make sure to also check out my Stuffed Aubergines with Garlic Sauce recipe!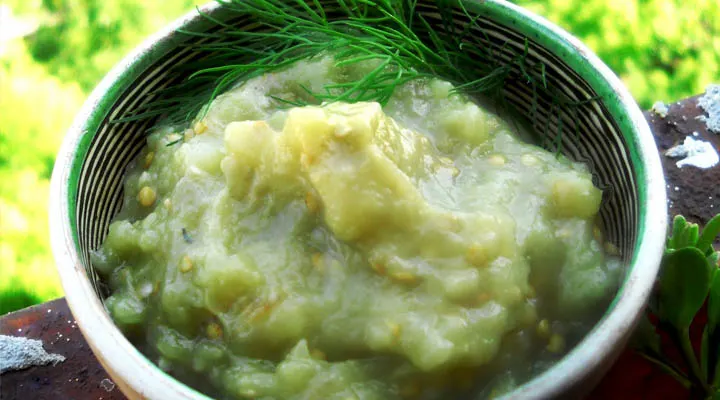 Here's how you can make the best eggplant caviar ever! It will turn out light, sweet and delicious, every time you make it!
Ingredients
4 medium eggplants
1 onion, diced
3 Tbsp sunflower oil
2 Tbsp lemon juice
sea salt to taste
Instructions
Rinse the eggplants and heat the grill pan. Grill the eggplants on each side; don't forget to turn them over every 10 minutes or so. Grill them until they are covered with a black crust.
Peel the eggplants, cleaning off the black crust. Put them on a wooden platter and let them drain for at least half an hour. The liquid is bitter. The longer you drain them, the sweeter they'll be.
Mix eggplants using a hand mixer (not a blender or a food processor!). Add the rest of the ingredients and mix until creamy.
Nutrition Information
Yield
6
Amount Per Serving
Calories

158
Total Fat

6.8g
Carbohydrates

21g
Protein

3.3g