Try the best Caponata recipe – a Sicilian dish with a rich taste and a mouth-watering combination of aromatic vegetables.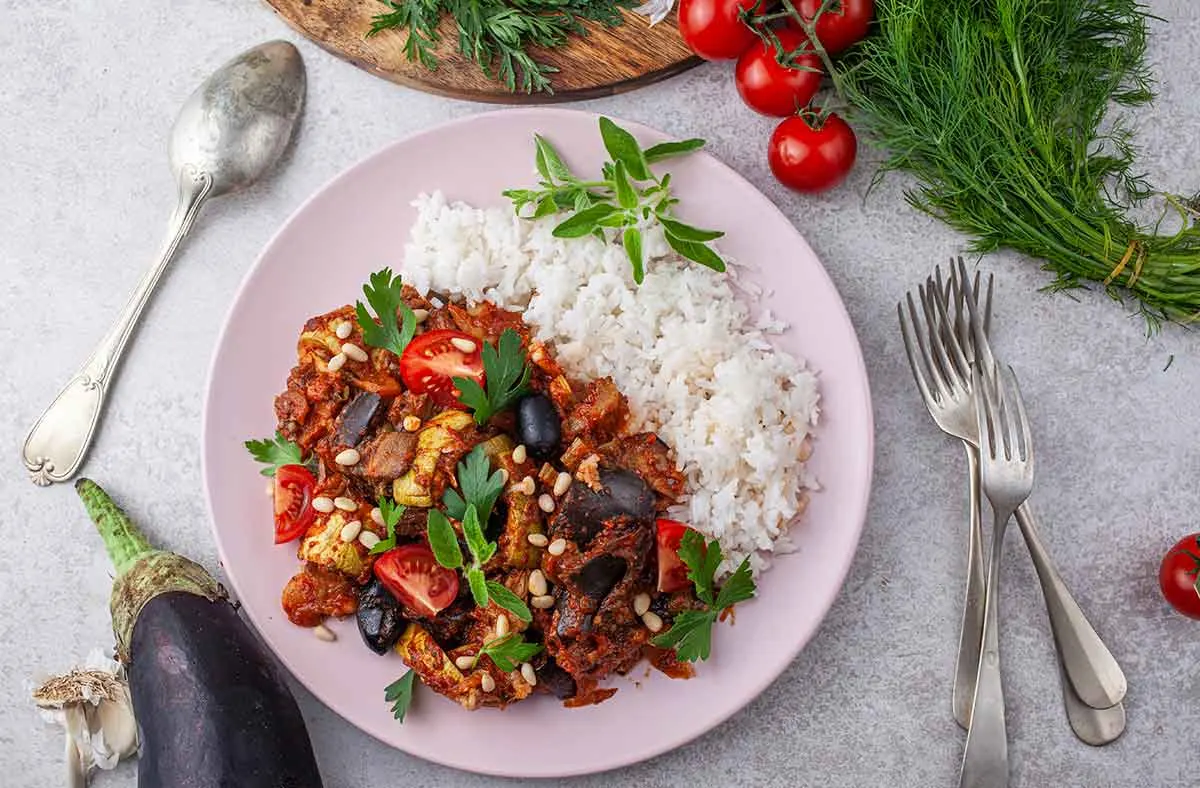 It's eggplant season, so it's time to enjoy them in all possible forms! If you've had enough of the classic eggplant salad, you can also prepare these vegetables in hearty and aromatic dishes, such as this Italian recipe for eggplant Caponata.
The history and tradition of the Sicilian Caponata recipe
Caponata is a Sicilian dish with a rich history and a long tradition. Its origin can be traced back to the 18th century, when this dish was created in the region of the island of Sicily in southern Italy. Caponata was initially considered a food of the poor, made from fresh seasonal vegetables, olive oil and vinegar, often replacing meat during fasting periods.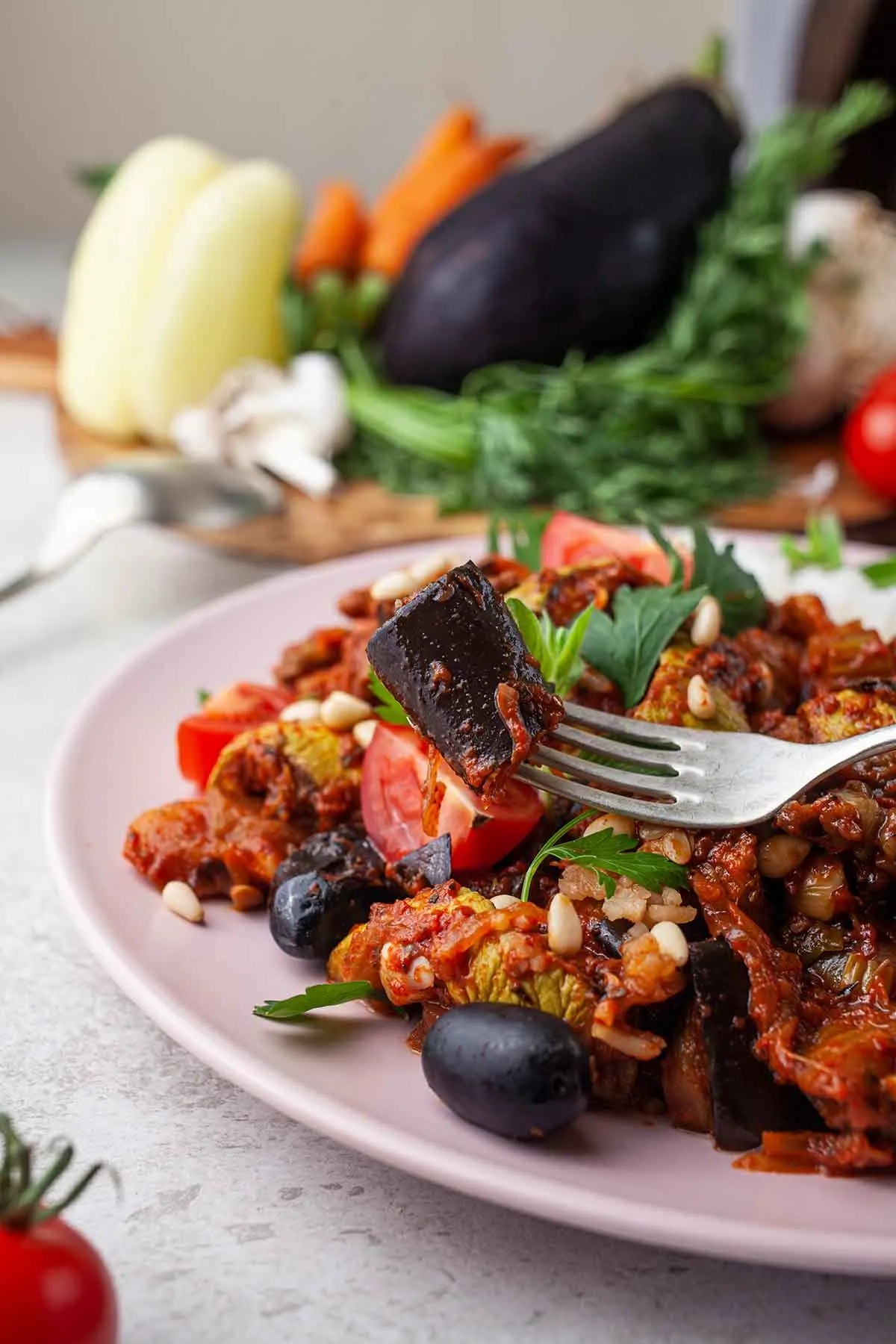 Over the centuries, the Caponata recipe has evolved and been enriched with ingredients such as eggplant, peppers, onions, tomatoes and hazelnuts. Some more modern versions may even include anchovies, olives, raisins or cocoa. This diversity of ingredients adds a perfect balance between sweet, sour and salty flavors, which make Caponata a real explosion of tastes.
Caponata has become an emblematic recipe of Sicilian cuisine and is associated with holidays, special events and festive family meals. In Sicily, each family or region has its own distinct style of preparing Caponata, adding a personal and authentic touch to this dish.
Today, Caponata is known and appreciated all over the world, being considered a true delicacy of Italian cuisine. Its distinct taste and inviting aroma make it a perfect choice for lovers of authentic food and for those who want to experience Sicilian traditions and culture through taste.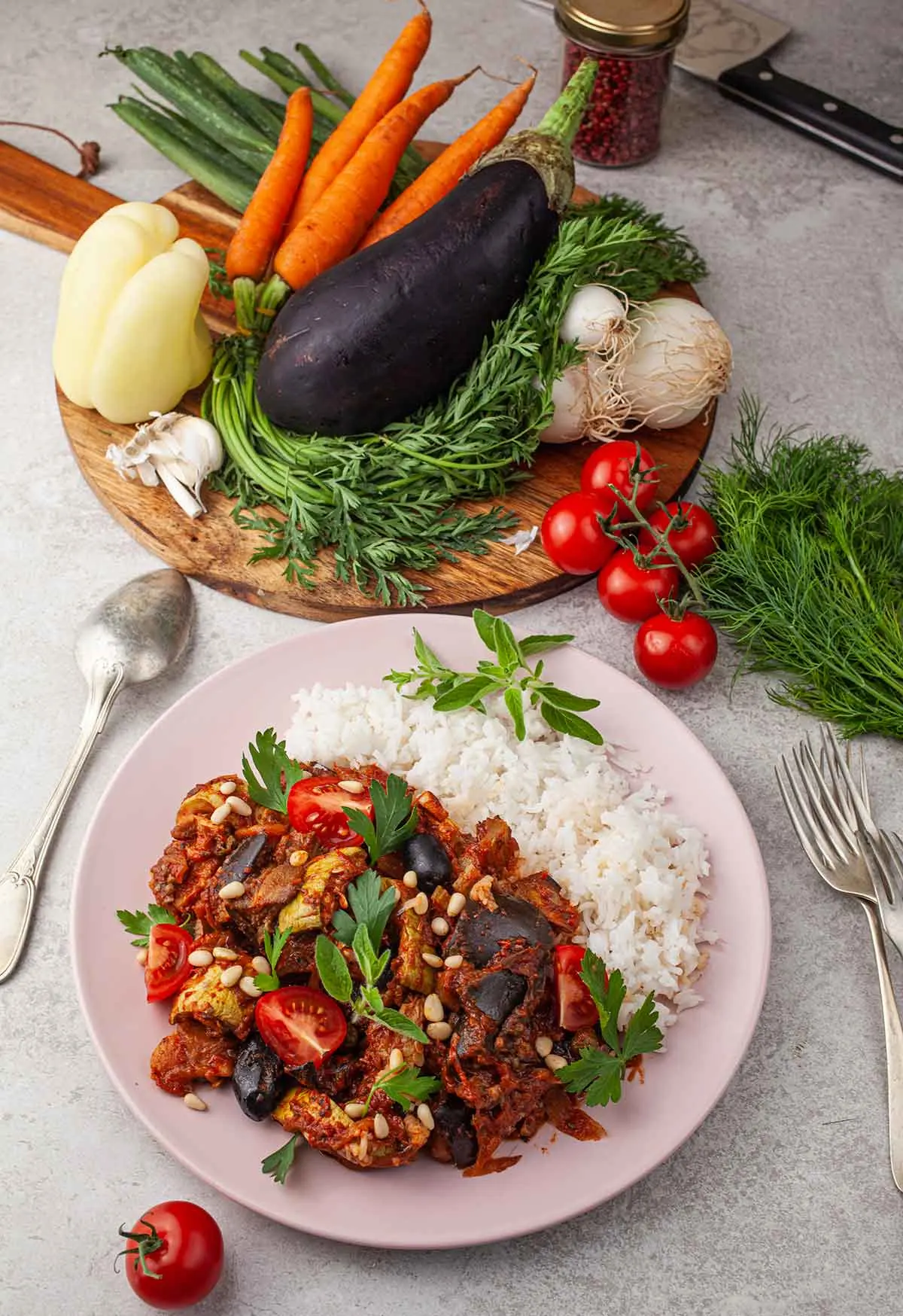 Related recipes for an authentic Italian experience
Caponata is a wonderful choice to complete an Italian or Mediterranean-inspired menu, offering an authentic and varied culinary experience. Here are some suggestions for other Italian or Mediterranean recipes that can go perfectly with this recipe:
Bruschetta: Delicious bruschetta with tomatoes, garlic, basil and olive oil is a classic Italian appetizer and a perfect partner for Caponata. Aromatic and easy to prepare, bruschettas bring freshness and bright colors to your menu.
Risotto: A portion of creamy risotto, prepared with parmesan cheese and added with various ingredients, such as mushrooms, asparagus or seafood, goes well with eggplant Caponata, offering a rich range of flavors and textures.
Frittata: A tasty frittata with fresh vegetables, cheese and aromatic herbs is another delicious option to complete the Caponata menu. This light and hearty dish can be served as an appetizer or even as a main course.
Pasta: A variety of Italian pasta, such as tagliatelle, pappardelle or penne, together with various sauces, such as tomato sauce with basil or walnut and cheese sauce, can perfectly complement the rich taste of eggplants.
Caprese salad: A classic Caprese salad with fresh tomatoes, mozzarella and basil leaves is a fresh and refreshing choice that goes well with Caponata.
Gnocchi: Gnocchi, a kind of Italian pasta made from potatoes and flour, can be served with various sauces, such as cream and parsley sauce or tomato sauce with basil and olives.
Insalata di Mare: A Mediterranean salad with seafood, lettuce leaves, avocado and lemon and olive oil dressing brings freshness and flavor to your menu.
Panzanella: A traditional Italian salad of old bread soaked in olive oil, with tomatoes, cucumbers, onions and basil leaves is an excellent option to complete the menu.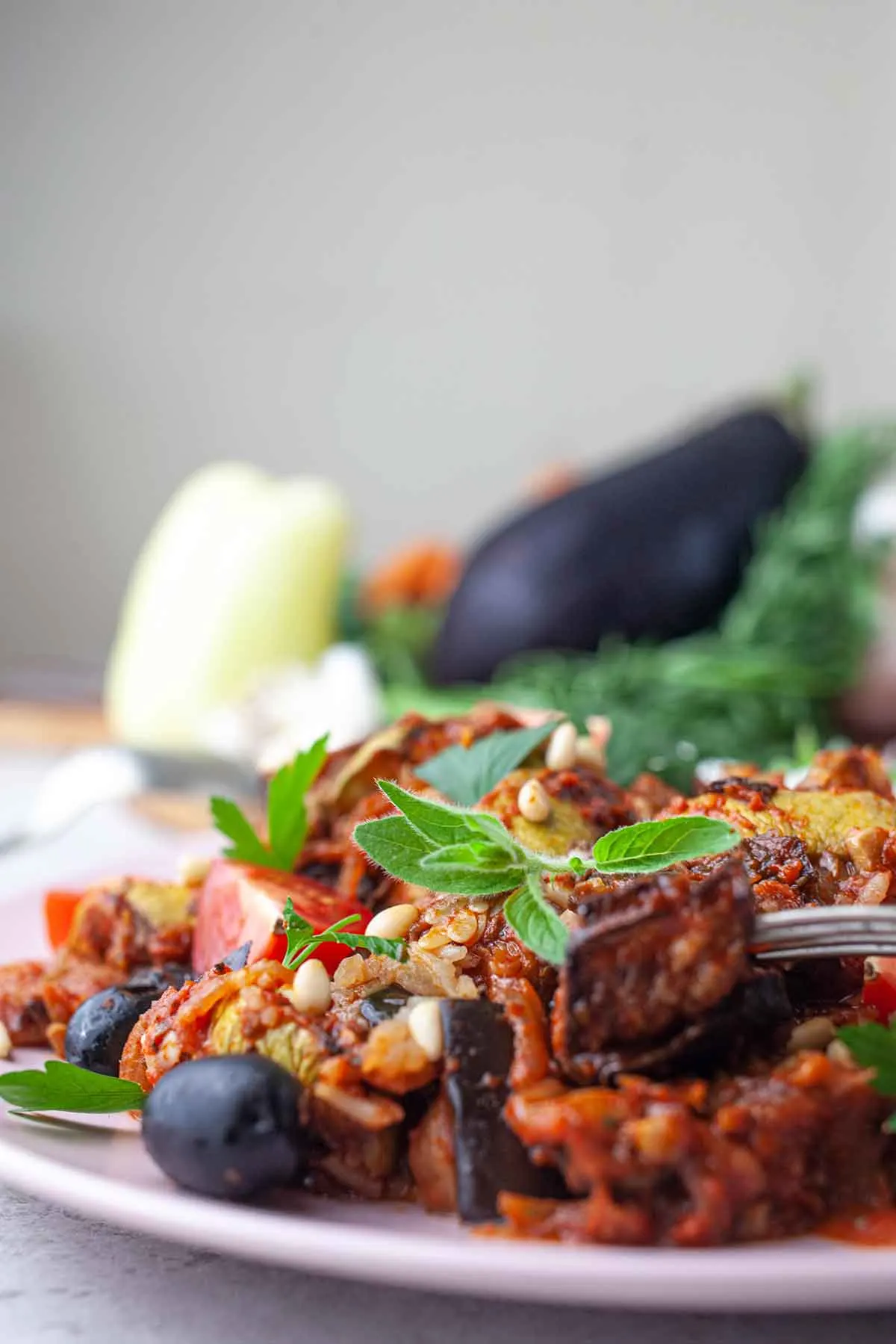 These Italian and Mediterranean recipes are perfectly complemented with Caponata, offering a variety of authentic and tasty flavors, for a memorable and authentic culinary experience.
Try the Caponata recipe and enjoy an authentic experience of Italian flavor!
How to make the best caponata recipe
Yield: 4-6
Best Caponata Recipe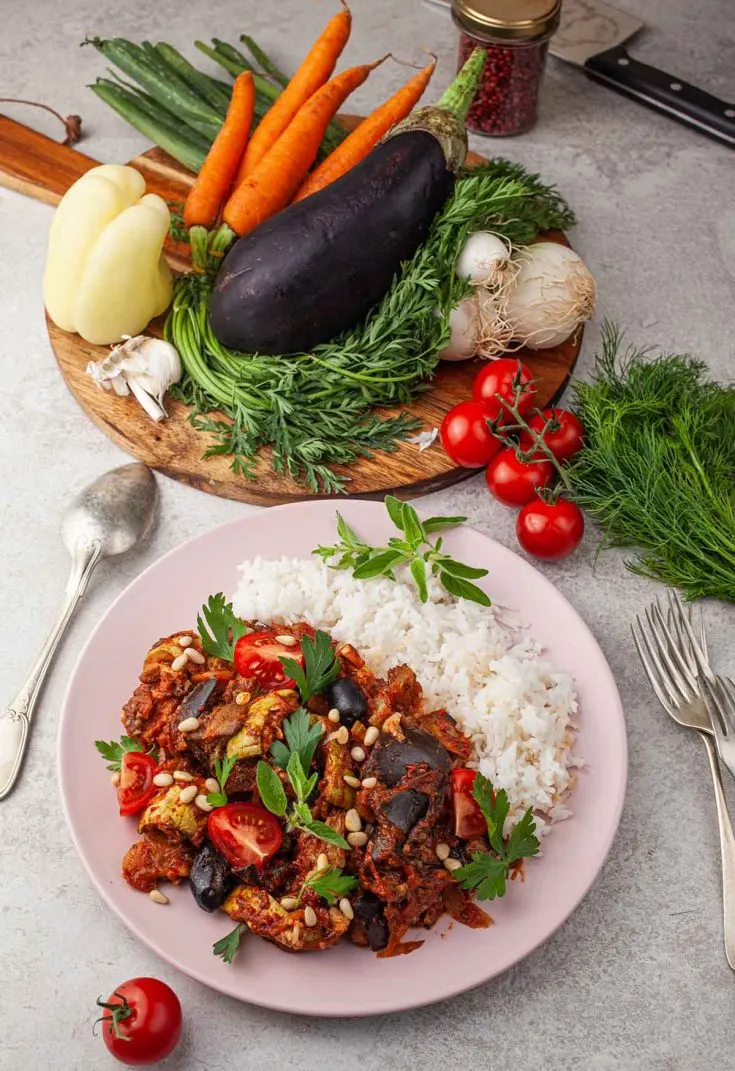 Try the best Caponata recipe - a Sicilian dish with a rich taste and a mouth-watering combination of aromatic vegetables.
Ingredients
4 eggplants cut into pieces
4 tablespoons olive oil
1 white onion, sliced
3 stalks of celery
1 bell pepper, chopped
2 tablespoons of capers
200g olives
400g peeled tomatoes
4 leaves of fresh basil
3 oregano leaves
3 tablespoons of pine nuts
1 teaspoon salt
2 teaspoons of sugar
3 tablespoons of apple cider vinegar
2 tablespoons of tomato paste
Instructions
In a pan, on medium heat, saute the eggplants in two tablespoons of olive oil.
Once ready, put them in a bowl and leave them aside.
In the same pan at medium heat, add another 2 tablespoons of olive oil, and when the oil is hot, add the sliced onion.
Sauté the onion, stirring for around 4 minutes. When the onion becomes soft, add celery and bell pepper and continue to stir for another 3-4 minutes. Then add the olives, capers, pine nuts and tomatoes.
Mix the ingredients and cover with a lid. Let them cook on low heat for around 15 minutes, stirring from time to time.
Meanwhile, in a small bowl, add the vinegar, tomato paste and sugar. Stir well.
When the vegetables are ready, add the salt and the tomato paste mixture, mix the basil and oregano leaves and add the cooked eggplant.
Cook for 5 more minutes.
Serve hot caponata with extra pine buds and fresh herbs, and a side of rice or bread.
Nutrition Information
Yield
4
Serving Size
1
Amount Per Serving
Calories

300
Total Fat

24g
Saturated Fat

3g
Trans Fat

0g
Unsaturated Fat

19g
Cholesterol

0mg
Sodium

1034mg
Carbohydrates

22g
Fiber

6g
Sugar

10g
Protein

4g
I strive to keep the information as accurate as possible but make no warranties regarding its accuracy. I encourage you to make your own calculations using your preferred nutrition calculator.