Discover the captivating flavors of this cauliflower hummus recipe! This recipe combines traditional chickpea hummus with roasted cauliflower, both in the creamy and velvety composition, and as a delicious topping. Enjoy a harmonious fusion of textures and tastes that will bring your hummus to another level.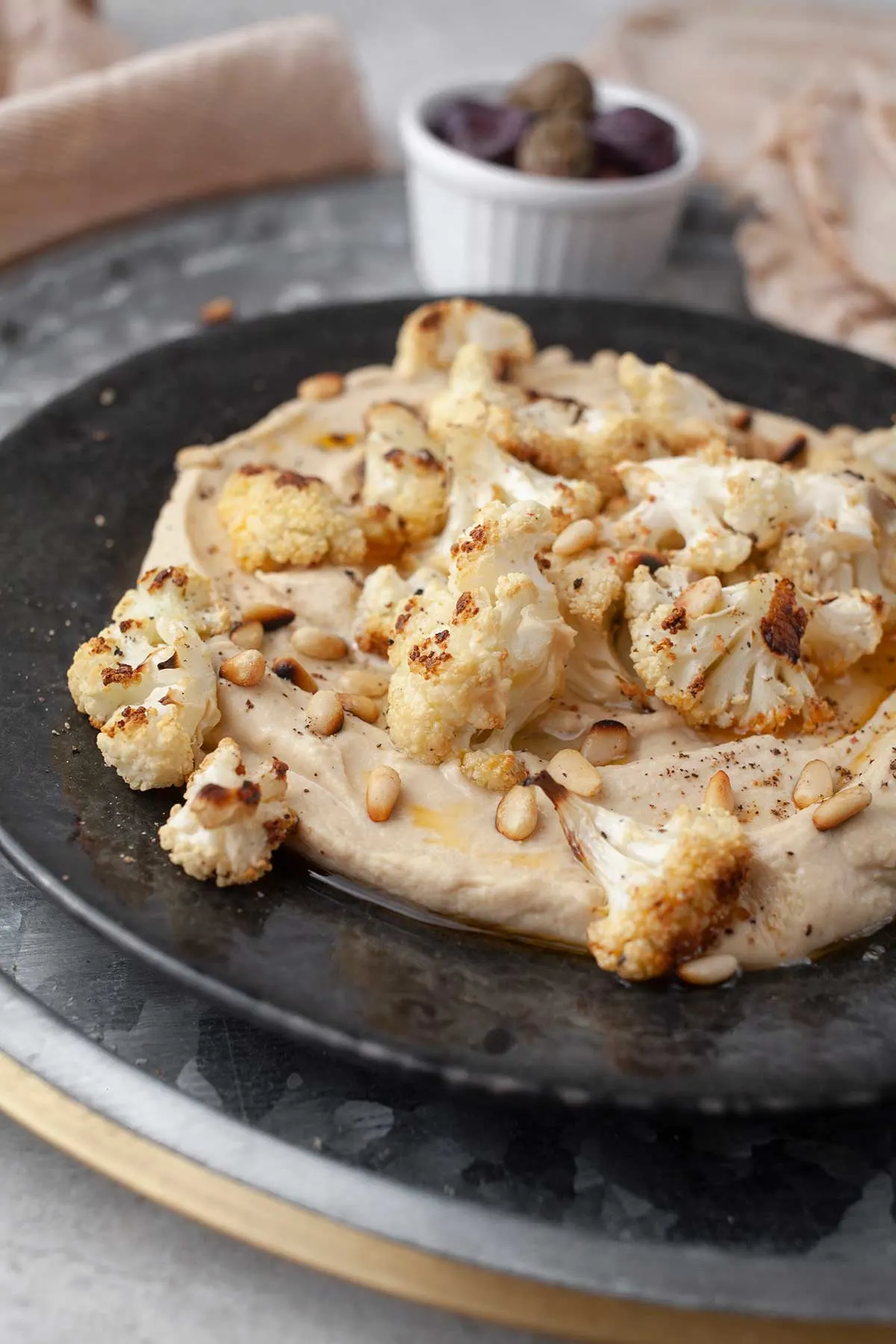 If you've been following my blog for a while, then you've definitely noticed that I have an obsession with hummus. I have all kinds of experiments on the blog with this kind of food and I still haven't gotten bored of it!
This cauliflower hummus recipe brings a new and surprising approach to the classic hummus. The ripe cauliflower adds a distinct note of sweetness and a finer texture, complementing the chickpeas with a remarkable flavor. Its delicate taste blends harmoniously with the other ingredients, resulting in a perfectly balanced combination.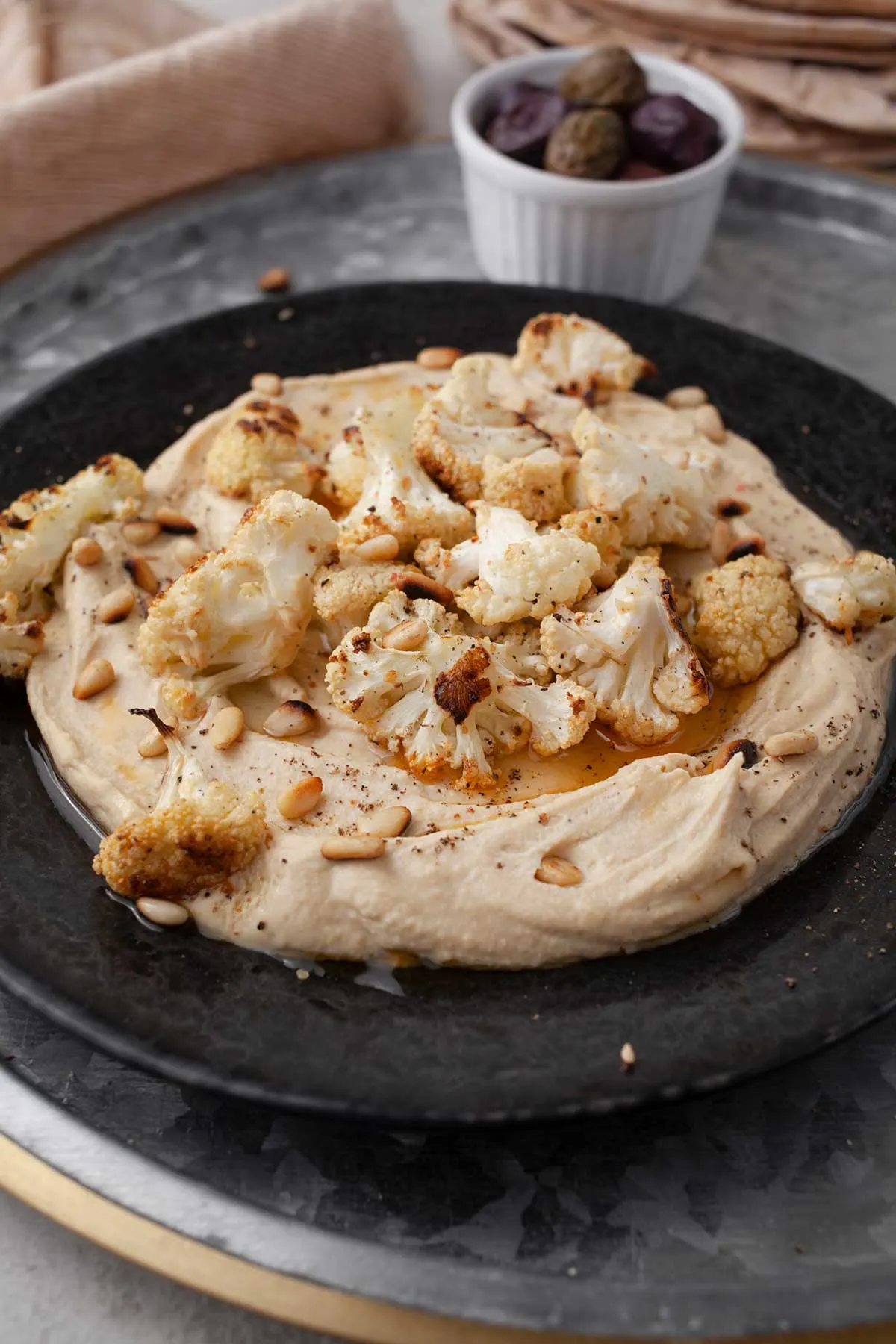 Cauliflower not only adds a new dimension of taste and consistency, but also enriches the nutritional intake of this dish, offering essential vitamins and minerals. This reinterpretation of the classic hummus is an innovative way to enjoy a traditional appetizer, bringing a new breath and an authentic flavor to your plate.
Cauliflower is a wonderful vegetable, known for its crunchy texture and delicate taste. It is a versatile choice in the kitchen and can be used in a variety of dishes, from fried or steamed dishes to creamy sauces and healthy salads.
Try these recipes with cauliflower from the blog and you will definitely choose to cook with this vegetable more often: Spinach and Cauliflower Gratin, Cauliflower Rice , Cauliflower pizza crust.
What I like most about cauliflower is its versatility. It can be transformed into so many delicious dishes. For example, you can bake cauliflower to obtain a crunchy consistency and a sweet taste, or you can turn it into a creamy and aromatic puree. Cauliflower is also an excellent choice for replacing ingredients with heavier carbohydrates, bringing a touch of freshness and flavor to low-carb or keto recipes.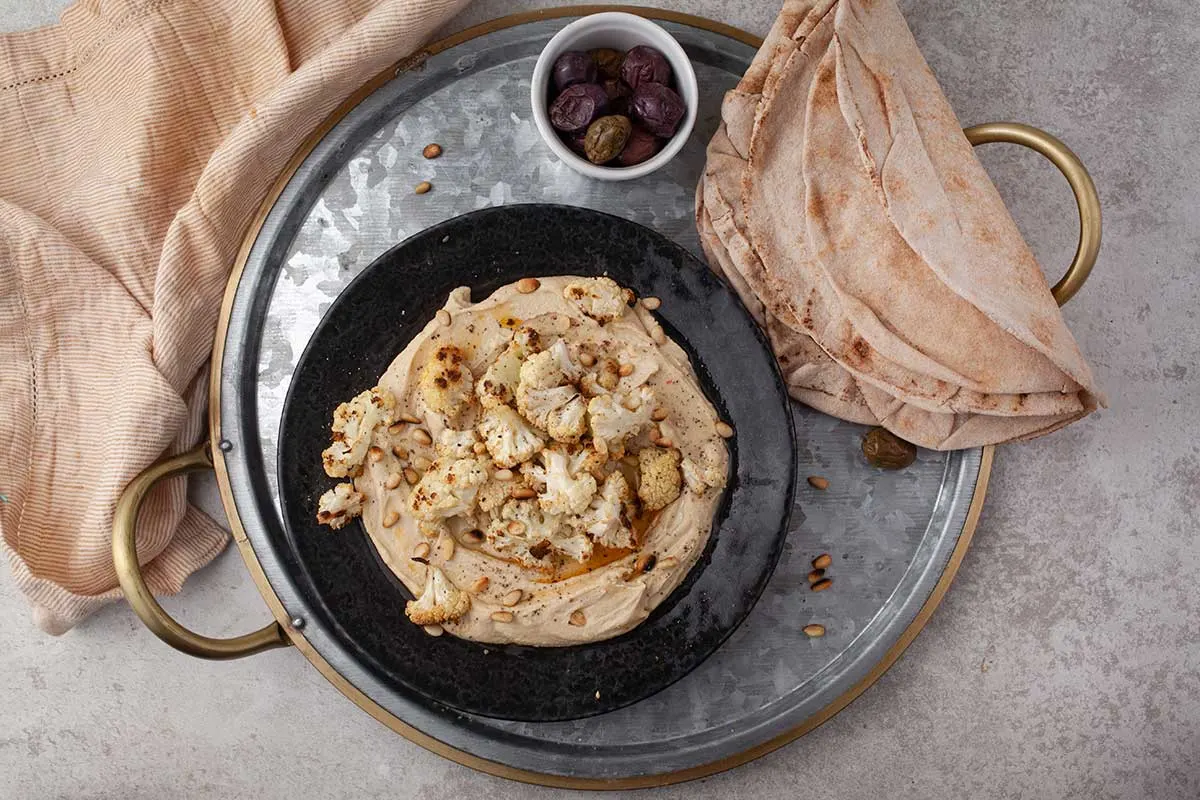 Tips and tricks for perfect oven-roasted cauliflower
Here are some tips and tricks that will help you bake the cauliflower perfectly in the oven:
Choose a fresh and firm cauliflower: Choose a cauliflower with compact florets and fresh leaves. Avoid cauliflowers that have brown spots or dry leaves.
Dry the cauliflower before baking: After washing the cauliflower, make sure to dry it well using a kitchen towel or absorbent napkins. This will help to obtain a crispy texture during baking.
Choose the right temperature and time: Heat the oven to the right temperature for baking the cauliflower. Usually, the temperature of 200-220 degrees Celsius is ideal. Bake the cauliflower for about 20-25 minutes or until it becomes golden and tender.
Season the cauliflower: To add flavor, you can season the cauliflower with various spices and aromatic herbs. I recommend spices such as salt, pepper, granulated garlic, chili powder, turmeric or curry powder to obtain delicious flavors.
Use baking paper: To avoid sticking and to facilitate cleaning, use a tray covered with baking paper.
Turn the cauliflower florets during baking: Halfway through the baking time, turn the cauliflower florets on the other side to bake evenly and to obtain a crispy texture on all sides.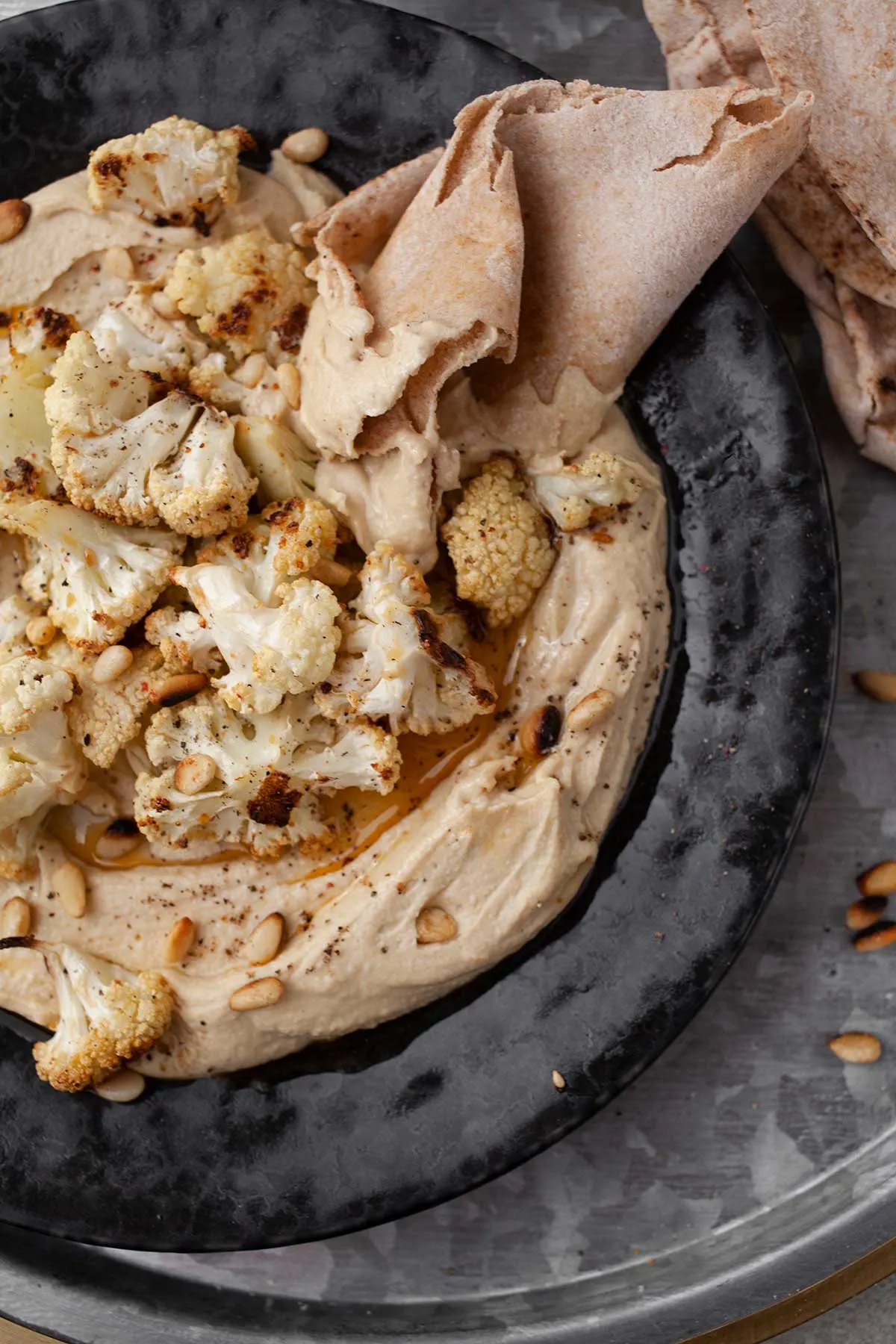 Why do you soak cauliflower before cooking?
Yes, it is recommended to leave the cauliflower in water before cooking it. This process, called soaking or soaking in salt water, has several benefits:
Cauliflower cleaning: By soaking in water, dirt and other impurities are removed from the cauliflower. Thus, you will get a cleaner and fresher cauliflower.
Improves texture: Soaking in water helps hydrate the cauliflower and soften its tissues, which leads to a more pleasant texture during cooking.
Reduces the smell: Raw cauliflower can have a slightly unpleasant smell. Soaking in water helps to eliminate or reduce this unpleasant smell.
Shortens cooking time: By soaking in water, cauliflower can absorb a small amount of liquid, which helps reduce cooking time. Thus, you will get the cauliflower cooked faster and more evenly.
To soften the cauliflower, you can put the pieces of cauliflower in a bowl with cold water and a little salt and let them soften for about 15-30 minutes. Then, you can drain the water and continue cooking the desired recipe.
How much salt should I use when soaking cauliflower?
It is recommended to add a spoonful of salt to approximately 4 liters of water. This proportion is sufficient to create a suitable saline solution for soaking the cauliflower. If you prefer a smaller or larger amount of water, you can adjust the proportion of salt accordingly. Make sure the salt dissolves completely in the water before adding the cauliflower to soak.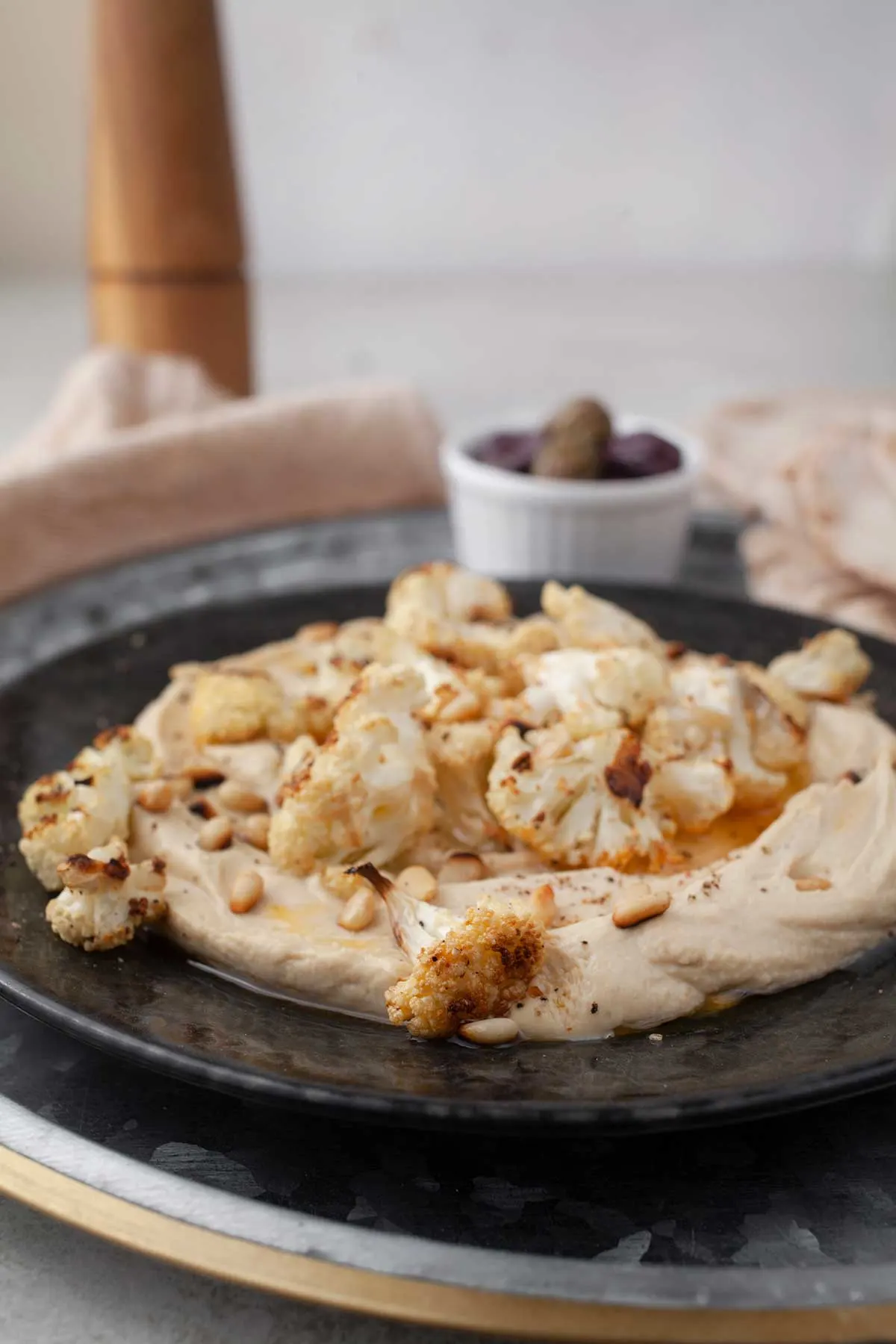 What can replace chickpeas in hummus?
If you want to replace chickpeas in hummus, there are some alternatives you can try:
Beans: White beans are an excellent substitute for chickpeas in hummus.
Nuts: Nuts can add a rich texture and intense flavor to hummus. You can use nuts such as almonds, cashews or macadamia nuts to get a creamy and tasty hummus… but watch out for the calories!
Zucchini. Baked or cooked zucchini can be used instead of chickpeas to create a light and airy hummus.
And last but not least… Cauliflower: As I still used cauliflower in this recipe, you can make hummus completely from cauliflower!
I invite you to try this cauliflower hummus recipe. It is a wonderful way to experience the new flavors and combinations in Arabic cuisine, offering you a moment of joy and culinary indulgence.
Yield: 6
Cauliflower Hummus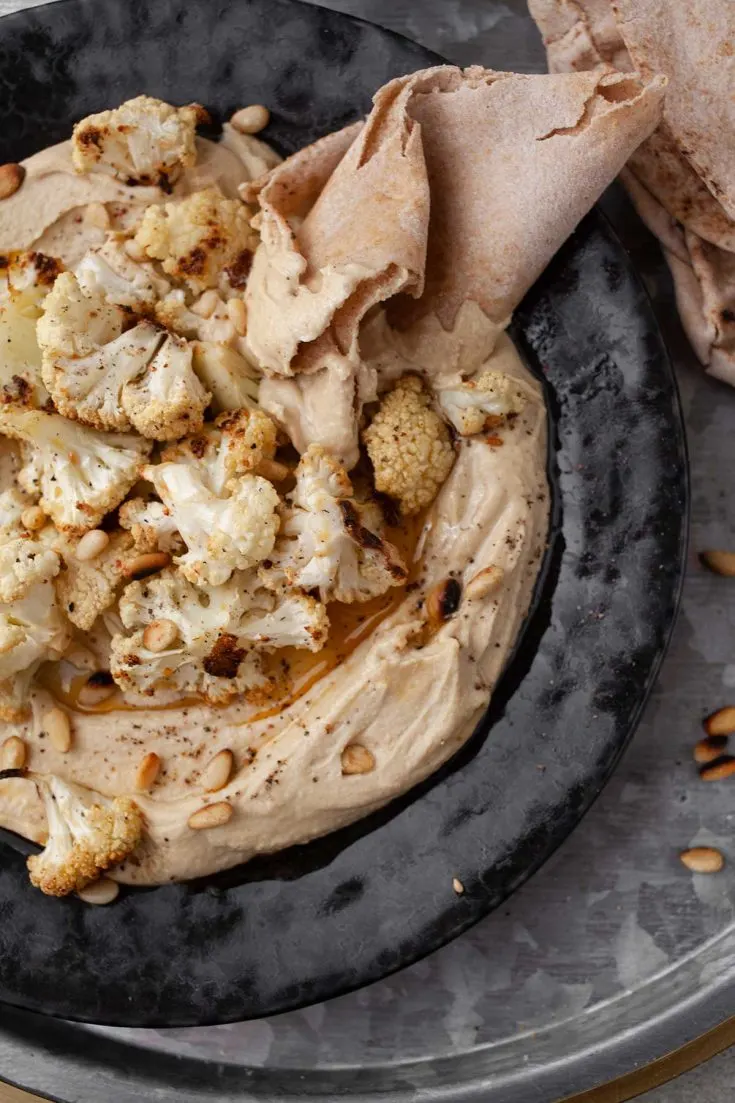 Ingredients
1 medium cauliflower, cut into 5-6 cm florets
4 tablespoons of olive oil
1 teaspoon of crushed garlic
1 can of chickpeas
1 teaspoon cumin powder
3 tablespoons of tahini
1 tablespoon of lemon juice
½ teaspoon of salt
½ teaspoon pepper
¼ teaspoon chili
1 tablespoon pine nuts, toasted
1 teaspoon sumac
Instructions
Heat the oven to 180 C (356F).
Cover a baking tray with baking paper.
Spread the cauliflower florets on the tray and drizzle with 2 tablespoons of olive oil.
Roast it in the oven for 30 minutes, until the cauliflower is golden.
Divide the cauliflower into two halves.
Transfer half of the cooked cauliflower to a bowl and set aside.
Put the other half of the cauliflower in a blender, along with the remaining oil after cooking, add the garlic and mix until you get puree.
Then add chickpeas, cumin, lemon juice, salt, pepper, chili and the remaining two tablespoons of oil.
Process for at least 5-8 minutes, until you get a fine hummus. Add the tahini and process for 2-3 more minutes. Adjust the texture with water from the canned chickpeas, as needed.
Serve the cauliflower hummus with the rest of the roasted cauliflower, pine nuts and sumac.
Nutrition Information
Yield
6
Serving Size
1
Amount Per Serving
Calories

205
Total Fat

15g
Saturated Fat

2g
Trans Fat

0g
Unsaturated Fat

12g
Cholesterol

0mg
Sodium

210mg
Carbohydrates

14g
Fiber

5g
Sugar

3g
Protein

6g
I strive to keep the information as accurate as possible but make no warranties regarding its accuracy. I encourage you to make your own calculations using your preferred nutrition calculator.