This is the basic Lebanese hummus recipe, made easy! Get the creamiest homemade hummus every time, without peeling the chickpeas!
I am absolutely CRAZY about hummus! I could eat hummus for breakfast, lunch, dinner and even as a snack, all in one day! And even though I have shared TONS of amazing hummus recipes with you until now, this simple, basic recipe remains one of my all-time favorites.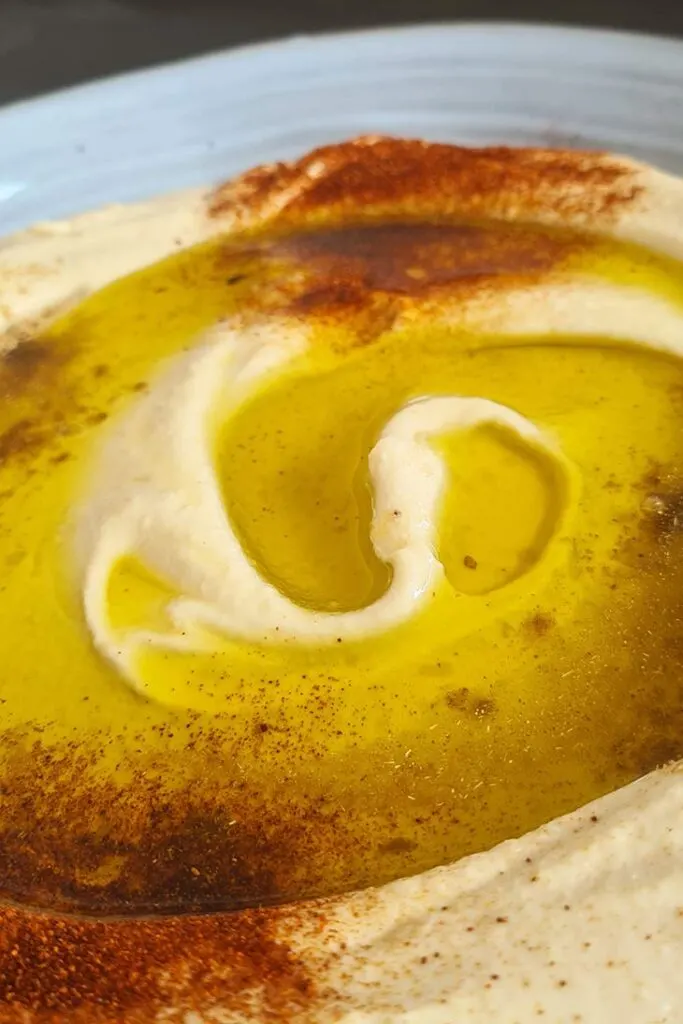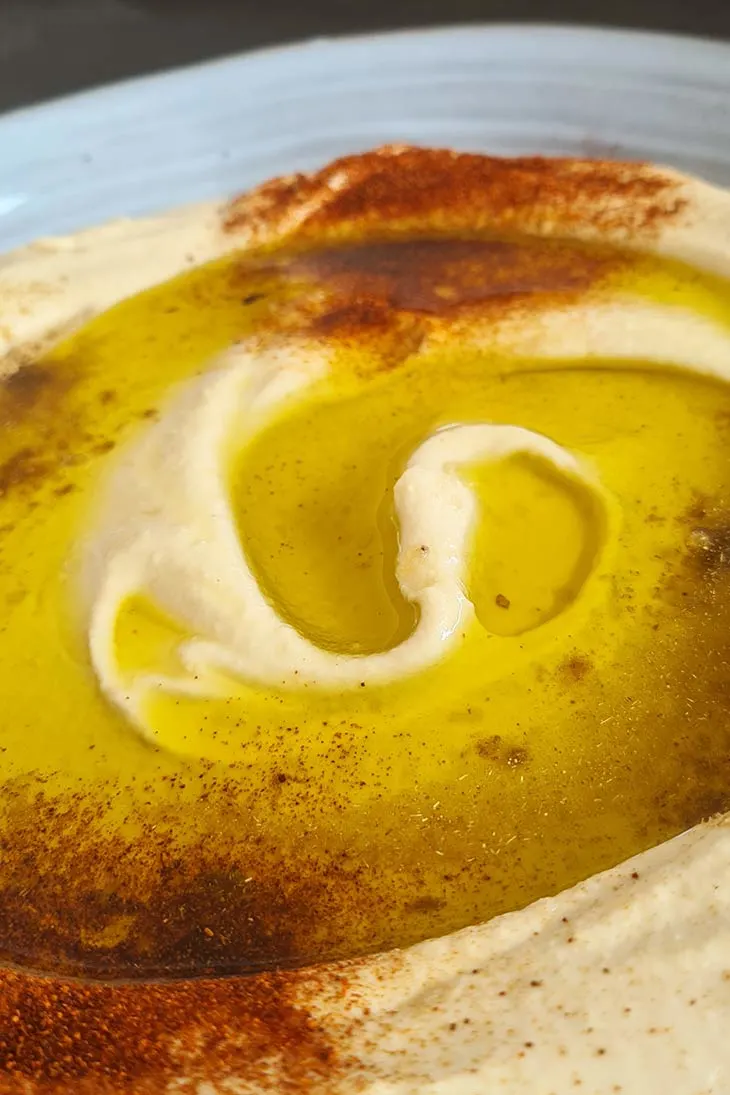 I think mastering the art of making hummus is a total MUST for everyone, especially if you're a huge fan of hummus as I am. By using this simple recipe I'm presenting to you today you will be able to make the best, creamiest hummus each and every time. That's a promise! 🙂
Hummus is such a simple dip with few ingredients, which means we'll have to take care of each of them. All ingredients are important in a good hummus! And, over time, I also discovered some pretty important tricks that will help you achieve the best hummus consistency. And I'll share all my secrets with you today! Are you ready? 😉
CHICKPEAS
I'll tell you right from the start: you do NOT need to peel the skin from the chickpeas. Who has time for that?! Although other people are mentioning it and I did try it myself, I found it time-consuming and definitely not worth it.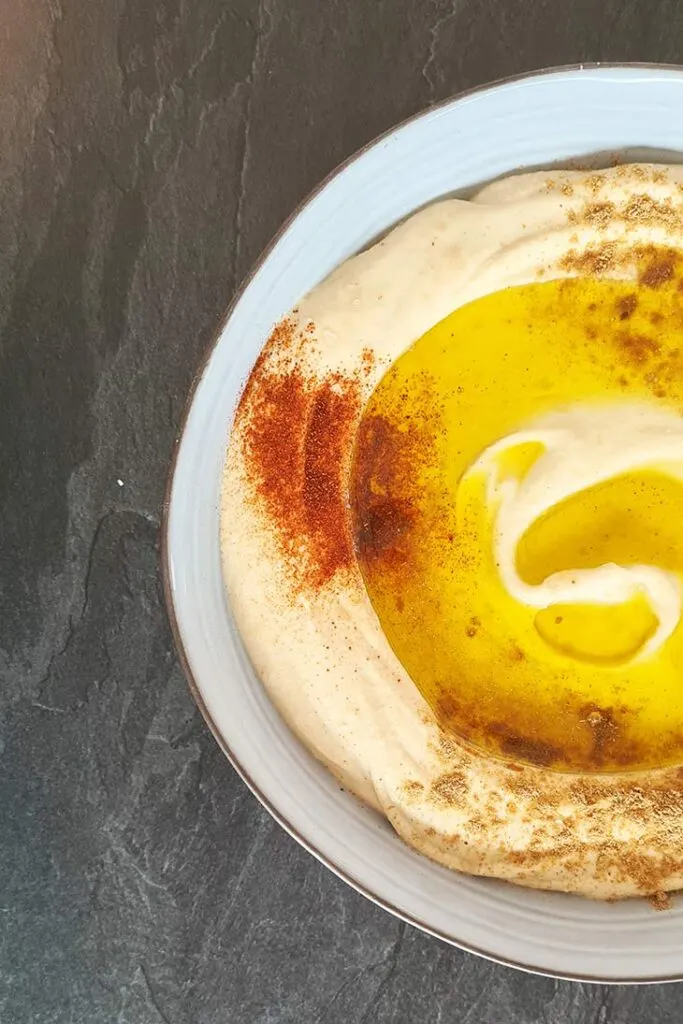 So what can you do instead of wasting time peeling the chickpeas? Easy: the trick is to boil the (already) boiled chickpeas from the can for 15 more minutes. That's it!
And yes, I'm using canned chickpeas for my hummus. There's nothing wrong with canned chickpeas, people! Just read the label – it should only contain boiled chickpeas, water, and salt – some may contain ascorbic acid which is vitamin C, so it's ok.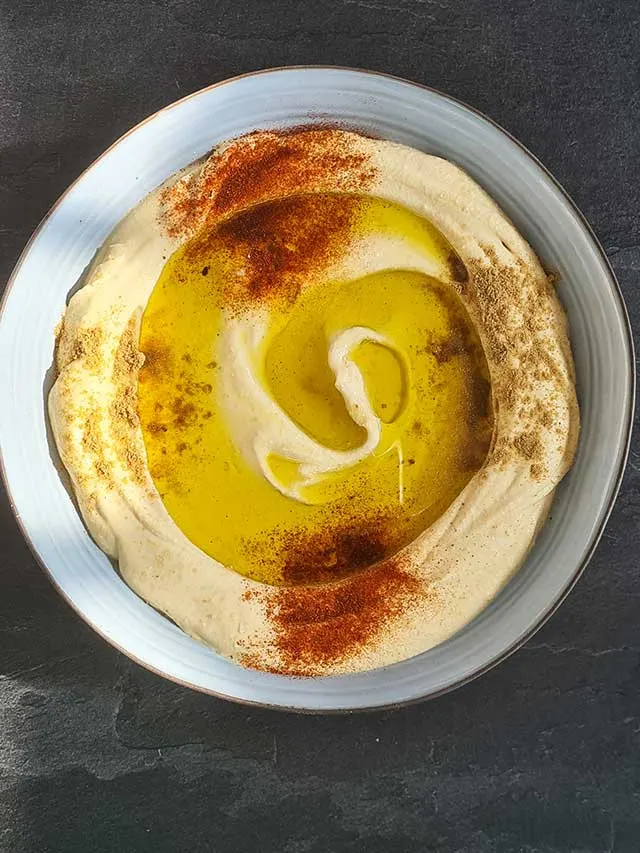 TAHINI (SESAME PASTE)
It's also VERY, very important to use high-quality tahini and in the perfect quantity for the amount of hummus you're making. I'm mentioning all the quantities in the recipe below for 2 cans of chickpeas, no worries. For example, I add approx. 150g tahini for 800g of chickpeas, sometimes even more, up to 200g. I have two different brands that I use all the time – the one from Lidl, which is cheap and it does the job well, or the one from Darinne which is definitely my favorite.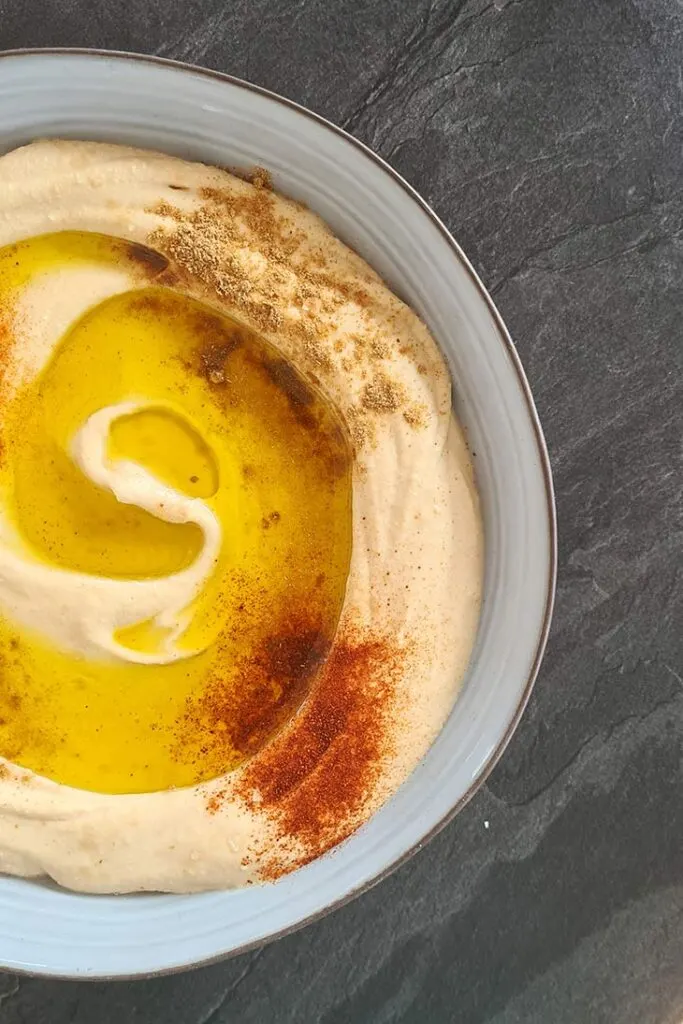 And don't add the tahini from the very beginning! First, you'll need to blend the chickpeas for around 5 minutes, and only after this step you can add the tahini. Why? Because mixing the tahini for too long might make it bitter. If you add it from the beginning, it means you'll be blending the tahini for 10 full minutes, and that's a bit too long for this kind of ingredient. We don't want a bitter hummus, right?
OLIVE OIL
Let's talk about olive oil as well. I know most recipes out there include olive oil in the mixing process, but I don't do that. I only add the at the end and I pour on the hummus after it's done. Trust me, it works!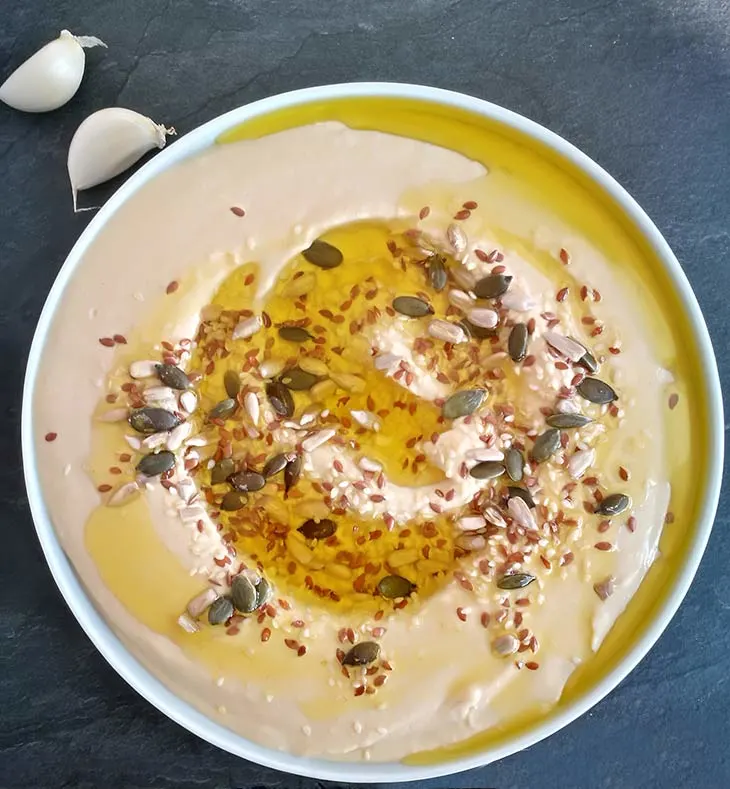 ICE CUBES
Why am I using ice cubes? Good question! The ice cubes help the recently boiled chickpeas to cool off faster. I discovered this trick while watching some Reels recently and I decided to try it. It really works!
KITCHEN ROBOT VS BLENDER
I prepare my hummus in a kitchen robot. I have a Philips one which does its job perfectly and I can totally recommend it. If you're using a blender, the process will get a bit more complicated because you will have to blend smaller quantities. You won't be able to mix the full 800g of chickpeas in one go, so my advice is to use half of the quantities and add a little bit more liquid to make the process smoother.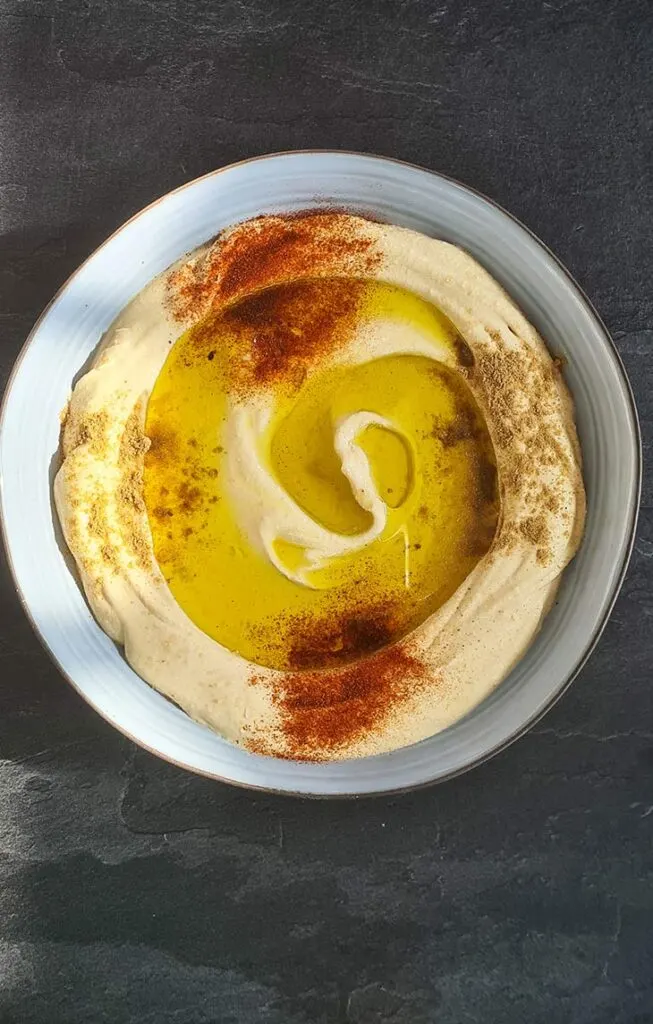 Another important tip I have for you is to take your time when blending the hummus. The more you blend, the finer the hummus.
And these were all my tips and tricks for you!
This is the base. If you get this right, you can start by adding new flavors to make it even more interesting.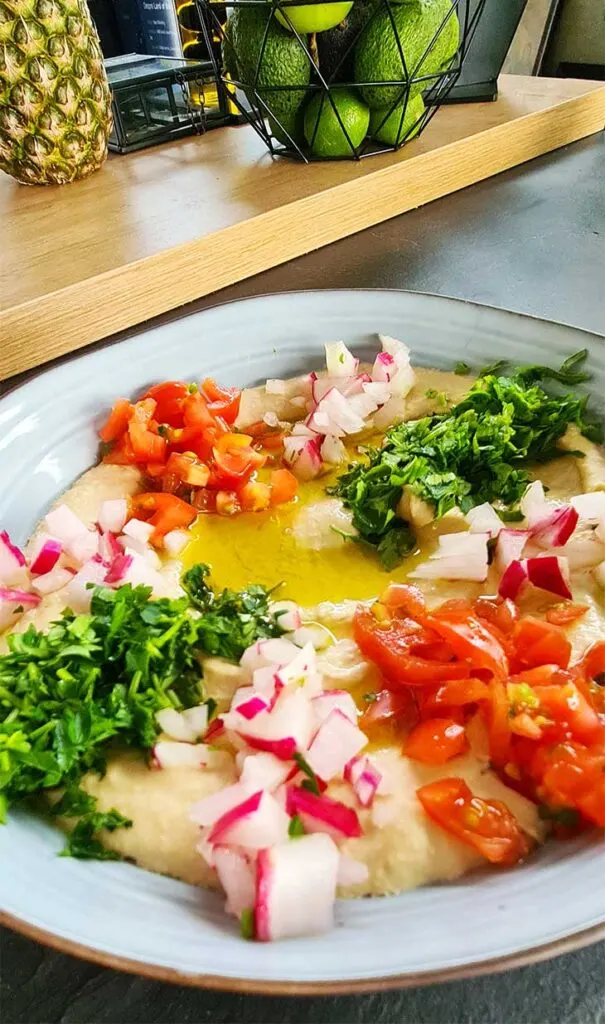 Here are some of my recommendations that I tried over time and have become my favorite hummus recipes when I need a change: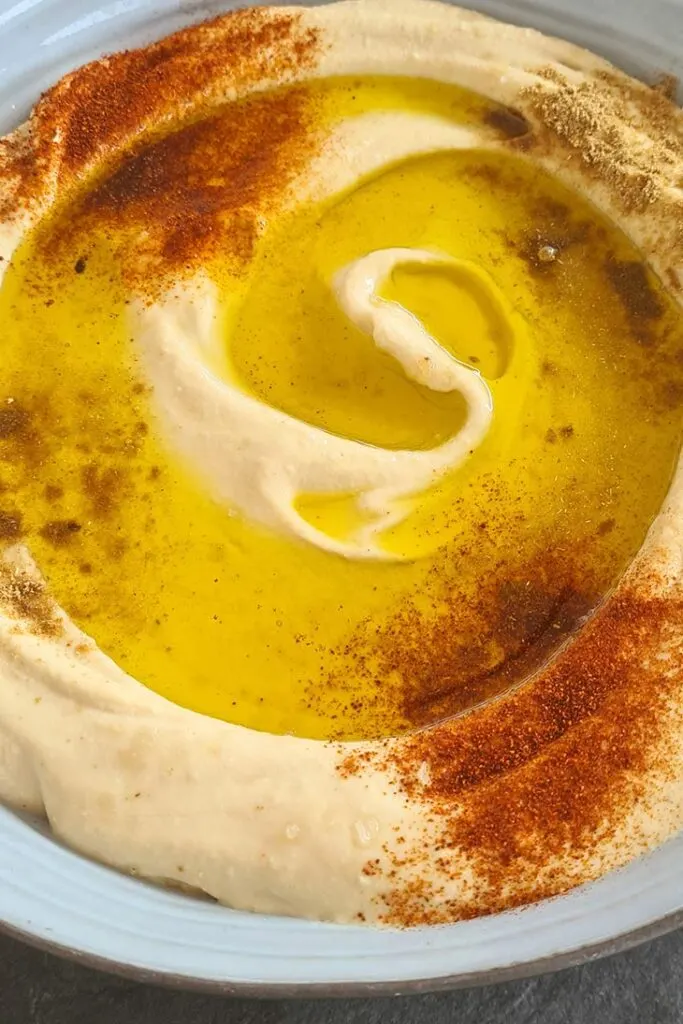 I know, that's a long list, I told you I LOVE hummus! If you're wondering how to serve it, you'll find endless possibilities. You can either serve it as a dip with some crunchy wraps, roasted in the oven for a bit, with crackers or veggie sticks. Or, if you're a fanatic like me, you can even make my recipe for Hummus Pasta. It works! 😉
These being said, I hope you'll use my basic hummus recipe whenever you're craving a big bowl of creaminess. I promise you'll achieve perfect results each and every time!
Yield: 4 servings
Best Hummus Recipe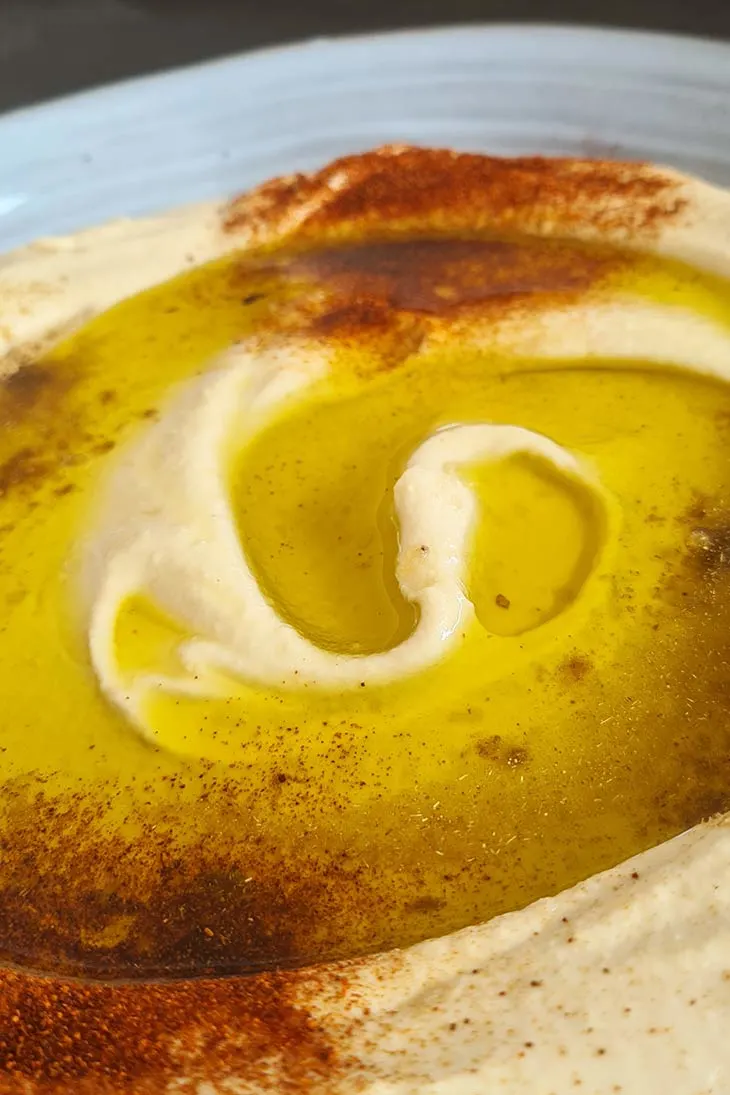 This is the basic Lebanese hummus recipe, made easy! Get the creamiest homemade hummus every time, without peeling the chickpeas!
Ingredients
800g chickpeas (2 cans), drained - keep the liquid from one of the cans in a cup
150g (10 Tbsp) tahini
2-3 cloves garlic
½ lemon, squeezed juice
3 ice cubes
salt, to taste
ground cumin, to taste (optional - add a little because it is very flavored)
toppings: extra virgin olive oil, you can also add spices, fried seeds, fried chickpeas - anything else you want, but olive oil is mandatory
Instructions
Add the drained chickpeas from the cans in a pot and cook for another 15 minutes.
Add the boiled chickpeas to the food processor. Add approx. 4 Tbsp of canned liquid, lemon juice, garlic and ice cubes.
Mix at high speed for 5 minutes. You can stop once or twice to lower the chickpeas from the walls of the robot container, so that it is processed evenly.
Add the tahini and leave it to process for another 5 minutes. Add a little salt. Gradually add the liquid from the canned chickpeas, so that you reach a creamy, fine texture.
I do not add olive oil to the robot, but I prefer to sprinkle plenty on top of the hummus. This preserves it even better in the refrigerator, keeping it from drying out.
You can serve it with various toppings or simply with olive oil.
Nutrition Information
Yield
4
Amount Per Serving
Calories

503
Total Fat

13g
Saturated Fat

2g
Trans Fat

0g
Unsaturated Fat

10g
Cholesterol

0mg
Sodium

202mg
Carbohydrates

78g
Fiber

19g
Sugar

20g
Protein

22g
I strive to keep the information as accurate as possible but make no warranties regarding its accuracy. I encourage you to make your own calculations using your preferred nutrition calculator.