I want to turn your world upside-down today: here's to make dessert hummus! Have you ever thought about it? If not, let me tell you: it's super delicious and extremely easy to make!
Two words for you today. Dessert and hummus. No, we aren't going to make dessert and then hummus. We are going to make a dessert hummus. Tasty, sweet, rich peanut butter hummus. Yes, dessert hummus is a thing now and it's here to stay!
You may be a little bit surprised by the idea of combining chickpeas and peanut butter, but the result couldn't be better. It's simply amazing, and I am actually surprised I didn't think about it earlier.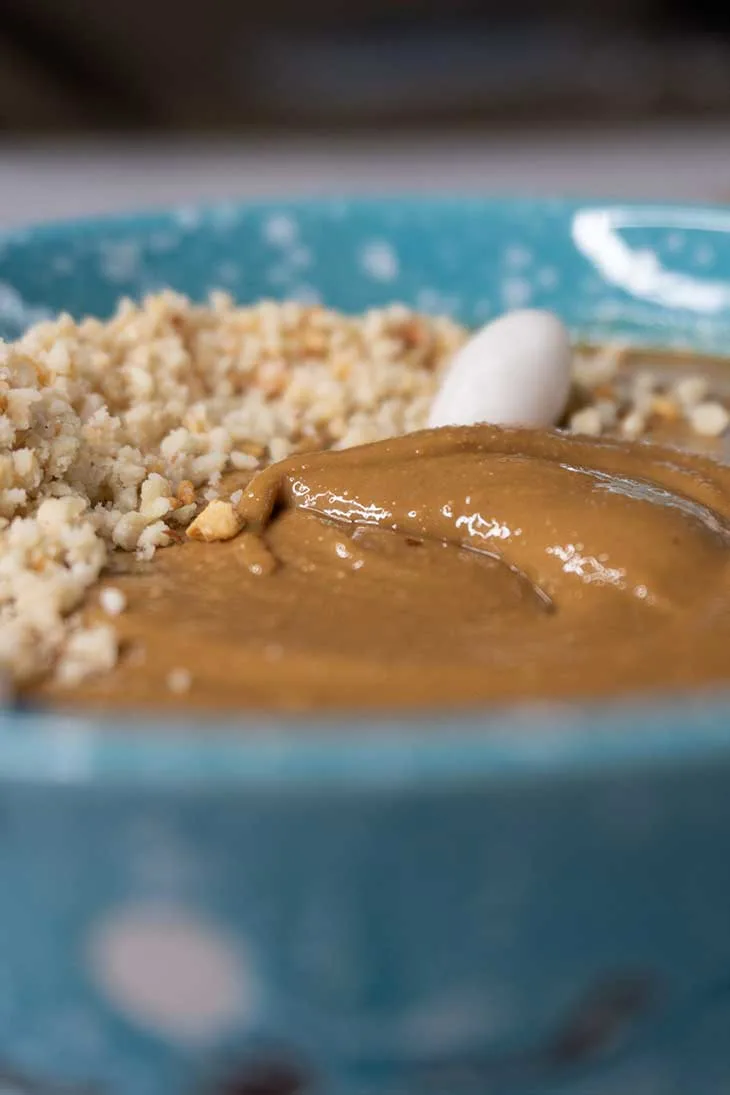 I spent a couple of days trying to get everything right and I think I finally found the golden proportions. Therefore, I am ready to share the recipe with all of you so that you can enjoy it whenever you feel like it.
I especially like the result because it's super versatile. The texture will be creamy, hummus-like, but the rich peanut butter taste will give you the feeling that chickpeas were actually created to be a dessert and not anything else.
It's so tasty, without being too heavy, so you can absolutely serve it and eat it as it is. The same way you can eat a full jar of peanut butter spoon by spoon, the same way this little treat will work its way into your heart without feeling the need to add anything else. But of course, the more flavors the better! So here are some of the best ways to combine this dessert hummus: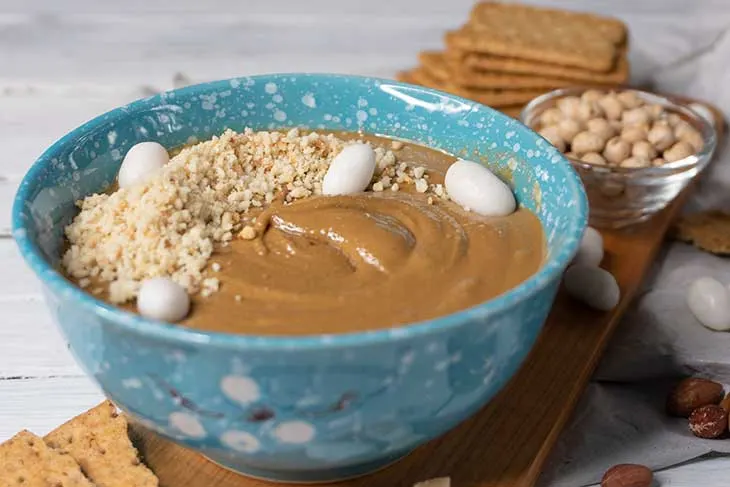 Chocolate – do I need to say anything more? Who doesn't love a rich chocolatey dessert?
Petite beurre biscuits! It's an amazing combo that will let you simultaneously enjoy the creamy hummus together with something crunchy and sweet;
Salty pretzels. This may not be the most intuitive combo, but trust me, it's great! There's really something exquisite when it comes to combining chocolate with something salty. The salt only makes the flavor and the sweetness pop out better, so it actually makes the entire dessert experience so much wholesome;
Fruit! This one is truly amazing, as fruit makes everything much lighter and healthier. Not to mention they bring out their specific flavor, taking the whole taste to a whole new level! I especially recommend strawberries (chocolate and strawberries – always a hard YES) and bananas (you may want to try dried bananas. Absolutely in love with the crunchiness!)
Pancakes and waffles. This dessert hummus works great as a topping for your morning pancakes if you're into sweet breakfast. If not, save the idea for the dessert pancakes! It's super delicious, more interesting than plain peanut butter, and not to mention – healthier and more nutritious, as the chickpeas come loaded with fiber!
Frosting! Cakes, brownies, cupcakes – this vegan dessert hummus works wonderfully on everything! Refrigerating will make the dessert hummus dry out a little bit (you can anyway set out for your preferred texture during the preparation – just cut out on the non-dairy milk!)
Try it in a banana sandwich. You will need two slices of bread, a couple of slices of banana, and of course, the dessert hummus! It's super delicious. And if you're out of bananas for the moment, you can try the hummus plain on a fresh slice of bread. Still delicious!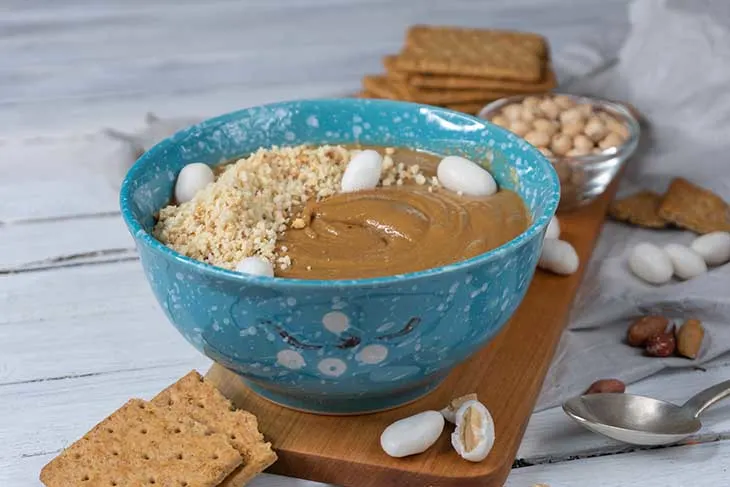 Now that you've seen how many things this amazing recipe can accomplish, you are probably eager to give it a try! And you can probably do it right now – I bet you probably have all the ingredients inside your cupboard!
In order to prepare this amazing dessert hummus, you will only need five minutes. I mean it. Five. Basically all you have to do is throw all the ingredients in the blender and press a button! (But before you rush into that, take a look at the detailed instructions below! There's a specific order for throwing things into the blender).
But enough introduction, this recipe needs to be tried ASAP. I am sure that you will be thankful for giving this a try, as it's super fast and super delicious. But keep in mind that although the main ingredient is chickpeas, it's still a sweet dessert – so moderation is key!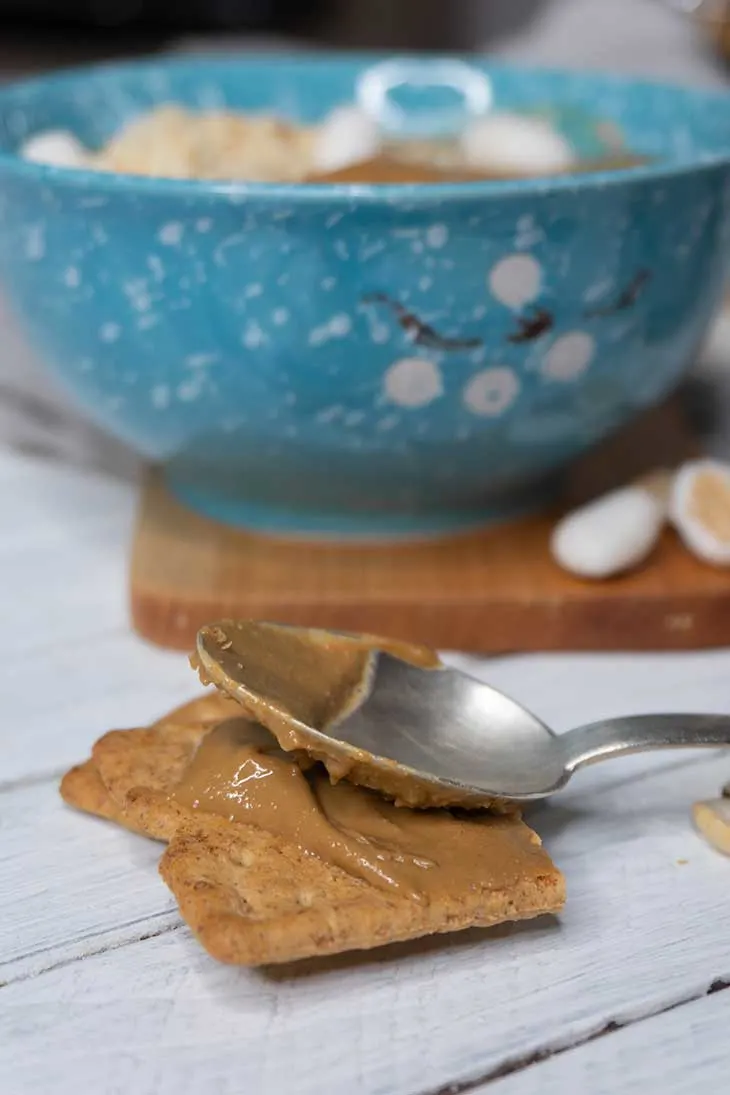 Now let's head to the kitchen and get to work! And don't forget to leave a comment and tell me how this recipe worked out for you!
---
Personalized meal plans and workout videos | Get your customized meal plan today! [x_button shape="square" size="mini" float="none" target="blank" href="https://shop.gourmandelle.com/?utm_source=mainsite&utm_medium=site&utm_campaign=inpost" info="none" info_place="top" info_trigger="hover"]I WANT A MEAL PLAN![/x_button]
---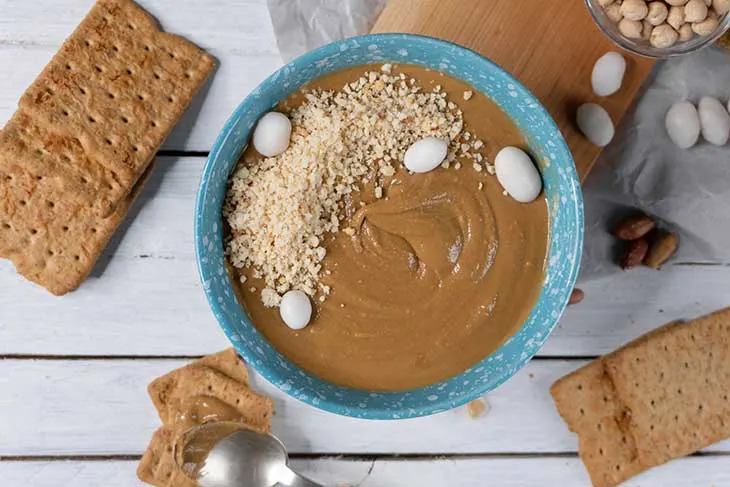 I want to turn your world upside-down today: here's to make dessert hummus! Have you ever thought about it? If not, let me tell you: it's super delicious and extremely easy to make!
Ingredients
240g (1 cup) chickpeas, cooked and drained
140g (½ cup) unsalted peanut butter
70g (⅓ cup) coconut sugar
3 Tbsp coconut milk
1 tsp vanilla extract
¼ tsp almond extract
Jordan almonds
sea salt
Instructions
Combine all the ingredients besides the Jordan almonds in a food processor.
Season with a pinch of sea salt.
Blend together until smooth and creamy.
Refrigerate for 6-8 hours.
Serve with Jordan almonds.
Nutrition Information
Yield
4
Amount Per Serving
Calories

545
Total Fat

30.5g
Carbohydrates

48g
Protein

19.4g