If you are a pancake fan, then trust me, you'll absolutely fall in love with these vegan souffle pancakes, made in the authentic Japanese way! Check them out!
Just when you think you've come to know everything there is to know about certain foods and recipes, life surprises you! Although some things are perfectly good just as they are, sometimes we feel the need to try it in a different way.
Let's take pancakes for example. We've got American pancakes and we've got European pancakes – the crepe. Either fluffy or flat, pancakes are a favorite all around the world.
I haven't found anybody yet not to love them! But up until recently, I didn't think I would come across some new kind of dessert pancakes! Yet it happened and I am super thankful for that because I found out a new way to make and enjoy one of my favorite things ever!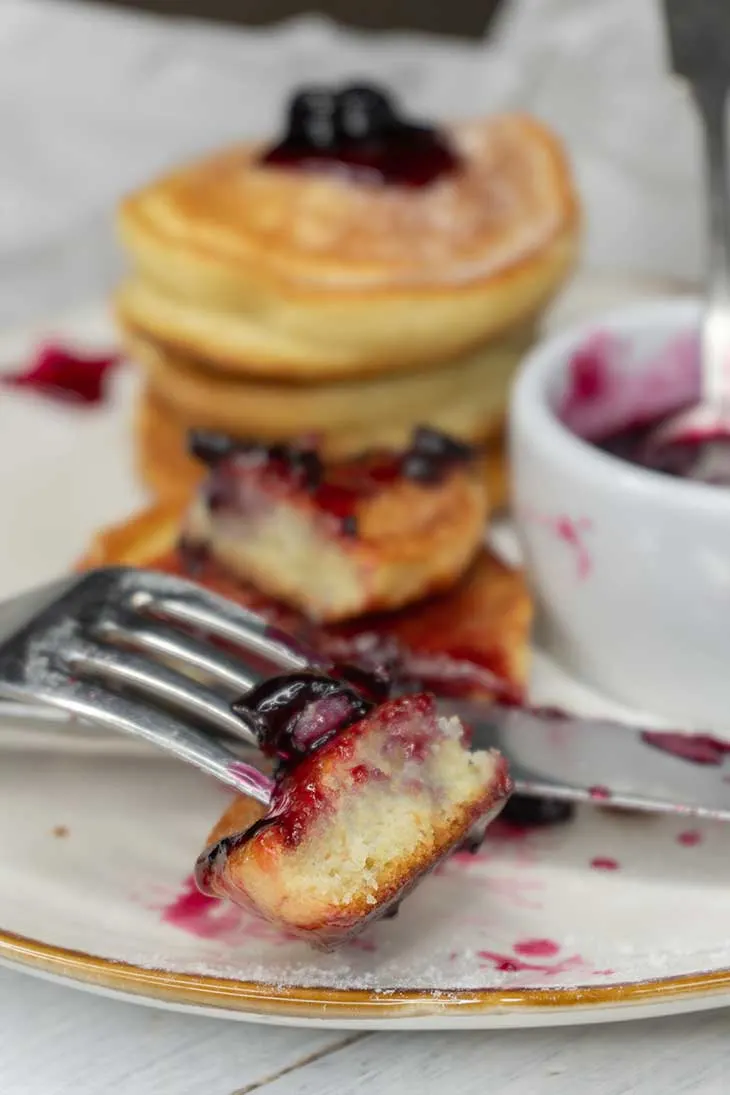 I am talking about vegan souffle pancakes. Have you heard of them? It's a new thing all over the internet. Instagram influencers and food lovers all over the world are all gathering around this newly emerged pancake: the Japanese souffle pancakes. And I'm all super excited because these little things are truly amazing.
So what's the deal with souffle pancakes? As the name suggests, they are even fluffier, more marshmallowy than regular American pancakes! It's like little fluffy clouds of joy are simultaneously melting inside your mouth. Yes, it's that good!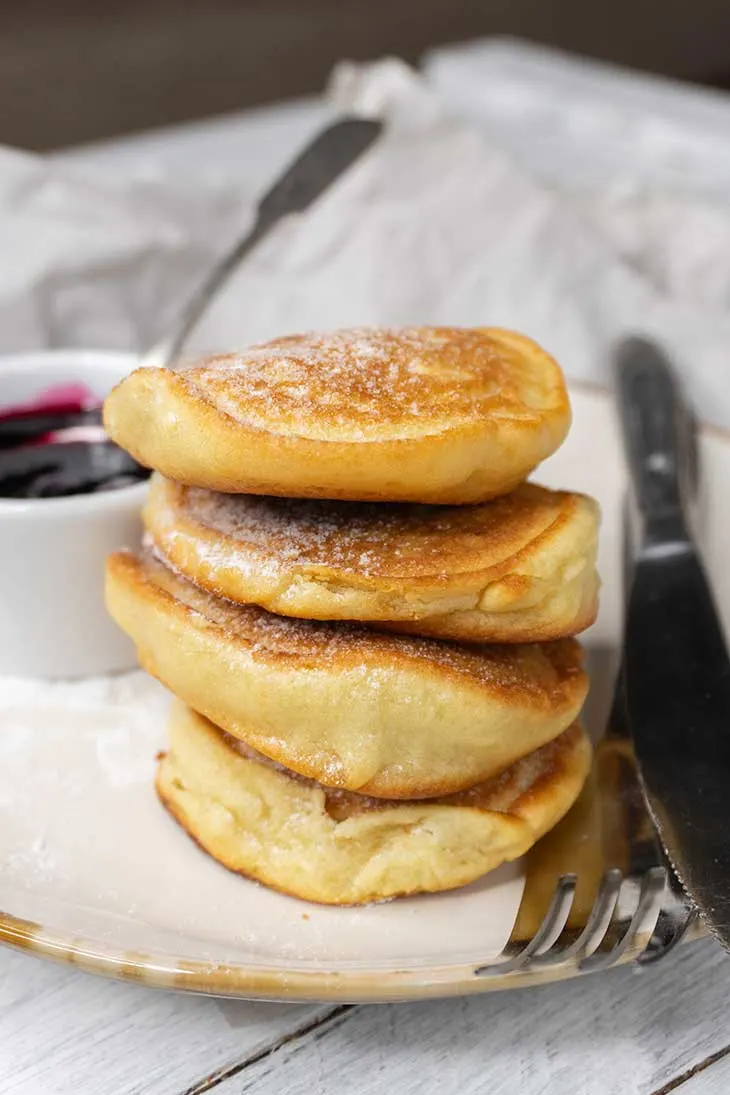 The souffle pancakes are thought to have appeared in Japan. Around 2014, two shops in Osaka started selling these souffle pancakes. Needless to say, they were an instant hit and now the shops have locations all over Japan and even the US! And slowly they are becoming more and more popular globally.
Right now, they're still in the cool internet craze phase. Everyone is trying to snap a picture of them and show off on social media. But I've got a feeling that these pancakes are here to stay.
Because it's not just the looks of them, they are super tasty too. They fit perfectly into the pancake family and I wholeheartedly welcome them in my life and in my kitchen. I hope you will too! 🙂
Now I must admit that I did have a little bit of trouble bringing these beauties into the vegan kitchen. Because in order to make the pancakes super fluffy and thick, the original recipe relies greatly on eggs, I had quite a lot of work to do to take them out and still have the right consistency.
After some weeks of trial, I am really happy with the results and I am finally ready to share it with all of you! And you will be happy to know that this vegan version is actually much easier to make than the original.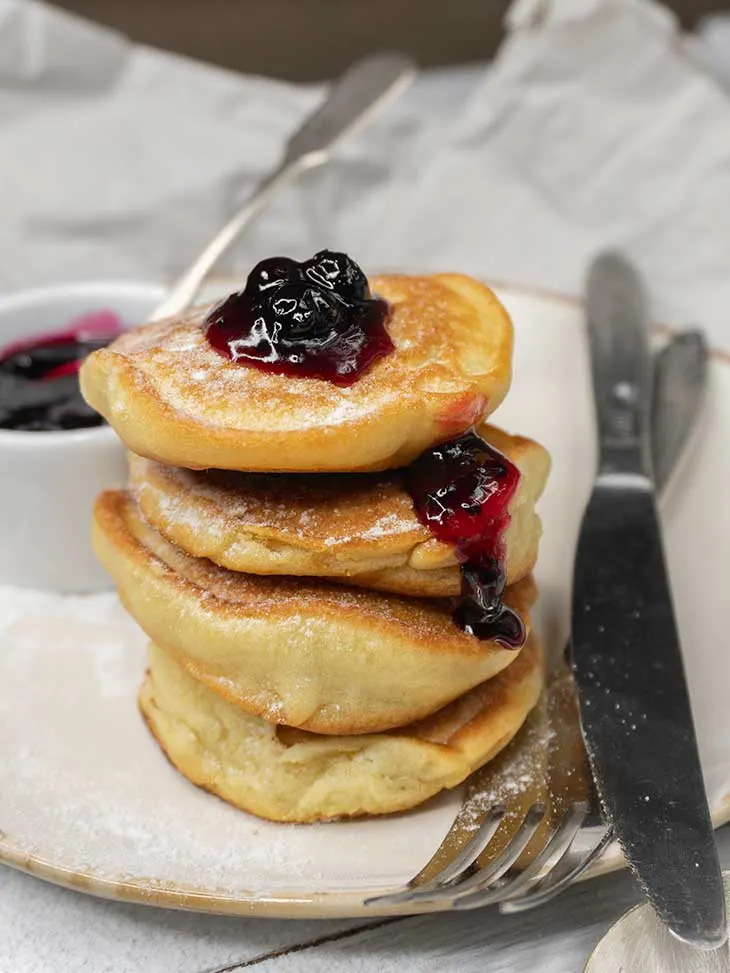 So what are the characteristics of a perfect souffle pancake? Let's take a look!
Round, thick shape. Ideally, they should be at least 5 cm thick! So you might want to use a baking mold.
Super fluffy, cloudy texture. This is where the souffle part comes in. So ideally, the texture should be both spongy and airy but still somewhat thick. Think marshmallow!
Quite sweet. These are intended to be eaten as a dessert, not breakfast. But who am I to stop you?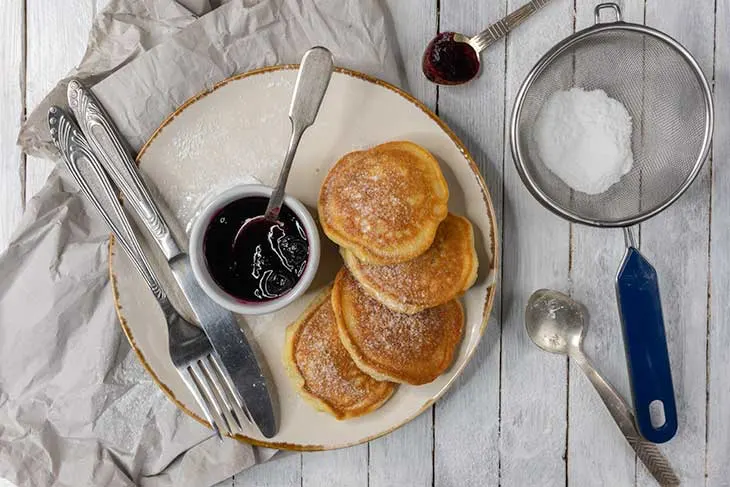 Now let's talk about topping! The good thing – no restrictions here. So you would probably want to try making these pancakes again and again so you can try them with different toppings.
Just a quick sum of my personal favorites: homemade Nutella (check my recipe on the blog, yum!), strawberry jam along with some fresh strawberries and blueberries, caramel sauce, whipped cream aaaaand maybe some peanut butter as well? Yup, this would be my top. But feel free to try and set your own favorites!
Now I think you know everything there is to know, so it's time to start cooking! Just make sure to follow my instructions – we want to get the right consistency! But don't worry – with a little bit of attention and right measuring you will get everything just right.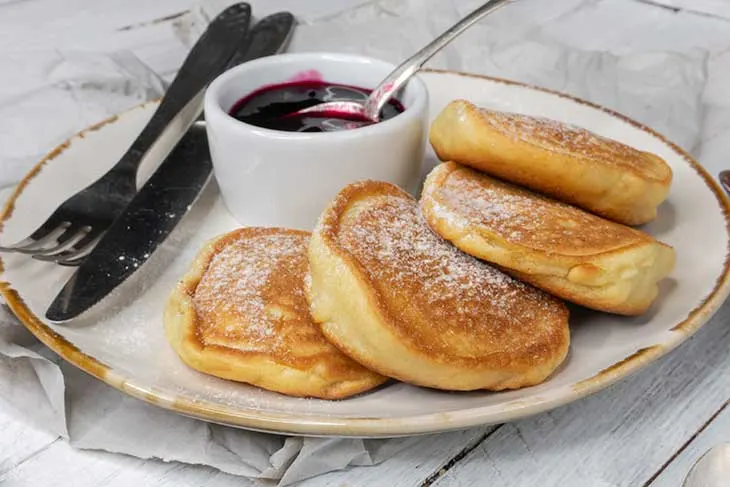 So let's gather the ingredients, head to the kitchen and get some work done! When everything is ready, don't forget to leave a comment! I want to hear everything about how it went and what were your toppings of choice!
Yield: 3
Vegan Souffle Pancakes / Japanese Pancakes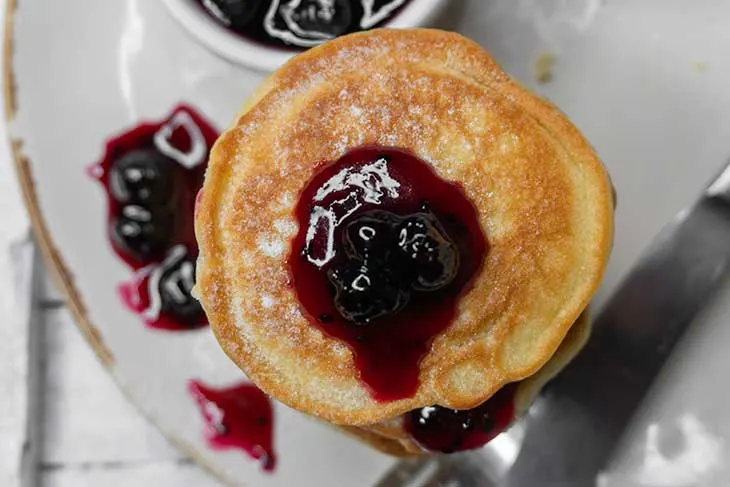 If you are a pancake fan, then trust me, you'll absolutely fall in love with these vegan souffle pancakes, made in the authentic Japanese way! Check them out!
Ingredients
120g (1 cup) flour
25g (¼ cup) powdered sugar
120ml (½ cup) almond milk
1 tsp baking powder
½ tsp baking soda
60ml (¼ cup) olive oil
1 tsp apple cider vinegar
jam of your choice
frying oil
Instructions
In a bowl, mix the dry ingredients (flour, powdered sugar, baking powder, baking soda).
Add the olive oil and vinegar, mix to combine. Pour the milk and combine.
Heat up a 1-2 Tbsp of frying oil over medium heat.
Form the pancakes using 1/4 cup of batter per pancake and cook them with the lid on until golden brown.
Serve with your favorite jam.
Nutrition Information
Yield
3
Amount Per Serving
Calories

460
Total Fat

32.3g
Carbohydrates

38.5g
Protein

3.7g