Craving some creamy, yummy Nutella? No need to go to the grocery store, as this recipe will show you how to make the easiest 5-minute healthy homemade Nutella! Yum!
When thinking of something sweet, what could be the ultimate, easiest, most accessible dessert that comes into your mind? A small hint: it starts with "Nut" and ends with "ella". But not just any kind of Nutella, but a much healthier, gluten-free and plant-based version! 🙂
It's that time again when we feel like we would like to grab a spoon and a jar with spreadable goodness and just stuff our faces, but then guilt comes into the scene. Oh, I know, I've been there. If you have a sweet tooth (I know you do!) then this recipe would be the one thing I would ask you to make from this entire blog. And guess what? It's vegan!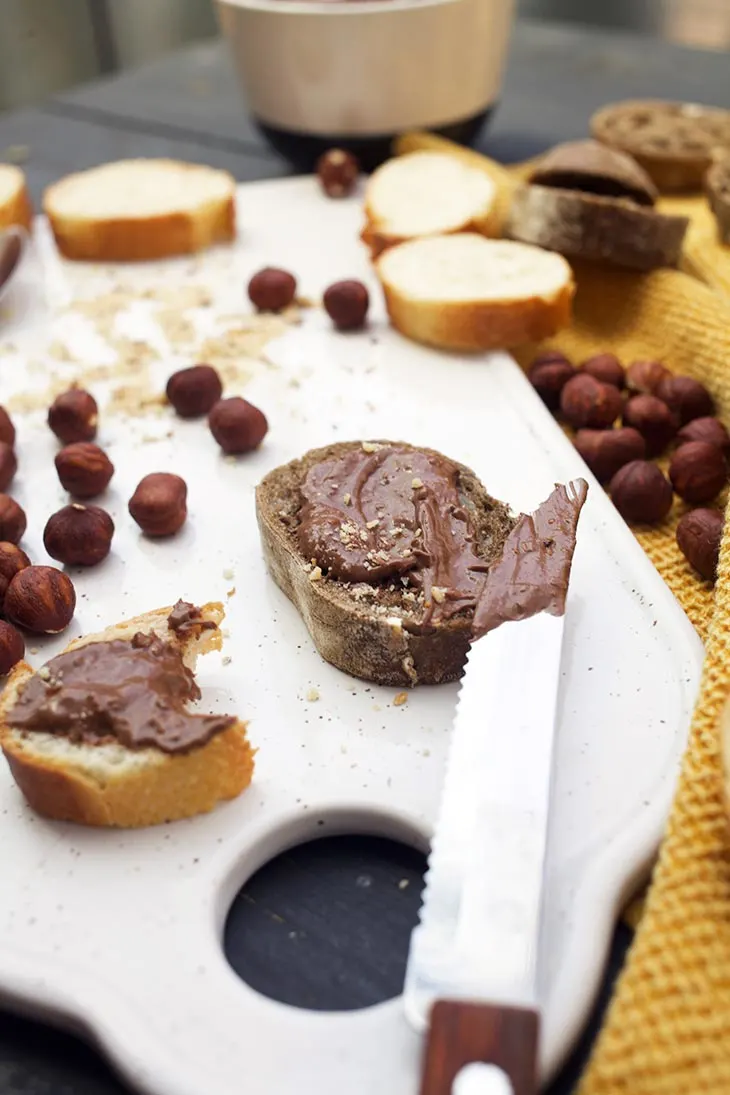 Before what was going to be known as the final form of this addictive treat born in Pietro Ferrero's kitchen in the 1960s, the marriage between chocolate and hazelnuts dates all the way back to the 1800s, Italy, in the awful times of chocolate crisis. Can you imagine a world without chocolate? 🙁
At the time, Napoleonic France put a restraint over the European harbors through something called the "Continental Blockade", a strategy which blocked French allies and neutral countries from trading with the British. And now comes the tragedy: following this, there was a huge strain on cocoa supplies. because the British goods had a restriction of entering the European harbors.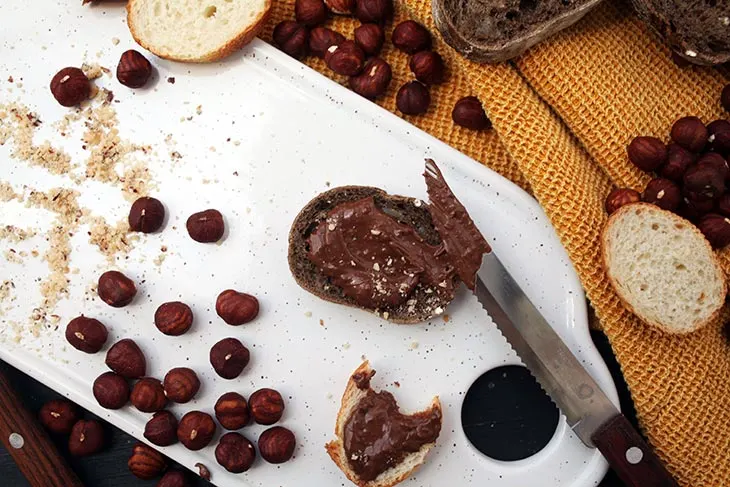 But now enter the heroes in action, because as a result, the Italian chocolatiers put their hand to extend what little resources of cocoa they had left and, to extend it, they used hazelnuts, which at the time it was widely available in the region. Hurray! 🙂
Also, fun fact: for many years, Italian shops would offer children who came in a slice of bread with a free smear of Nutella to put on it. Sounds just like a dream, am I right?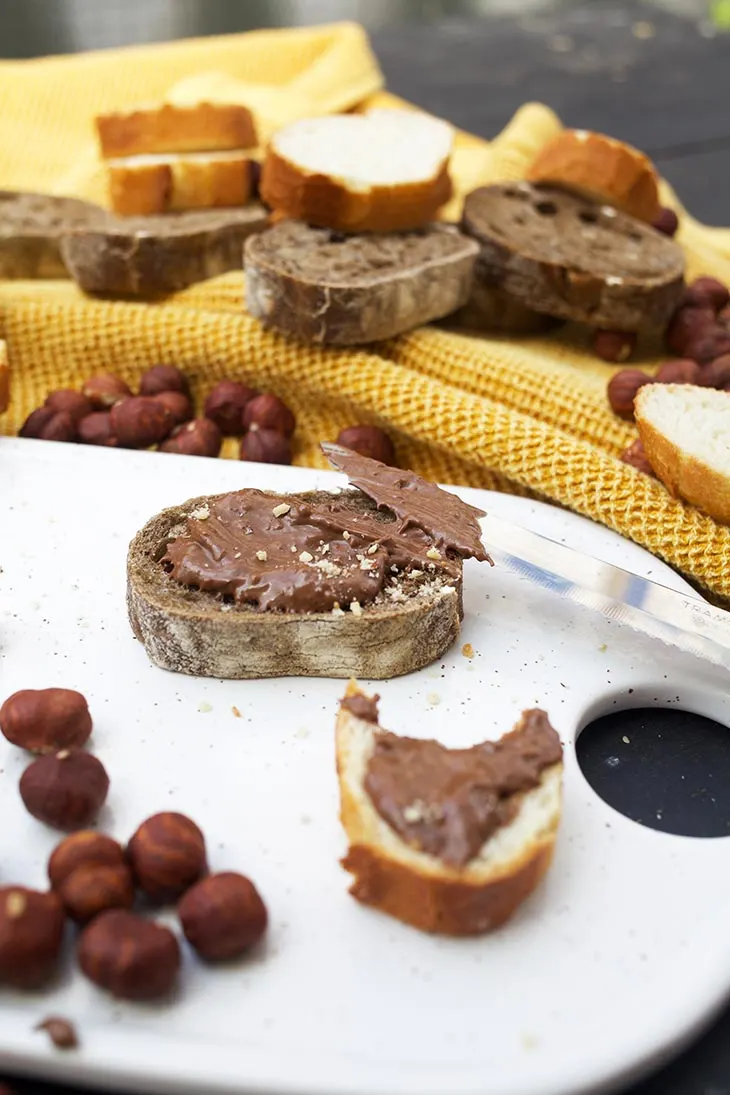 Because this vegan Nutella is homemade, so you know exactly what's getting inside this jar and you can be sure that it won't be loaded with lots of sugar and processed artificial ingredients.
If I caught your attention and you want an easy and healthy alternative to the Nutella you usually buy in the store, this vegan homemade Nutella recipe will be the ultimate star in your pantry! Seriously though, it's loaded with creamy chocolatey goodness and hazelnut flavor and it is sooo addictive!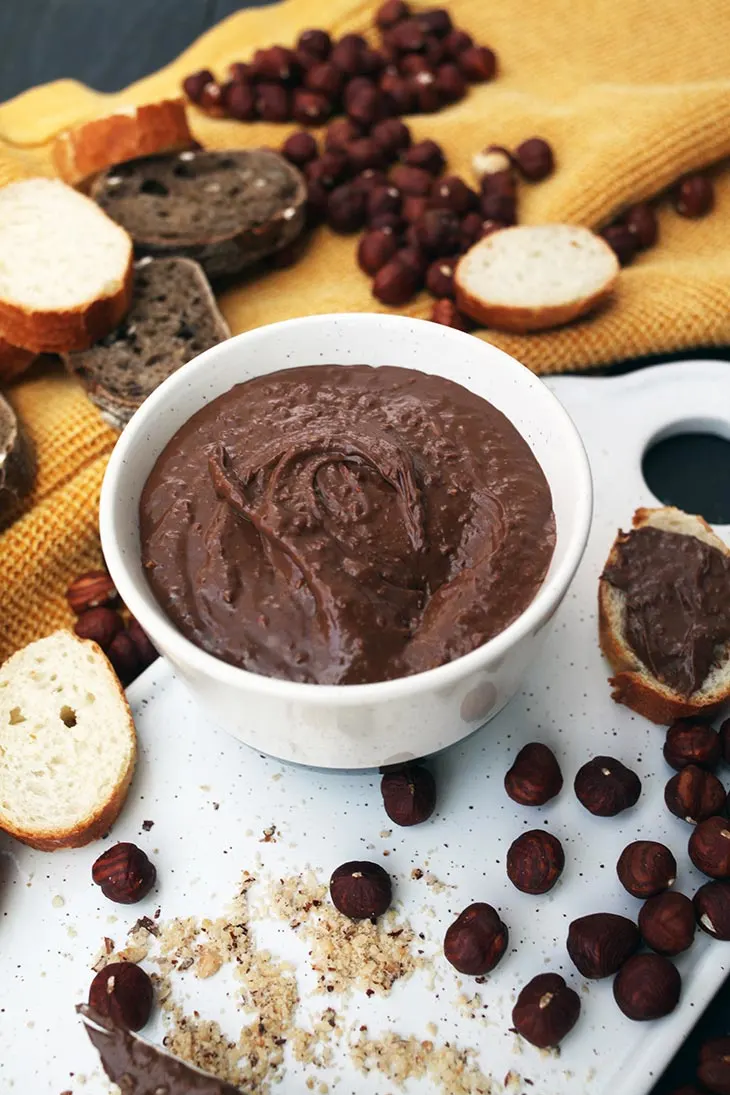 This recipe for vegan homemade Nutella would be best served… however you want because it's that good! You can have it on pancakes, toasted bread, on fruits, it's really up to you!
If you google 'how to eat Nutella', at least 50 different ways on how you could serve it will pop up on your screen. I know, this will only make your decision harder! But truth be told, whenever I make this recipe I just spread it on some crunchy bread and next thing you know, the jar is already empty!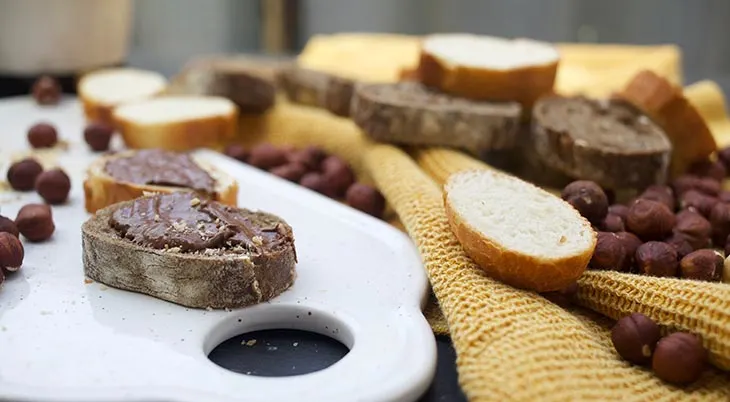 I can assure you that this homemade Nutella version has only natural and clean ingredients, unlike the store-bought one which is high in calories, sugar, fat and is full of palm oils and other components that I won't recommend you putting in your body.
For this recipe, you are going to need just some simple ingredients and a very good and precise blender, as you don't want to end up with a gritty and chunky chocolate-hazelnut spread and a broken heart.
The blender will help you obtain that swirly, decadent, smooth texture that takes us back to the dessert that you loved so much as a kid!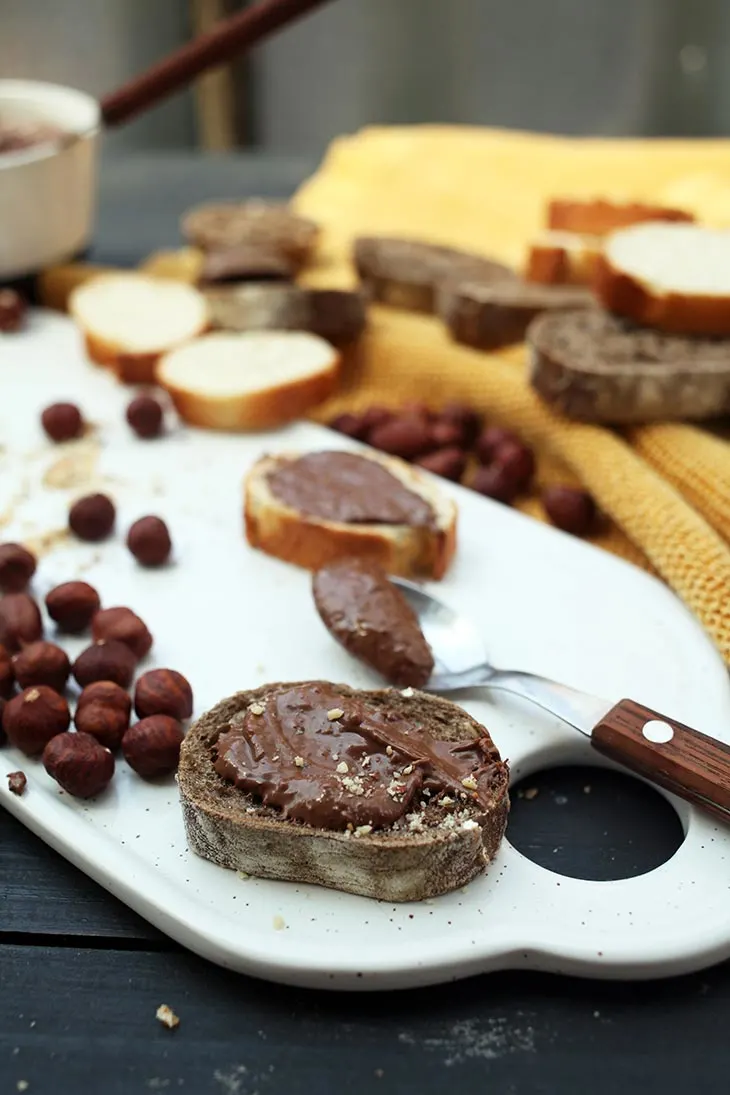 But in order to achieve that amazing chocolatey and nutty taste, that is by no means different from the original, you will need some good quality organic dark chocolate. The better the ingredients, the greater the taste, of course!
Along with this, you will also need a handful of raw hazelnuts – it's so easy to pop them into the oven and achieve that amazing taste! Not to mention it's healthier and cheaper this way! Just roast them for about 10 minutes or until the skins have darkened or have started to peel away from the nut.
To remove the skin, transfer the hazelnuts on a clean kitchen towel and gently use it to rub them together until the skins come off. It's so easy and also pretty satisfying!
Now, all you need to do it to pop all the ingredients in the blender and voilà! You're all done! Pour your masterpiece into a jar and it's good to be served right away! Enjoy!
Yield: 10
5-Minute Healthy Homemade Nutella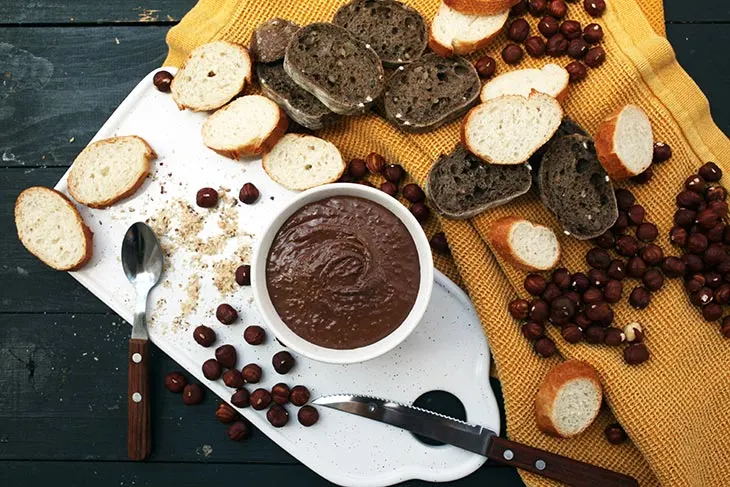 Craving some creamy, yummy Nutella? No need to go to the grocery store, as this recipe will show you how to make the easiest 5-minute healthy homemade Nutella! Yum!
Ingredients
225g (1 ½ cups) hazelnuts
150g (1 cup) dark chocolate
200g (½ can) full-fat coconut milk, half a ~400g can
maple syrup, to taste
¼ tsp salt
Instructions
Preheat the oven to 150 C degrees.
Place the hazelnuts on a baking sheet and toast for 10 minutes, or until lightly colored. Remove from the oven and let cool.
Use your hands to rub the hazelnuts over a kitchen towel to remove the skins.
Place the hazelnuts in a food processor and mix until they are finely ground.
Melt the dark chocolate in a bowl with the coconut milk, maple syrup, and salt.
Pour the chocolate mixture into the blender with the hazelnuts and blend until smooth and creamy.
Serve on a toast or freshly baked baguette.
Nutrition Information
Yield
10
Amount Per Serving
Calories

375
Total Fat

24g
Carbohydrates

40g
Fiber

2g
Sugar

6g