Ever dreamed of using sweet potatoes to their full potential? Well, today I'll show you how to do just that with this recipe for stuffed sweet potatoes – yum!
In my cooking practices, there are a couple of ingredients that I keep using more often than others. I love dishes based on sweet potatoes, ever since I've baked my first sweet potato in the oven and I've discovered just how easy it is to replace meat with something equally delicious. I haven't looked back since, and I've been promoting sweet potatoes in my friend circles! 🙂
I started using sweet potatoes in many different ways – from sweet potato fries to pancakes – since they are such a versatile product, and I thought it would be a shame not to use them to their full potential.
But I never thought about making today's recipe until one day when I didn't have any sweet potatoes in my fridge – I was meaning to make some sweet potato fries – so I just looked around and got some red and green peppers which I hollowed out, and stuffed.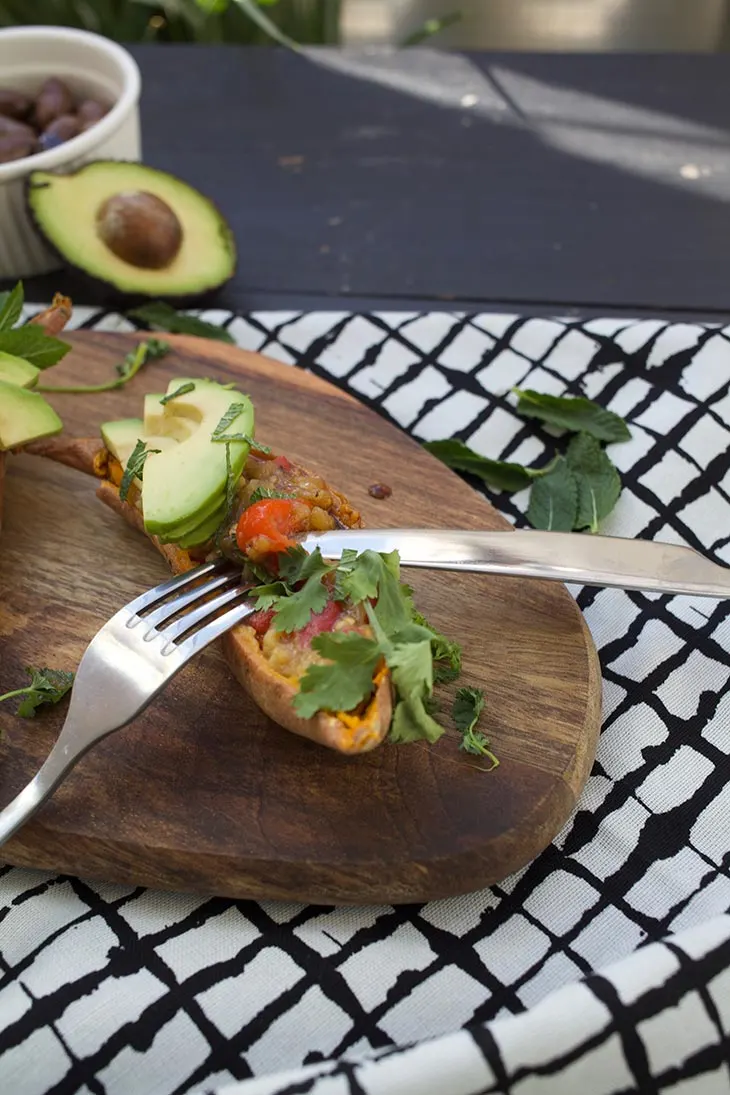 While they were cooking I thought – wait, why couldn't I do the same with sweet potatoes? Can't I hollow them out and fill them up with deliciousness then throw them on a stove? Needless to say, I can – I can do anything! And so it was that I consulted with my favorite vegan cookbooks and I saw that stuffed sweet potatoes were a thing. Of course, more power to me, I said. Today I want to present to you my own version of this dish! 🙂
Stuffed sweet potatoes are a great dish – very satisfying, filling and delicious. You can have them for lunch or dinner and you wouldn't need anything else! I mean, I don't know about you, but for me, two stuffed potatoes of this kind are enough to keep me "stuffed" until dinner.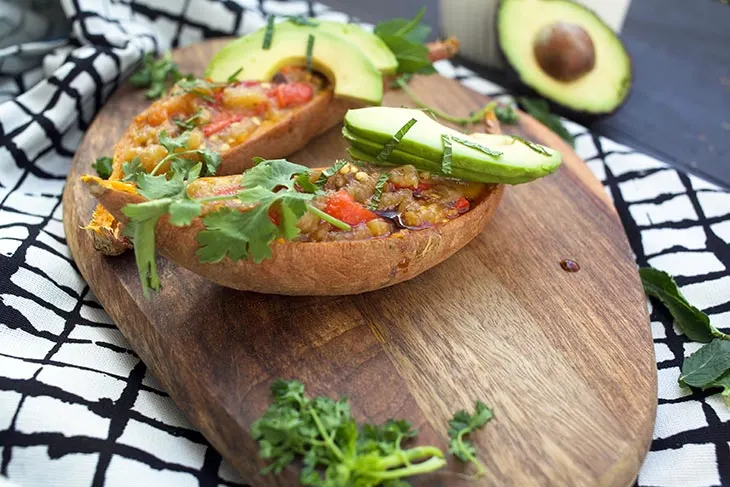 This being said, you can complement this dish with an occasional salad, or your favorite sauce. I like cooking a bigger batch of stuffed sweet potatoes and sharing them with my friends. Up until now, they've been a fan-favorite among the people I shared them with, and that includes avid meat consumers! I know, surprising, right? Well, I think a good meal transcends any kind of personal preference! 🙂
But there are some health benefits from eating sweet potatoes, too, and I think about these all the time. So I don't cook them up just because they're delicious – which they totally are. Sweet potatoes are a good source of protein, fibers, and amino acids, which are three things you definitely need in your life. Protein is a tricky subject in the vegan world, as we all know.
Many people use this argument against veganism, saying that you can't get enough protein without meat. I'm here to tell you that you totally can, but you have to know where to find it. Sweet potatoes are an excellent source, and if you eat them regularly you will never run out of energy!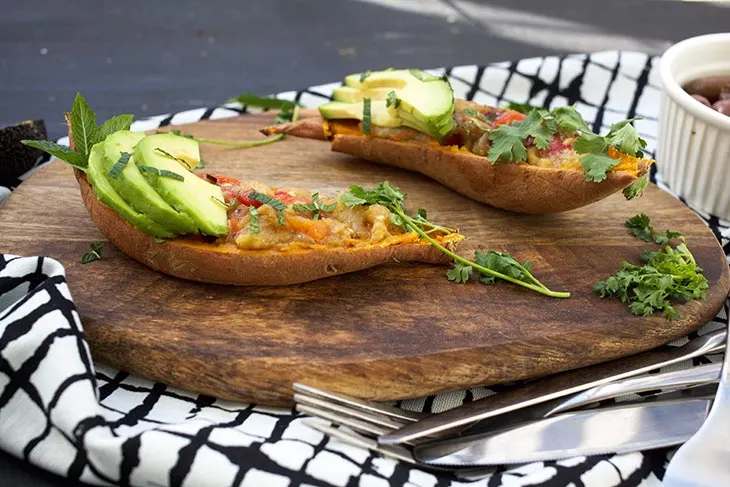 Being so healthy, this is a good recipe to give to your children every once in a while. I wouldn't advise, however, to force a vegan lifestyle on your kids. Still, if you value their health and quality of life, I think you'd rather give them a sweet potato than take them to various fast food restaurants.
And for those of you worrying that you can't get your kids to eat vegetables, well, how hard could it be to make them eat something that has sweet in its title? Jokes aside, this makes the baked sweet potatoes a good meal that the whole family can enjoy!
I made this recipe for my non-vegan family members once, and they loved it. This goes to prove my point that wholesome home cooking can transcend any kind of barriers.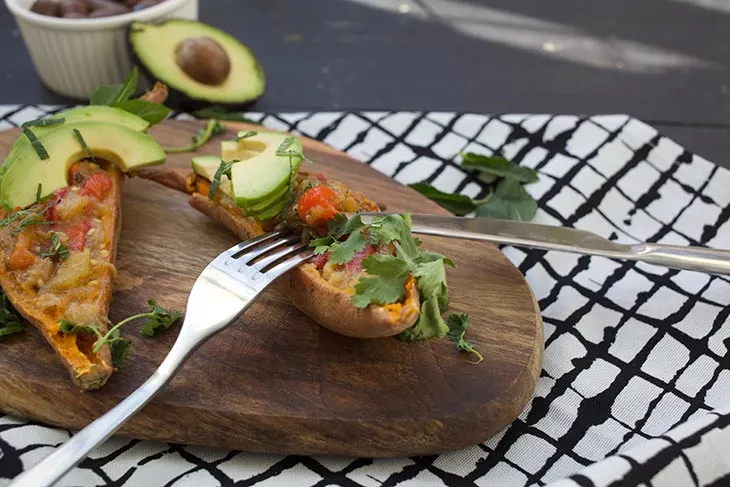 I hope you will dig these too, and that they will turn out delicious! The secret is love and a lot of patience. And if you have any questions about this recipe, don't hesitate to leave me a comment! I love hearing from you and discussing vegan cooking in general. If we all helped each other, the world would be a better place.
But that's it from me now, good luck in the kitchen, and enjoy!
Yield: 3
Stuffed Sweet Potatoes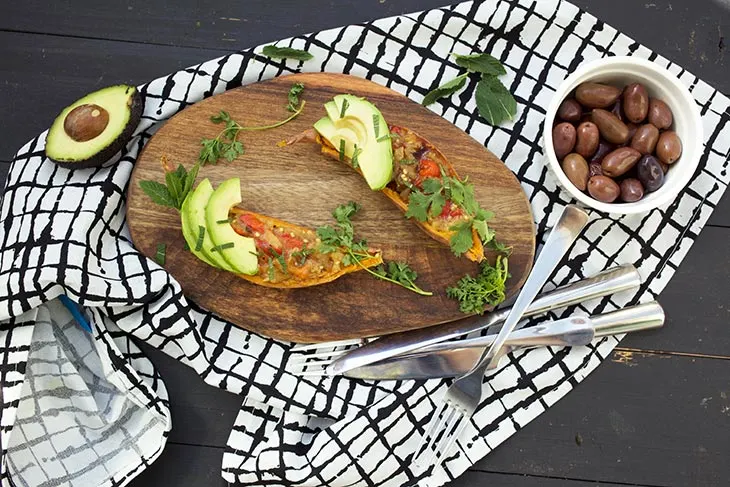 Ever dreamed of using sweet potatoes to their full potential? Well, today I'll show you how to do just that with this recipe for stuffed sweet potatoes - yum!
Ingredients
3 medium sweet potatoes
1 small tomato, chopped
1 large eggplant, julienned
1 capsicum red pepper
40ml (¼ cup) olive oil
2 cloves garlic, finely chopped
2 tsp paprika
2 tsp cumin
salt and pepper
For the topping:
some mint leaves, chopped
2 Tbsp fresh cilantro
1 avocado, sliced
Instructions
Heat the oven to 200 C.
Cut the sweet potatoes lengthwise and place on a baking tray. Add the capsicum red pepper to the baking tray as well.
Bake for about 25 minutes or until the sweet potatoes are soft and the pepper is baked and the skin comes out easy.
Meanwhile, heat a frying pan on medium heat.
Add a few Tbsp oil to a frying pan. Once it heats up, add the garlic and onion and cook until softened.
Add the eggplant and tomato.
Add the rest of the oil, paprika, cumin, salt, and pepper and cook as the tomato and eggplant soften. Mash as this occurs.
Add the baked capsicum pepper, mix and let sit for about 10 minutes.
Scoop out the flesh from the baked potatoes.
Stuff the halves with the eggplant mixture.
Sprinkle with chopped mint, cilantro and avocado slices. Enjoy!
Nutrition Information
Yield
3
Amount Per Serving
Calories

302
Total Fat

25g
Carbohydrates

18g
Fiber

6g
Sugar

5g