Looking for a healthy, comforting meal? Here's the best recipe for veggie baked gnocchi casserole – healthy and delicious!
Who doesn't love gnocchi? And who doesn't love a good, hearty casserole from time to time?
I think I can safely say by now: casseroles are my thing. I instantly associate them with comfort, they bring back so many happy memories and chill vibes. I'm just picturing cold winter nights in the coziness of my kitchen, the casserole in the oven spreading delicious smells all over the house. Plus, the convenience factor is way up high with these ones!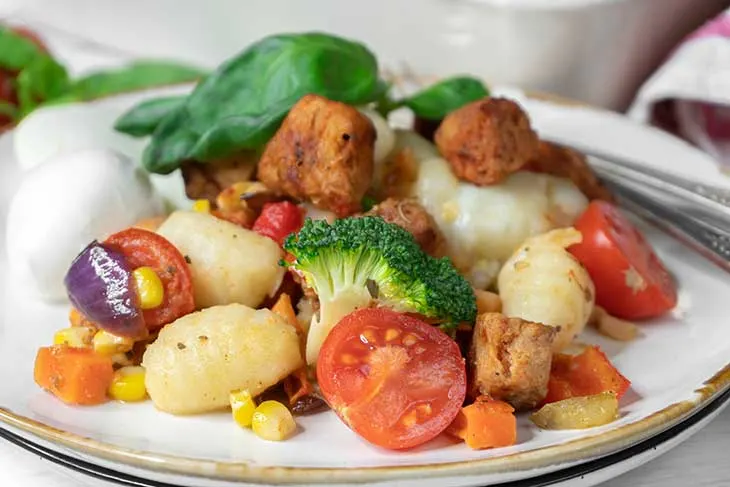 You get to make a pretty big batch of something, pop it in the oven, let it do its thing, and then you have a warm, reheatable meal (or dinner) for say… 5 days after that? In my book, that's close to perfect. That's why I think casseroles make for such good meal prep instruments. You make one and you have one less thing to worry about, basically.
Now, gnocchi is my other love. In the past, I already made a wild garlic version, a cauliflower version, and a vegan stuffed version, so you can easily see I'm pretty obsessed with this food. Well, that's only because gnocchi is so fun to make if you choose to make them from scratch, and they're also incredibly versatile – I can decide on the spot what flavor I feel like cooking. And then I'm cooking it, and the world suddenly seems like a much better place.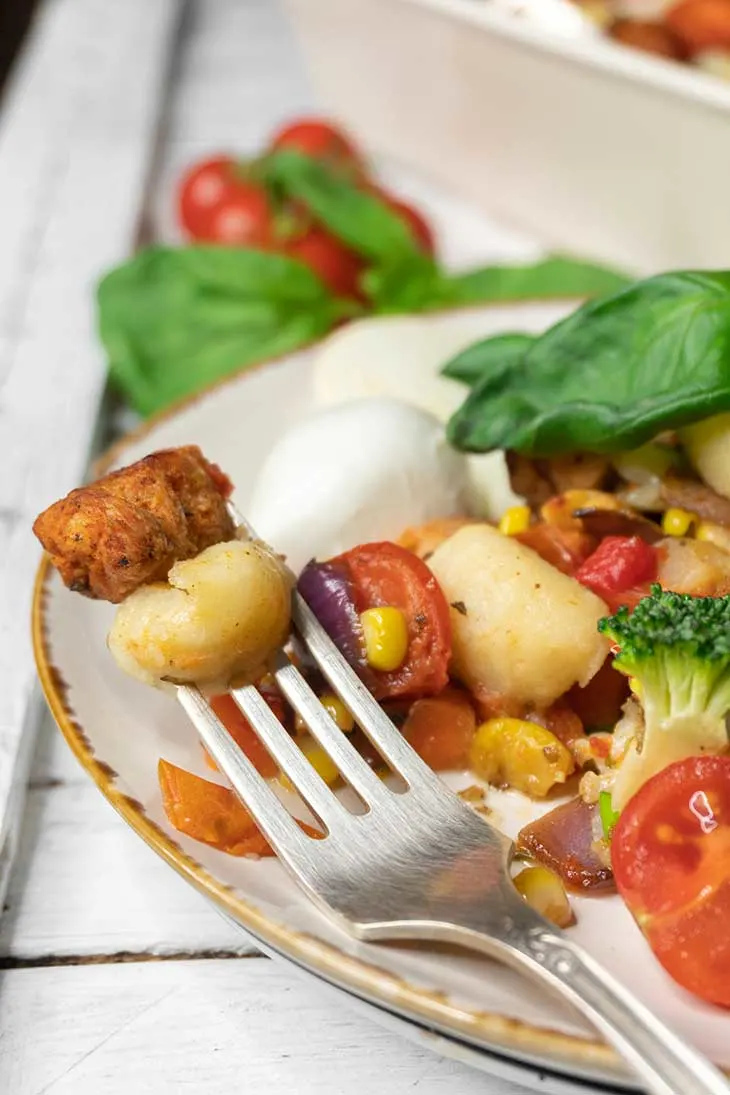 So just by adding two and two, we can already see that gnocchi + casserole = the epitome of the hearty, comforting dish! 🙂
And then, of course, to make it really healthy and delicious, we're going to add a ton of vegetables to the mixture. You can add just about anything, according to your own preferences. Good options would be tomatoes (regular or sun-dried), zucchini, broccoli, eggplant, carrot or red bell peppers.
I try to incorporate more and more vegetables into my diet, and you should do too. Vegetables are so good for us, but, unfortunately, we slowly started to eat less and less of them, and it's a shame. Strive to have at least a helping of vegetables at every meal – you can cook them in all sorts of delicious ways or even sneak them around in smoothies, so you won't even notice them!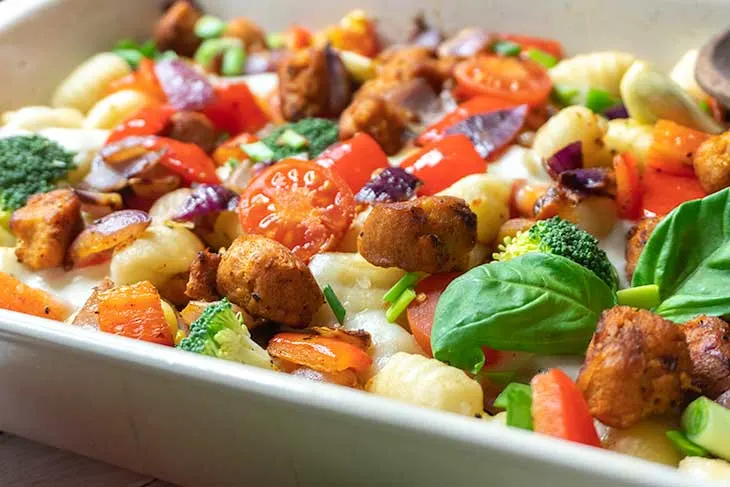 And, as you may have guessed, one extremely delicious way to make sure you're getting enough veggies is this veggie gnocchi casserole dish.
I love myself a hearty comfort food from time to time. Especially after a stressful day, they can work wonders for my mental state. But most comfort foods are pretty unhealthy, so, when I have the chance, I try to tweak them around and opt for the healthier ones. This casserole hits the spots with all of the health benefits included, so it's not only momentary joy.
These being said, I'm pretty sure any kid would love this dish as well, so test it out if you have any fussy eaters around the house. If you're having trouble feeding your kid veggies, try fooling him with this dish. It's so delicious that they're going to forget they don't like them. I bet they're going to ask for seconds, as well.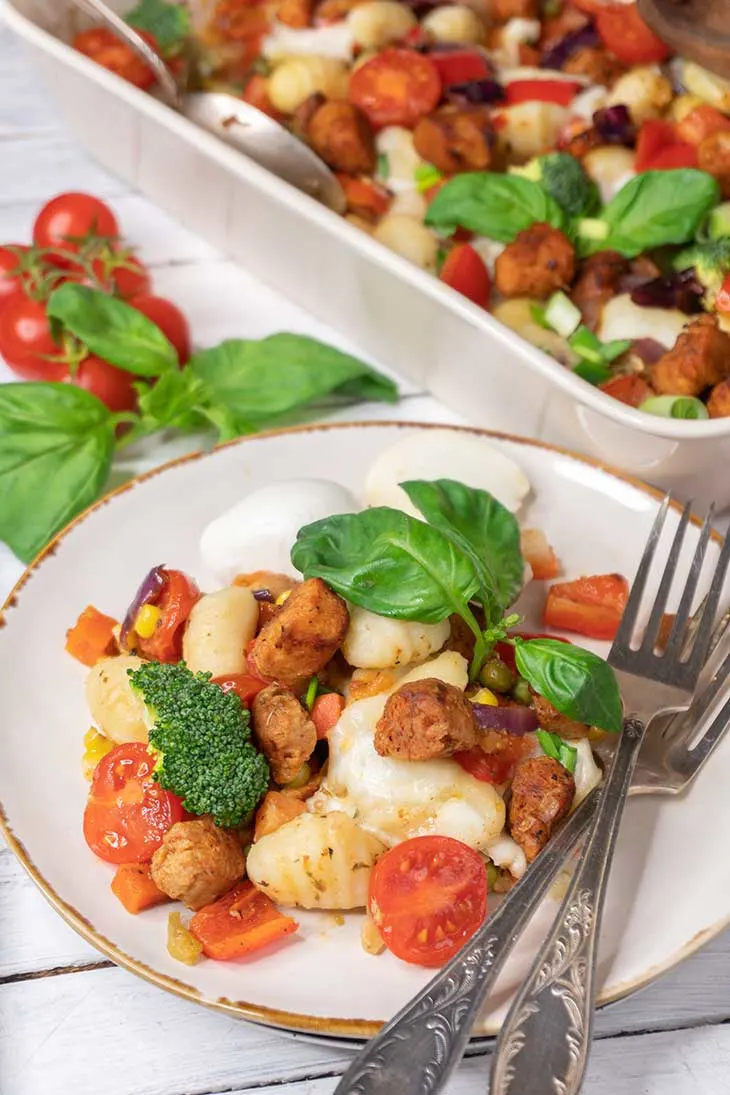 This gnocchi casserole is one of my favorite things to make when I'm in a rush and don't have much time to spare around the kitchen, watching stuff on the stovetop or cutting up things. You just toss everything around, put it in the oven and mind your own business until it is ready.
Of course, if you have a little more time, you can go one step further and make your own gnocchi from scratch (I've written about that as well.) It's really easy, though not as fast. If you want yourself a fast, delicious meal, the store-bought kind works just as well. Just make sure to read the label and look out for any nasty ingredients. Try to keep this dish as healthy as you can – it's for your own good.
When the casserole is done, wait until it cools down a bit, then put yourself a nice serving and enjoy. Maybe with a glass of wine. Once it cools down completely, you can store it in the fridge for up to a week and have a serving daily, for lunch or dinner. It's amazing for work lunches as it's really easy to transport. And it keeps really well in the fridge – sometimes I even prefer it after a few days, as all the ingredients have time to properly mix up and borrow aromas from one another.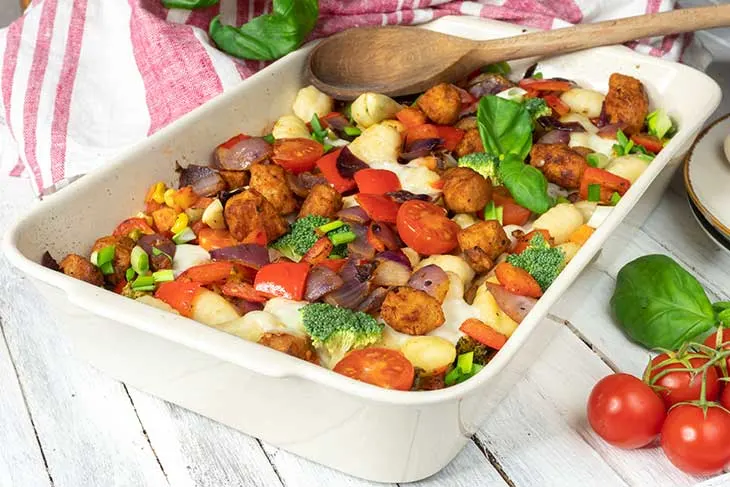 Well, make sure to try out this recipe and tell me what you think about it. I'd also be curious to find out how many of you did this with meal prepping in mind and how many took it to work. And, as always, I hope you'll have fun while cooking!
---
Personalized meal plans and workout videos | Get your customized meal plan today! [x_button shape="square" size="mini" float="none" target="blank" href="https://shop.gourmandelle.com/?utm_source=mainsite&utm_medium=site&utm_campaign=inpost" info="none" info_place="top" info_trigger="hover"]I WANT A MEAL PLAN![/x_button]
---
Yield: 3
Veggie Baked Gnocchi Casserole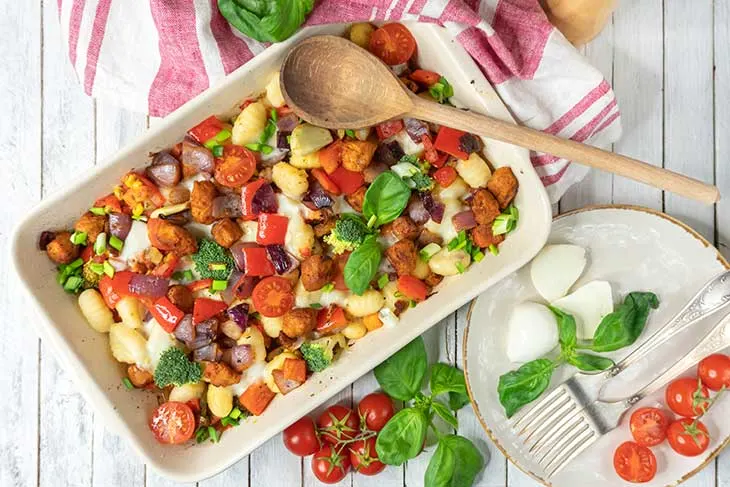 Looking for a healthy, comforting meal? Here's the best recipe for veggie baked gnocchi casserole - healthy and delicious!
Ingredients
100g (1 cup) textured soy protein, chunks
1 red bell pepper, chopped
1 red onion, chopped
1 small carrot, chopped
4-5 cherry tomatoes, cut in half
150g (½ cup) peas
150g (½ cup) sweet corn
½ broccoli, chopped
½ zucchini, chopped
250g (8.8 oz) potato gnocchi, I used store-bought
120g (½ cup) vegan or real mozzarella
1 tsp oregano
⅓ tsp hot pepper flakes
1 tsp smoked paprika
green onion, chopped
fresh basil
olive oil
salt
pepper
Instructions
Soak the soy chunks in warm water. Drain them after 30 mins.
Add the smoked paprika, season with salt and pepper.
Grease your baking dish, add chopped bell pepper, carrot, zucchini, tomatoes, peas, corn, 1 tsp of oregano and 1/3 tsp of hot pepper flakes, season with salt and pepper, mix well and bake at 180 degrees C for 15 minutes.
Meanwhile, heat up 2 Tbsp of olive oil in a pan and fry the soya chunks with the red onion for 5-7 minutes, stirring occasionally.
Cook the gnocchi in boiling water until they float.
Transfer the gnocchi and soy chunks to the baking dish, add the broccoli and mozzarella and bake for another 5 minutes.
Serve with green onion and fresh basil.
Nutrition Information
Yield
3
Serving Size
1 grams
Amount Per Serving
Calories

526
Total Fat

13.3g
Carbohydrates

67.4g
Protein

34g
I strive to keep the information as accurate as possible but make no warranties regarding its accuracy. I encourage you to make your own calculations using your preferred nutrition calculator.