Special brunch coming up? Here's an excellent idea: prepare this spinach and truffle cheese omelette that will surely impress everyone! Give it a try, it's so easy to make!
I love brunch, it's one of my favorite meals of the day! Of course, I don't usually eat brunch every day, but I love saving time for it during the weekend – for example on a lazy Sunday, when we're waking up later than usual. If we have friends over as well, even better. The more, the merrier!
I simply love putting together brunch menus to serve with my husband or my friends. It's one of my favorite activities – and today's recipe for spinach and truffle cheese omelette is the perfect example of how much of a brunch enjoyer I am.
Okay, let's start with the beginning. I love everything that involves truffles. Truffles are my weakness. I see something that has truffles in the ingredient list on the shelves, I buy it. Truffle salt, oil, butter, some kind of creamy spread, pasta sauce – you name it, I probably have it in my fridge or pantry already.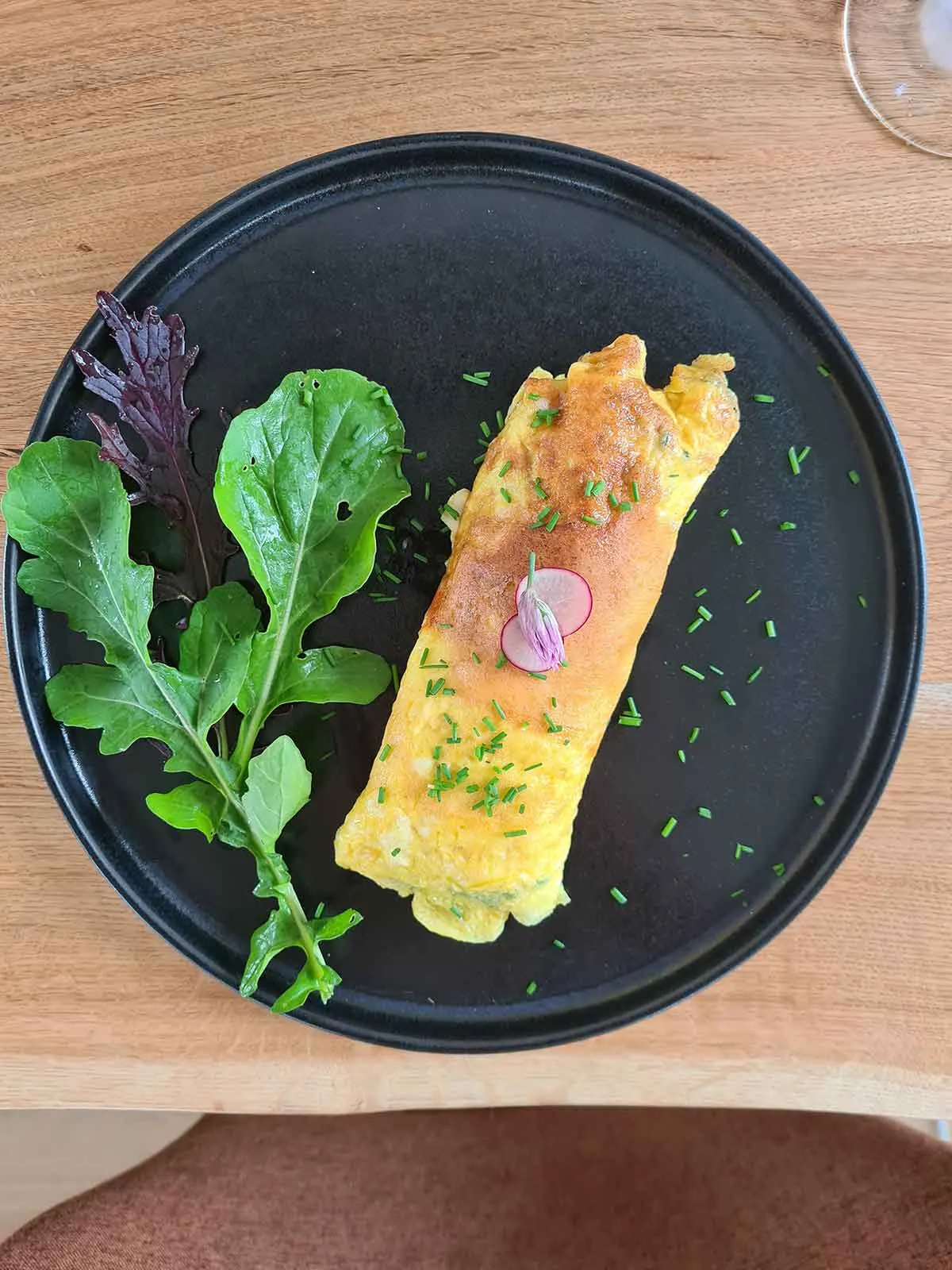 I love truffles so much, that I usually end up eating the dishes too fast to actually take the time to properly set up the table, photograph, and publish them here on the blog. Still, here are two other truffle-inspired recipes that I recently published and that I think you'll enjoy:
For this spinach and truffle cheese omelette I used white truffle-infused oil and a matured cheese made with cows' milk and pieces of truffles. Such an amazing combo!
Besides their color and look, the main difference between white and black truffles is their flavor intensity. Black truffles are actually more subtle and "earthy" than white truffles. This is why I really love this white truffle flavored oil that I used in today's recipe – it has a strong flavor, which means it's super delicious, but also make sure to use it with caution! A little goes a long way!
I served this spinach and truffle cheese omelette with some fresh green leaves on the side, as well as fresh radishes.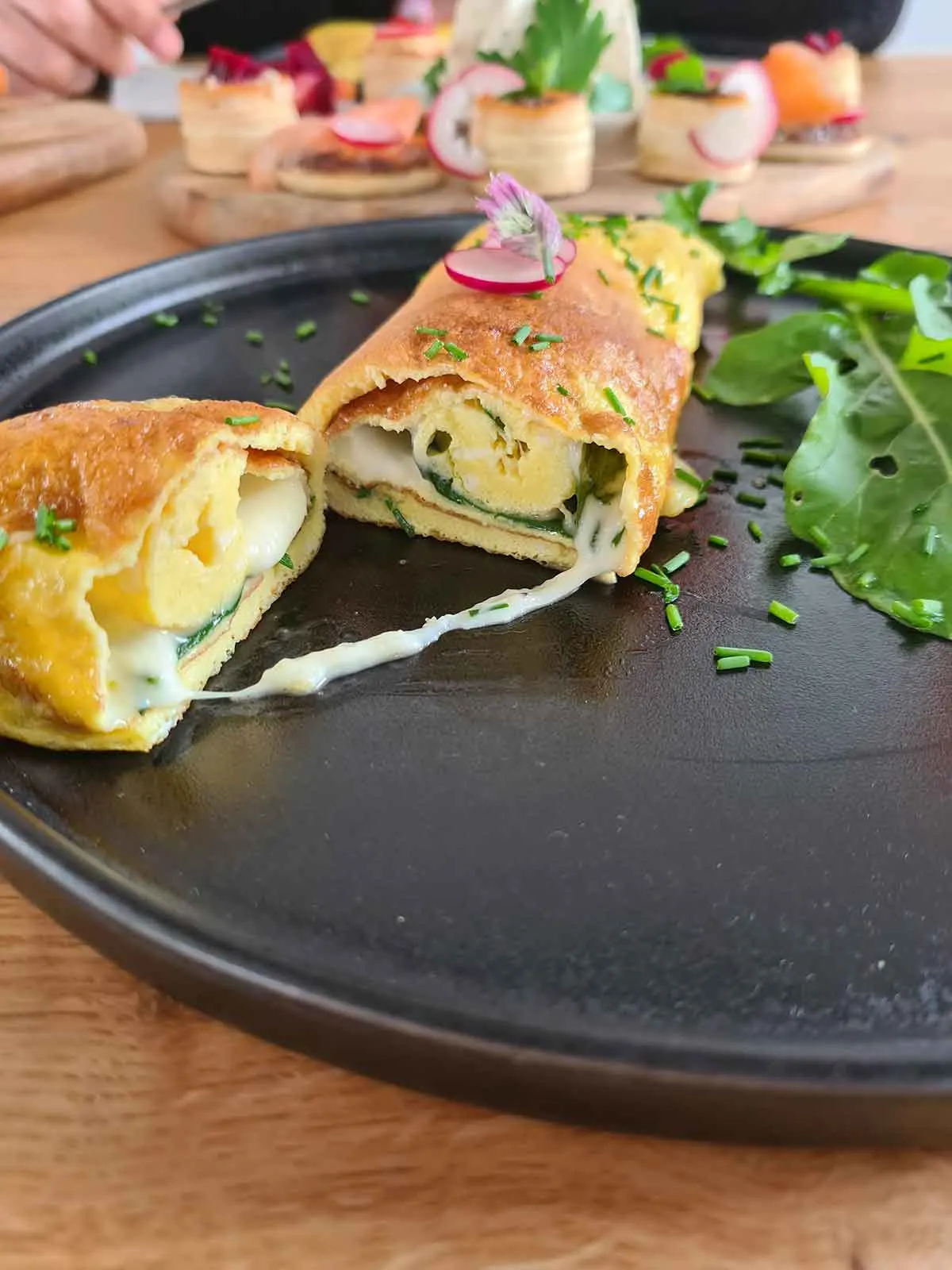 The arugula and red mizuna leaves you see in the pictures were freshly picked from our salad garden. You can actually see that they're really organic – the leaves are so tasty that even snails eat them from time to time! 🙂
Also, this is the first year when I plant radishes. They were absolutely delicious and I was surprised to see how fast they were growing. In fact, for this recipe I used the first-ever radish picked up from my own garden – I couldn't be prouder! I planted the French Breakfast variety, which is longer and thinner in shape. I recently bought other varieties as well – dark purple, white, yellow, and the classic pink, spherical radishes – and I'm so curious to see how they will turn out to be. I will keep you posted!
Now, back to our recipe. I served this spinach and truffle cheese omelette for brunch, together with a mini appetizer plate. I prepared the appetizers using various goodies from the "Deluxe" range from Lidl, such as Kalamata olives paste, artichoke paste, or the truffle cream cheese. Everything was SO delicious!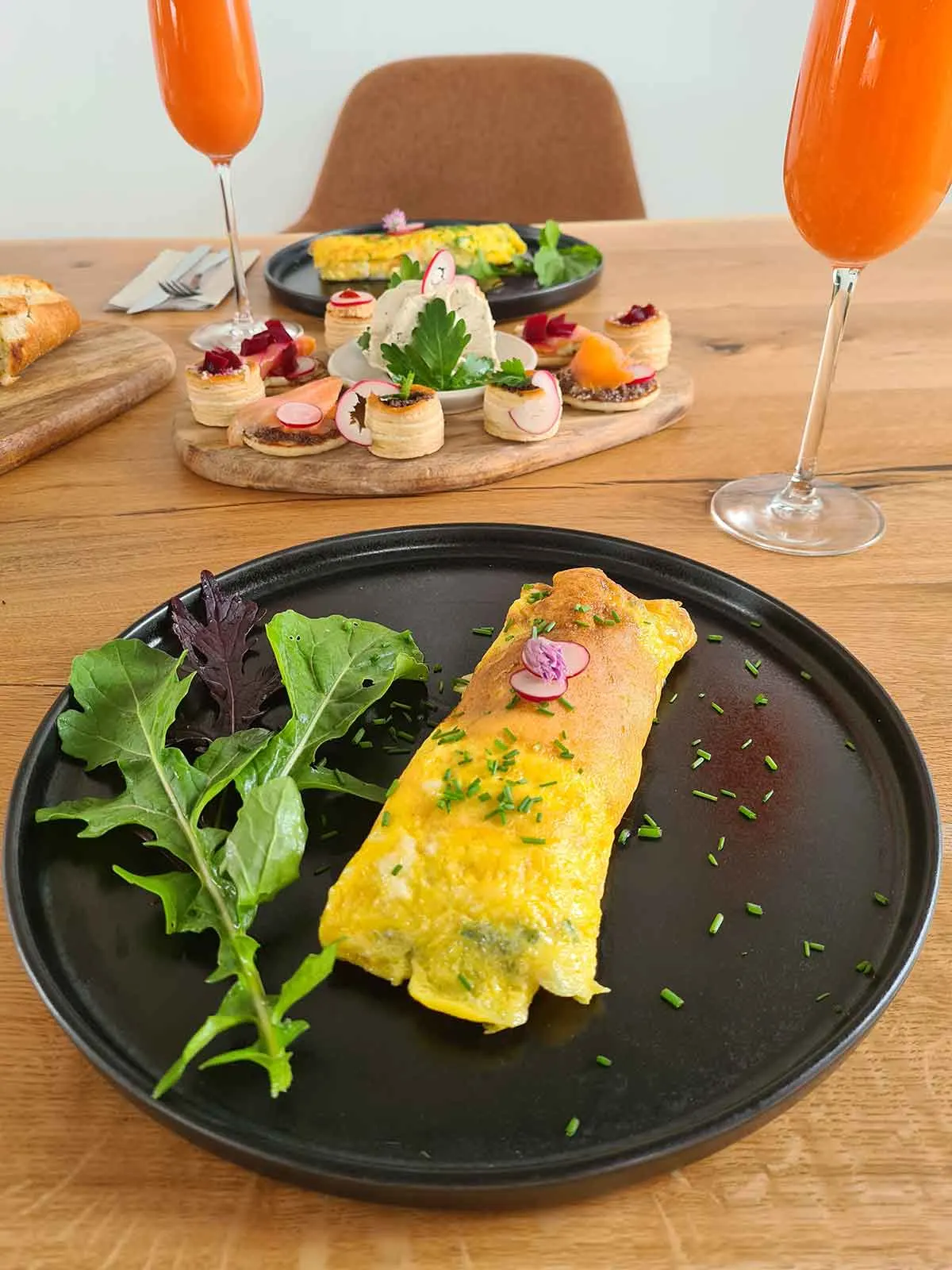 In case you want to keep things simple, you can serve this spinach and truffle cheese omelette with a side of green salad, splashed with a little bit of lemon juice. It's equally delicious and it will surely do its job. After all, this omelette will be the main star of your breakfast or brunch, everything else will be secondary!
In case you're looking for some other deliciously vegetarian omelette recipes, here are some personal suggestions:
If you're a brunch lover like me, you have to promise me you'll try this recipe soon! If you can find the perfect truffle cheese for it, the end result will be absolutely amazing without much effort, I promise! And if you don't, you can always improvise with some other types of truffle-infused ingredients such as cream cheese, for example. There are so many options out there for all my truffle lovers!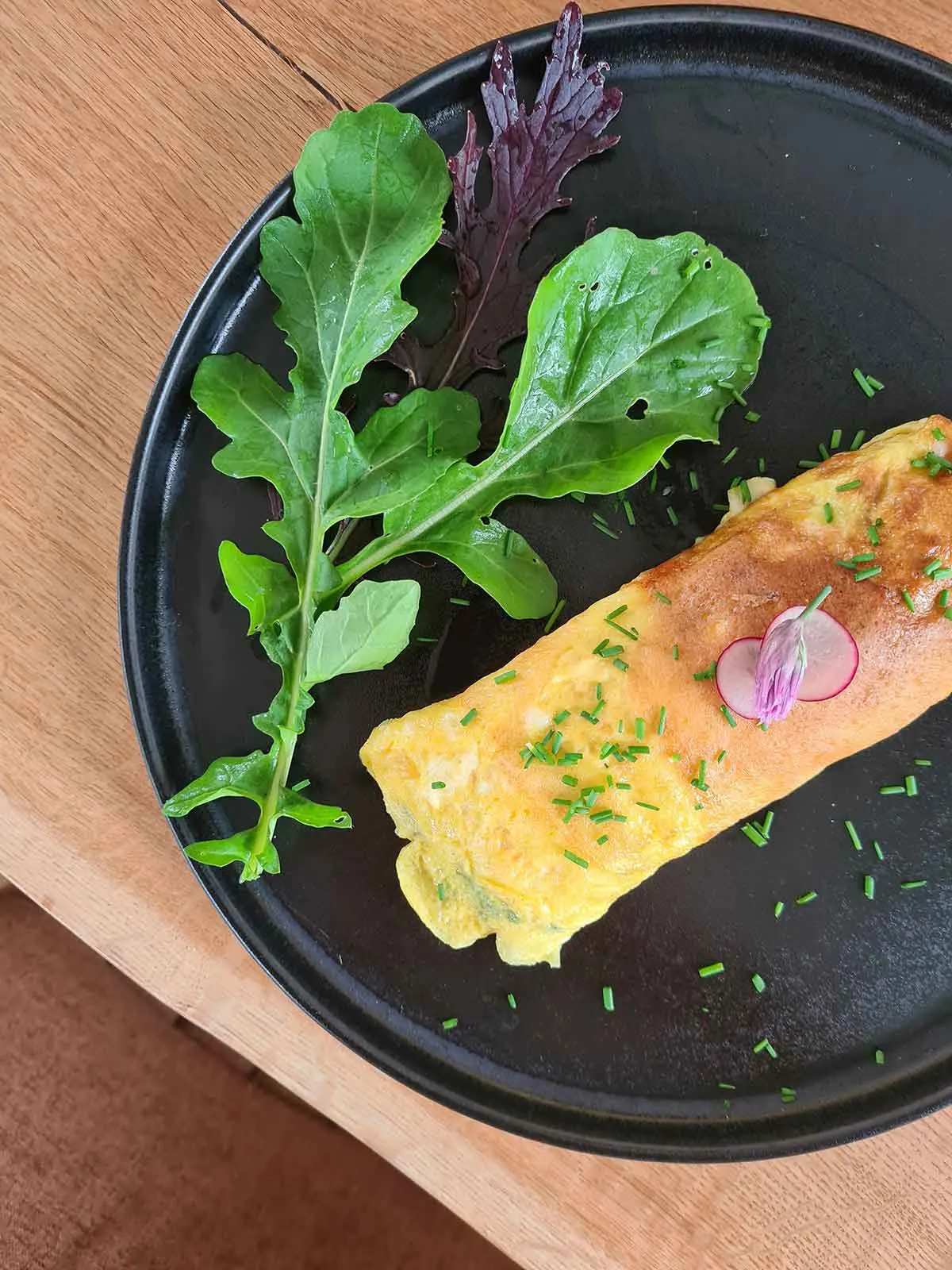 This being said, I really hope you'll try this spinach and truffle cheese omelette soon. And if you do, don't forget to leave me a comment down below and tell me what you thought about it. Did you make it following the recipe exactly? Did you make any substitutions? What sides did you use to serve it? I want to know everything!
Last tip: if you serve it for brunch, don't forget about the mimosas. 😉 They go wonderfully together!
Happy brunching! 🙂
Yield: 2
Spinach and Truffle Cheese Omelette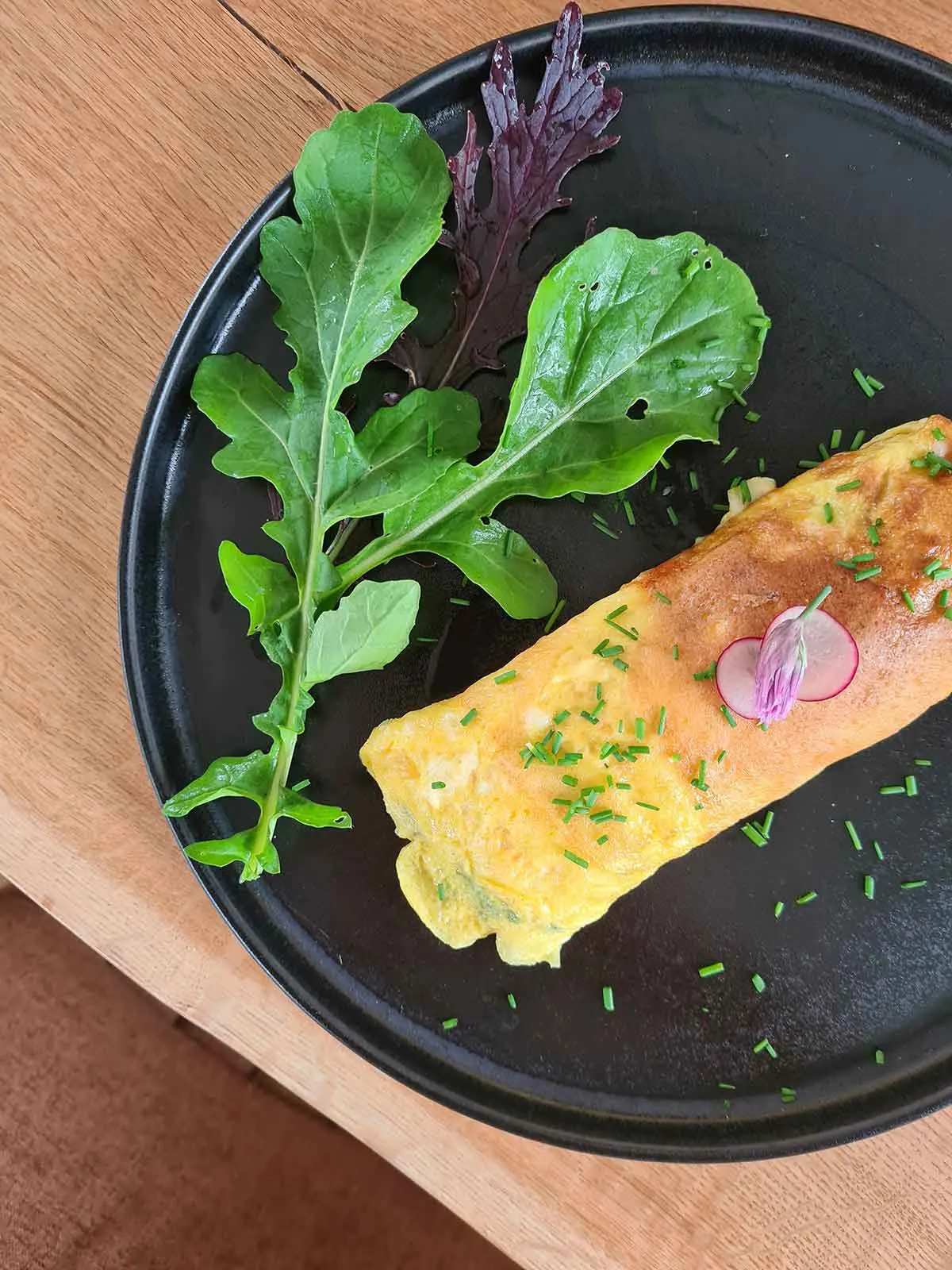 Special brunch coming up? Here's an excellent idea: prepare this spinach and truffle cheese omelette that will surely impress everyone! Give it a try, it's so easy to make!
Ingredients
6 medium eggs
100g (3.5 oz) cow cheese with truffle bits
½ Tbsp truffle olive oil
½ Tbsp butter
3-4 fresh spinach leaves
smoked Maldon salt, to taste
white pepper, to taste
chives, for garnishing
Instructions
Heat the oil and butter in a non-stick large pancake pan.

Whisk the eggs until fluffy. Add the salt and pepper and mix.

Pour the eggs into the pan and turn the heat to medium.

Add the spinach leaves and grated cheese.

Wait until it starts lifting near the margins and using a spatula, slowly and carefully start folding the omelette into a roll, section by section.

You can turn the heat to low, to be careful not to burn it.

Serve with fresh chopped chives on top.
Nutrition Information
Yield
2
Amount Per Serving
Calories

611
Total Fat

43g
Saturated Fat

18g
Trans Fat

1g
Unsaturated Fat

21g
Cholesterol

553mg
Sodium

1086mg
Carbohydrates

21g
Fiber

9g
Sugar

6g
Protein

40g
I strive to keep the information as accurate as possible but make no warranties regarding its accuracy. I encourage you to make your own calculations using your preferred nutrition calculator.