In the mood for a simple dish that's also bursting with amazing flavors? Here's my recipe for creamy truffle orzo, my latest culinary obsession!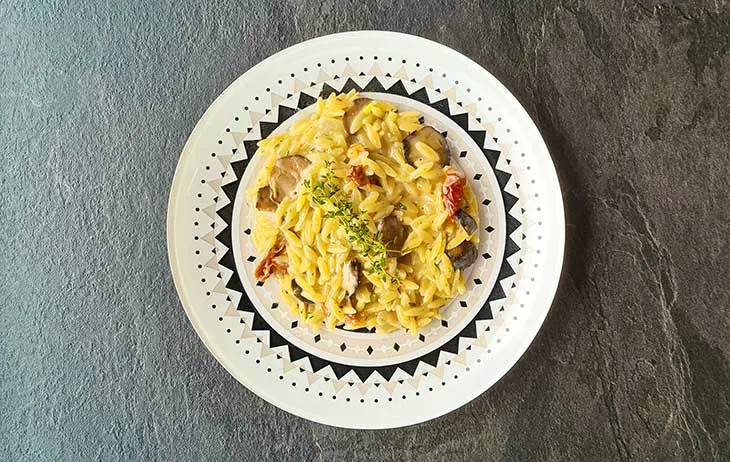 Confession time! I decided to change things on the blog a little – I decided to start posting ALL those excellent recipes I'm making every day for lunch or dinner. These are yummy, easy recipes for everyday cooking that I made and loved, but for which I didn't have any time to take "professional" pictures with my camera because I was just TOO hungry. I have so many recipes like this that I didn't share with you guys because I felt the visuals are "not worthy". I had no props, no proper light, and no fancy plating. But I won't let that stop me ever again!
So for this recipe, I only have a couple of photos taken with my phone, but what's important here is the taste and the actual recipe. No perfect pictures ahead, just my real, non-polished food that I eat in my real life. 🙂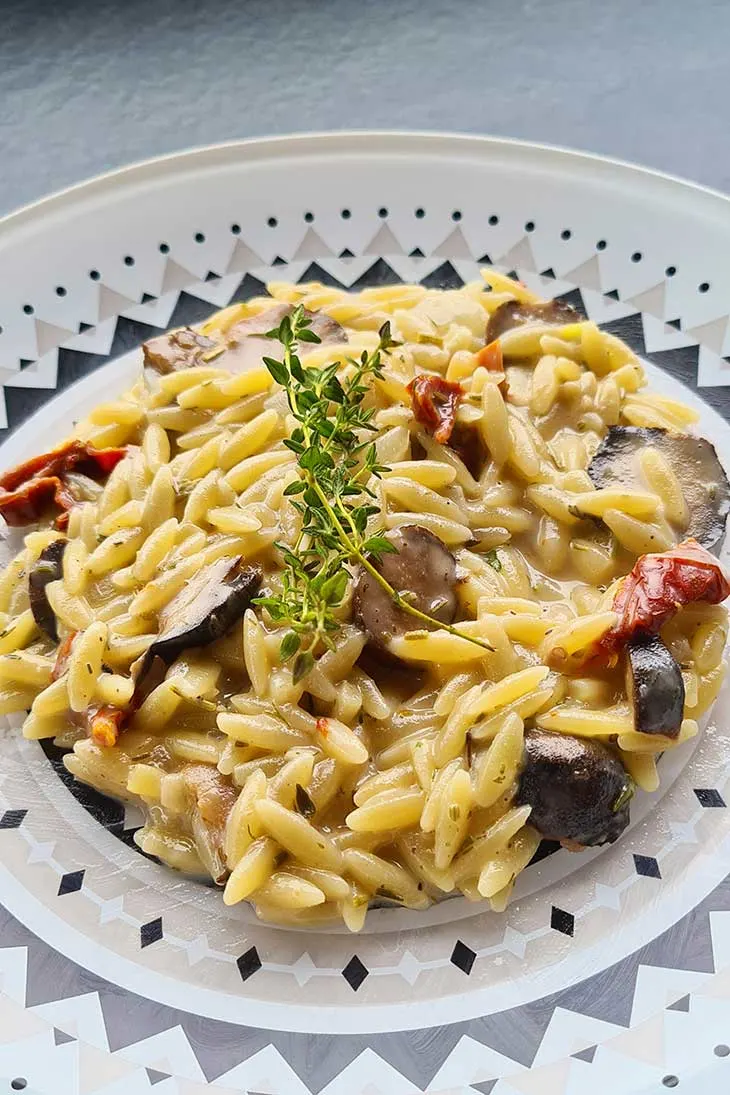 Are you looking for a flavorful side dish or a filling main dish for your next lunch or dinner? You just found it! This amazing vegan recipe for creamy truffle orzo is bursting with special flavors and it's so easy to make! I think this is the perfect weekday meal whenever you don't have a lot of time to put together something complicated. This truffle orzo is simple, yet elegant, so you won't feel like you're eating a compromise meal with no taste just because you have a busy schedule.
What is orzo? Although it looks like rice and its name can also hint at this, orzo is actually pasta. It's a type of short-cut pasta that's shaped like an oversized grain of rice. And it's so fun to cook with it!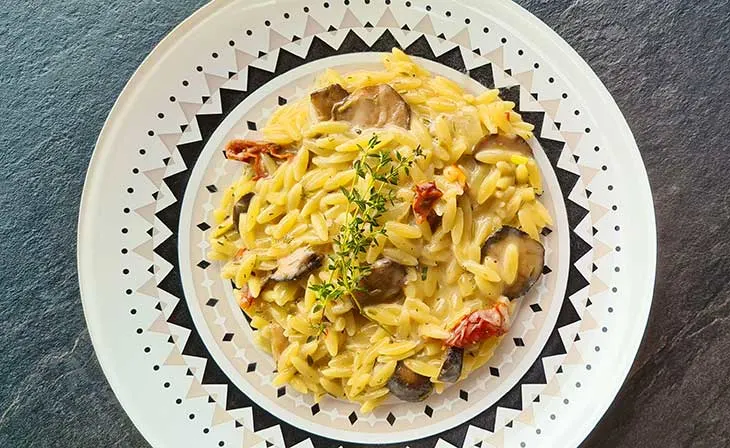 I love making orzo-based dishes because they're more flavorful than simply using rice and more fun to cook than your regular pasta! Orzo is the best of both worlds, which means you can use it both as a side dish and as a main dish.
My recipe for this creamy truffle orzo that I'm going to present to you today works wonderfully as a main dish. It's creamy, delicious and it includes one of my favorite ingredients in the world: truffles!
I chose to combine the truffles with some sauteed white onion, garlic, sun-dried tomatoes, some mushroom protein powder, and, of course, a little bit of liquid vegan cream that makes everything creamy and nice.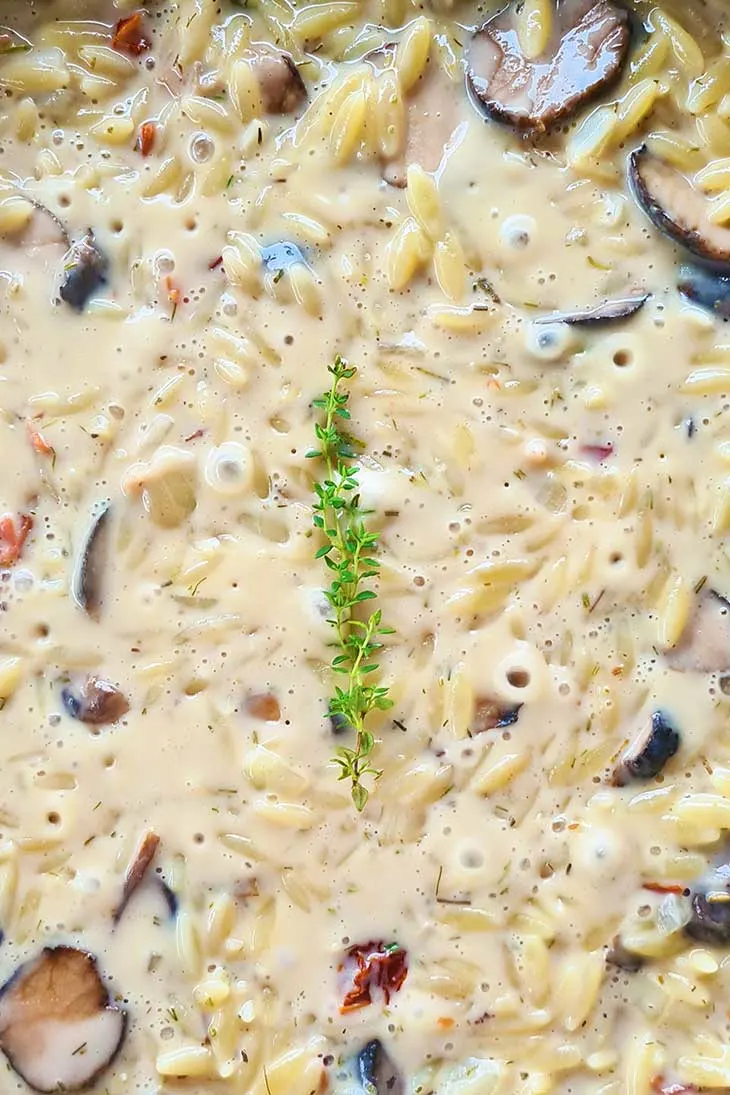 Ever since I discovered the mushroom-flavored Formula 1 from Herbalife, I just can't stop myself from using it in creamy soups and saucy recipes like this creamy truffle orzo. I think it perfectly replaces the grated parmesan in this case and it offers a yummy mushroom aroma. I wrote more about the way I use it and why I like it so much in this article.
TIP: In case you don't have truffles on hand, you can use King Oyster mushrooms instead. They have a similar texture and you can compensate the truffle flavor with some truffle oil – an economical way of acing this recipe!
My favorite vegan liquid cream is the rice-based one from Alpro – it's ever-present in my pantry! I like it because it has a neutral taste and it helps me thicken sauces, such as this white sauce for the orzo. You can, of course, use your favorite vegan cream!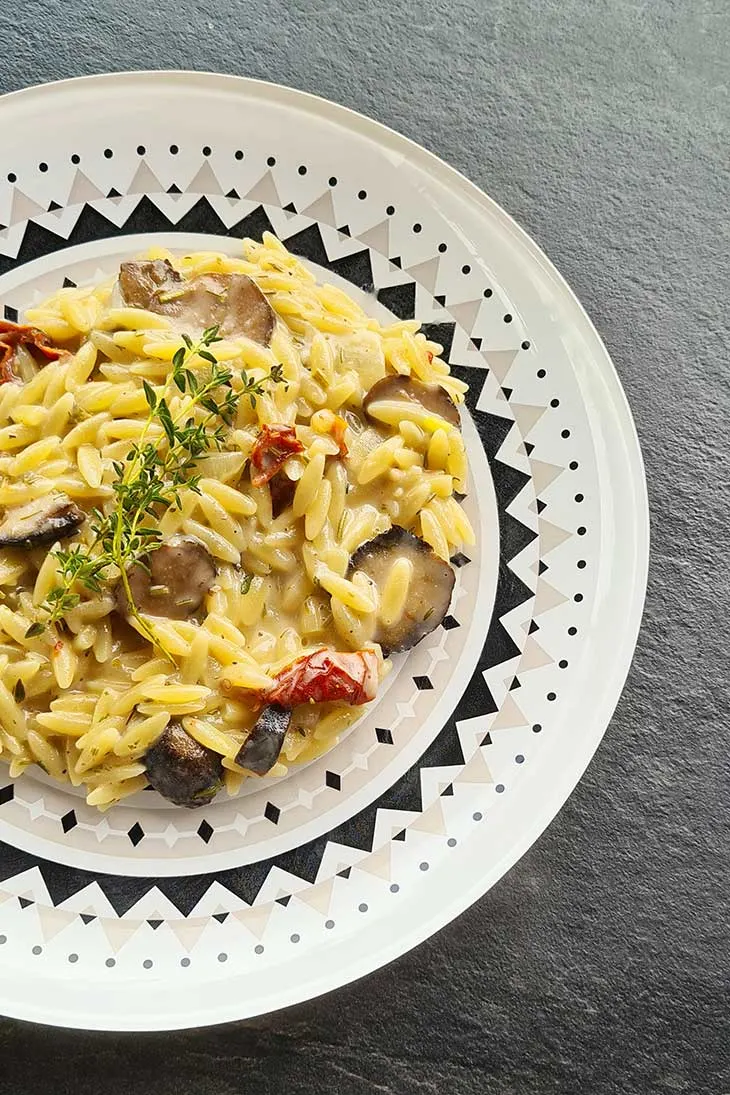 And let me tell you another tiny secret as well: this recipe wouldn't be as flavorful as it is without the perfect blend of spices! I used dried rosemary, thyme, and dill. These three combined offer a fresh, intense aroma that takes this creamy truffle orzo to the next level!
By the way, in case you don't have orzo, you can prepare this recipe using regular pasta as well. Fusilli, penne or even spaghetti. You can choose your favorite! But I strongly advise you to give orzo a try. You'll see that this creamy truffle orzo is very similar to creamy risotto and I'm pretty sure you'll want to make it again and again!
If you're looking to make more plant-based meals or if you're planning an elegant family dinner for your vegan relatives, this creamy truffle orzo will be the star of the night! It's cheesy without containing any cheese, it's comforting and it's super delicious. Don't be surprised if your friends and family will ask for seconds!
If you don't want to make this dish vegan, you can replace the vegan cream with dairy cream and also sprinkle a little bit of grated parmesan on top at the end. This recipe is yours to adapt in order to make it your own! But I'm pretty positive you'll like it just as it is. Healthy and cruelty-free! 🙂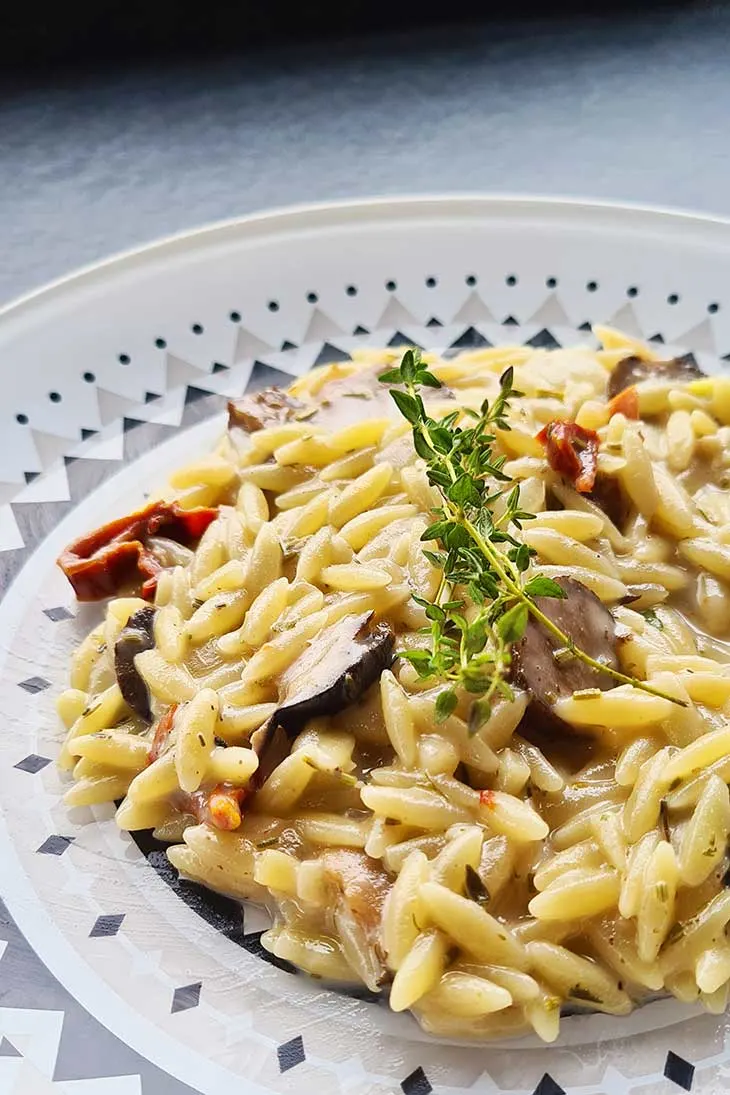 This being said, I urge you to buy some orzo in case you don't already have it in your pantry and to make this creamy truffle orzo as soon as possible. You'll be impressed by the unique flavors! If you decide to give it a try, don't forget to let me know just how much you liked it, I love hearing from my readers!
Until then, I wish you happy cooking!
Yield: 5 servings
Creamy Truffle Orzo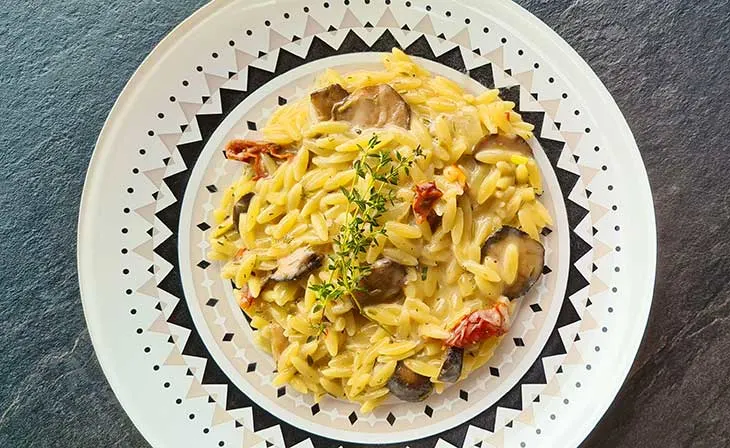 In the mood for a simple dish that's also bursting with amazing flavors? Here's my recipe for creamy truffle orzo, my latest culinary obsession!
Ingredients
250g (1 1/4 cups) orzo
300g (10 oz) mushrooms - I recommend King Oyster mushrooms as they have a similar texture to truffles
1 white onion, finely chopped
4 garlic cloves, crushed
3 Tbsp truffle oil
250ml (1 cup) vegan liquid cream - you can use regular cream as well if you don't want to make the vegan version; I use Apro rice cream
6 sun-dried tomatoes, finely cut
1 tsp dry rosemary
1 tsp dry thyme
1 tsp dry dill
3 Tbsp mushroom protein powder - optional, you can replace with 2 Tbsp corn starch - I use Formula 1 from Herbalife which I discovered during a campaign. I wrote more about how I use it here)
salt and pepper, to taste
Instructions
Heat the oil in a large pan. Add the sliced mushrooms, chopped onion, and crushed garlic. Cook over medium heat for 3 minutes.

Add 500ml of water and the orzo. Add the spices and dried tomatoes.

You will have to watch your pan because the orzo quickly absorbs the water and it can stick to the pan. Make sure you stir from time to time.

After 10 minutes, add the liquid cream and protein powder or starch (alternatively, for the non-vegan version you can use Pecorino Romano or grated Parmesan). Stir well.

Taste a grain of orzo. If it is cooked, you can turn off the heat. If it is still hard, add a little more water (if needed) and continue to mix and leave it to cook.

The orzo is ready when its consistency is like pasta al dente - soft but still in shape.

Serve with fresh thyme or oregano on top.
Nutrition Information
Yield
5
Amount Per Serving
Calories

450
Total Fat

28g
Saturated Fat

13g
Trans Fat

1g
Unsaturated Fat

13g
Cholesterol

59mg
Sodium

98mg
Carbohydrates

38g
Fiber

4g
Sugar

7g
Protein

14g
I strive to keep the information as accurate as possible but make no warranties regarding its accuracy. I encourage you to make your own calculations using your preferred nutrition calculator.