Are you craving a hot, comforting and extra-delicious mushroom recipe that's also easy to make? Then search no more! Here is my recipe for vegan mushroom pot pies – healthy and yummy!
Do you ever come home from work after a cold, rainy day, and there's nothing you want more than to simply stuff your face with a steaming hot dish, full of carbs and good fats? Your mouth is watering already as you ascend the stairs, thinking about a bowl of delicious pasta or a vegan casserole? But how about some pie? Yes, I'm thinking about these vegan mushroom pot pies!
Even if a pie is more or less associated with dessert nowadays, the origin of this type of dish is marginally different. In Medieval England, pies were a common type of main dish, sporting all sorts of fillings of meat and vegetables.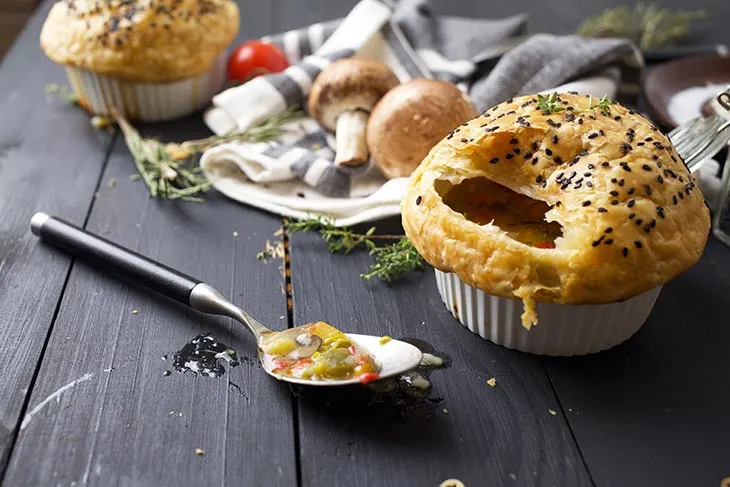 The pie crust, which used to be harder, flavorless and tougher to eat, was usually there just to keep the filling from spilling out. So, in a sense, the pie crust was invented as a primordial edible "casserole". These pies were usually large and made with cheap ingredients, in order to feed a whole family.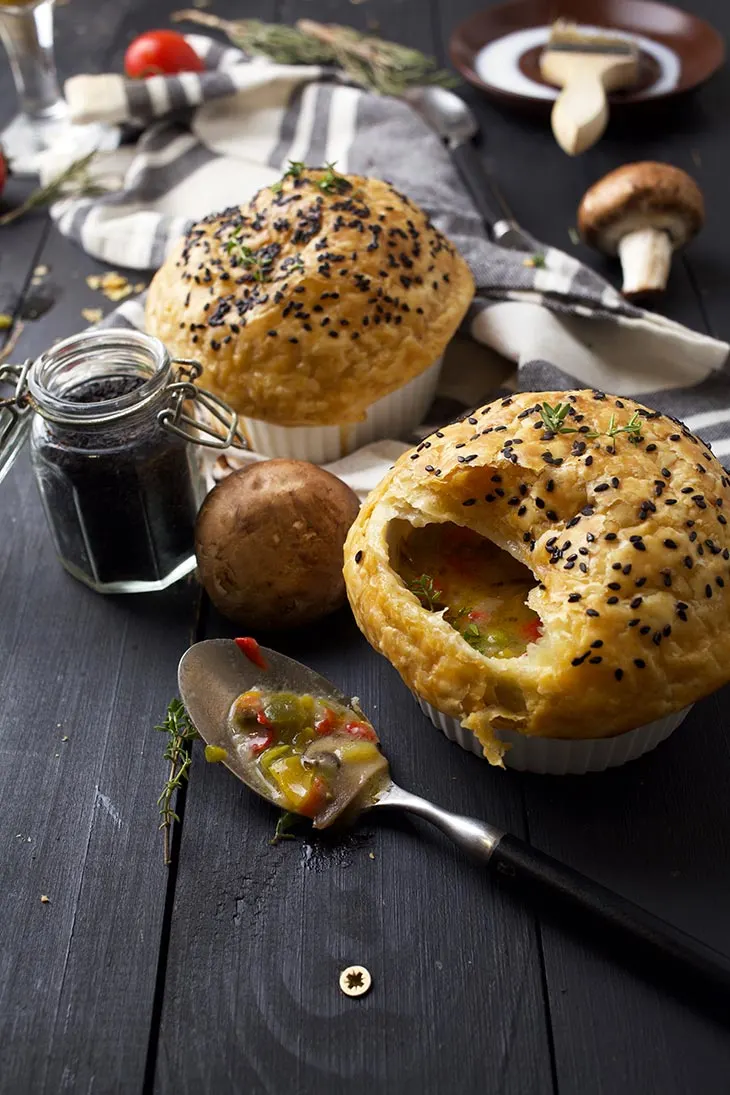 American colonialists changed that around when they came out with the classic recipe of fruit pie – smaller in size and sweeter in taste than its continental counterpart. Still, nobody said you still can't do a savory pie, hence there are a ton of recipes of delicious pies that aren't at all sweet or made for dessert. Most savory recipes require some sort of meat, because otherwise, the way some people believe, it can't be filling. But I beg to differ! 🙂
I urge you to try out the following vegan mushroom pot pie recipe. This is not only one of the most delicious, savory vegan pies out there, but it will prove to be a delicious meal when eaten fresh. Mushrooms have always been a great source of protein and, therefore, have been used to replace meat in many vegan and vegetarian recipes. This is one of them.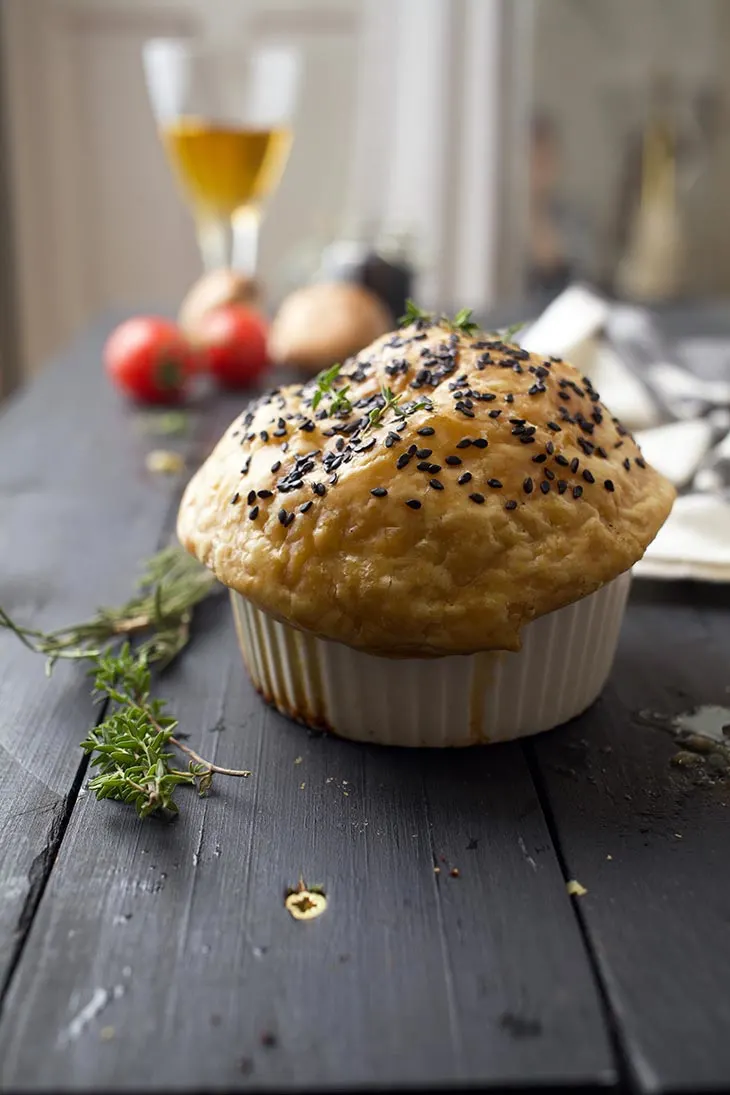 This vegan mushroom pot pie is a tasty green alternative to the meat-based kind that has been popular around the world for centuries. The original pot pie recipe has allegedly come from the Romans, who invented it by applying a top to the pastry crust in a similar Greek recipe.
The recipe then traveled around the world, until it finally ended up in the hands of the first American colonialists, who spread the tradition across the continent. Chicken pot pie is a well-known recipe across the Western hemisphere.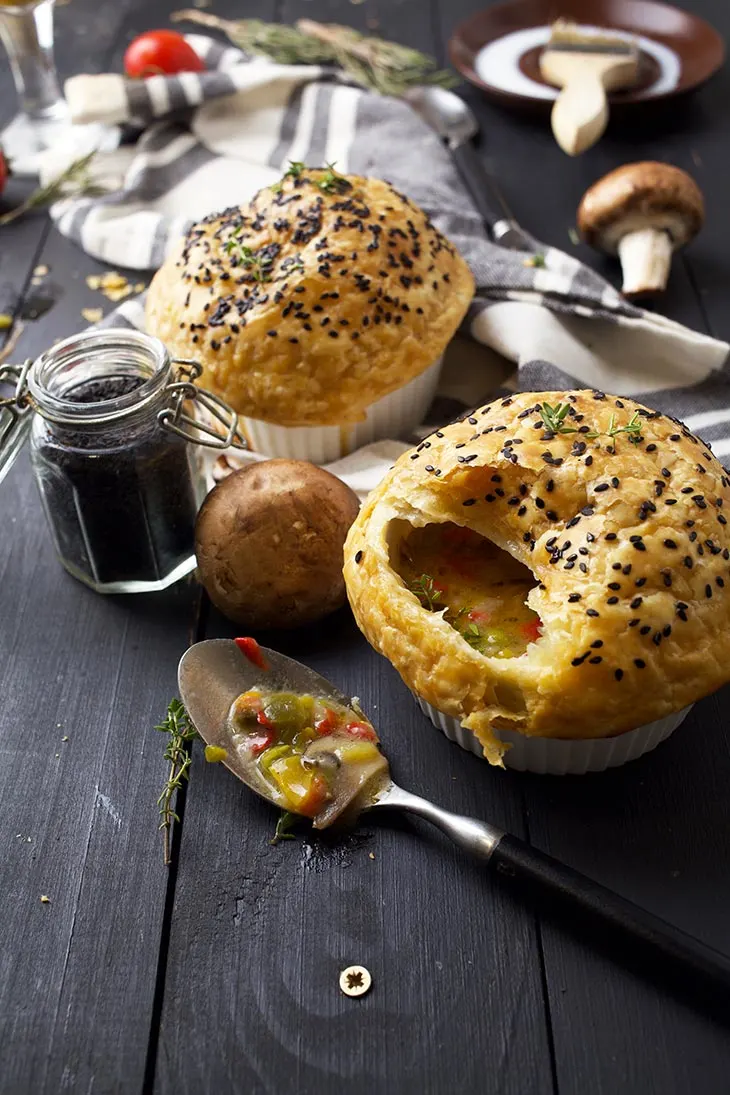 Pot pie is a versatile recipe that can be prepared in many ways, including in a skillet, or over a stovetop. You can fashion your pie crust yourself if you have the time and patience! 🙂 This recipe includes a puff pastry, which you can either make from scratch or buy from a store – either way can work. But if you want to put your whole character in this pie, I suggest you to exercise some patience and make it yourself. Plus, you'll get some dough-making practice in, and that never hurt anyone!
In order to make your delicious vegan mushroom pot pie, you'll first need to select your mushrooms. Now you can choose between several kinds, but my philosophy is why pick one when you can use many types in the same dish? After all, if meat pies combine three or more types of meat in one pie, why wouldn't we do the same to our mushroom one? 🙂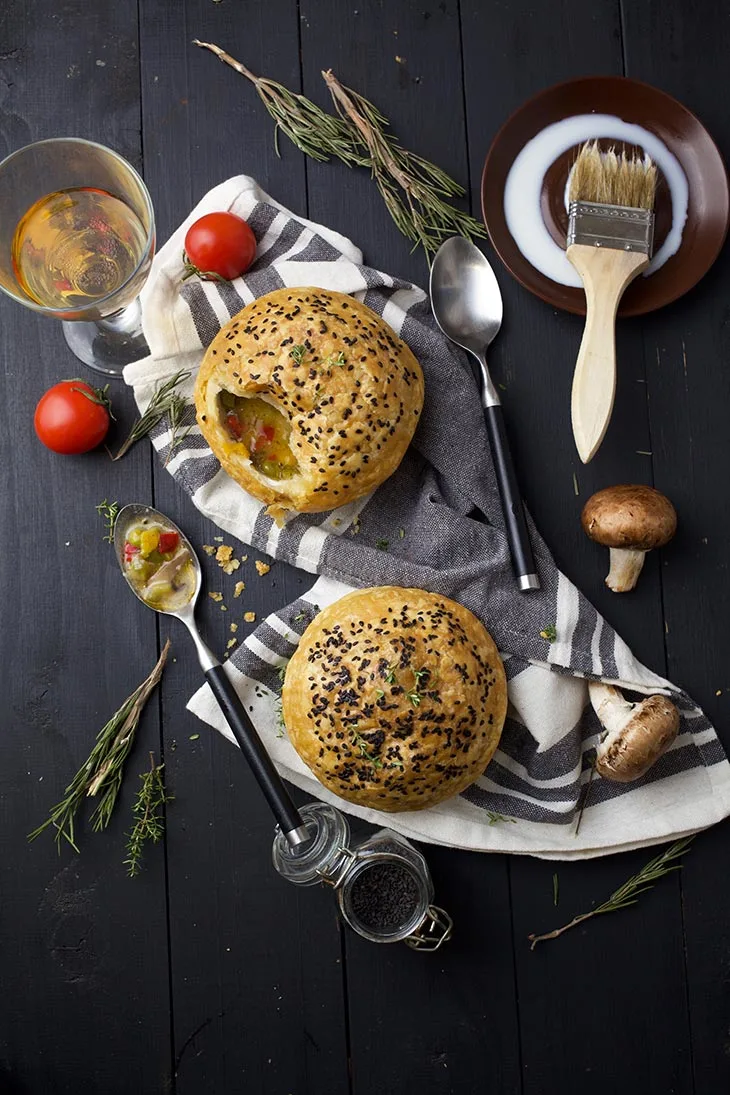 After you've selected your fungi, go ahead and cook them for a while, until they turn deep brown. This process might not seem necessary, but the resulting flavor will be worth it. The mushroom taste will be much more defined in the pie as a whole.
Chop the mushrooms into pieces and mix them with the other ingredients. Depending on taste, these might be onion, bell peppers, chopped carrots, and a lot of spices, garlic and most importantly – thyme! Thyme goes absolutely splendid with any vegan savory pie because it amplifies the flavor to eleven! Then, you create a buttery sauce to mix into the mushrooms and vegetables.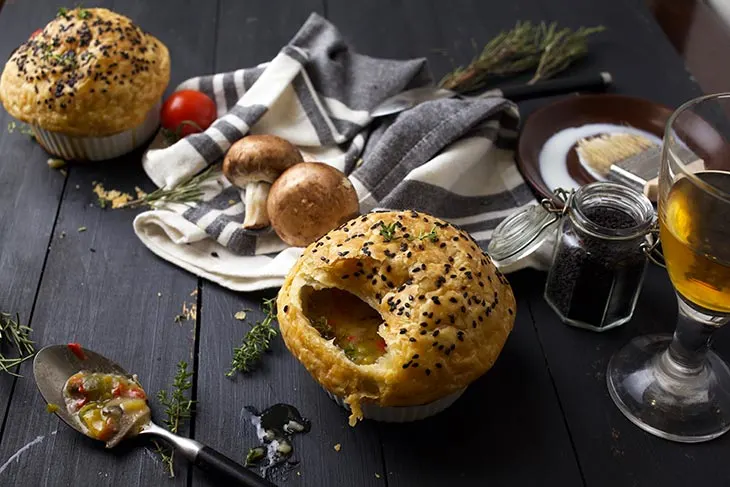 This vegan mushroom pot pie is a savory and filling meal you can serve for any special occasion – Thanksgiving, Christmas, someone's birthday? You name it! But you can also enjoy it by yourself for no special occasion at all! Still, if you have the chance to serve it to some meat lovers, you might be surprised to see there is a high chance they'll love it! Either way, I hope you enjoy making this vegan mushroom pot pie! Bon appetit! 🙂
Yield: 4
Vegan Mushroom Pot Pies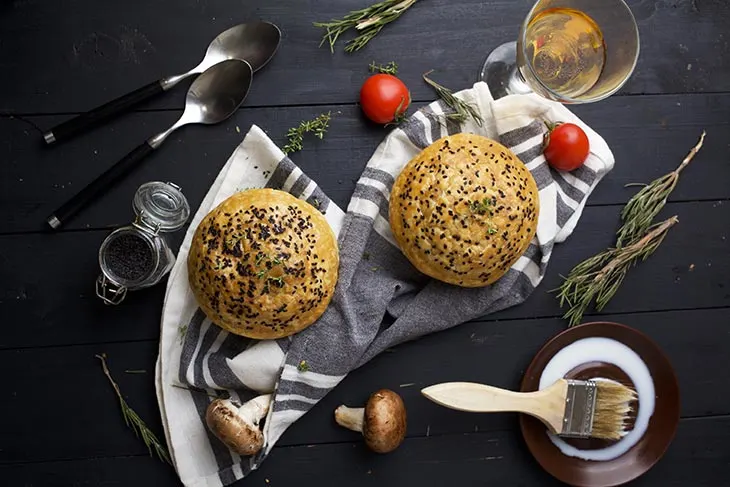 Are you craving a hot, comforting and extra-delicious dish that's also easy to make? Then search no more! Here is my recipe for vegan mushroom pot pies - healthy and yummy!
Ingredients
1 Tbsp olive oil
1 medium onion, finely chopped
2 cloves garlic, crushed
100g (½ cup) red bell pepper, chopped
100g (½ cup) yellow bell pepper, chopped
100g (½ cup) green bell pepper, chopped
70g (½ cup) frozen peas
70g (1 cup) sliced button mushrooms
240ml (1 cup) veggie broth
240ml (1 cup) almond milk
3 Tbsp flour
2 sprigs thyme
2 tsp chopped fresh rosemary leaves
1 tsp black pepper
1 tsp salt
1 sheet puff pastry, 4 circles cut of (size of your ramekins)
2 Tbsp non-dairy milk
2 Tbsp black sesame
Instructions
Preheat the oven to 200 C
Heat a skillet on medium heat with olive oil.
Add the chopped onion, garlic and sautee until translucent, for about 4 minutes.
Add the mushrooms and cook, stirring, for about 5 minutes.
Add the bell peppers and continue to cook for 4 more minutes.
Sprinkle the flour over the veggies and cook, stirring, for about 2 more minutes.
Add the broth and mix.
Stir in the peas. Add the thyme, rosemary, black pepper and salt. Stir in the milk.
Cover and let it cook on low for about 7 minutes or until the mixture is thick.
Divide the mixture between 4 ramekins. Cover with puff pastry, brush with milk and sprinkle with black sesame.
Let it cook in the oven for about 35 minutes or until the tops are golden.
Nutrition Information
Yield
4
Amount Per Serving
Calories

194
Total Fat

11.4g
Carbohydrates

18.8g
Protein

3.9g