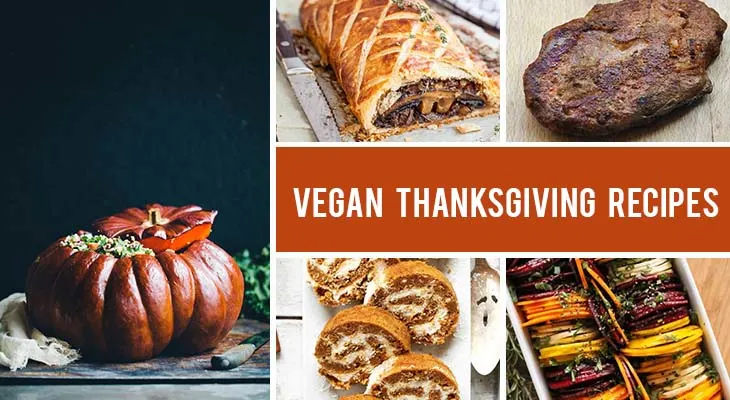 Here are 10 vegan Thanksgiving recipes that are not only healthy and easy to make, but they're guaranteed to impress everybody! Try them and you'll see!
Following a vegan diet might be a bit challenging, especially during celebrations. You might start to wonder: "What can vegans eat for Thanksgiving?". Well, I have the answer right here! There are countless delicious recipes that you can try for your Thanksgiving menu and I'm sure that your family and friends will definitely be impressed! I know turkey is the star of every Thanksgiving menu, but this doesn't mean there aren't a ton of delicious vegan recipes that are maybe even better than a roasted turkey!
I created this yummy list full of amazing vegan Thanksgiving recipes because I want to show you that vegans can enjoy a real treat during their Thanksgiving dinner as well! From vegan steak to stuffed pumpkin, pumpkin desserts, roasted veggies, and incredible side dishes – the sky is the limit when we're talking about celebrating Thanksgiving the vegan way! Try these recipes and I assure you that your non-vegan friends won't believe these recipes are 100% vegan!

Here is my list of 10+ best Thanksgiving recipes with a WOW factor! These recipes are guaranteed to impress all your guests because they're extra flavorful, delicious and simple!
Click on the linked titles in order to access all these incredible Thanksgiving recipes. You will also find here 4 of my own recipes, but the rest of them were created by some super talented food bloggers that I recommend you follow for some endless recipe inspiration! Check these recipes out!
Vegan Thanksgiving Recipes
This recipe is perfect for a vegan, as well as for a vegetarian Thanksgiving menu! What can be more impressive than a beautiful stuffed pumpkin? Nothing, I'll tell you! This stuffed pumpkin is delicious, easy and extremely flavorful. Give it a try!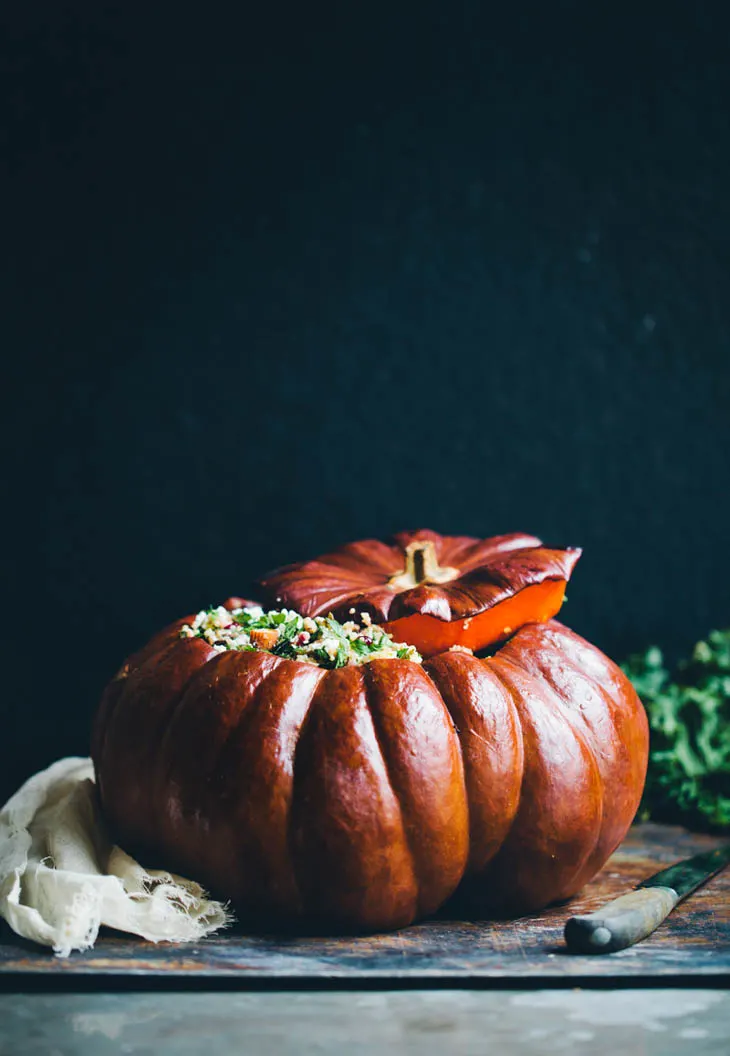 This tofurkey roulade with mushrooms is one of my favorite Thanksgiving recipes ever since I started my vegan diet! Of course, tofu is the star of this recipe and it creates a very satisfying, finger-licking good roulade that everyone will enjoy. I'm sure nobody will realize this recipe is vegan!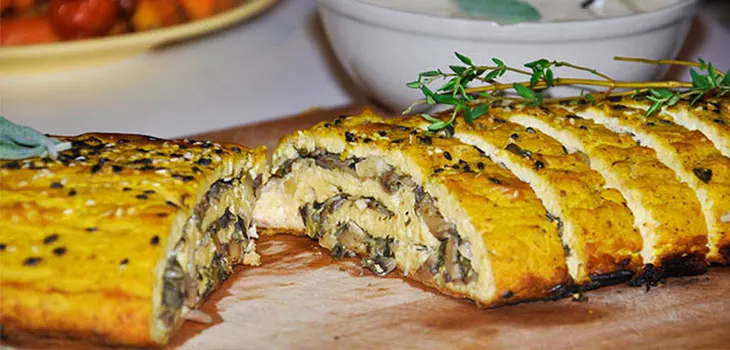 This mushrooms Wellington recipe is one of those easy vegan dinner recipes that will work perfectly for a celebration as well, for example, Thanksgiving! This recipe is bursting with flavors, while also being rather simple to put together. The results? Wow!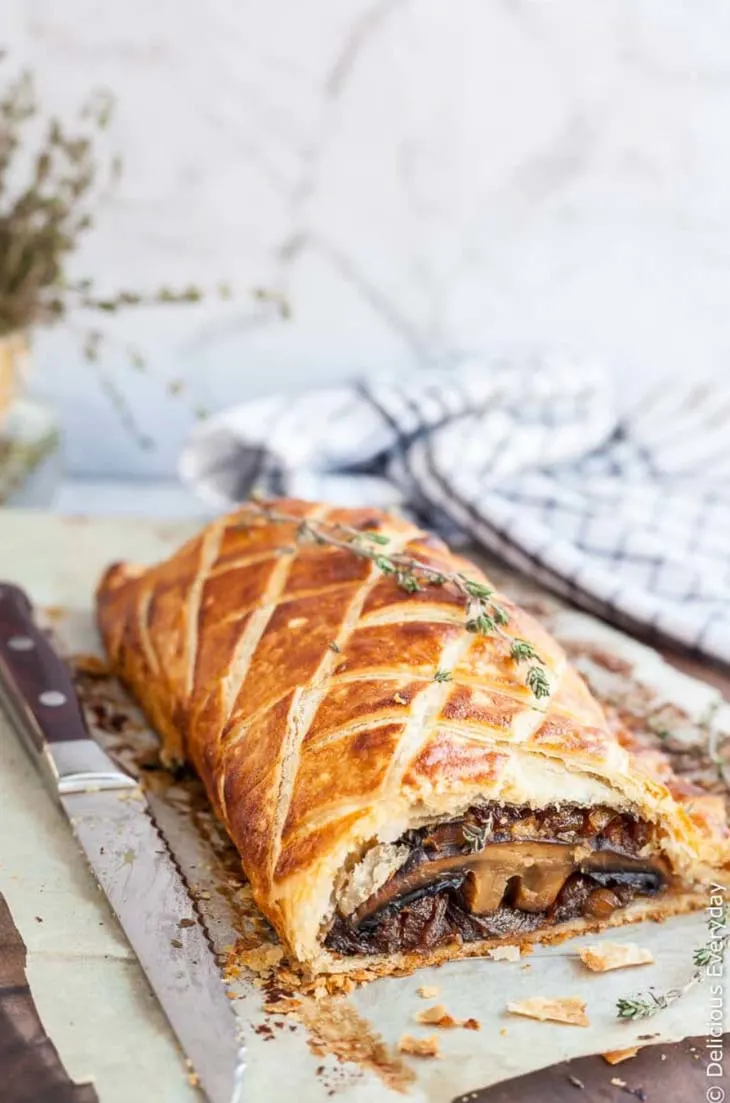 Gravy is an amazing sauce that gives an incredible flavor to any savory recipe! Here's how to make vegan gravy – easy, delicious and, of course, healthy!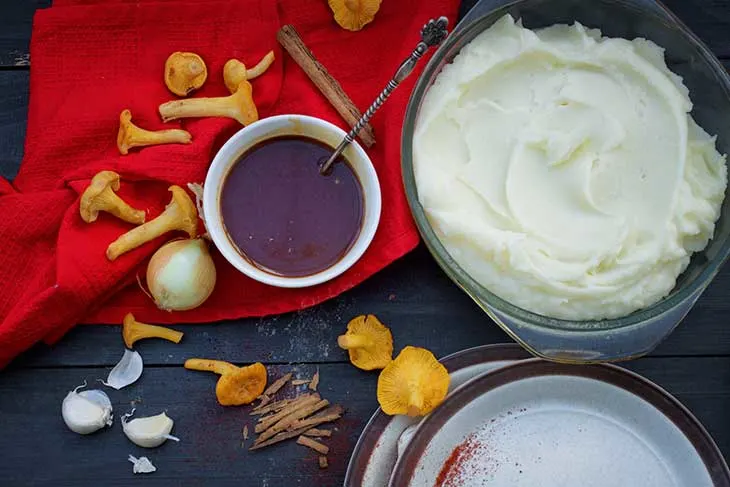 Looking for some delicious meatless meat recipes? This apple, sage and molasses holiday roast is a super special recipe that will be the star of your Thanksgiving menu for sure! This amazing recipe is a unique combination of flavors and textures that I'm sure you'll enjoy!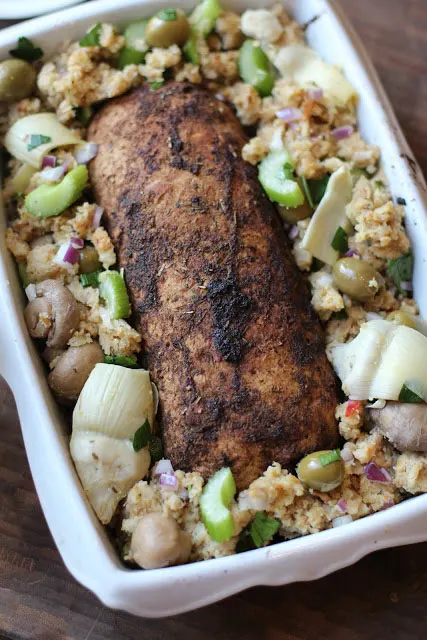 In case you are looking for some vegetarian meat ideas, this vegan steak with no seitan is your answer! Serve this steak with your favorite side and you will have the perfect, easy vegan dinner, or pair it with a special side dish and a salad and you will achieve a great Thanksgiving menu for vegans!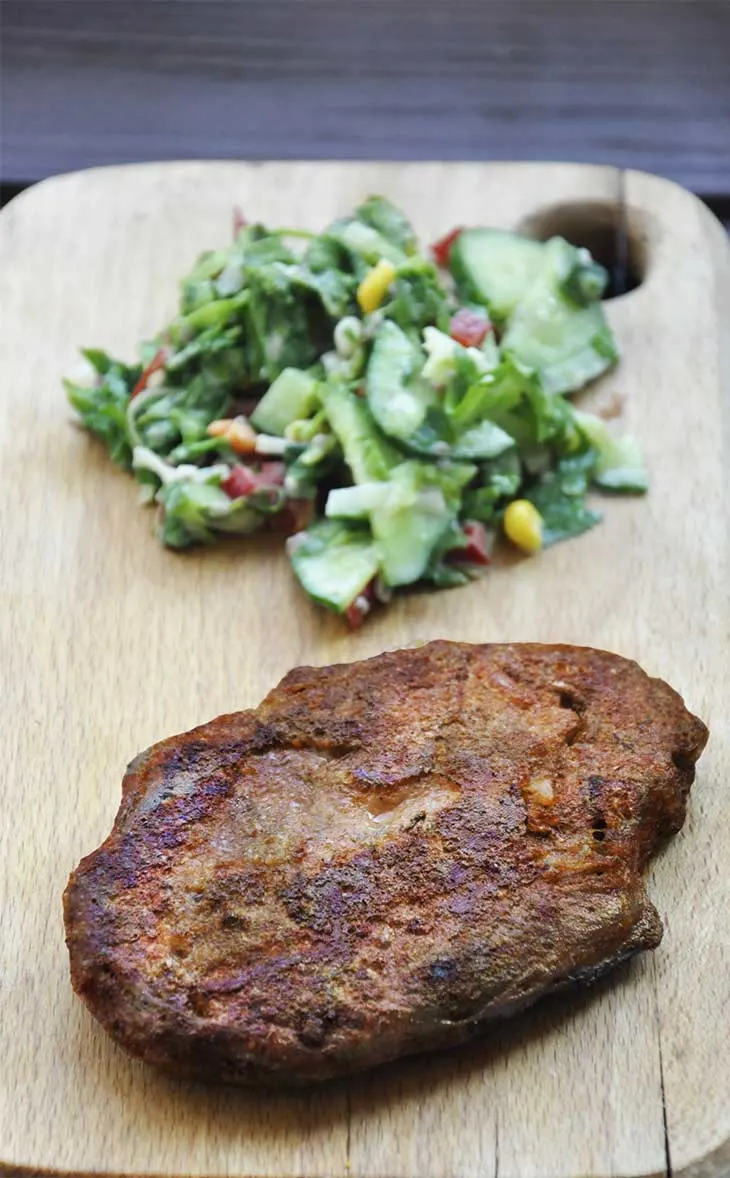 Are you looking for some easy Thanksgiving recipes that will work perfectly as a side dish, as well as a main dish? This potato recipe is your answer! Simple, yet with a striking taste, these potatoes are guaranteed to satisfy everybody in your group! Add these vegan scalloped potatoes to your list of favorite Thanksgiving sides recipes and I'm sure you won't regret it!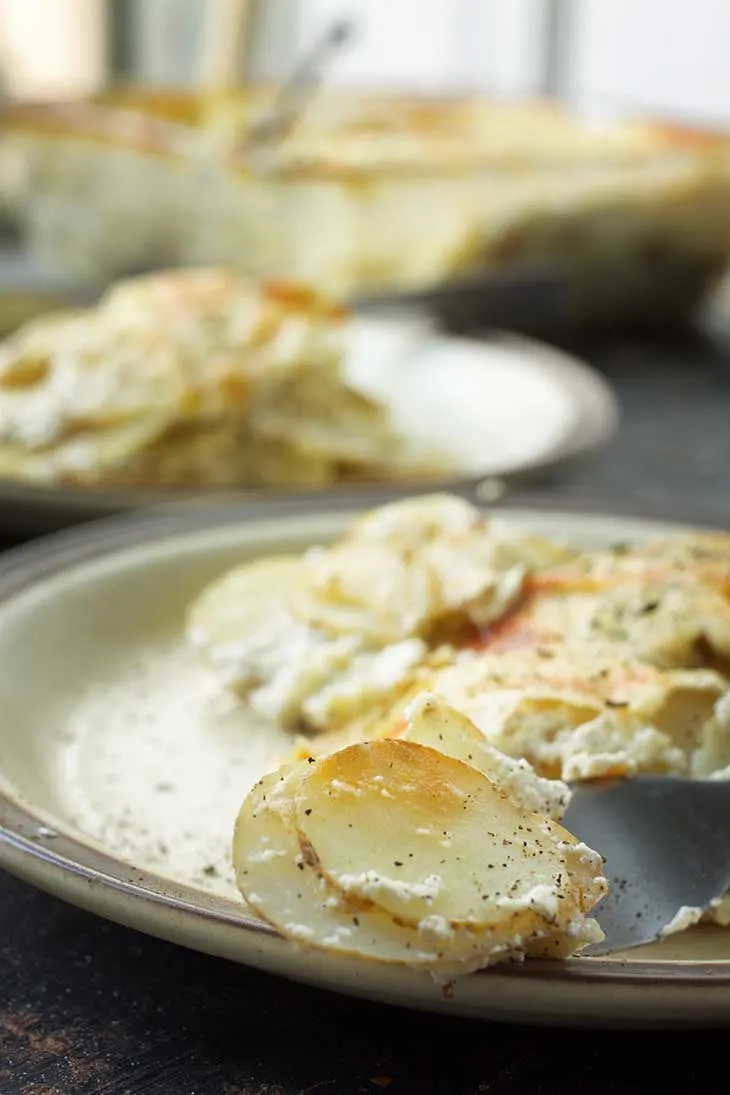 In case you are searching for some gluten-free Thanksgiving recipes, you're in luck! This delicious vegan pumpkin roll is extremely easy to make and the result is a flavorful and tasty dessert! What's a Thanksgiving dinner menu without dessert, right?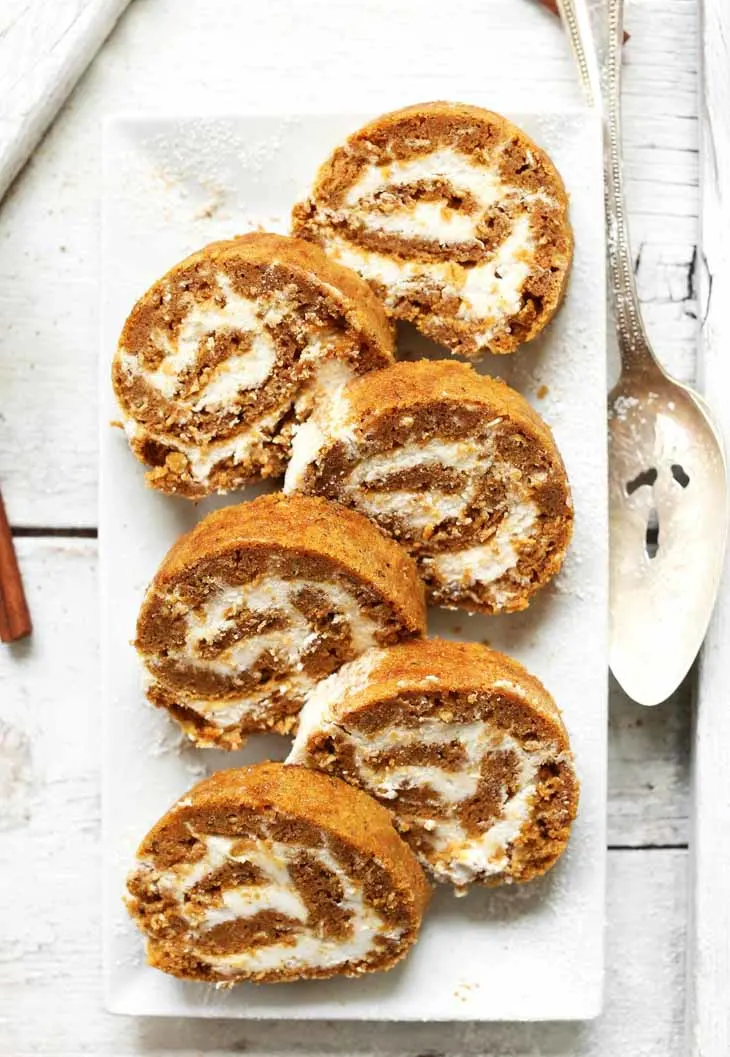 Prepare your senses, as this whole roasted cauliflower is one of my favorite Thanksgiving vegetable recipes! This roasted cauliflower definitely has a WOW factor and will become the star of the evening! It's super delicious, flavorful and really easy to make. Don't believe me? Try it and see for yourself!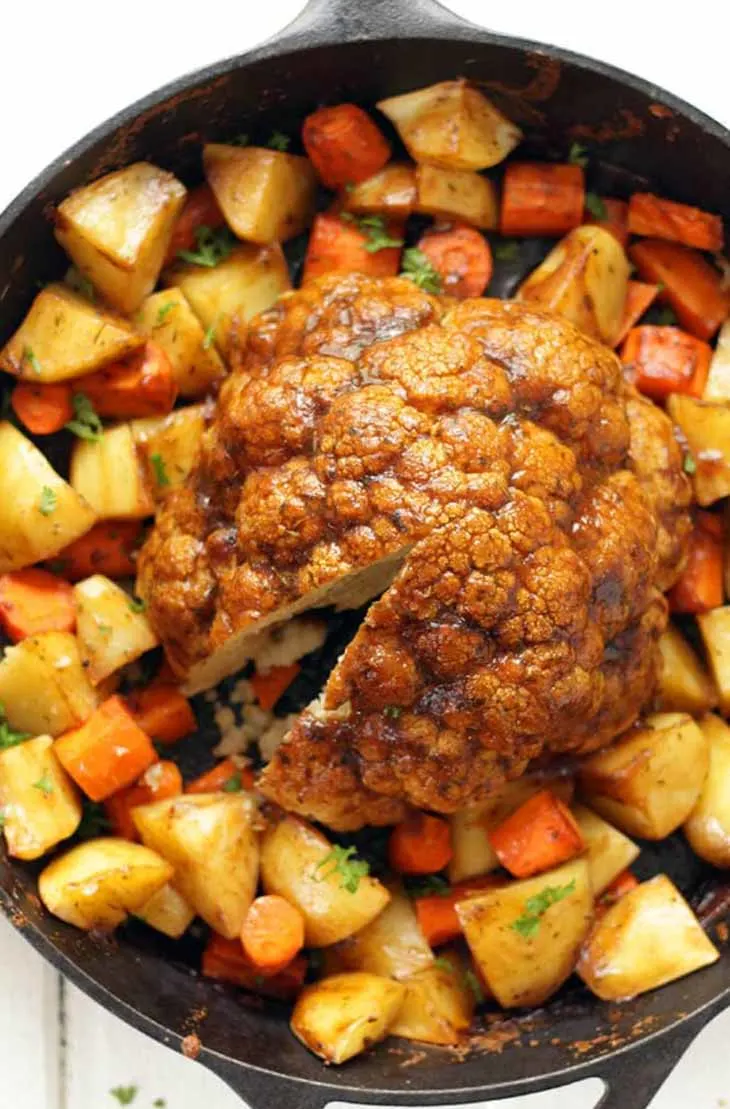 Just look at these beautifully aligned roasted root vegetables! Have you seen anything more beautiful? These herb roasted root vegetables will be perfect for your Thanksgiving menu as they're very easy to put together and the result is light and tasty. Everyone will want a piece, I assure you!
This crustless pumpkin pie with coconut is one of those Thanksgiving dessert recipes that's so easy, you won't even believe it! Besides being super easy to make, this pumpkin pie is bursting with autumn flavors and I'm sure everyone will want a piece! Try it and see!