Gravy is an amazing sauce that gives an incredible flavor to any savory recipe! Here's how to make vegan gravy – easy, delicious and, of course, healthy!
Gravy is a sauce made from the juices of cooked meat, mixed with stock and other ingredients. It's commonly thickened with wheat flour or cornstarch.
Gravy is available in lots of cultures including Great Britain, Ireland, Canada (with its famous poutine dish) and Australia. In some parts of Asia any thickened liquid part of a dish, such as the liquid part of a curry, may be called gravy. In Great Britain and Ireland, gravy usually accompanies a Sunday roast, commonly pork, lamb, beef or chicken. In British and Irish cuisine it is also common to have nothing but chips with your gravy.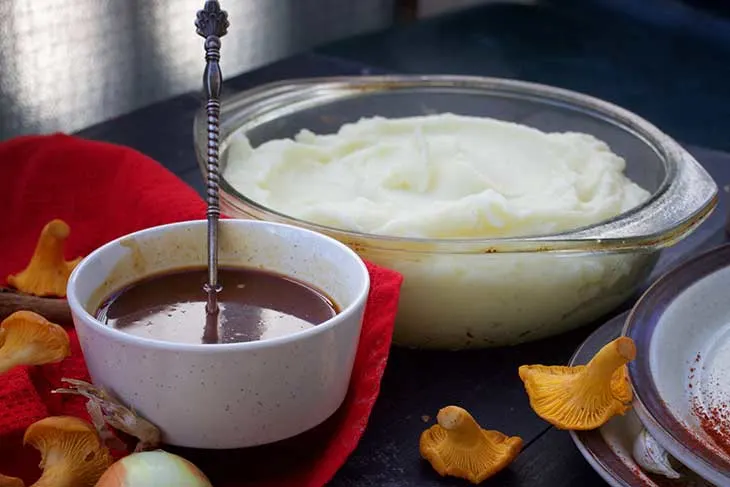 As you can see, gravy is found pretty much all around the world and every culture has its preferences and variations. However, this article will focus on the American gravy, a common and irreplaceable food which cannot miss from the Thanksgiving table.
Throughout the United States, gravy quickly became popular after the Civil War, once iron cookstoves became a common kitchen item. Gravy is pretty easy to prepare, so it was popular amongst camps and during hunting lodges and other outdoor activities.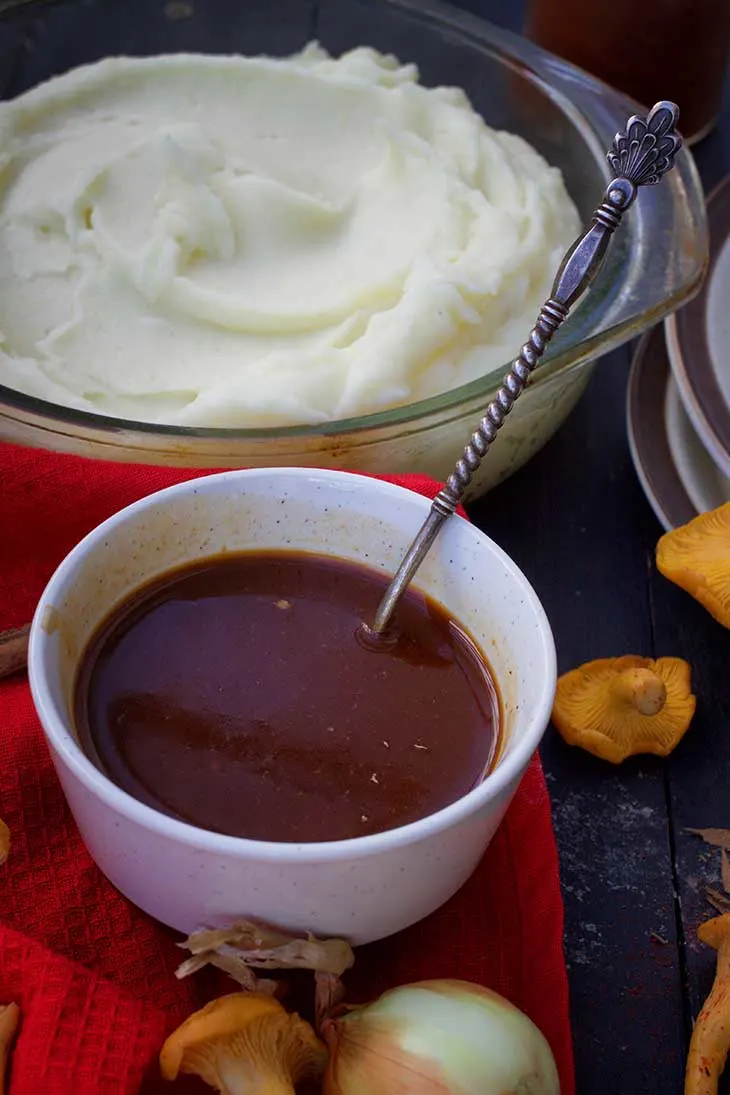 Types of gravy: traditional and vegan gravy
When it comes to America, you can basically divide gravy into "white" or "brown".
White gravy (sometimes called cream gravy), probably the most famous American version of this sauce, usually gets its color from the use of milk. It is commonly eaten with usual Thanksgiving foods like turkey and mashed potatoes, but also with soft biscuits, which you'll see below.
Gravy and biscuits is a popular breakfast in the Southern area of the States. This consists of soft biscuits covered in meat gravy. This type of gravy is traditionally made from the drippings of cooked pork sausage, white flour and milk, often flavored with back pepper as well.
In the Southern United States cuisine, brown gravy is the name given to a type of gravy made from the drippings of roasted meat. These drippings are mixed with vegetables and vegetable stock and thickened with flour or cornstarch.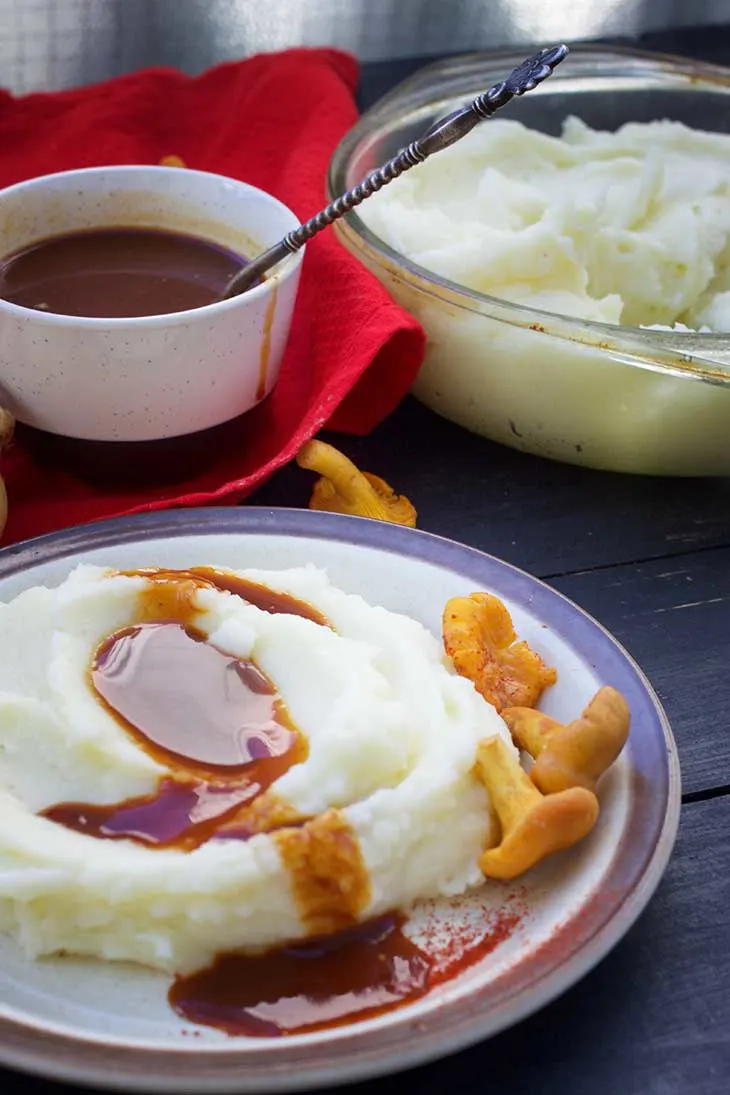 Though it may seem like gravy and meat are inseparable, vegetarian and vegan gravy alternatives are available nowadays without giving up on the taste at all. The trick for doing this the vegan way is using veggie broth instead of beef/chicken stock and vegetable fats such as oil and margarine instead of butter. Here are some options:
Vegetable gravy or vegetarian gravy is a type of gravy made entirely with boiled or roasted vegetables. You can make this one by using any combination of vegetables, vegetable broth (or stock), flour and butter. If you want to make this vegan, replace the butter with oil or margarine.
Mushroom gravy can be made by cooking mushrooms in oil until they become soft and start to caramelize. Then you can add onions and garlic and fry this mixture over high heat until the flour comes in. You then add the veggie broth and cook everything until well combined. Last but not least, you mash the vegetables until you reach a creamy consistency.
Onion gravy is another vegetarian/vegan alternative, made using the same principles as the one above.
Nowadays, you can also find instant gravy in the form of granules, which is suitable for both vegetarians and vegans, so you won't miss anything. However, a homemade gravy will always taste better than an instant one, so if you have some spare time to experiment in the kitchen, you will not regret it for sure!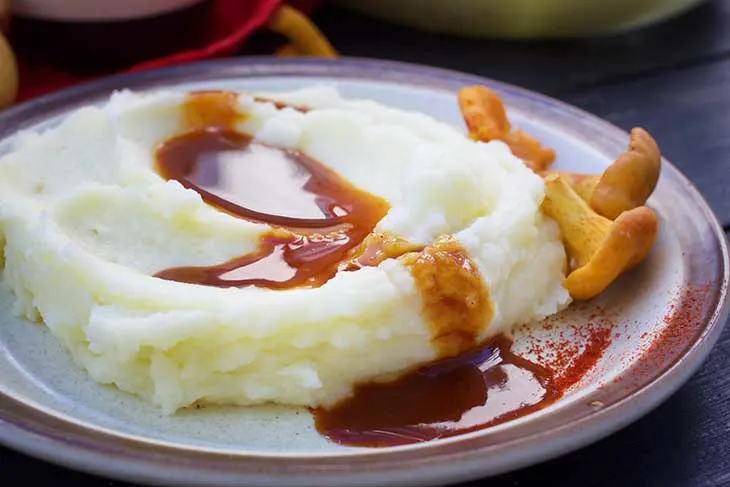 Today I want to teach you how to create the most delicious vegan gravy at home, using dried wild porcini mushrooms and Chanterelle mushrooms! Super easy and extremely delicious!
Yield: 6+
How to Make Vegan Gravy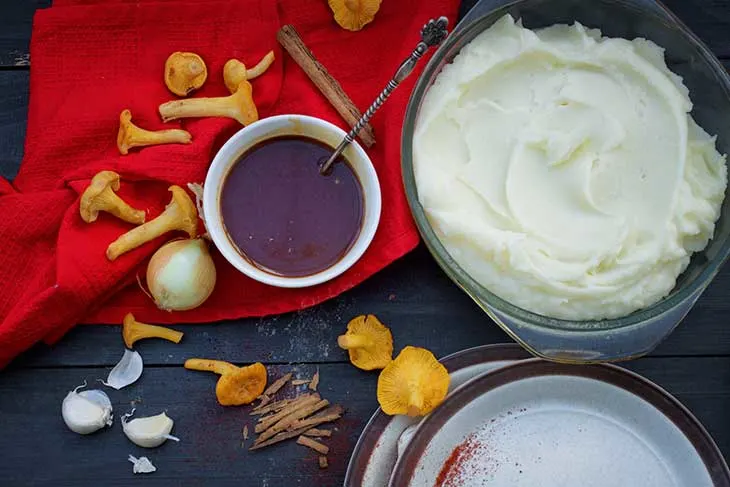 Gravy is an amazing sauce that gives an incredible flavor to the dishes! This recipe will teach you how to make vegan gravy - easy, delicious and, of course, healthy!
Ingredients
20g (½ cup) dried wild Porcini mushrooms
60g (1 cup) Chanterelle mushrooms, washed
2 Tbsp olive oil
2 medium onions, chopped
3 cloves garlic, crushed
500ml (2 cups) veggie broth
1 Tbsp tomato paste
2 Tbsp tapioca starch
1 Tbsp sea salt
1 tsp fresh black pepper
a few sprigs of thyme and rosemary
1 bay leaf
Instructions
Add Porcini mushrooms to a bowl and cover with 3 cups of water.
Soak for about an hour.
Heat the olive oil in a medium skillet over medium heat.
Add the chopped onions and cook for three minutes or until translucent.
Add the garlic and cook for one minute.
Pour 1/4 cup broth into the pan and continue to cook.
Add the bay leaf.
Add the Chanterelle mushrooms and cook for approximately 10 minutes.
Stir in the tomato paste.
Add the Porcini mushrooms and the water they soaked into the pan.
Add the rest of the broth, rosemary, and thyme and bring to a boil.
Reduce the heat to low and cook for 15 minutes.
Pour the cooked mixture through a strainer into another bowl.
Add the tapioca starch and stir well.
Return the bowl to a low heat.
Keep stirring until the gravy begins to thicken. Add the salt and pepper and stir for another minute.
Serve with potato puree, veggies or any of your favorite dish.
Nutrition Information
Yield
6
Amount Per Serving
Calories

90
Total Fat

4.4g
Carbohydrates

11g
Protein

1.3g