Indulge yourself with a delightful breakfast – sheet pan pancakes, with four irresistible flavors. This easy recipe will save you time and satisfy the preferences of the whole family – perfect for lazy mornings or brunch gatherings.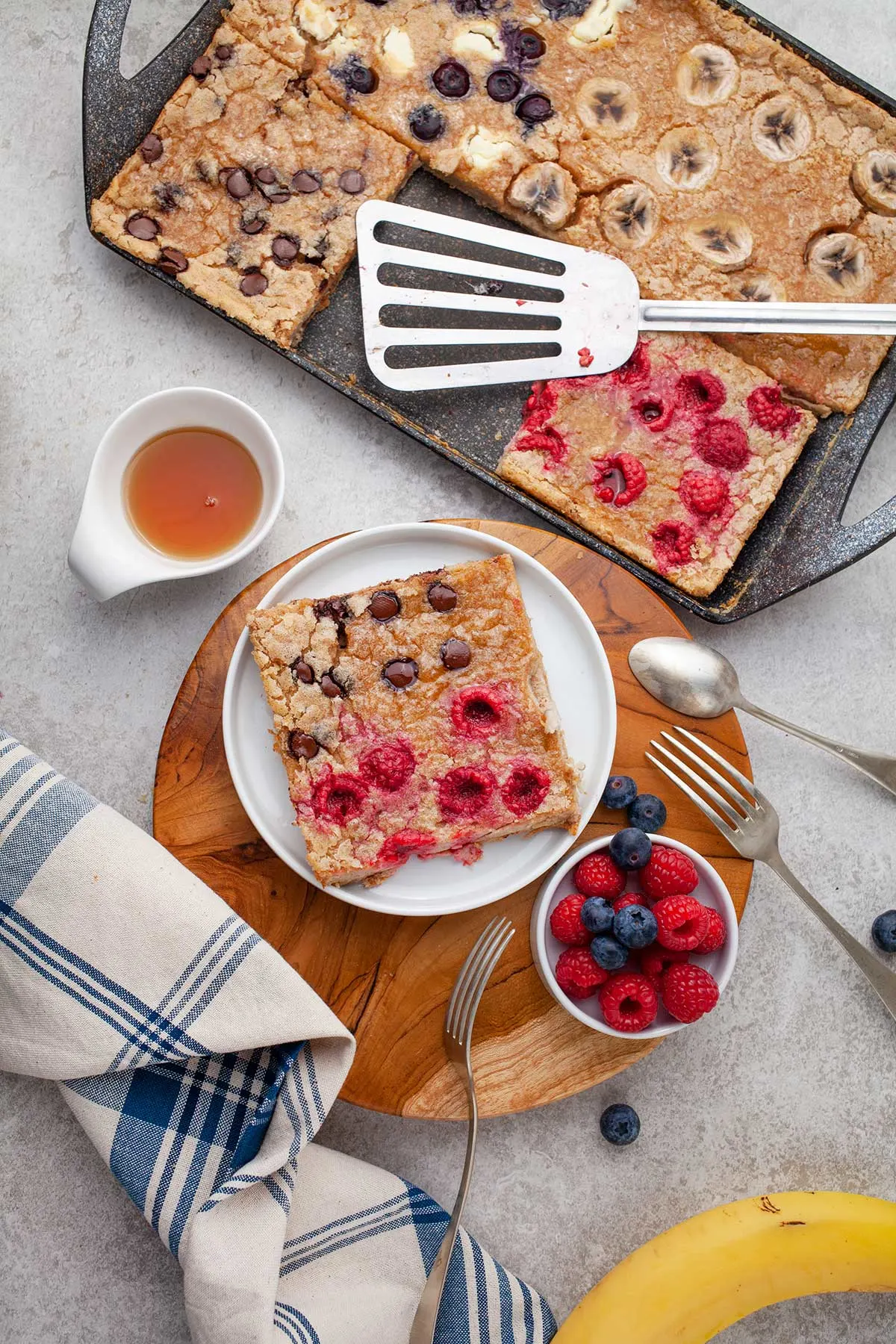 This sheet pan pancakes recipe was inspired by my own convenience and lazyness. 😊 I love pancakes, but it always takes way too long to make them, one by one, and then adding even more time to preparing different toppings or fillings for me and my husband, as we usually crave completely different flavors So I thought I'd make a recipe that would minimize the time needed to make pancakes – in the oven!
I chose four different flavors, with banana, forest fruits, cream cheese and chocolate. But there are so many other options that you can try!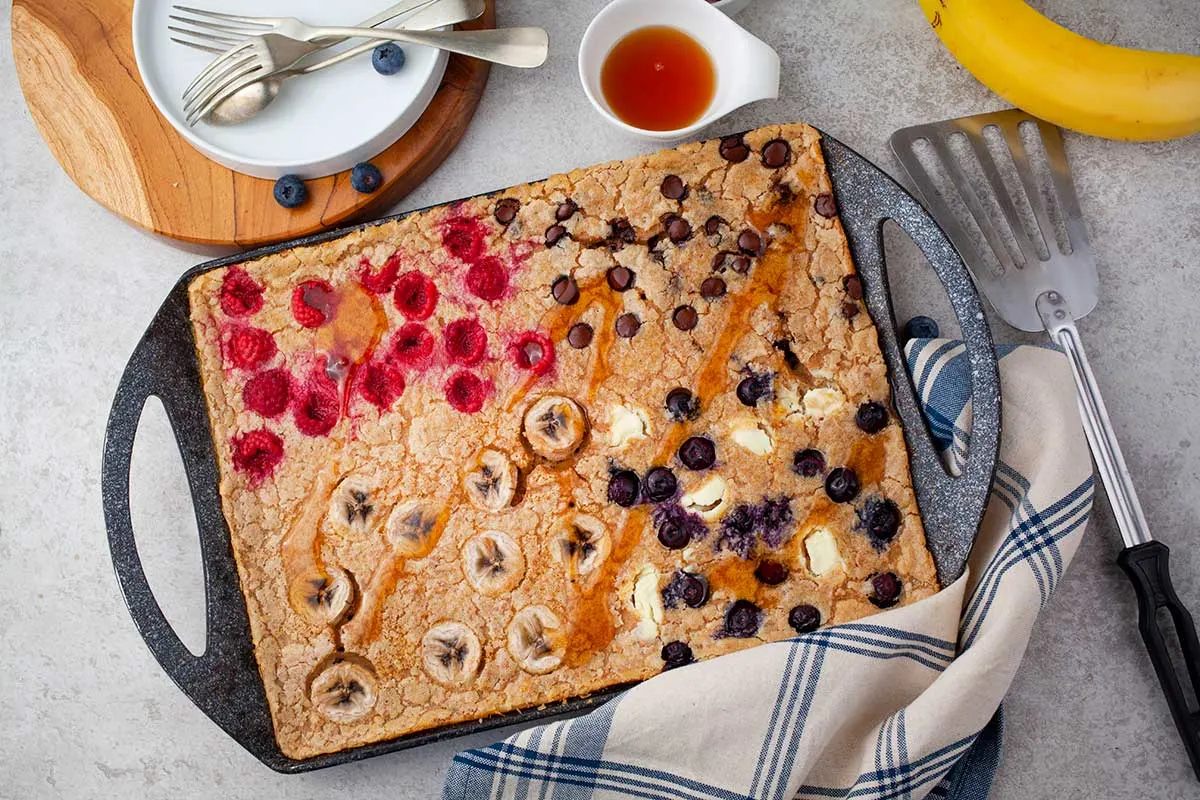 Ideas of toppings and flavors for pancakes in the oven:
Pancakes with fresh fruits – choose a variety of fruits, such as blueberries, raspberries, strawberries or banana slices, to add freshness and sweetness to baked pancakes.
Vanilla Pancakes – Add vanilla paste for a touch of sweetness and a subtle vanilla scent.
Pancakes with honey and walnuts – generously drizzle honey over the pancakes and sprinkle with finely chopped walnuts for a combination of sweet and crunchy.
Pancakes with jam – add a generous layer of your favorite jam or jam over the pancakes in the oven to get a delicious taste and a fluffy texture.
Pancakes with yogurt and granola – add a spoonful of creamy yogurt on top of the pancakes and sprinkle crunchy granola for a healthy and nutritious topping.
Pancakes with whipped cream and maple syrup – decorate the pancakes in the oven with a generous portion of whipped cream and drizzle maple syrup over them to get a classic and sweet combination.
Pancakes with butter and cinnamon – spread a layer of melted butter on the pancakes and sprinkle ground cinnamon on top for a warm and comforting taste.
Experiment and combine different toppings and flavors to customize your baked pancakes and to create your own delicious and unique dessert.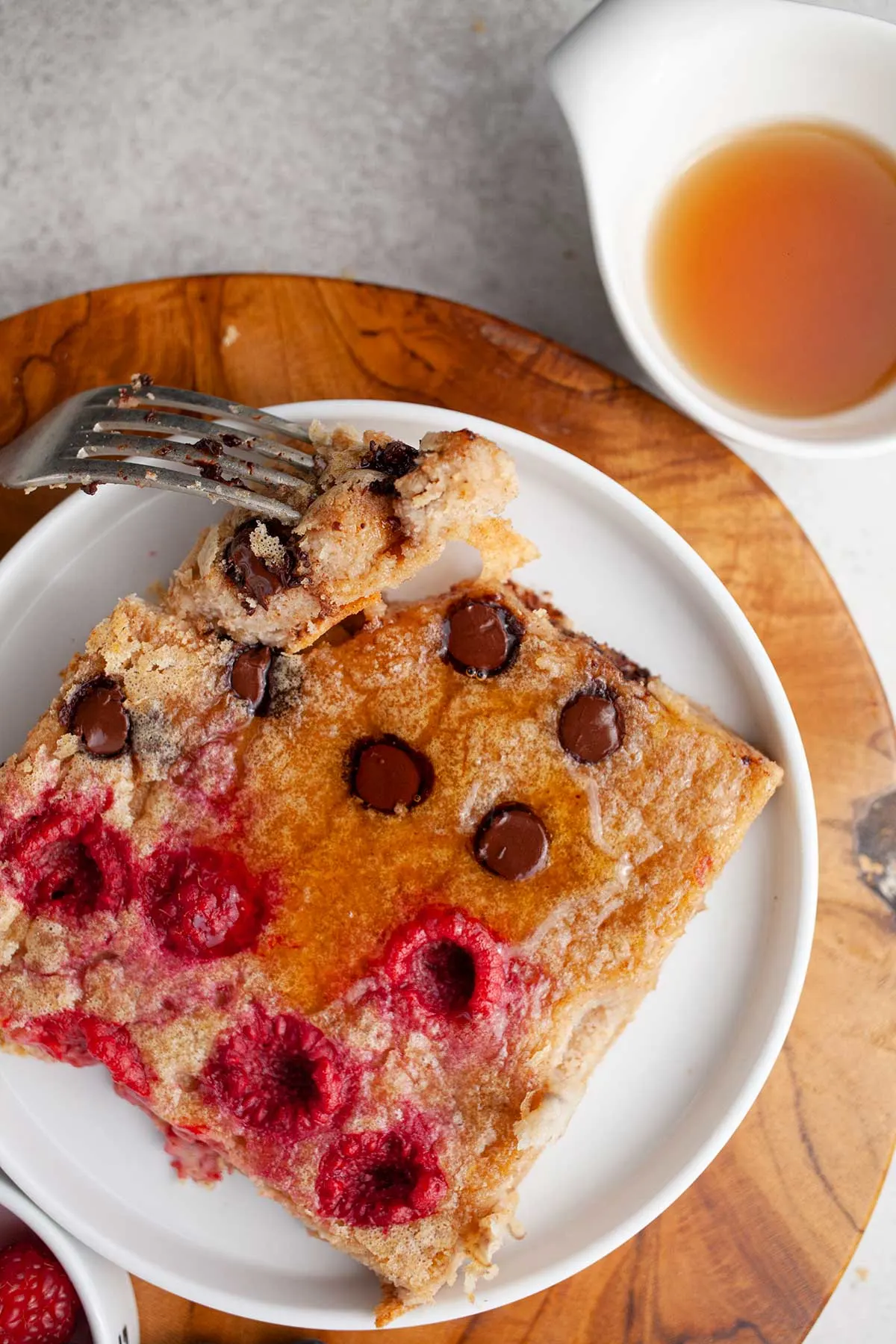 How long can you keep pancakes in the fridge?
Pancakes can be kept in the refrigerator for about 2-3 days. To keep them fresh and tasty, it is recommended to store them in a sealed container or wrap them in plastic film. If you want to keep them for a longer period, you can freeze them. Before serving them, you can reheat them in the oven or in the pan to regain their freshness.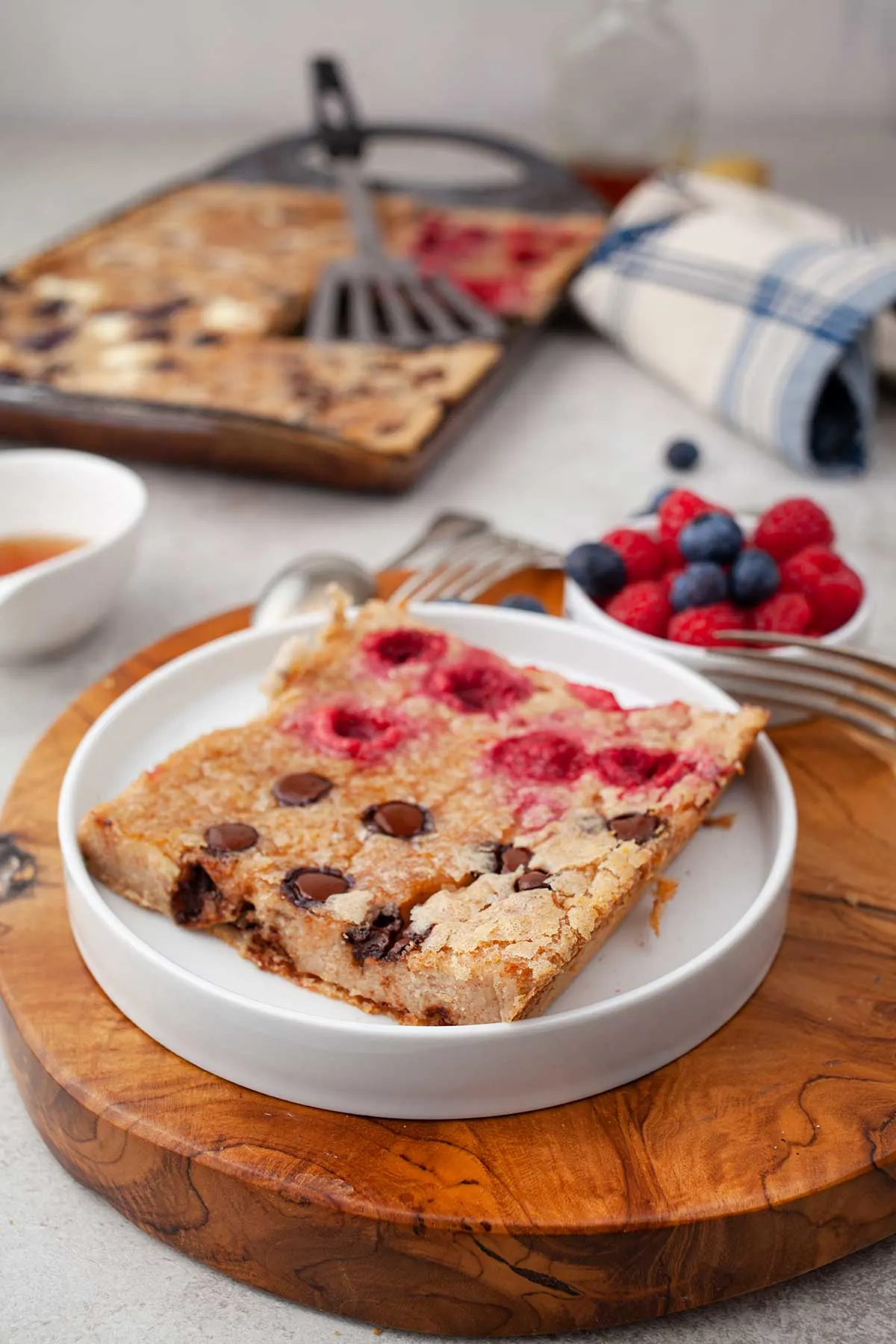 How can you make pancakes in a pan without gluten?
Simple, replace the flour with non-gluten flour Mix C Patisserie from Schar. I always had success with gluten-free desserts when I used this mix. Alternatively, you can use oat flour or ground oat flakes. The texture will be different, but the recipe will be richer in fiber and protein.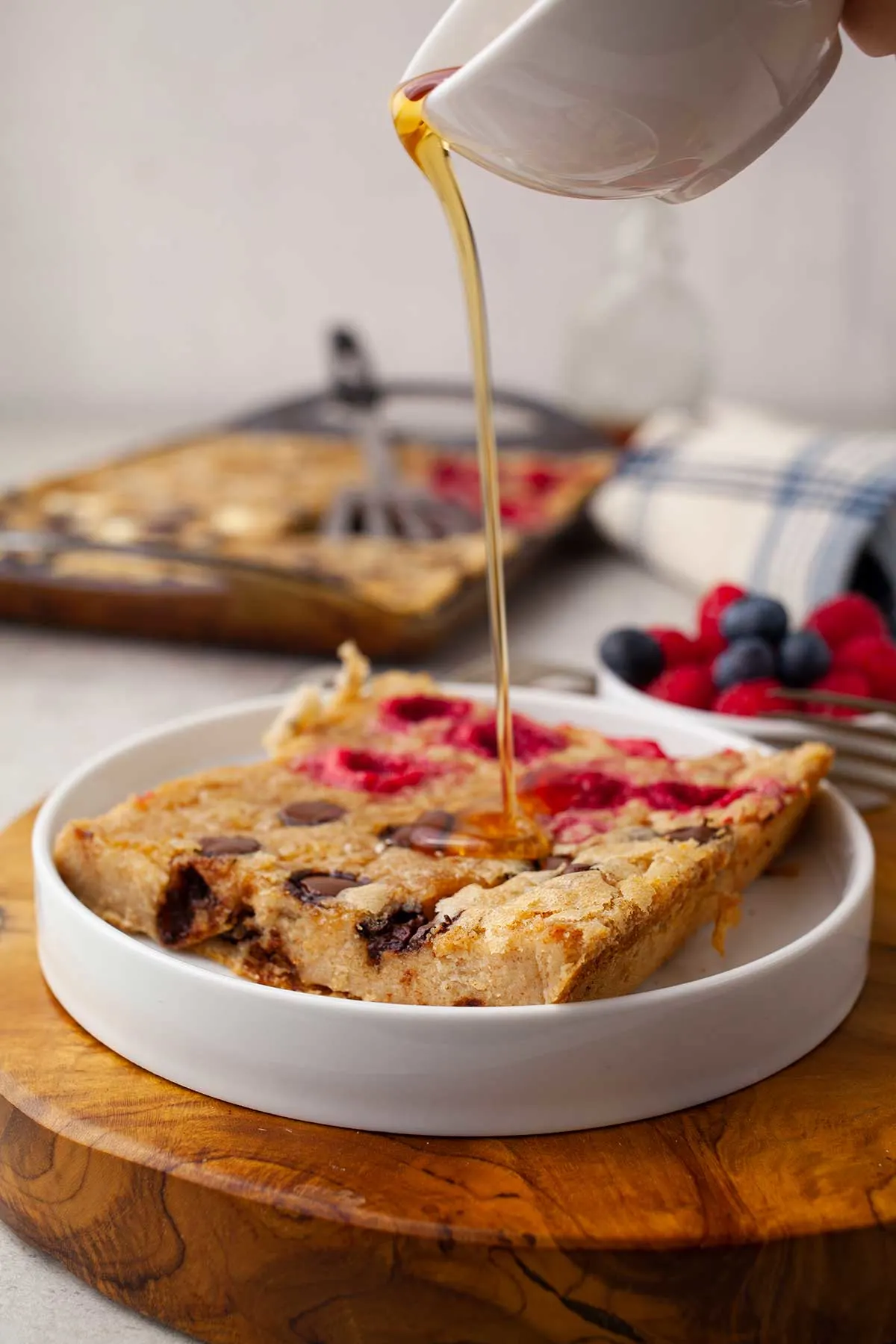 If you are looking for other pancake recipes, I recommend you try:
Yield: 6+
Sheet-Pan Pancakes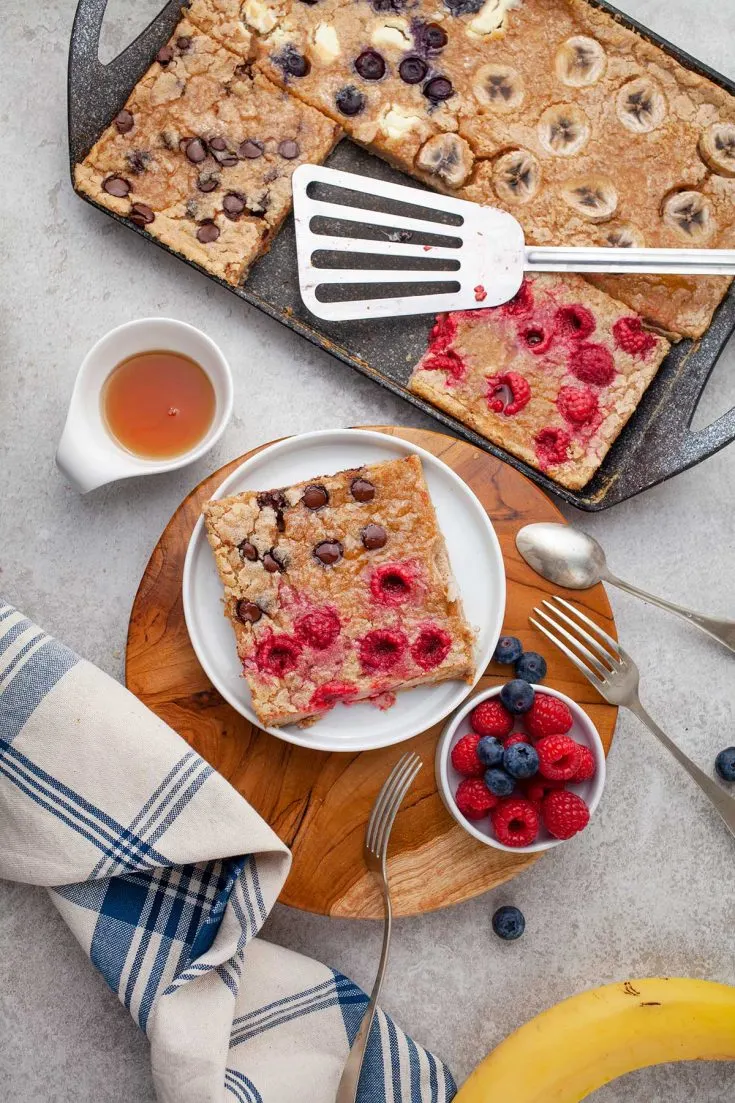 Indulge yourself with a delightful breakfast - sheet pan pancakes, with four irresistible flavors. This easy recipe will save you time and satisfy the preferences of the whole family - perfect for lazy mornings or brunch gatherings.
Ingredients
1 cup wholegrain flour
1 cup white all-purpose flour
2 teaspoons baking powder
1 teaspoon baking soda
½ teaspoon of salt
2 cups yogurt
2 large eggs
1 tablespoon of maple syrup
2 tablespoons melted butter
1 small banana, cut into slices
1 tablespoon cream cheese at room temperature
1 tablespoon sugar
2 tablespoons chocolate chips
3 tablespoons raspberries
2 tablespoons blueberries
Instructions
Heat the oven to 200 C (393F).
Grease a baking tray with butter or oil.
In a bowl, add wholegrain flour, white flour, baking powder, baking soda nd salt.
Whisk until well incorporated.
In another bowl, mix the yogurt, eggs, and maple syrup. Incorporate the liquid mixture into the flour mixture with the help of a whisk.
Add the butter and mix again. Don't overmix, it's ok if you get a lumpy dough.
In a small bowl, mix cream cheese with sugar.
Pour the dough into the baking tray greased in advance, on one quarter of the surface, spread the banana slices, on another quarter, the chocolate drops, on another raspberry and on the remaining quarter, add the cream cheese, a teaspoon at a time and spread with the tip of a knife or a toothpick. Then sprinkle with blueberries.
Put it in the oven and cook for 15 minutes or until it turns golden-brown on the surface. Drizzle with maple syrup, cut into squares and serve.
Nutrition Information
Yield
6
Serving Size
1
Amount Per Serving
Calories

319
Total Fat

9g
Saturated Fat

5g
Trans Fat

0g
Unsaturated Fat

3g
Cholesterol

79mg
Sodium

664mg
Carbohydrates

49g
Fiber

2g
Sugar

14g
Protein

11g
I strive to keep the information as accurate as possible but make no warranties regarding its accuracy. I encourage you to make your own calculations using your preferred nutrition calculator.