Have you ever thought of having a vegan omelet for breakfast? It's possible, and it's really quick and easy to make, not to mention healthy as well! Don't believe me? Here is my recipe for vegan omelette!
Ever woke up in a dire mood for a good, by-the-book breakfast? After all, we're talking about the most important meal of the day, and it's also the one to fuel you for the entire day!
Are you surprised? I was too by the time I found out all about all the endless possibilities of 'veganizing' popular foods. I learned how to do it and you can sure do it as well! I thought that I would be giving up my go-to breakfast which consisted of eggs because I could think of no conceivable way to turn vegan those classical recipes such as the omelette and the scrambled eggs, for example.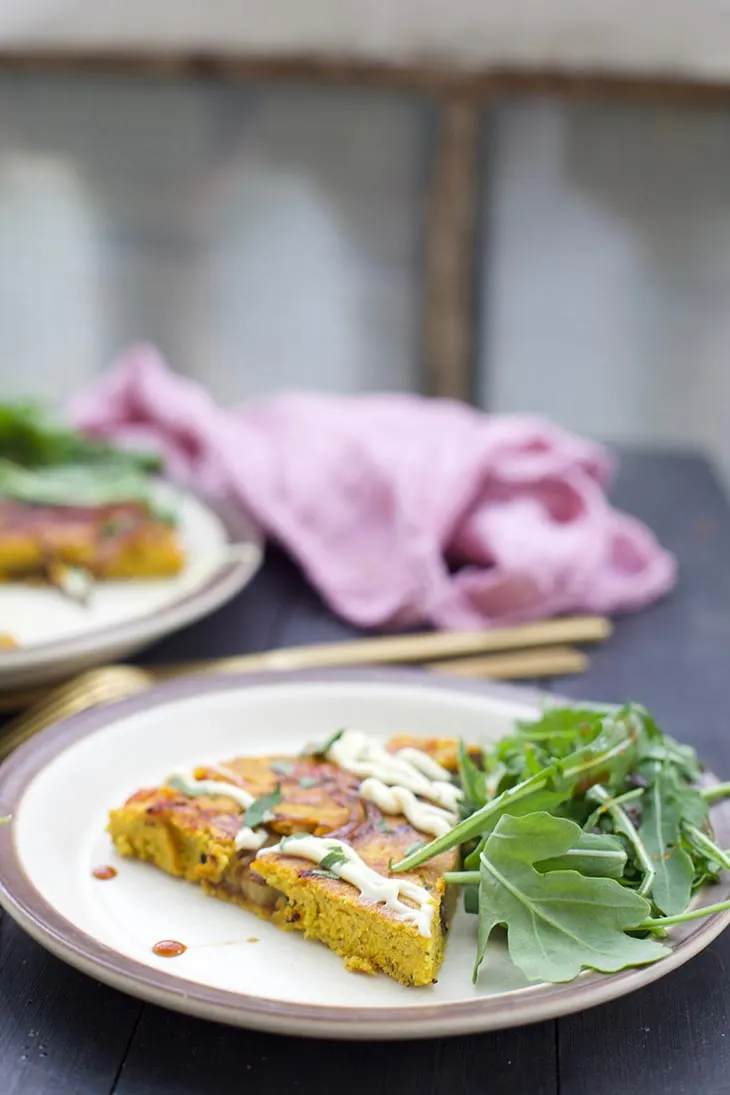 For a while, I thought such a thing wasn't possible. What's left without eggs? Pancakes and waffles are great, but every now and then I want something satisfying just like back in the day!
Just like the majority of us, I grew up loving eggs in all its forms and shapes and ate them very often in the morning. Now, it's not really advised to go ahead and have eggs every day, as they have a good amount of saturated fats and too much saturated fat has been shown to raise the total cholesterol and LDL (bad) cholesterol levels, risk factors for cardiovascular disease.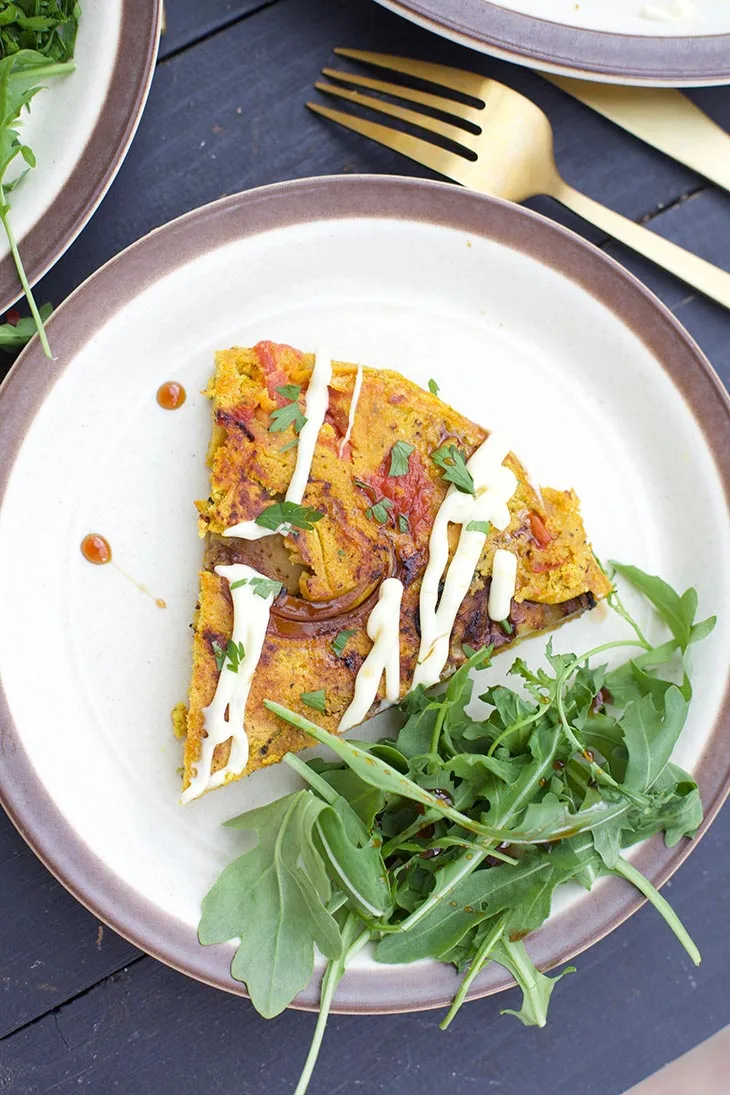 That's why today we're going to trick our palette with this vegan omelette, which I promise will taste just like the original thing! 🙂 Are you ready?
You will love how light, fluffy, salty and omelet-ty this recipe is and, if you can believe it, how fast and hassle-free this will turn out!
Now, there are a lot of nations around the globe, this means that there's a great variation of how this dish is being prepared in other cultures. In today's recipe, I won't recreate any specific culture's dish, but we're going to make a plant-based version, which means we're making the healthiest version of them all!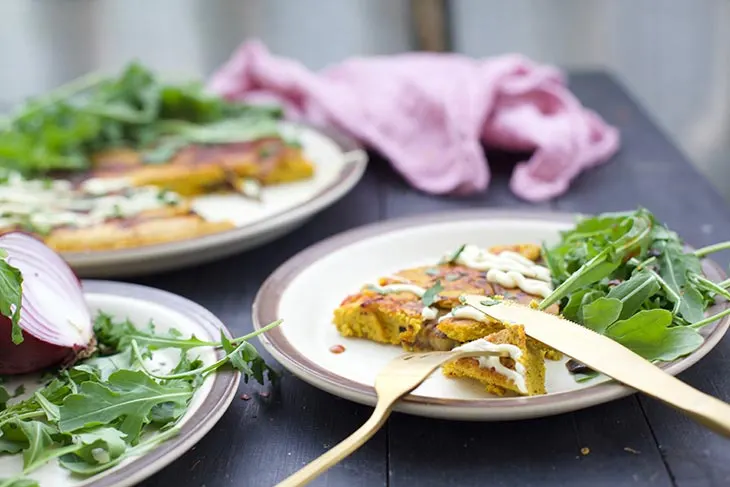 I have my ways when it comes to obtaining familiar tastes and looks only by using plant-based ingredients, so if you're new to this blog, you'll see what I'm talking about in a minute! This time I will show you how to get that eggy, fluffy and flavorful texture that every good omelette has, with no fuss at all.
In the usual cuisine, an omelette or omelet is a dish made from beaten eggs cooked in butter or oil in a frying pan (without stirring, as for the scrambled eggs recipe).
It is quite common for the omelette to be folded around a filling such as cheese, chives, vegetables, mushrooms, some sort of meat, or a combination of the above. In some cases, whole eggs or egg whites are beaten with milk or water to alter the texture.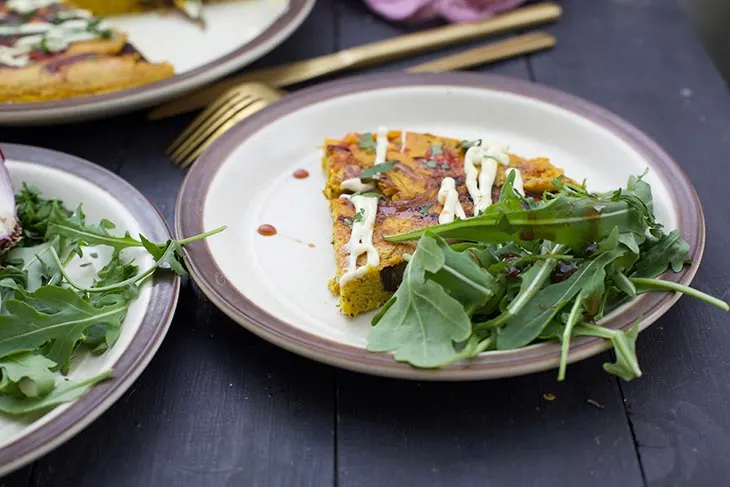 A fun story about the omelette: when Napoleon Bonaparte and his army were traveling through Southern France, they decided to rest for the night near the town of Bessières. Napoleon feasted on an omelette prepared by a local innkeeper and thought it was a culinary delight. He then ordered the townspeople to gather all the eggs in the village and to prepare a huge omelette for his army the next day! 🙂
That was probably the first candidate for the record-breaking omelettes that are competing nowadays for the Guinness World Records. So far, the biggest omelette ever made was surpassed on August 11, 2012, by an omelette cooked by the Ferreira do Zêzere City Council in Santarém, Portugal. This record-breaking omelette weighed 6,466 kg (14,255 lb), and required 145,000 eggs and a 10.3-metre (34 ft) diameter pan. Yikes, that's a lot of eggs!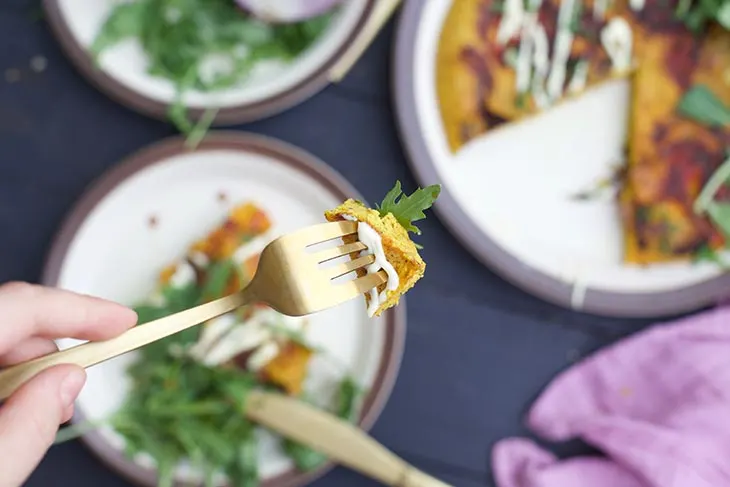 This vegan omelette recipe is one of my favorite breakfasts for a lot of reasons! 🙂 First of all, it's incredibly easy to make, which for me is a huge bonus since most mornings I am in a hurry and I can't really put a lot of time into my breakfasts.
It is also light, savory and full of flavor. It's packed with proteins. And then, as a bonus, I can even get creative and fill it with whatever veggies I have in the fridge, so it's not pretentious at all! Oh, and you can even fry up some vegan bacon on the side if you want to!
I recommend serving this vegan omelette with toast or some crispy bread and you have yourself the vegan breakfast of champions!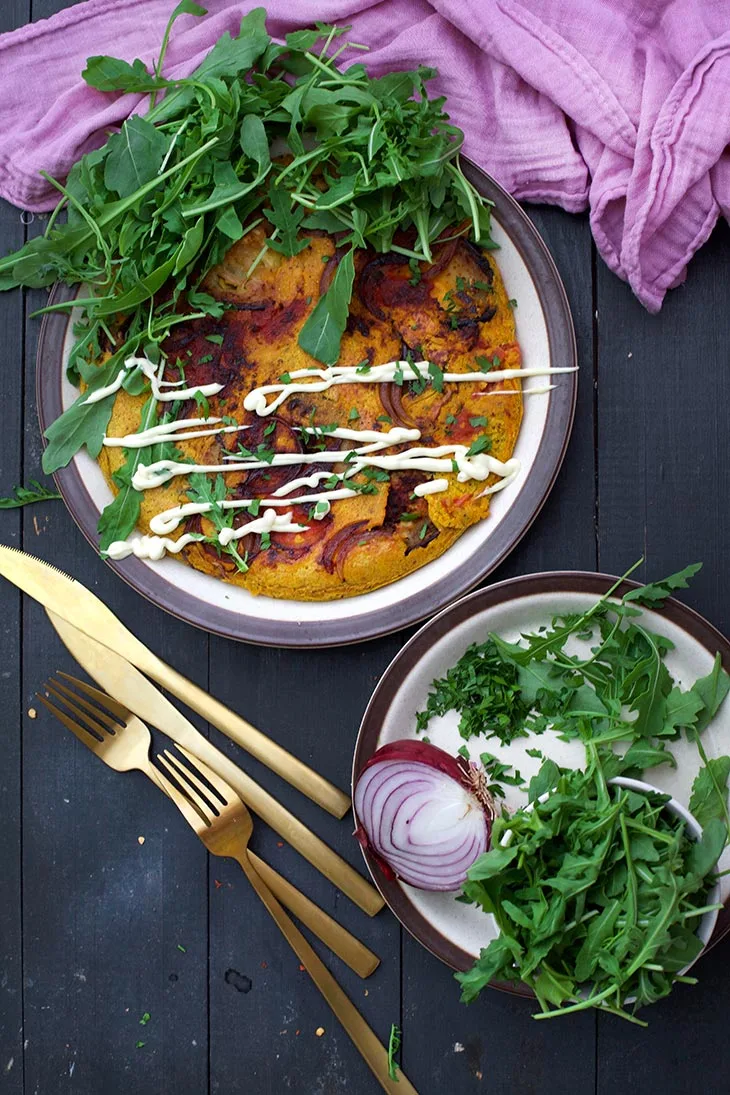 I will gladly be hopping on the vegan omelette train each morning without looking back. If you decide to do the same, let me know how it went! Bon appetit!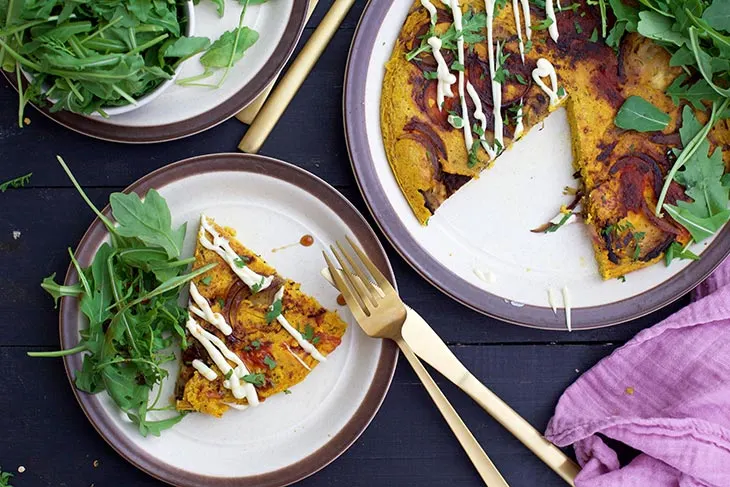 Have you ever thought of having a vegan omelette for breakfast? It's possible, and it's really quick and easy to make, not to mention healthy as well! Don't believe me? Here is my recipe for vegan omelette!
Ingredients
For the egg mixture:
100g (¾ cup) chickpea flour
120ml (½ cup) of water
½ tsp turmeric powder
½ tsp sea salt
½ tsp cumin powder
⅓ tsp smoked paprika
¼ tsp black pepper
½ tsp garlic powder
1 Tbsp nutritional yeast
¼ tsp black salt
For the veggie mixture:
1 tsp olive oil
½ red onion, wedges cut
½ eggplant, sliced
1 ripe tomato, peeled and sliced
Instructions
In a medium bowl add all the egg mixture ingredients. Mix until you obtain a thick pancake batter-like mixture.
Heat a skillet on medium heat. Add the eggplant and cook on both sides for about 4 minutes each, until golden.
Add the onion and cook until it starts to brown on the edges.
Add the tomatoes and cook for about a minute. Transfer the veggie mixture to a plate.
Combine the egg mixture with the veggie mixture.
Return the skillet to the heat, add some olive oil and the omlette mixture.
Fry for about 5 minutes on medium-low heat.
Transfer to an oven and broil for about 4 more minutes.
Serve with greens on the side and some vegan mayo. Enjoy!
Nutrition Information
Yield
4
Amount Per Serving
Calories

301
Carbohydrates

50g
Fiber

16g
Sugar

3g