In case you're craving something delicious and comforting today, I have just the recipe for you: this simple cabbage filo pie. Quick, easy, and super yummy!
I love cabbage, and I know it can be a polarizing vegetable. You either love or hate it, but this post isn't about that! This is about a delicious way to use up some of the leftover cabbage from your garden (or store-bought).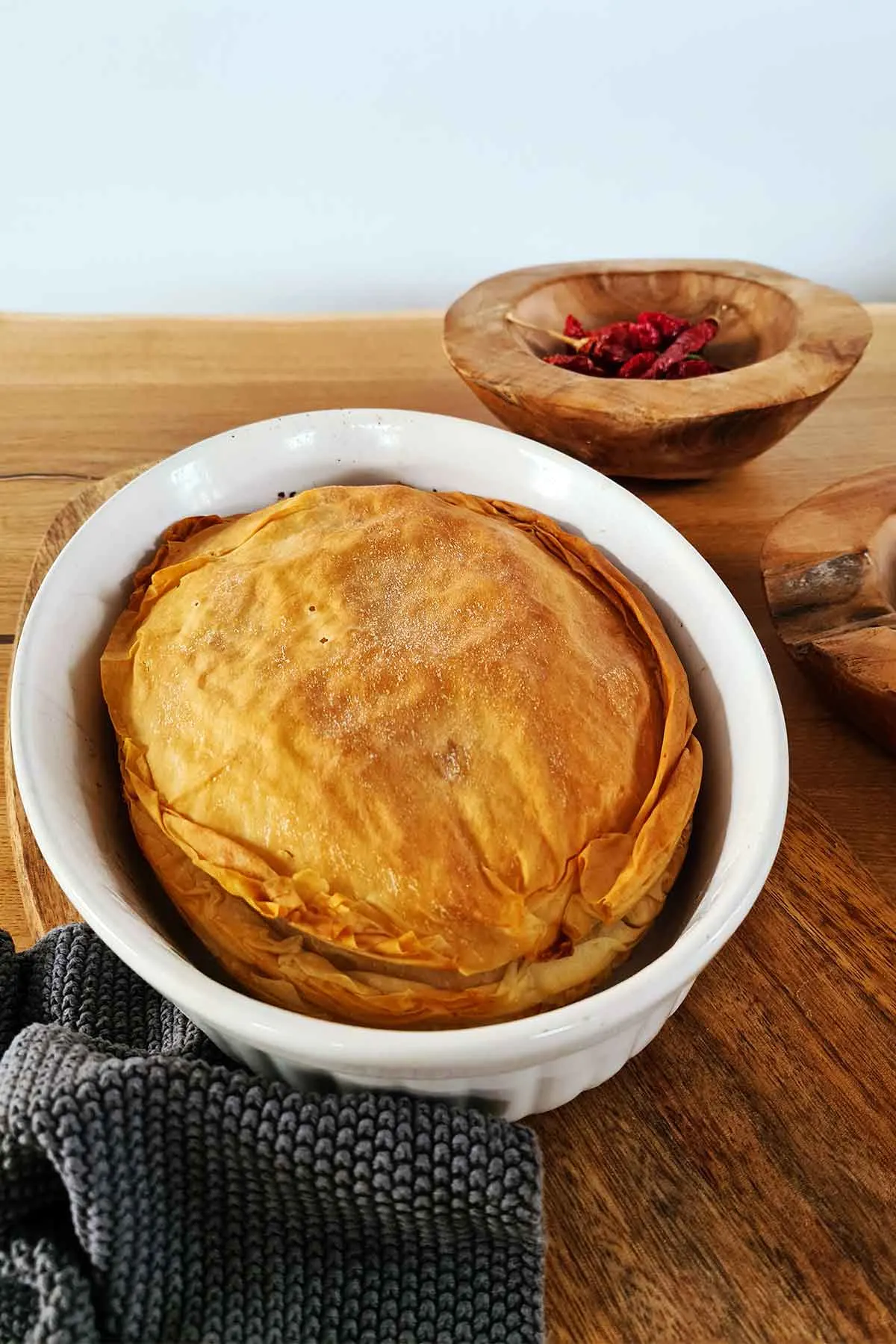 There's something so comforting about being able to make something tasty out of what would otherwise go bad in your fridge. So let's find out everything there is to know about this simple cabbage filo pie! 🙂
Cabbage is a great choice for cooking because it's low in calories and fat. It's also high in fiber and vitamin C. Plus, cabbage is one of the cheapest vegetables you can buy and it's easy to grow. It's also a great source of vitamins and minerals, with vitamin K being particularly high!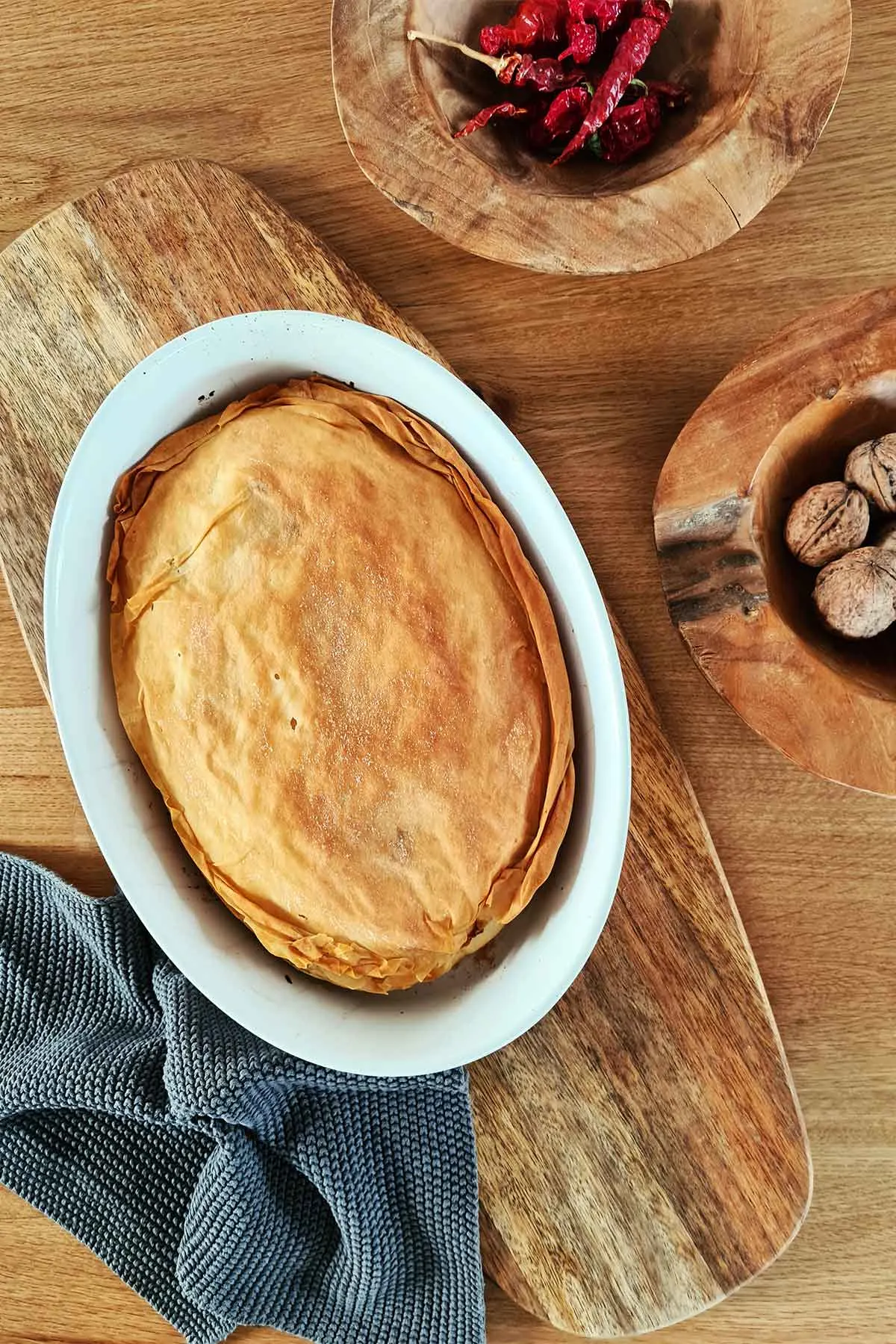 It has been used in food since ancient times when it was widely cultivated in Asia and Europe. Nowadays, cabbage is a staple of Eastern European cooking, but it works just as well in the Western world.
A head of cabbage costs less than five dollars and will last you several days if you store it properly. Cabbage is also versatile and it can be cooked in a variety of dishes from soups and salads to stir-fries and stews. For example, you can eat the raw leaves with a dip or you can make a coleslaw salad. You can make cabbage steak (amazingly good if spiced properly!) or even make your own kimchi.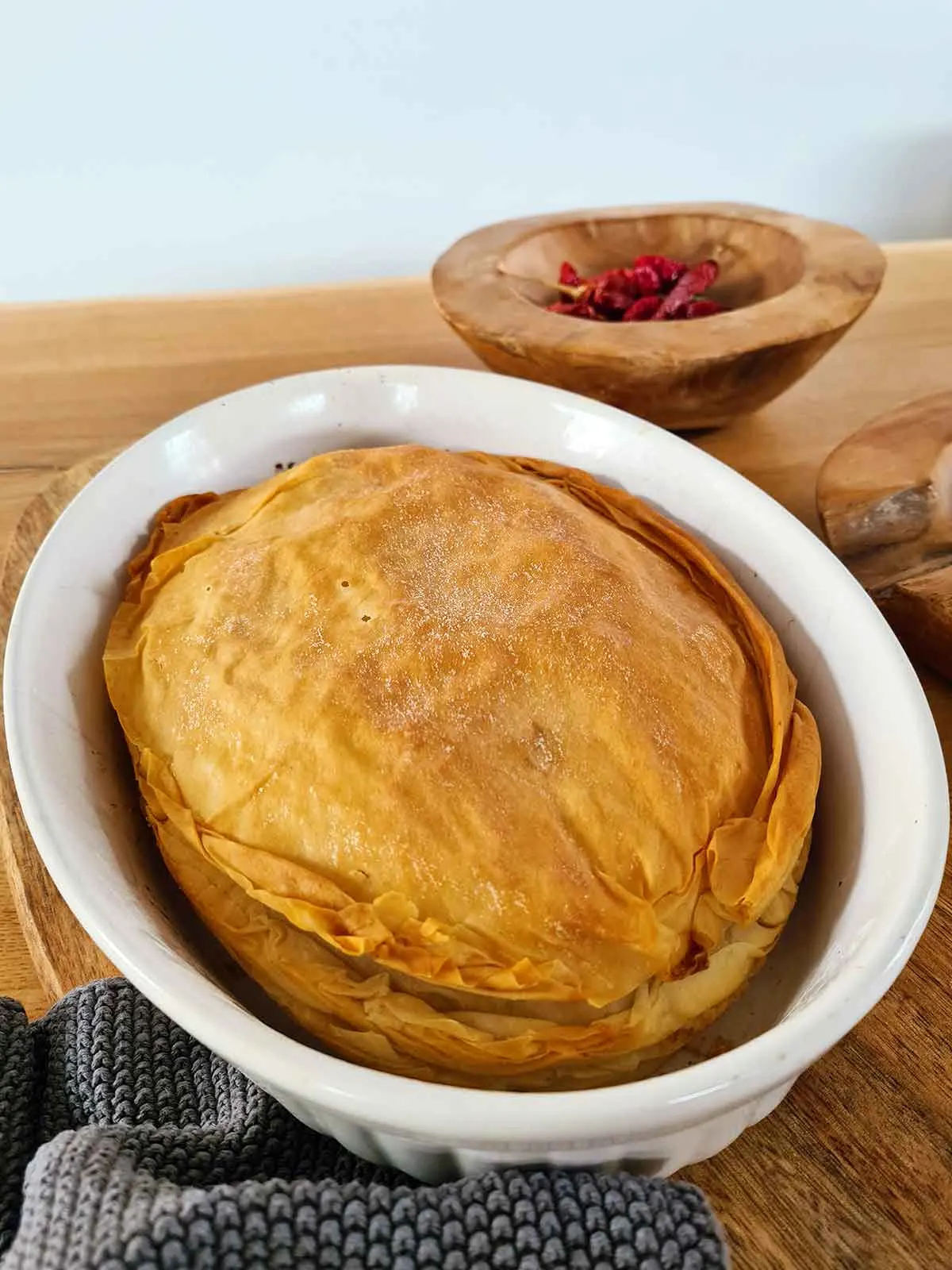 In short, cabbage can be used in many different ways, but one of my favorite ways is to make a pie. This simple cabbage filo pie is delicious and easy to make. You can even use up any leftover cabbage you may have in your kitchen or fridge!
For this simple cabbage pie, I chose to use filo pastry. Although you can make your own, I was lacking time today so I used store-bought, which is just as good!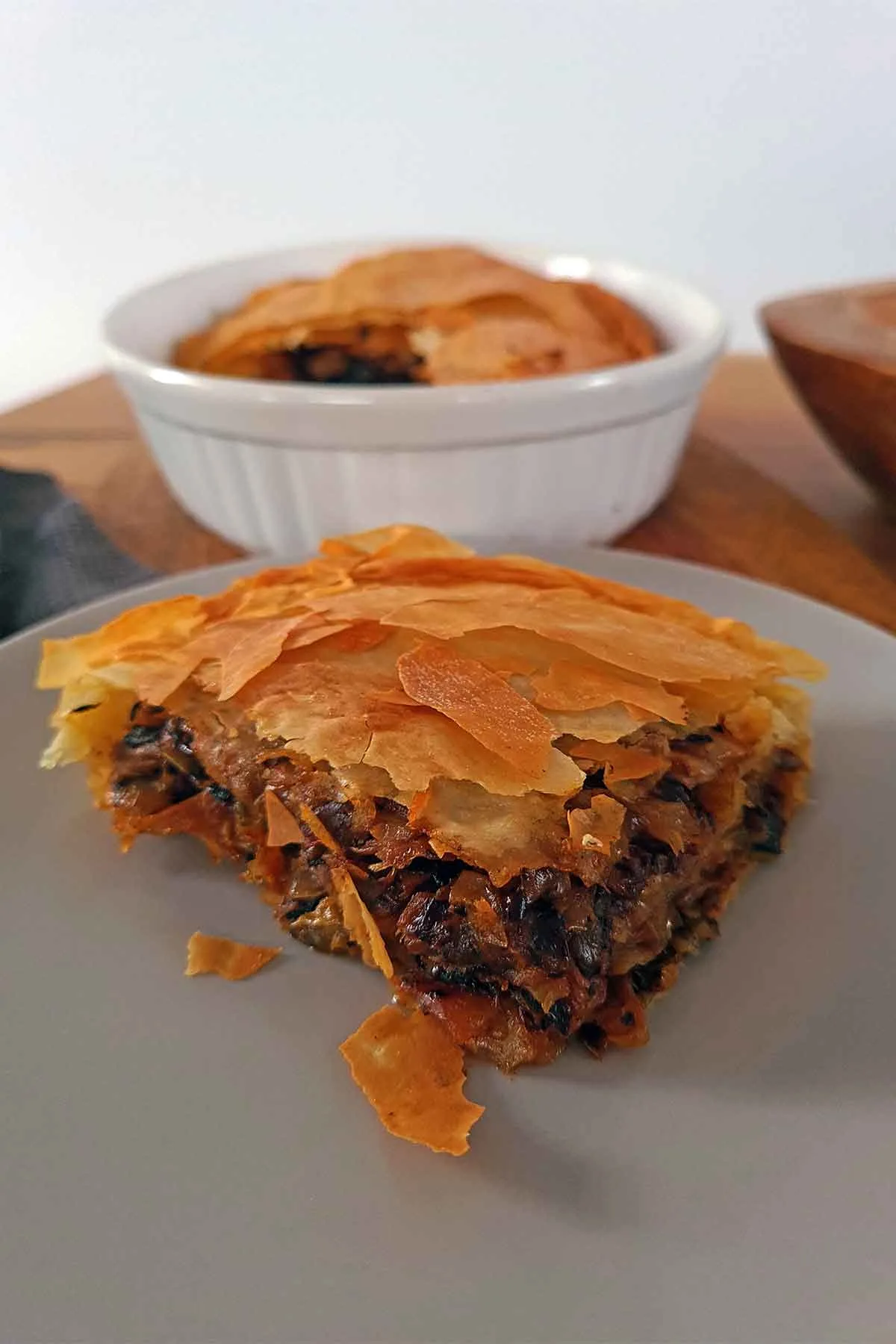 Filo dough is a very thin, crispy, and flaky dough that can be used to make anything from pastries to pizza. It is easy to work with, it is not too expensive and it's available in many grocery stores. Because of all these advantages, you will find yourself using filo pastry for almost everything! Filo dough is also extremely easy to use for anyone who has never made pie crust before!
As far as pie crust goes, this recipe is definitely an improvement over your average flour-based crust. Because of its lightness and flakiness, filo dough is perfect for this cabbage pie. This way you'll end up with a crispy outside and soft inside that makes eating this pie an absolute delight! 🙂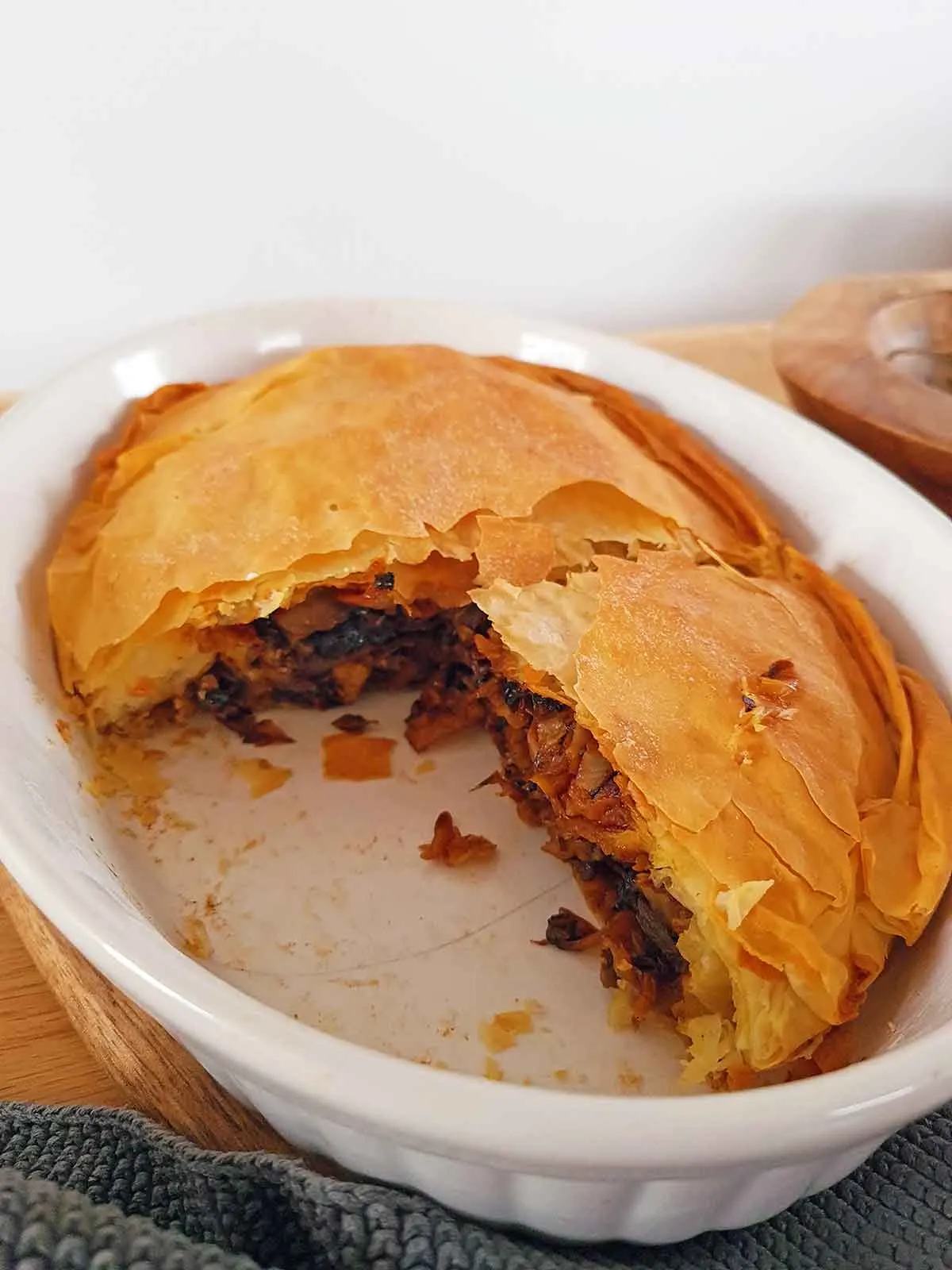 For me, pie is the ultimate cold-weather food. It's easy to make, and even easier to eat. Plus, it's the perfect way to use up leftovers from holiday gatherings and end-of-year meals. This simple cabbage filo pie can be made in advance and frozen for later!
If you want to learn how to make the easiest simple cabbage filo pie, this is the recipe for you! I explain the step-by-step process below, but let me tell you right from the start – this cabbage pie is super easy to make! It's almost fail-proof!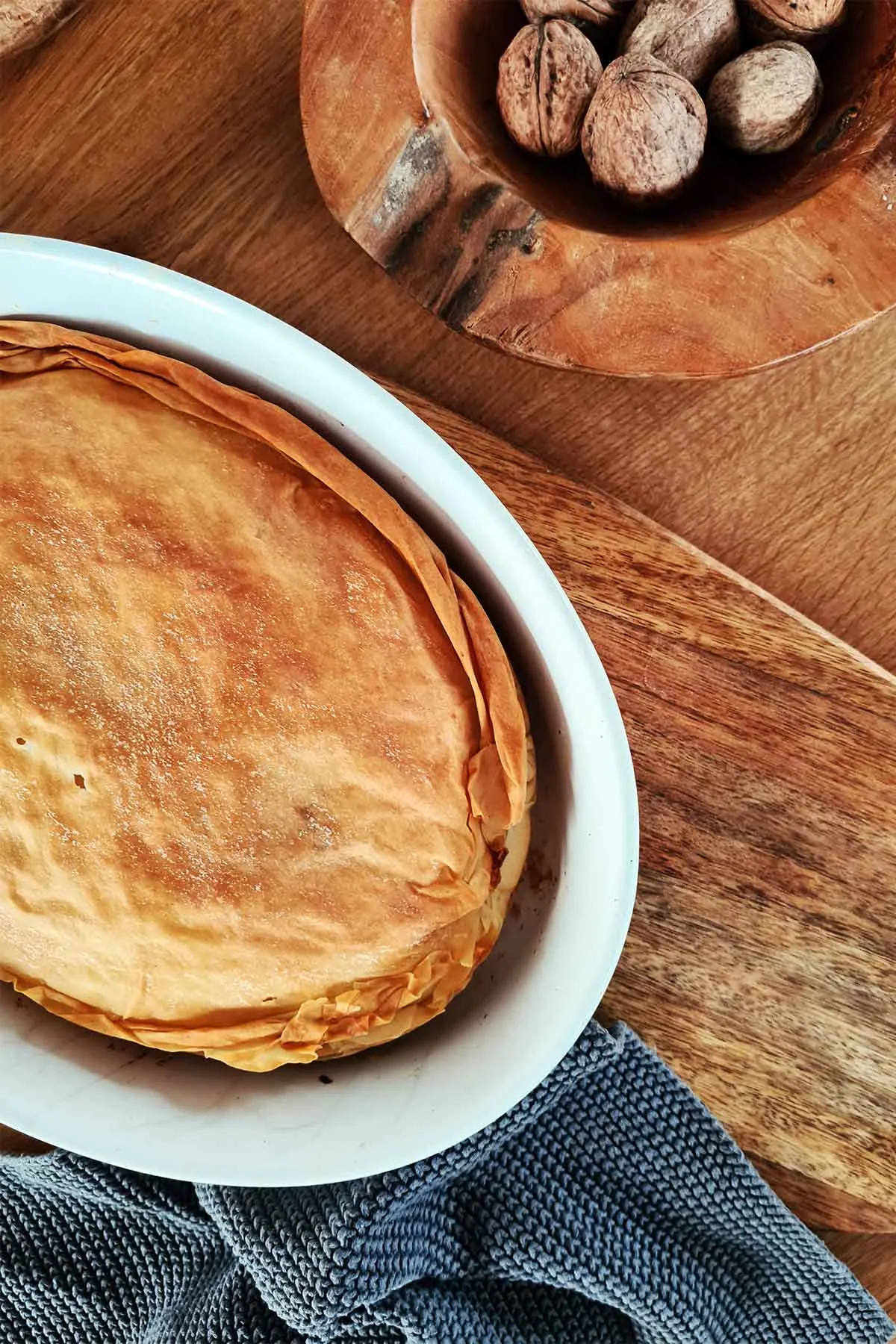 I really hope you'll give it a try soon and, if you do, don't forget to let me know how it went. I'm always curious to read your comments and opinions in the dedicated section below.
Happy cooking! 🙂
Yield: 8+
Simple Cabbage Filo Pie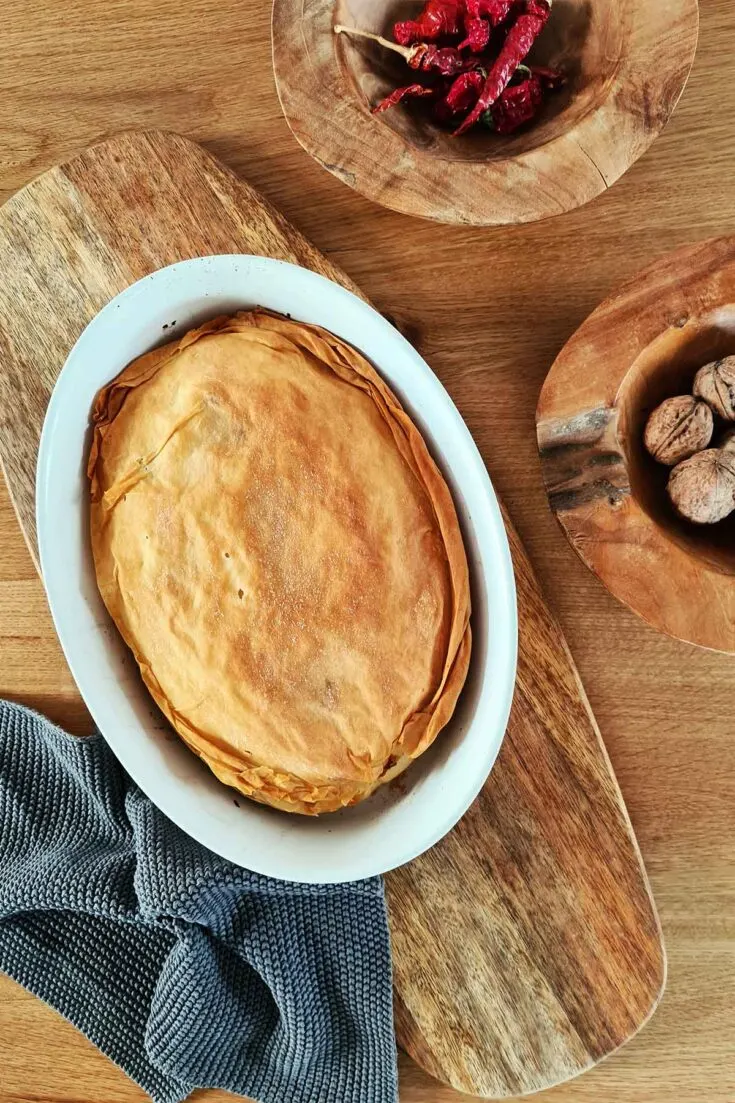 In case you're craving something delicious and comforting today, I have just the recipe for you: this simple cabbage filo pie. Quick, easy, and super yummy!
Total Time
1 hour
15 minutes
Ingredients
200g (7 oz.) filo sheets
500g (5 ½ cups) chopped cabbage
1 large onion, cut into feathers
1 tsp dry thyme
1 Tbsp smoked paprika
20g (1 ½ Tbsp) olive oil
salt and ground pepper, to taste
Instructions
Chop the cabbage and onion.

Add them to a saucepan with hot oil and fry for 10 minutes.

Add salt, pepper, smoked paprika, and thyme. Cover with a lid and, if necessary, add a little water as well.

Let them simmer until soft, stirring occasionally so the mixture don't stick - for approx. 15 minutes.

Grease a small ceramic pan with a bit of oil.

Place 2-3 sheets of filo pastry on the bottom, one on top of the other.

Add half of the cabbage mixture and spread it well.

Take the outer edges of the pie sheets and bring them over the composition, as if forming a packet.

Add another layer of 2-3 filo sheets over the cabbage. Seal the edges so as to cover the cabbage composition in the pan on all sides.

Add the rest of the cooked cabbage and cover with another final layer of 3-4 sheets of filo pastry. Seal the edges well.

Using a silicone brush, brush the pie with a bit of olive oil.

Bake the pie in the oven for approx. 30 minutes, or until it turns golden, at 180C.
Nutrition Information
Yield
8
Amount Per Serving
Calories

62
Total Fat

4g
Saturated Fat

1g
Trans Fat

0g
Unsaturated Fat

3g
Cholesterol

0mg
Sodium

105mg
Carbohydrates

8g
Fiber

2g
Sugar

3g
Protein

2g
I strive to keep the information as accurate as possible but make no warranties regarding its accuracy. I encourage you to make your own calculations using your preferred nutrition calculator.