Here's a guide that will teach you how to cook cabbage and inspire you with delicious cabbage recipes you can try. BONUS: Oven roasted cabbage wedges recipe.
Cabbage ultra-versatile vegetable that tastes amazing if cooked right. It comes in different varieties and every country has its own way of cooking it. We fry it, grill it, sauté it and even pickle it. We make soups or add it to salads. There are so many ways to cook cabbage.
Cabbages are so adaptable and easy to cook. Almost all cuisines around the world use cabbages. If you're wondering what to do with cabbage, read this article and learn more about this leafy vegetable and how to cook it.

CONTENTS:
Types of cabbage
Cabbages belong to the brassica family. They are usually large and round and of different colors.
The usual green one is known as cannonball cabbage. It can be used to prepare a host of dishes. You can stew it or braise it or make cabbage soup along with other veggies like corn and carrot.
Bok choy or bai cai or park chai is dark and leafy and comes with a delicate flavor. You can use this to prepare cabbage dishes that are stir-fried with sauce and other herbs.
Choy Sum is the one that you find in Chinese cabbage recipe.
East Asian cuisine uses a sweeter and softer version of cabbage which is known as Napa Cabbage. When you enjoy Korean kimchi recipe, you are actually devouring Napa Cabbage.
Savoy cabbage looks and tastes delicious. It is mostly used to prepare exotic dishes where the cabbage leaves are used as wrapping around minced meat and other ingredients.
Cabbages have exotic names also like January King. It is the purple-green cabbage that you often find in the supermarkets.
Lastly, let's talk about red cabbage that we enjoy in coleslaw and different types of salads. It lends the dishes a unique look and taste.
Cabbages are very versatile and this makes them so dear to us. We can have it in different ways and enjoy its crunchiness and unique flavor and color.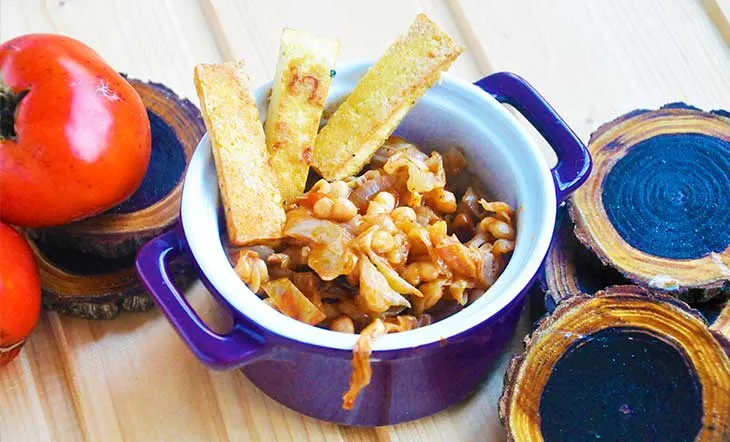 Benefits of cabbage
Ever wondered why almost all major cuisines of the world use cabbage? This vegetable is packed with goodness that makes it a must-have. Cabbage is nutritious. It is low in fat and calories which makes it ideal for everyone. Cabbage is loaded with phytochemicals that protect us from various types of cancer. Moreover, cabbage contains a high percentage of vitamin C which is essential for building our immune system.
So, next time don't hesitate to take a second helping of cabbage soup or stuffed cabbage. Eating more of this humble vegetable would bring you a lot of good.
How to cook cabbage? | Different ways to cook cabbage
Some people love cabbage but avoid cooking it as they don't know the right process to cut or cook it. Let's make the task of cooking cabbage easier for them.
When buying cabbage, look for fresh and heavy heads. Don't buy a cabbage with withered leaves or brown spots on the leaves. You can store cabbages in a refrigerator for a few days.
When cutting a cabbage, remove the outer layer of leaves and wash the head in the water. First, slice the cabbage in half through the core. Now slice the halves into quarters. Remove the core and chop the cabbage as you want.
Cabbage can be cooked in various ways. Boiling, frying, sautéing and steaming are a few ways in which the popular cabbage dishes are cooked.
To boil the cabbage, first, boil water in a pan and then put the cabbage wedges or slices in it. Cook uncovered to allow the smell to escape. Afterward, cover the pan to make the cabbage crisp-tender.
Chopped cabbage is usually sautéed. In a skillet put oil and when it gets heated, add the chopped cabbage. Stir it occasionally till the cabbage gets tender-crisp. It may take 4 to 8 minutes.
You can also steam cabbage wedges by putting a steamer basket in a saucepan and filling it up with water, or even roast it – see the recipe below.
Check out the suggestions below and find out more on how to cook a cabbage.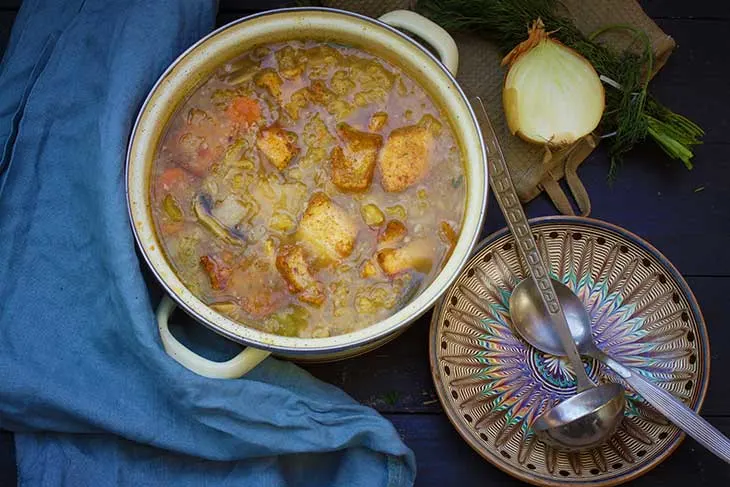 Cabbage recipes – how people love to eat cabbage
How do you cook cabbage? Well, every cuisine has its own way of cooking it. Let me give you an introduction to the ways this vegetable can be cooked so that next time you can surprise your family with easy cabbage recipes that are tasty and healthy too.
As we have mentioned earlier, cabbage is a super versatile veggie. It finds its unique place in most cuisines, much to the delight of foodies like us. In most cuisines, there are a number of traditional cabbage dishes that you can try. Also, there are many recipes that show you how to cook cabbage healthy.
While Koreans love kimchi, Japanese die for cabbage rolls and Polish swear by their golumpki. Germany has its sauerkraut and Indians revel in their cabbage rolls and curries.
Let's find out how you can enjoy cabbage in different meals and what are the ways to prepare cabbage, starting from breakfast to starters and main course. Enjoy this gastronomical journey with easy cabbage recipes from around the world. But before we get into that, here's my all-time favorite cabbage recipe!
Oven Roasted Cabbage Recipe – or the best way to cook cabbage!
I love this recipe! I never thought oven roasted cabbage can be so good! I'm not a huge cabbage fan and I rarely eat it. I usually eat it when cooking pickled cabbage rolls, which happens twice a year. Ate this with Azuki beans burger patties and mustard. It was divine!
Yield: 6 servings
Oven Roasted Cabbage Slices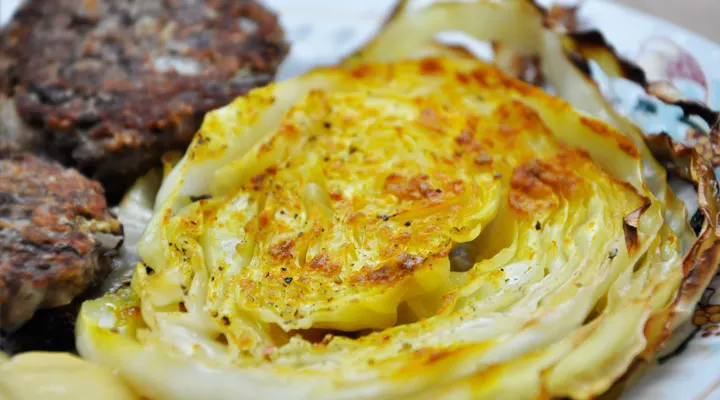 This oven roasted cabbage slices recipe is the best way to cook cabbage! Healthy, macrobiotic and vegan, what more can you wish for?!
Ingredients
1 medium cabbage, sliced into 1 inch thick slices
extra virgin olive oil
sea salt and pepper to taste
1-2 tsps turmeric powder
Instructions
Preheat oven to 400F.
Drizzle some olive oil in a large oven tray.
Place the cabbage rounds. Season them with ground pepper, sea salt and sprinkle with some turmeric.
Drizzle some more olive oil in them.
Roast until cabbage is tender and edges are golden, for about 30-40 minutes.
Notes
Recipe inspired by Martha Stewart's Roasted Cabbage Wedges.
Nutrition Information
Yield
6
Amount Per Serving
Calories

87
Total Fat

5.7g
Carbohydrates

7.3g
Protein

1.4g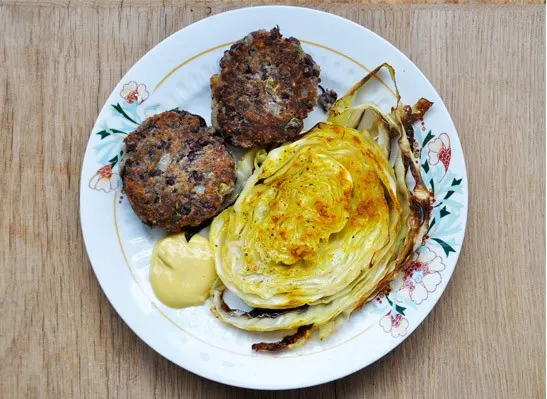 Some of the best cabbage recipes
Cabbage soups and starters
Cabbage soups are very popular. They are light and healthy and the perfect way to begin any meal. If you want to try the cabbage soup diet, try this cabbage soup in spicy miso broth. Cooked slowly with lots of veggies, it is ideal for any season.
Want to try other vegan cabbage recipes? Prepare this slow cooker Mediterranean vegan cabbage soup. There are crockpot cabbage recipes also that yield tasty cabbage soups. This Savoy cabbage soup with potato and bean is a simple but delicious dish.
Red cabbage recipes are also easy and healthy. Try a new salad recipe with red cabbage, beets, and cranberry. It is nutritious, extremely healthy and good for your heart.
Cabbage rolls
Cabbage rolls are quite common. There are different ways to prepare cabbage for this type of recipe. Most cuisines have a variant of this dish in which cooked cabbage leaves are wrapped around a variety of fillings. You would find stuffed cabbage rolls recipe in the cuisines of China, Northern, and Eastern Europe, Iran, and even Asia.
It's the filling in the cabbage rolls that do wonder to our taste buds. From veggie items like corn, potato, spinach, and cheese, the nonveg dishes include beef, lamb, pork along with a number of spices to create mouth-watering cabbage recipes.
In Poland, you would find golabki, a stuffed cabbage roll dish in which the filling has a mixture of pork and beef with rice and barley. This dish is cooked on a stove.
Another variation of this dish can be found in Czechoslovakia which is called holubky. In Croatia, it is called sarma.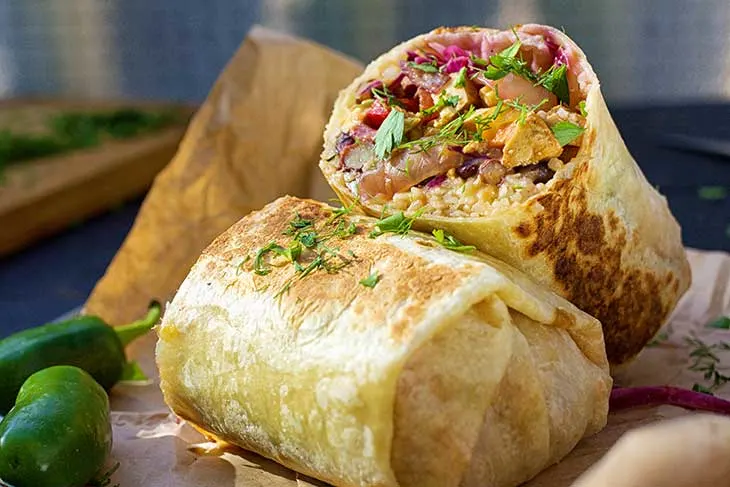 Exotic cabbage recipes
Are you bored of cooking with the same type of cabbage in the same way? It's time to give this veggie a twist. Try cabbage salsa. With shredded cabbage, green onions, jalapenos, and cilantro, this classic cabbage salsa is easy and yummy.
If you are looking for healthy cabbage recipes, use red cabbage to prepare wraps with quinoa and goat cheese. In this dish, goat cheese and quinoa are mixed and filled in leaves of red cabbage to create a nutritious but light side dish.
Stir-frying cabbage is one of the most traditional ways of cooking this veggie. Use Napa Cabbage to prepare this simple dish. Stir-fry the cabbage pieces and season them with a mixture of soy and rice vinegar. Sweet and spicy, your guests would love this quick dish.
Do you think cabbage would never go with pizza? You need to try red cabbage pizza with roasted brussels sprouts. As exotic as the name itself, the dish is delectable with brussels sprouts roasted in honey and olive oil and spread on pizza along with red cabbage and toasted walnuts. It's unconventional but worth trying if you want to impress anyone with your culinary skills.
Cabbage can enhance the taste of pasta too. A simple pasta dish can get a makeover with cabbage and a dash of lemon juice.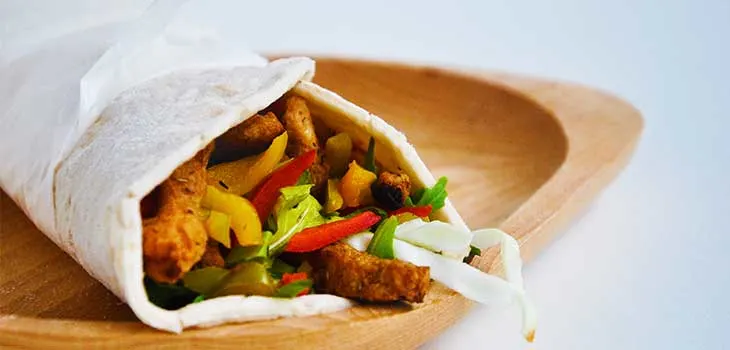 Cabbage main course
Not only starters and soups, but cabbage can be used in the main course also. There are a number of Chinese and European dishes that use cabbage in the main dishes. Let's learn about a few of them.
Coleslaw is a globally popular dish. If you love it, try the Asian style slaw that uses sesame and ginger to give the slaw a nutty flavor.
Another version of slaw uses crisp shredded apples and honey-lime vinaigrette to get a tangy and sweet taste. You can have this dish separately or with tacos too.
If you love grilling, you must try grilled cabbage with spicy lime dressing. Use the wedges of cabbage and grill them to perfection. Dress them with a mixture of lime and cayenne.
Cabbage and noodles are the ultimate in comfort food. Easy to prepare but healthy and tasty, you can prepare it in a jiffy. This is a traditional Polish dish that has become very popular with everyone.
In the simplest version, add noodles to cabbage and peas along with salt and pepper. You can add sausages, onions and other veggies too.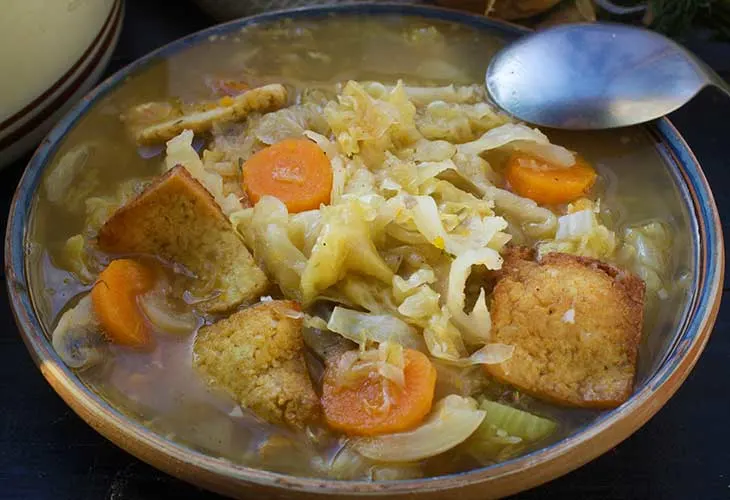 Cabbage and global cuisine – have your own take on some healthy cabbage recipes
As we mentioned before, every country has its own way of eating cabbage. This humble but nutrient-packed vegetable has many fans. Let's share a few global recipes of cabbage with you.
Let's begin with Ireland. The traditional cabbage dish of this country is colcannon – a boiled cabbage recipe. Mashed potatoes are mixed with boiled cabbage and bacon or ham. This is one of the easiest boiled cabbage recipes that you can have. Onion and cabbage are boiled till they get tender and then mixed with mashed potatoes and non-dairy milk and butter.
Chinese people love cabbages and enjoy it in different forms. From soups to salads to noodles, you can have cabbage in a number of ways in China. Moo Shu Vegetables is a popular Chinese cabbage dish. It is healthy also as it incorporates a lot of vegetables like bell pepper, mushrooms, carrots, and scallions.
It's unlikely that you have never tasted kimchi. It is one of the most popular dishes from Korea. Pickled cabbage is used in it to give you a tasty dish with red peppers, onions, carrots, garlic, and scallions.
Coleslaw is another popular cabbage dish from America. Classic coleslaw uses only shredded green cabbage, carrots and a dressing of buttermilk or mayonnaise. Nowadays, a lot of variations have been brought into this classic dish as we have shared in this article.
In Germany, braised cabbage or balukraut is a classic side dish. Red cabbage is used to prepare this dish which is served with sausages.
In Japan, cabbage pancakes are popular. Cabbage mixed with coconut flour give the pancakes a distinct flavor. Enjoy it with soy-yogurt sauce.
Thai cuisine has taken cabbage to a different level. Noodles bowl with cabbage is a savory dish. Noodle soup with shredded cabbage is another famous dish from Thailand.
---
Cabbage is simple, nutritious and versatile. You may cook traditional recipes with it or innovate new ones. It can be cooked as a veg dish or combined with meat and egg to create yummy non-veg dishes. No matter how you like it, include it in your diet to lead a healthy life and also enjoy different delicious dishes.