This is a vegetarian, healthy recipe for adzuki beans veggie burger patties. This adzuki veggie burger is amazing and resembles very much the texture and taste of ground beef. | Reteta vegetariana pentru burger vegetal cu fasole adzuki, delicios si sanatos. Burgerul imita foarte bine textura si gustul burgerilor cu carne de vita. 
  Recipe in English
  Reteta in Romana
This is one of the best veggie burgers recipes I've ever tried!
These adzuki beans veggie burger patties are amazing and resemble very much the texture and taste of ground beef. They were amazing! Really! I've already made them twice and will try them again this weekend. I love making veggie burgers because they're so easy to cook and also every time I make them I receive tons of compliments from my non-veg friends. Veggie burgers are a great way of introducing your non-veg friends to vegetarian cooking. They'll love them for sure!
This Adzuki beans veggie burger patties recipe is also macrobiotic. Packed with lots of fibers and very low in fat, not only it is delicious but it is healthy too. Healthy and tasty burgers?! Yes please!!
You should definitely try this recipe and please tell me your opinions in a comment
I'd love to hear from you!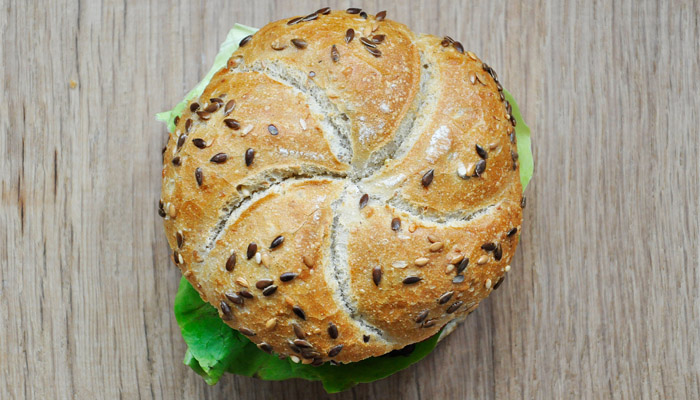 Vegetarian "Beef" Burger | Adzuki Beans Veggie Burger
This is a vegetarian, healthy recipe for adzuki beans veggie burger patties. This adzuki veggie burger is amazing and resembles very much the texture and taste of ground beef.
Ingredients
150g adzuki beans, previously soaked for at least 5 hours

(it is best to let them soak overnight)

1 medium onion, chopped
1 small carrot, grated
6-7 young salad leaves, chopped

(Yes, salad in burger patties. You'll love the crunchy texture :))

1 egg or 1 boiled potato, mashed
2 Tbsps fresh chopped parsley
breadcrumbs or chickpea flour

(you can also use rice or soy flour – you'll need it if the composition is too moist)

sea salt and ground pepper, to taste
burger spices mix

(optional – if you want it to taste even more like beef burgers you can add a spices mix but be sure it is natural and additive-free – if you add spices mix you won't need to add salt and pepper as it most likely already contains them)
Instructions
Put the previously soaked adzuki beans in a pot and cover them with water. Let them boil for half an hour, then replace the boiling water with fresh water and let it boil until tender

(another half an hour)

. Yes, this is the only inconvenient when cooking azuki beans; you'll have to soak them and boil them for a pretty long time.
When ready, drain very well the adzuki beans. Put them in a large bowl and using a vertical mixer, mash them a little. Not too much. Whole azuki beans give the burgers a very nice texture.
Add chopped onion, parsley, grated carrot, salt, pepper (or spices mix), egg and chopped salad leaves. Blend them well together using a fork.
Now, the composition has to be sticky and easy to mould. If it is too moist you can add some breadcrumbs or chickpea/rice/soy flour. Start with 2 tbsps and add more if needed.
Heat some oil in a non-stick frying pan. 1tbsp of oil is enough. Make the burger patties and put them on the pan to cook. Let them cook about 1-2 minutes on each side.
Serve with anything you like

(tip: they're great with mustard! yum!)

.
http://gourmandelle.com/vegetarian-beef-burger-azuki-beans-veggie-burger/
Copyright: 2014 Ruxandra Micu | www.gourmandelle.com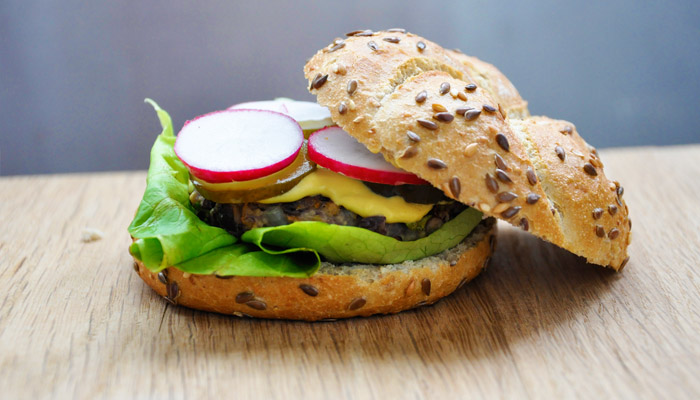 Want more veggie burger recipes? You should try these Quinoa, Carrot, and Parsnip Cakes and Lentil and Greens Veggie Burger Patties.
Imi place fasolea Adzuki la nebunie. Am descoperit-o de cand cu dieta macrobiotica si am inceput sa o folosesc destul de des. Singurul inconvenient este ca, fiind fasole, trebuie fiarta fooaaaarte mult timp. In rest, e perfecta! Am adaugat si un extra-ingredient, care poate area ciudat la inceput, insa ii ofera o textura minunata burger-ului! 
Reteta asta de burger vegetal cu fasole adzuki este extraordinara!! Serios! Zici ca mananci burgeri de vita. Ador textura lor, culoarea si gustul. De fapt, ador orice burger vegetal!
Sper sa va placa!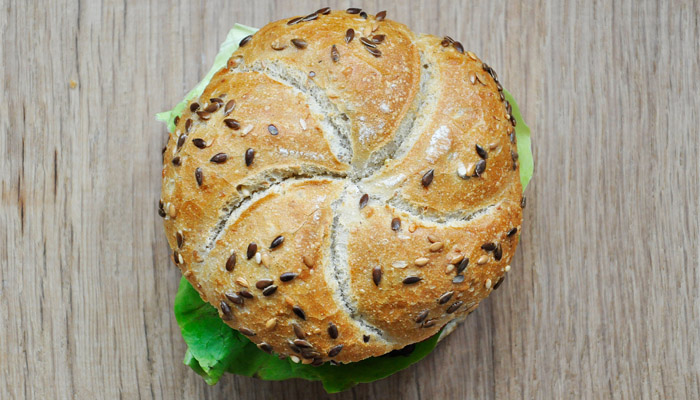 Burger vegetal de fasole Adzuki
Ingrediente pentru aprox. 15 chiftelute:
150g fasole adzuki, inmuiata inainte cel putin 5 ore (e de preferat sa fie lasata in apa peste noapte)
o ceapa medie, maruntita
un morcov mic, ras
6-7 frunze de salata – se aleg cele mici, tinere si crocante (da pare neobisnuit dar va asigur ca o sa va placa!)
un ou sau un cartof fiert pentru vegani
2 Lingura patrunjel maruntit
pesmet sau faina de naut (poti folosi si faina de soia sau faina normala, de preferat integrala)
sare de mare si piper, dupa gust
amestec de condimente pentru burgeri (optional – eu ii prefer cat mai naturali dar daca gasesti un amestec sanatos cu atat mai bine, vor avea aroma specifica burgerilor cu carne)
Instructiuni:
Pune la fiert fasolea care a stat cel putin 5 ore la inmuiat. Fierbe-o 30 de minute, dupa care se inlocuieste apa, si adauga apa proaspata. Mai lasa-o la fiert inca jumatate de ora. Din pacate asta e singurul inconvenient al acestei retete, fasolea trebuie fiarta mai mult pentru a nu balona.

Cand fasolea e gata fiarta, scurge-o bine si pune-o intr-un bol. Paseaz-o folosind un blender vertical. Nu trebuie facuta pasta. Este ok daca mai raman fasolici intregi, acestea vor da textura burgerului.

Adauga ceapa maruntita, morcovul ras, sare, piper (sau amestecul de condimente), oul/cartoful si frunzele de salata tanara, maruntite si ele. Amesteca.

Compozitia trebuie sa fie lipicioasa pentru a forma chiftelutele. Daca ti se pare prea umeda, mai adauga pesmet sau faina de naut. Incepe prin a adauga 2 linguri si creste cantitatea daca mai este nevoie. Daca fasolea a fost scursa bine, 2-3 linguri de pesmet sau faina sunt suficiente.

Incinge putin ulei intr-o tigaie. O lingura de ulei este suficienta. Formeaza chiftelutele de burger si pune-le la prajit, 2 minute pe fiecare fata.

Se pot manca ca atare pe post de chiftelute sau se pot face burgeri. Merg de minune cu mustar!!