These adzuki beans veggie burger patties are vegetarian, healthy and rich in proteins and the best thing about them is that they resemble very much the texture and taste of ground beef!
This is one of the best veggie burgers recipes I've ever tried so far! These adzuki beans veggie burger patties are amazing and resemble very much the texture and taste of ground beef. I've already made this recipe twice and will try it again this weekend. That's how much I loved it! 😀
I love making veggie burgers because they're so easy to cook. Also, every time I make them I receive tons of compliments from my non-veg friends. Veggie burgers are a great way of introducing your non-veg friends to vegetarian cooking. They'll love them for sure!
This Adzuki beans veggie burger patties recipe is also macrobiotic. Packed with lots of proteins and very low in fat, this recipe is not only delicious but healthy too! Healthy and tasty burgers?! Yes, please!!
You should definitely try this recipe and please tell me your opinions in a comment 😀 I'd love to hear from you!
P.S. Here are some great recipe ideas using Adzuki beans! The Kitchn rocks! 😀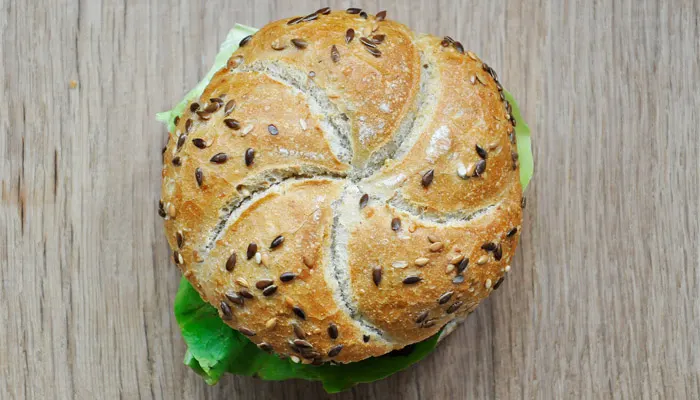 Yield: 15+ adzuki burger patties
Vegetarian "Beef" Burger | Adzuki Beans Veggie Burger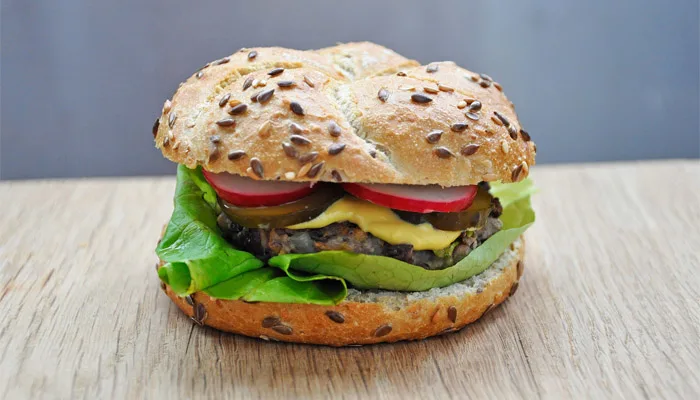 This is a vegetarian, healthy recipe for adzuki beans veggie burger patties. This adzuki veggie burger is amazing and resembles very much the texture and taste of ground beef.
Cook Time
1 hour
10 minutes
Total Time
1 hour
20 minutes
Ingredients
150g (¾ cup) adzuki beans, previously soaked for at least 5 hours - it is best to let them soak overnight)
1 medium onion, chopped
1 small carrot, grated
6-7 young salad leaves, chopped
2 Tbsps ground flax + 3 Tbsps water, or one large egg
2 Tbsps fresh chopped parsley
breadcrumbs or chickpea flour, you can also use regular wheat flour – you'll need it if the composition is too moist
sea salt and ground pepper, to taste
1 tsp thyme + ½ tsp ground coriander + ½ allspice or burger spices mix, optional – if you want it to taste even more like beef burgers you can add a spices mix, but be sure it's natural and additive-free – if you add spices mix you won't need to add salt and pepper as it most likely already contains them
Instructions
Mix the ground flax and water in a small bowl and set aside for 5 minutes to thicken.
Put the previously soaked adzuki beans in a pot and cover them with water. Let them boil for 40 minutes (or until tender) and don't forget to add 1 tsp baking soda in the water. This way the beans won't cause bloating and will get soft faster.
When ready, drain very well the adzuki beans. Put them in a large bowl and using a vertical mixer, mash them a little. Not too much. Whole azuki beans give the burgers a very nice texture.
Add chopped onion, parsley, grated carrot, salt, pepper, spices (or spices mix), egg/flax egg and chopped salad leaves. Blend them well together using a fork.
Now, the composition has to be sticky and easy to shape the patties. If it is too moist you can add some breadcrumbs or chickpea/rice/soy flour. Start with 2 tbsps and add more if needed.
Heat some oil in a non-stick frying pan. 1tbsp of oil is enough. Make the burger patties and put them on the pan to cook. Let them cook about 2 minutes on each side.
Serve with anything you like (tip: they're great with mustard! yum!) .
Nutrition Information
Yield
15
Amount Per Serving
Calories

67
Total Fat

1.1g
Carbohydrates

11.6g
Protein

2.5g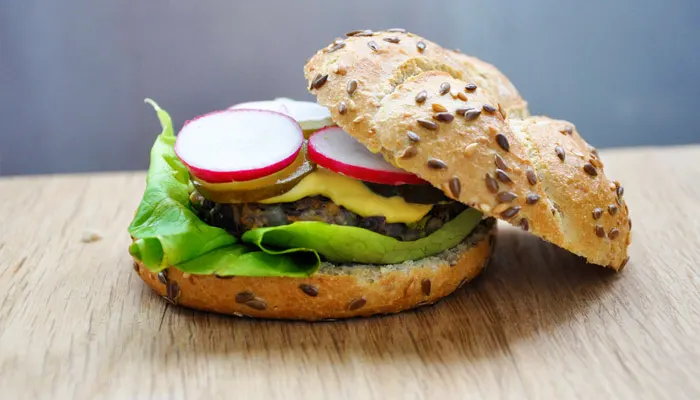 Want more veggie burger recipes? You should try these Quinoa, Carrot, and Parsnip Cakes and Lentil and Greens Veggie Burger Patties.