Do you love quinoa? Do you love Mexican food as well? Then you'll fall in love with this recipe for Mexican quinoa in a second! Give it a try!
One of the biggest struggles for people today is finding time to take care of their dietary needs. Especially for the ones working full-time jobs, ordering food from restaurants or even fast-food restaurants became a regular habit. And no judgment from me, of course! I do that as well sometimes, plus we all know how overwhelming things can get.
Yet, let me say this: I think there is a little bit of a misconception that healthy cooked food takes a long time to prepare. I honestly believe this couldn't be farther from the truth! While I won't deny the fact that there are many looong recipes out there, this is usually not the case.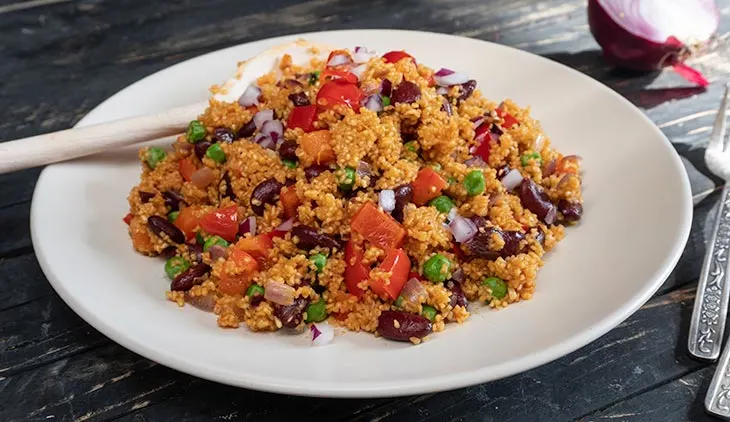 I often try to debunk this myth by presenting some super quick and nutritious recipes here on the blog, that can be put together in minutes. No need to worry if it's a workday – ordering food at home from a restaurant will actually take longer than preparing these simple and much more delicious recipes! Yup, I meant that – just think of all the waiting that happens often time when you order food at your door.
Today I want to show you an AMAZING recipe that won't take more than 30 minutes of preparation. I'm talking about Mexican quinoa, of course!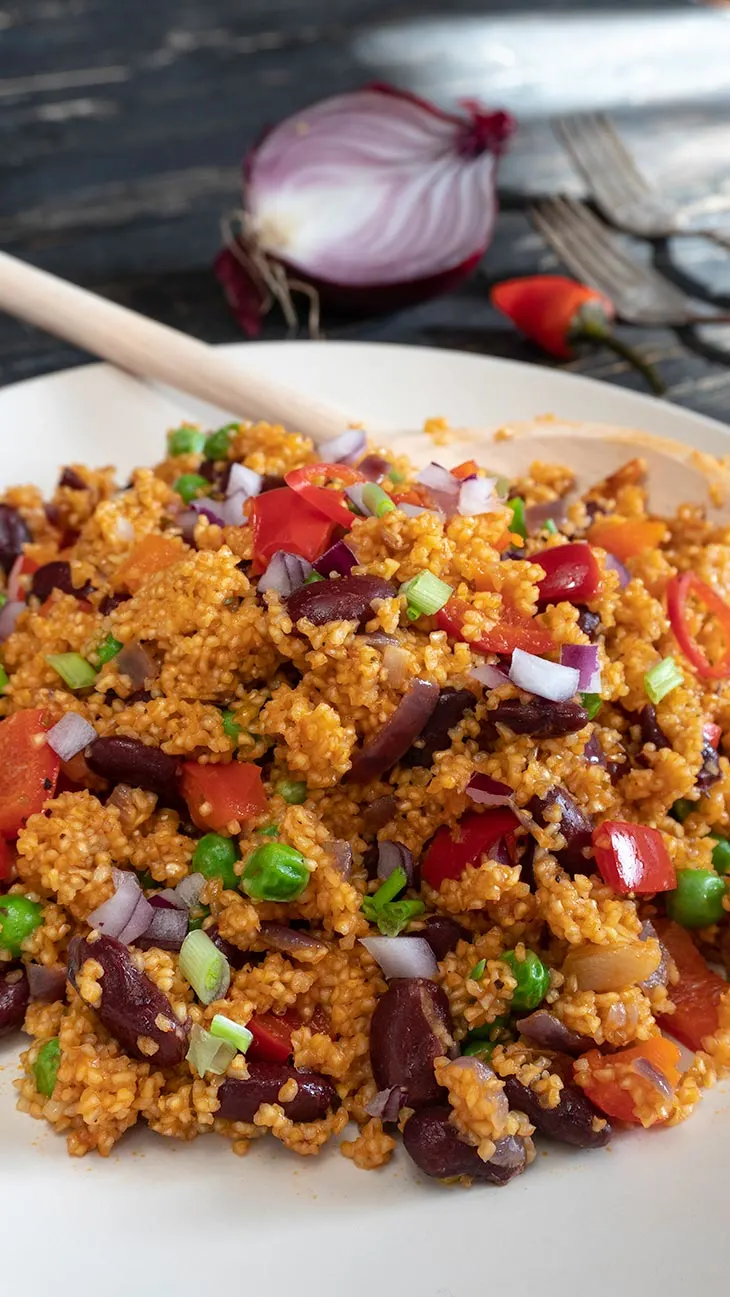 You will absolutely love it. It's tasty, spicy (only if you want to, of course), perfectly flavored and really easy to put together. And even more than that – you will only need one pot to put together this amazing dish! It's also really convenient to make during the week because it stores well in the fridge and it's perfectly packable. So no worries about your work or school lunch for the next few days. Win-win-win! 🙂
I think quinoa is THE perfect choice as a basis for this dish. I'm really glad people are using quinoa more in more in their kitchens, as it is an excellent ingredient for those trying to maintain a healthy diet.
Although quinoa is quite new to us (at least where I come from), its history actually goes back to 4 000 years ago! The Incas, one of the first people to cultivate quinoa even though it to be sacred, and they referred to it as "mother of all grains". I'm not sure if I would qualify as a quinoa worshipper, but I definitely use it and love it a lot! 🙂
So why do people nowadays love it so, so much? Well, long story short, because it is super tasty and super healthy!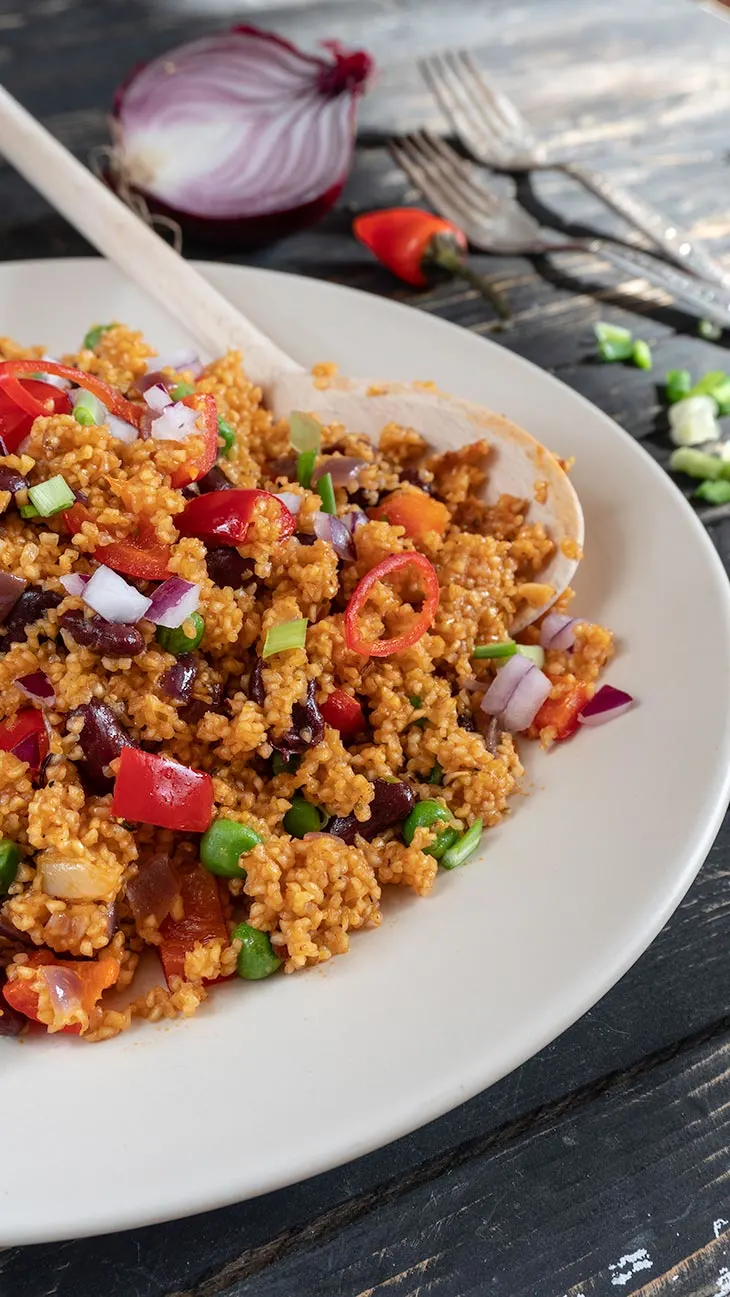 Quinoa is very nutritious, while also being low in calories and gluten-free as well. It also contains notable amounts of all the nine essential amino acids. Here's what your organism will get from 180 grams of cooked quinoa:
Protein: 8 grams.
Fiber: 5 grams.
Manganese: 58% of the recommended daily allowance (RDA).
Magnesium: 30% of the RDA.
Phosphorus: 28% of the RDA.
Folate: 19% of the RDA.
Copper: 18% of the RDA.ev
Iron: 15% of the RDA.
Zinc: 13% of the RDA.
Potassium 9% of the RDA.
Add to that the fact that it tastes really nice and it is so easy to prepare and combine with other foods and wow!
Oh, and by the way, here's a super fun fact: quinoa is so awesome that NASA is actually considering it a suitable crop to be grown in space because it is so nutritious and easy to grow! 🙂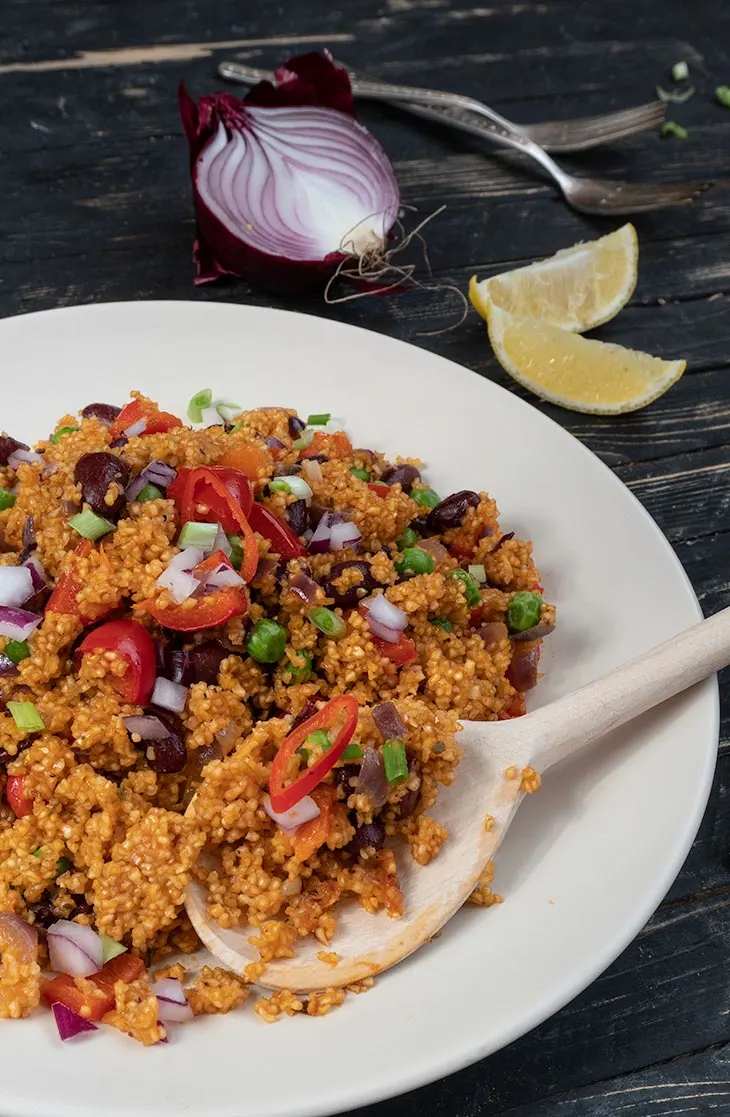 Now back to our dish. I called it Mexican quinoa because I used a Mexican mix of vegetables and spices. Red bell peppers, beans, red onions, peas, cumin… you know what I'm talking about. It all builds to a beautifully balanced taste, that perfectly combines all the Mexican flavors that we love.
Follow this recipe and you will simply fall in love with this dish! The last time I tried this recipe was some days ago when I made it for a dinner party where I invited some friends. In less than 10 minutes there was no quinoa left on our table, can you believe it? So wherever you decide to serve it, it will be a BIG hit!
I also love the versatility of this dish. You can have it as a main course by itself, or serve it as a side dish. You can also eat it together with some guacamole or some vegan sour cream – it goes well with so many things! Plus, you can easily change, mix and match the ingredients to suit your cravings and preferences. Making dinner has never been easier! 😉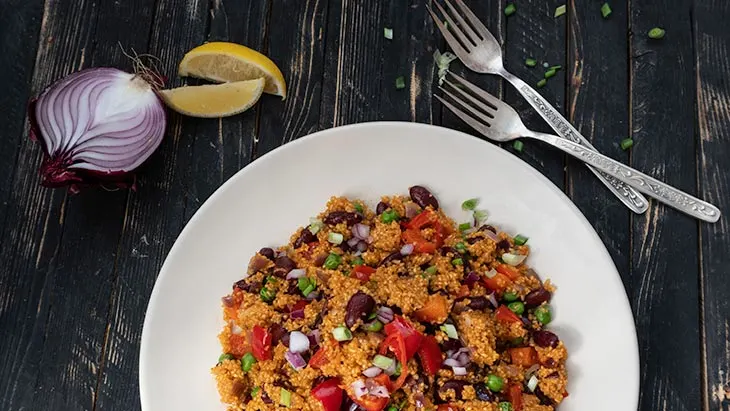 Now that I've told you all the things that I love about this Mexican quinoa recipe, it's time to gather the ingredients and start preparing this super tasty dish! Oh, and don't forget to comment and let me know how the recipe worked out for you! Bon appetit! 🙂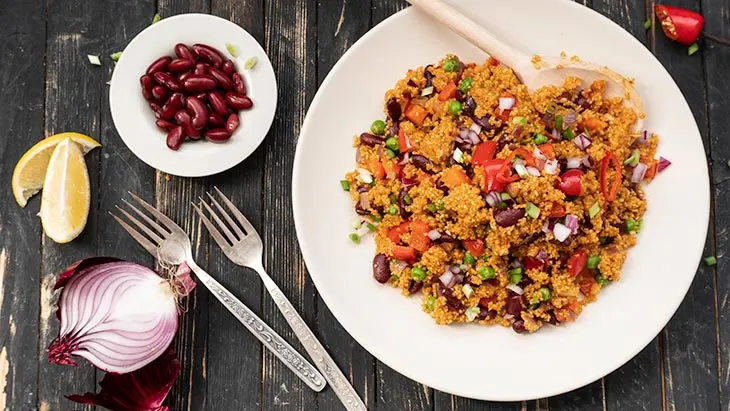 Do you love quinoa? Do you love Mexican food as well? Then you'll fall in love with this recipe for Mexican quinoa in a second! Give it a try!
Ingredients
280g (1 ½ cup) quinoa
1 medium red onion
2 cloves of garlic
1 bell pepper
60g (⅓ cup) kidney or black beans
60g (½ cup) fresh or frozen peas
4 Tbsp pasata
1 fresh chili pepper
green onion
lemon
ground cumin
salt and pepper
Instructions
Rinse the quinoa under cold water. Add it to a pot with 2 cups of water, season with salt and cook for 15-20 minutes.
Chop the onion and mince the garlic. Fry them in a hot pan with olive oil.
Once translucent, add the sliced chili pepper, pasata, and chopped bell pepper.
Season with cumin, salt, black pepper and fry for about 5 minutes.
Add the cooked quinoa, beans and peas. Mix to combine, then fry for another 2-3 minutes. Adjust the seasoning to taste.
Serve topped with green onion and lemon juice.
Nutrition Information
Yield
1
Amount Per Serving
Calories

373
Total Fat

6g
Unsaturated Fat

0g
Carbohydrates

72g
Fiber

13g
Sugar

8g