Are you craving a filling but also refreshing dish? Here's an idea for your next lunch: lemony pesto farfalle pasta!
I usually try to limit my pasta-eating habits but today was one of those days that simply ask for pasta! To be read as busy-first-half-of-the-day-Sunday (is this a thing? Not sure), cold weather, in the mood for something tasty and flavorful to enjoy along with a glass of wine in the evening. You know those days right?
And because I had such a good day, I decided to go for one of my favorite pasta recipes. A recipe that I've made dozens of times and still never ceases to make me smile. I'm talking about lemony pesto farfalle pasta! Just trust me – vegan pasta never tasted so good! 🙂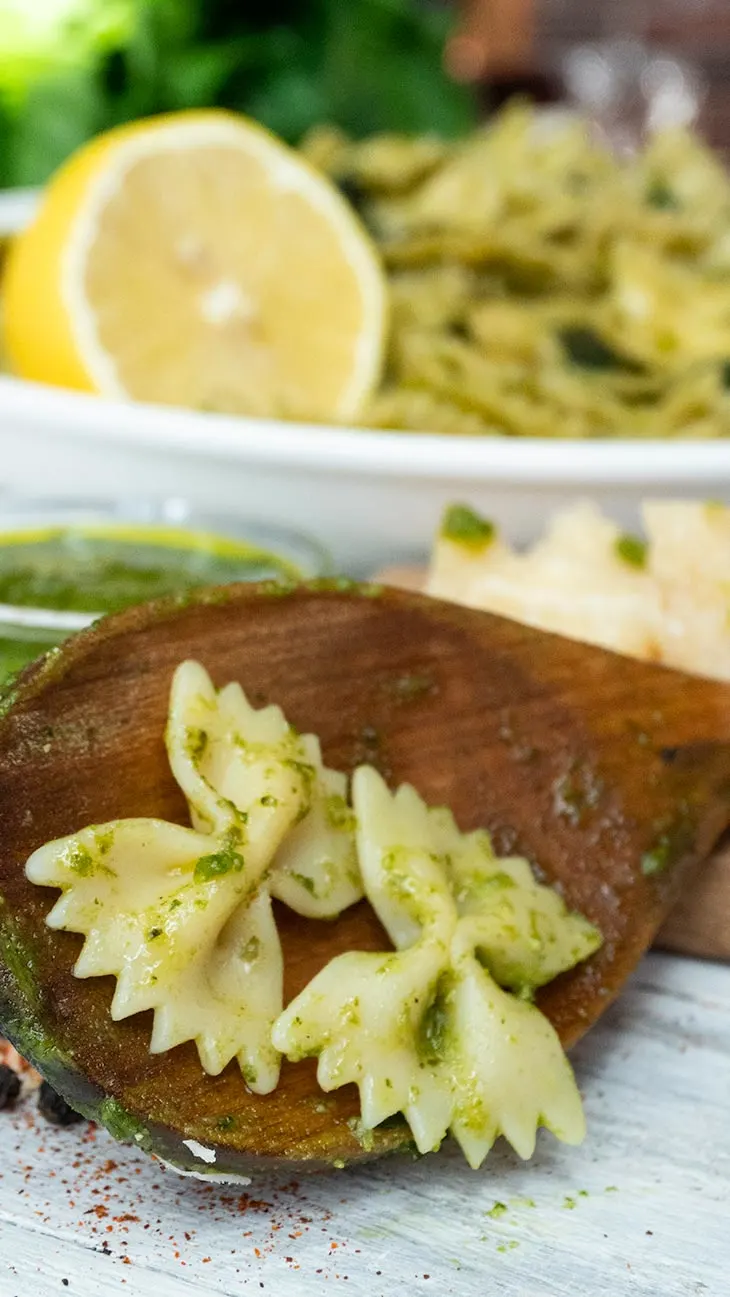 Many people seem to believe that going vegan is about giving up things. And this couldn't be more untrue! Going vegan is not a journey of learning to live without certain foods. It's a journey of learning to replace and adapt. I've been vegan for quite some time now and let me tell you – I don't miss a thing! Learning to adapt to your new diet makes you discover so many new delicious foods that you didn't even think of before!
Pesto is one of the things people usually think they won't be able to enjoy anymore once becoming vegan. As it's the case with most of the foods, there are simple and easy to procure vegan alternatives available! The main ingredient of the pesto (except for basil, of course) is parmesan cheese, but we can't eat that. But a simple online search will get you so many vegan alternatives!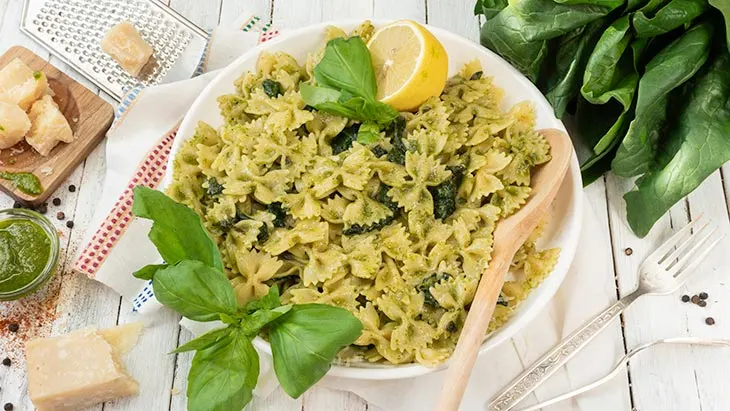 The most popular trick is substituting parmesan with nutritional yeast. And the taste is surprisingly similar to the original thing! That's because the ingredients that mostly give the distinctive pesto taste are the nuts and the basil. So you can always make your own vegan pesto or enjoy a store-bought one. So simple!
Now that we've got that covered, let's talk some more about the lemony farfalle pasta. They are simply perfect. The lemony taste adds a distinct flavor, while also making them less heavy. The downside of this? You can eat and eat and eat without really feeling that you should stop! And trust me, this might be an issue – they're addictive! 🙂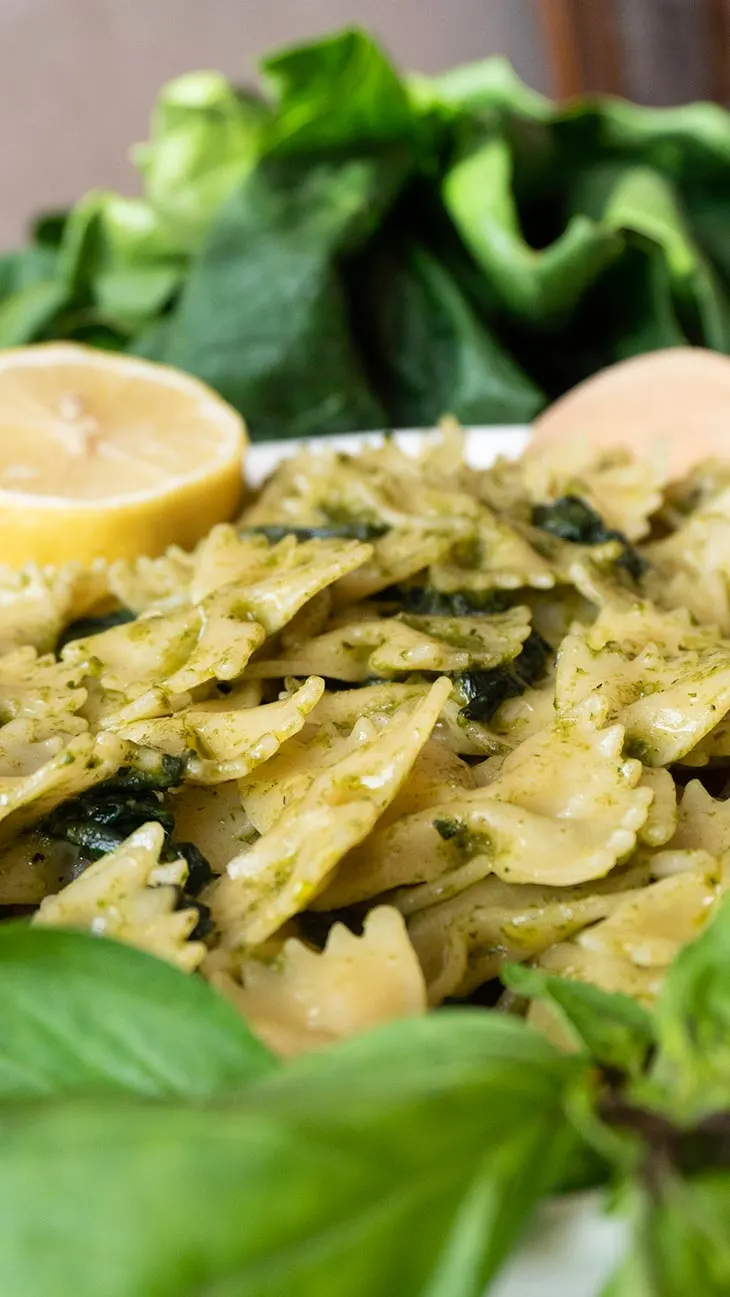 For this recipe, I chose to use farfalle pasta – also known as bow-tie pasta or butterfly pasta. The word is derived from the Italian farfalle which (not too surprising, I guess) means butterfly. Although you may think that butterfly pasta probably is a newer, fun invention, farfalle pasta is actually one of the oldest shapes of pasta that the Italians made!
Some stories state that the farfalle pasta was invented by Italian housewives who needed a way to use the leftover dough from preparing other types of pasta. But they liked the farfalle so much that they started making more dough than they needed just to have enough leftovers for farfalle!
Now farfalle pasta is a dish on its own and we're all thankful for that! I love them because they are so cute and small and perfectly bite-sized.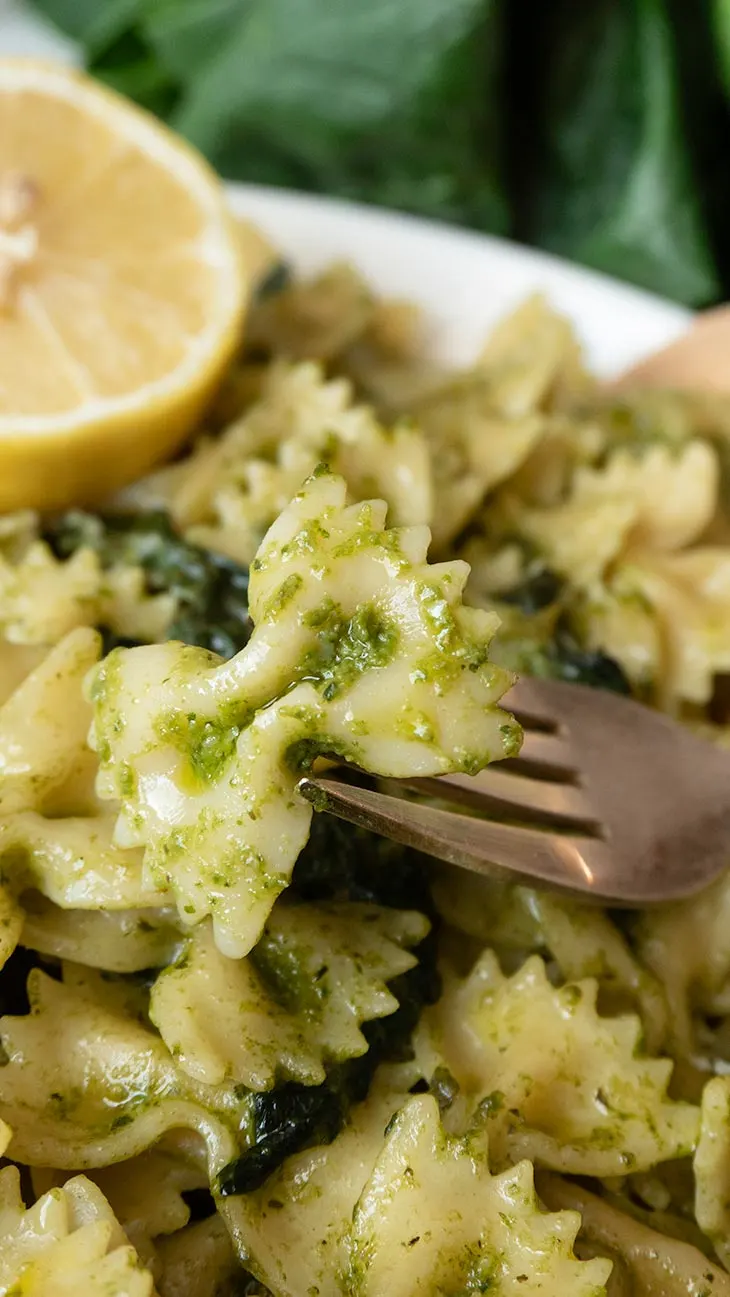 Spaghetti-like pasta is, of course, a classic but eating them can become quite messy! That won't be a problem at all with the farfalle pasta! There is a wide variety of farfalle pasta available and you can basically find them anywhere. They even come in different colors (natural colorants like beets and spinach, of course)! Even if you're on a gluten-free diet, you can still find some grain-free farfalle. So no matter what your dietary options are, this recipe is definitely right for you!
I hope that you will enjoy the recipe as much as I did. It's super simple to make – you don't need to be a master chef to get this recipe right. But the taste is soo, so good – expensive restaurant kind of good! For me, it was the perfect way to end the week! 🙂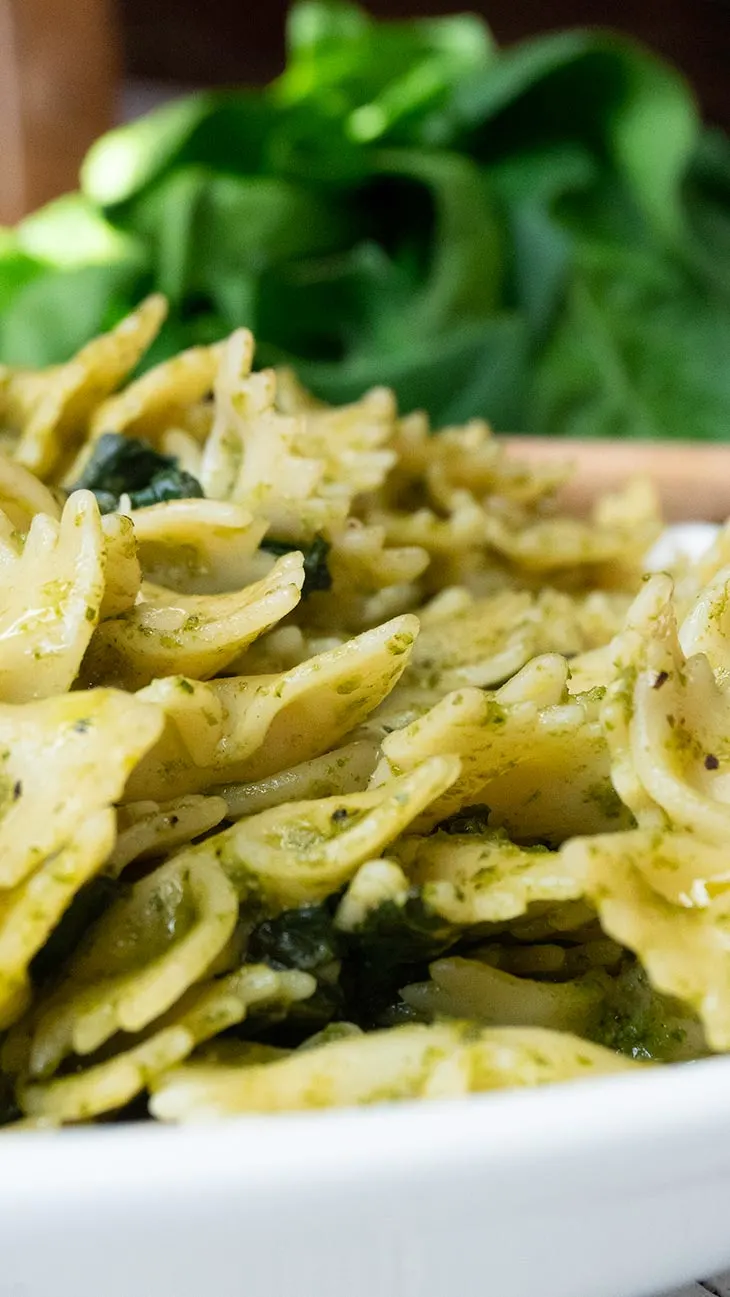 I think I did enough talking – I certainly am eager to get to the cooking part. I find cooking pasta extremely satisfying, not sure why. Probably because they are so easy to make but they taste so incredibly good. Now gather your ingredients and let's head to the kitchen. Follow the detailed steps above and let the feast begin! Also, don't forget to comment and let me know how it worked out – I am always curious about your results and your opinions!
Yield: 2
Lemony Pesto Farfalle Pasta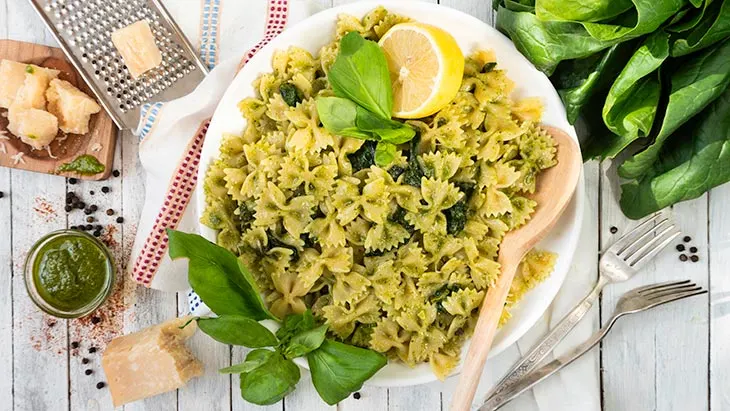 Are you craving a filling but also refreshing dish? Here's an idea for your next lunch: lemony pesto farfalle pasta!
Ingredients
60g (3 cups) basil leaves
20g (2 Tbsp) pine nuts, roasted
1 lemon
60g (2 cups) baby spinach
2 Tbsp nutritional yeast
200g (1 ½ cups) farfalle pasta
1 garlic clove
olive oil
salt
pepper
Instructions
Roast the pine nuts in a dry, hot pan.
Add the basil leaves, pine nuts, and garlic clove to a blender.
Pulse and drizzle olive oil into the mixture until smooth and creamy.
Season the pesto with salt and pepper.
Boil the pasta in salted water.
Heat up 2 Tbsp of olive oil in a pan. Add the spinach, nutritional yeast, the zest of 1 lemon and 1/2 cup of pasta water.
Drain the pasta 1 minute before it's done and transfer to the pan. Add the pesto and the juice of 1/2 lemon. Stir and cook for 1 more minute.
Nutrition Information
Yield
2
Amount Per Serving
Calories

330
Total Fat

8g
Unsaturated Fat

0g
Carbohydrates

56g
Fiber

7g
Sugar

2g
Protein

15g