Have you heard about pierogi before? They're a delicious type of dumplings that you'll definitely love! Here's how to prepare vegan pierogi – fast, yummy and with an authentic taste!
The weather here is getting colder and colder as the days pass by. It's winter and while the snow is not here yet, the cold and wind definitely is! And this asks for comforting food! It's time for warm cooked meals – so basically everything nutritious and healthy. After all, we need that extra energy and strength to get through the cold days, right?
That's why I started a quest for finding the ultimate winter comfort food! While it won't be a quick journey, it will surely be delicious. The latest gem I found comes from Eastern and Central European cuisine. Imagine cold winters, Slavic accents, rich taste and… babushkas! In case you are still wondering – I am talking about vegan pierogi. 🙂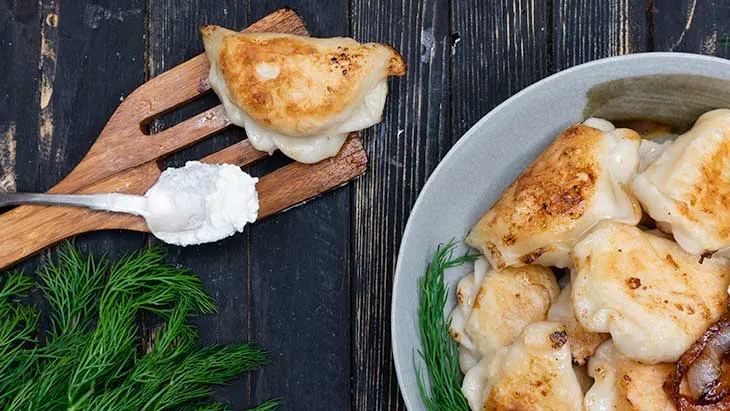 Depending on the part of the world you are from, you may or may have not tried this recipe. In my humble opinion, they are simply amazing!
Pierogi are a kind of dumplings made out of wrapped unleavened dough and some filling – which may be savory or sweet. They are cooked by frying, boiling or both. They are considered a national dish in many parts of Eastern Europe such as Poland or Russia. The typical fillings used are yummy and filling things such as sauerkraut or potatoes. Variations including meat and cheese also exist, but we won't be focusing on that.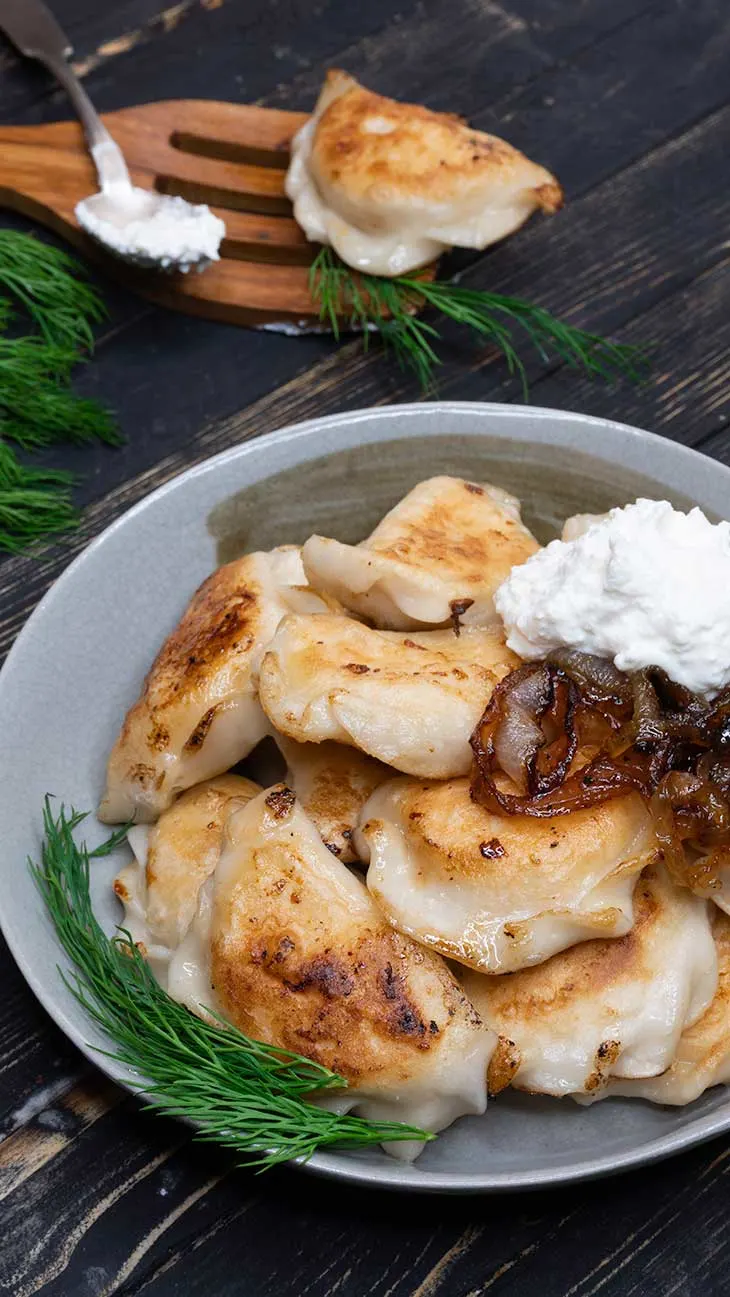 Vegan pierogi are perfectly delicious on their own, or they can also be served with some toppings such as vegan sour cream and butter or fried onion. As you can see, vegan pierogi are a kind of dish that comes to satisfy anyone's hunger. There's nothing not to like about them! It's the stuff that warms and fills you up at the same time, giving you a feeling of comfort and fulfillment.
Pierogies are so tasty and popular that there are actually quite a lot of countries disputing their origins. Poland, Russia, Slovenia, Slovakia, Hungary, Ukraine… they all have a traditional version of this dish. And there are quite a lot of legends describing their origins!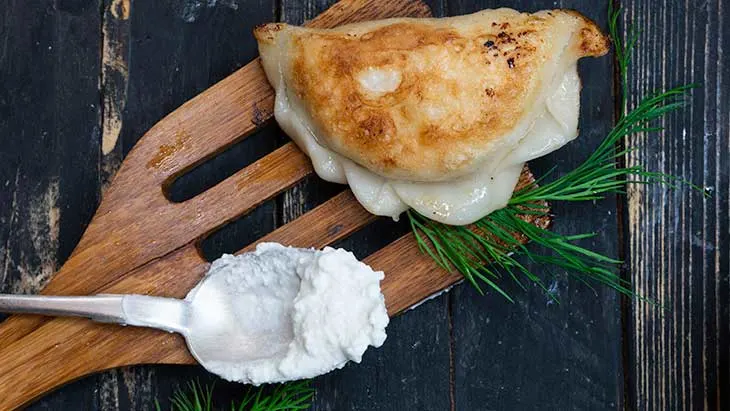 Some say that pierogies came from China during Marco Polo's expeditions. Others say that the pierogies were introduced to Poland by Saint Hyacinth of Poland… who brought them from Kyiv.
There's a legend that tells about how Saint Hyacinth fed a large number of people with pierogies during a famine caused by the Tatar invasion in 1241. Other stories tell that they were brought to the West by the Tatars who in their turn learned about them in the Russian Empire.
The truth is that the exact origin of this recipe cannot be traced anymore. All that I can hope is that I will be able to bring this wonderful dish into your homes. Believe me, it's all worth it! 🙂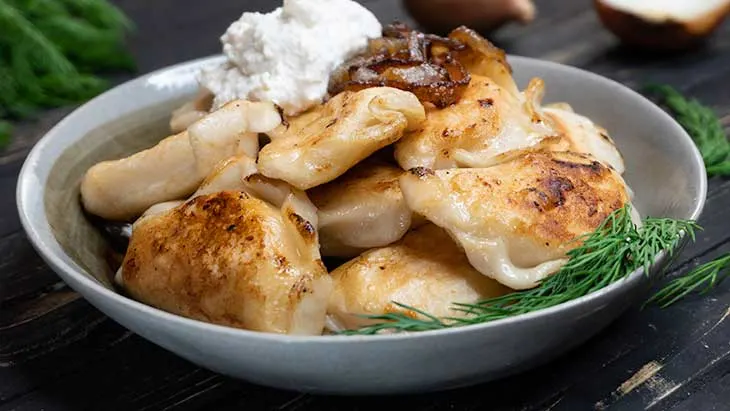 Remember the babushkas I mentioned earlier? Upon entering an Eastern European home, you will most likely be welcomed with a hot plate of pierogi.
Babushkas are the Slavic grandmothers renowned for never ever ever letting a grandson or granddaughter be hungry or look overly skinny. And there's no wonder why: in order to survive the cold and harsh Russian winters, you sure need a good portion of nourishing food. And this is exactly what the pierogies accomplish. 😉
No matter what part of the world you are from, I am sure that you will appreciate the rich and delicious taste of this dish. Once you try them, they will surely become a regular recipe in your cooking repertoire!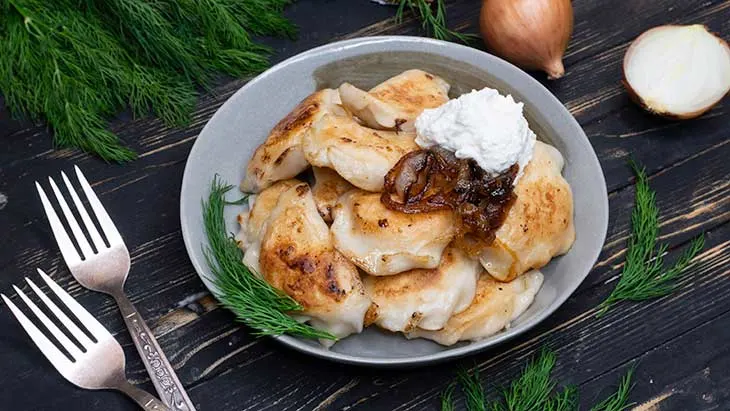 Here are some reasons I love this dish so much and I encourage you to try it:
The pierogies are really tasty and nourishing
They will make you feel comforted and well-fed
It's a great opportunity to try international cuisine
While not the fastest recipe, it's nevertheless super simple and there's not much that could go wrong
It's a great prep meal, as the pierogi keep well in the fridge. So no more trouble for the rest of the week!
Luckily, all the ingredients are very basic and you won't have any trouble finding them – they're probably already inside your cupboard. Yet the result won't be basic at all! So if you're curious and ready to start, follow my detailed steps below.
It's all really straightforward and you won't have any trouble getting the perfect result. The whole family will love them!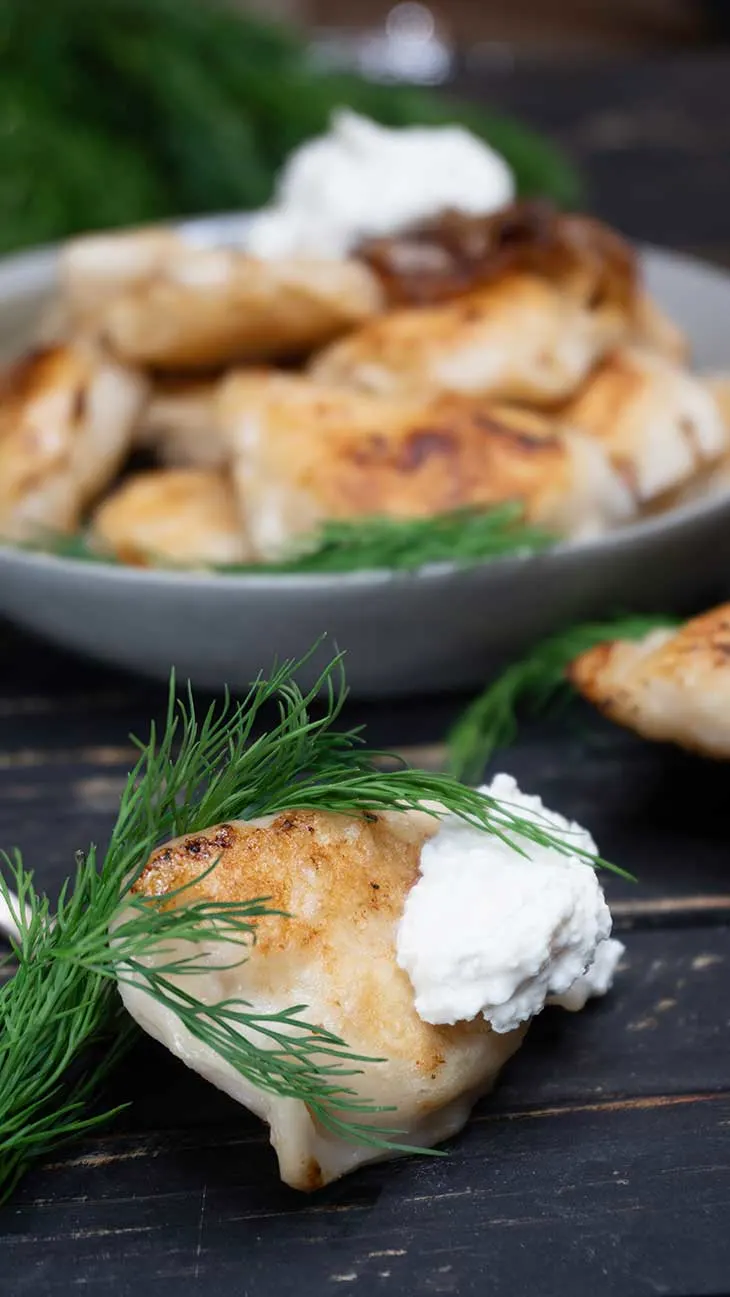 If you too loved this recipe or if you've got any suggestions, don't forget to write to me in the comment section!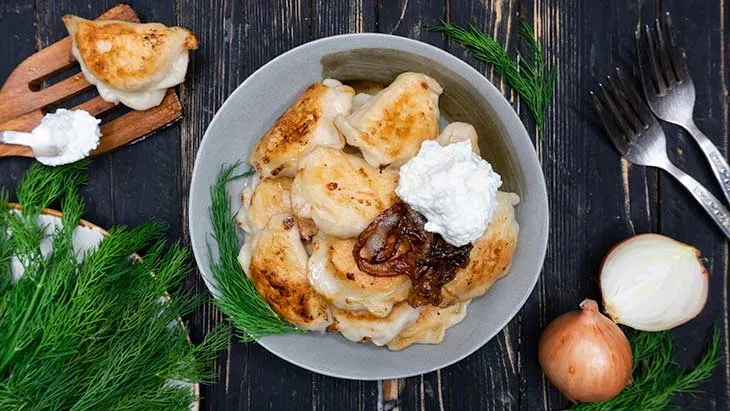 Have you heard about pierogi before? They're a delicious type of dumplings that you'll definitely love! Here's how to prepare vegan pierogi - fast, yummy and with an authentic taste!
Total Time
1 hour
10 minutes
Ingredients
For the dough:
300g (2 ½ cups) flour
240ml (1 cup) warm water
1 tsp salt
1 Tbsp extra virgin olive oil
For the filling:

100g (1 cup) textured soy protein, granules
250g (1 cup) tofu
1 medium white onion, chopped
1 Tbsp soy sauce
4g (¼ cup) fresh dill, chopped
salt
pepper
2 Tbsp olive oil for frying
Instructions
Combine the flour and salt. Add water and olive oil.
Combine well until the dough is formed. Set aside for 10-15 minutes.
Add 1-2 Tbsp of olive oil to a pan and heat it up. Fry the onion until translucent.
In the meantime, mash the tofu with a fork and add it to the pan.
Fry for 3 minutes and add the soy. Season with salt and pepper. Fry for about 10 minutes.
Add the soy sauce and stir for another minute.
Transfer the filling into a bowl. Add chopped dill.
Let the filling cool down for about 15-20 minutes.
Roll the dough and cut into 2 mm thin circles.
Add 1 tsp of filling to each, then fold the circle in half and press the edges with your fingers.
Form the rest of the pierogi and let them dry out for about an hour.
In a pot, bring water to a boil. Throw the pierogi in the water and boil for 7 minutes (or 2 minutes before they are done).
Heat up some oil in a pan. Transfer the pierogi and fry for 2 minutes on each side until they are golden brown and slightly crispy.
Serve with caramelized onion.
Nutrition Information
Yield
6
Amount Per Serving
Calories

144
Total Fat

6.6g
Carbohydrates

10g
Protein

11g