Here's how you can make the popular spanakopita – a delicious, savory, Greek spinach pie made with pastry and a soft spinach filling. Plus, it's vegan!
Spanakopita is a traditional Greek savory pie recipe made with a golden, crispy phyllo (filo) pastry and a soft filling of spinach and feta. This is one of the most famous Greek comfort foods that you will encounter all around Greece, especially in bakeries and even restaurants.
This spinach pie is usually baked in large trays and it has the shape of a long roll, but it's not uncommon to find it cut into small, individual portions.
What makes spanakopita so delicious is actually the filling – a very simple combination of spinach, feta cheese and, of course, the perfect blend of fresh herbs. Some common herbs you can add to this special pie are parsley, dill and even onion and garlic.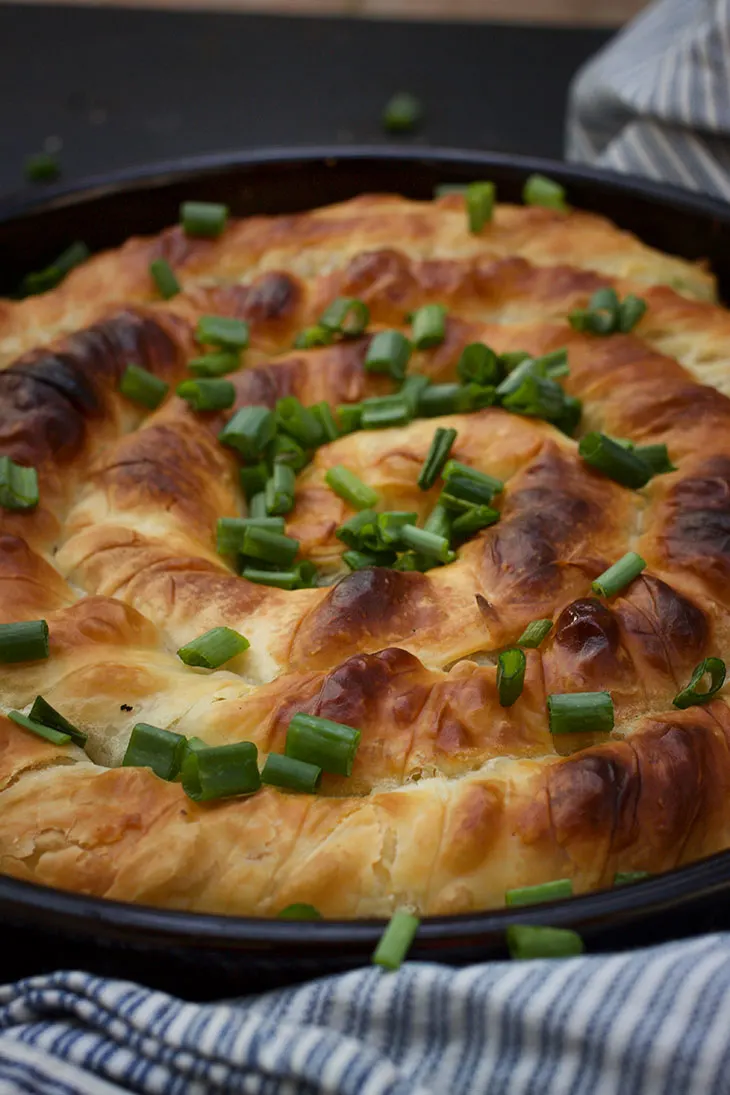 Spanakopita has some kind of magical taste because of the combination between the crispy pastry and the warm, soft filling that encloses all the traditional Greek flavors. In the authentic spanakopita recipe, the golden color of the pastry is given by greasing it with butter, olive oil or egg yolk, and then putting it in the oven to bake.
If you'll ever visit the Greek countryside, you'll see that spanakopita is made there using less spinach and more leeks or chard greens. Plus, there are so many other amazing Greek pies you can try, so feel free to explore the wonderful Greek cuisine!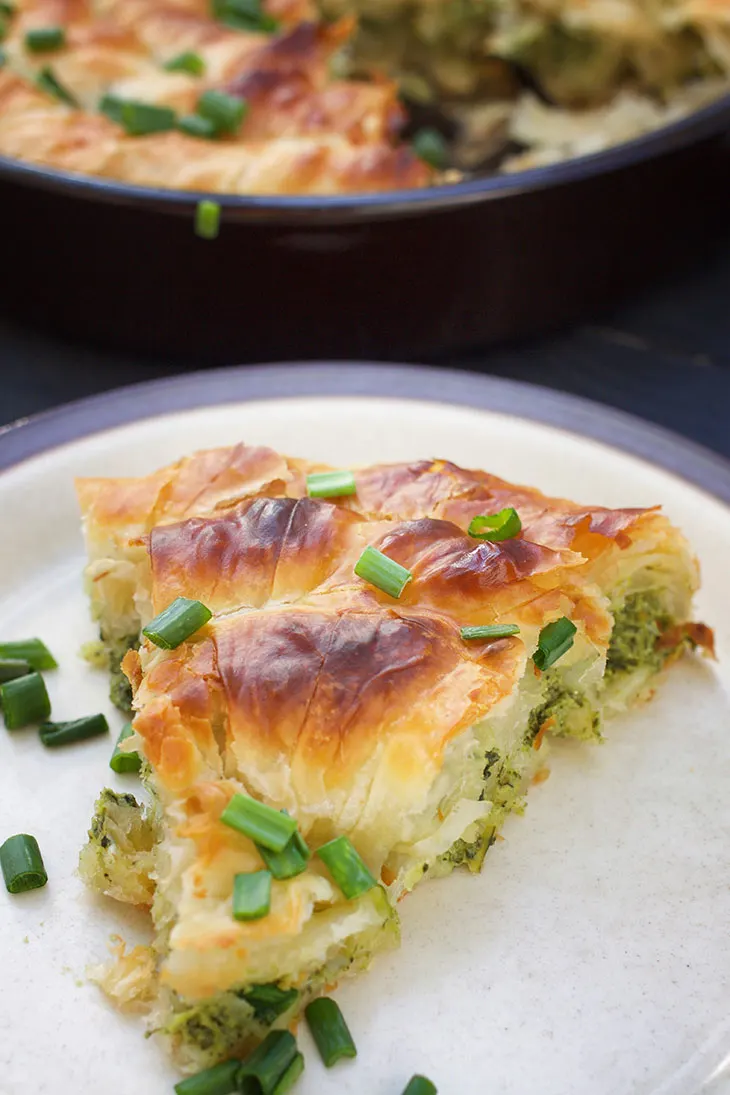 This authentic Greek spinach pie is usually served as a side dish or even as a main course because it's so filling and delicious. Pair it with some tzatziki sauce, a Greek salad or any kind of Mediterranean salad and you're in for a treat!
In some parts of Greece, this traditional spinach pie is not made with phyllo pastry, but with a homemade dough that results in a crunchier layer of bread. It's usually served warm or at room temperature, but I definitely recommend eating it when it's hot and fresh out of the oven!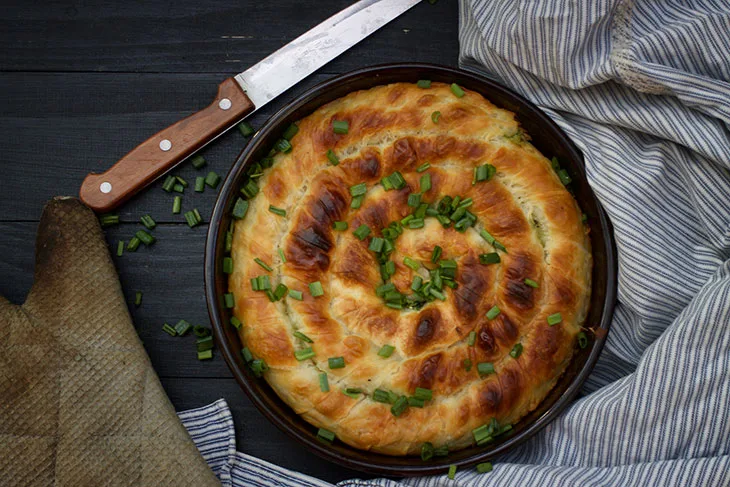 Besides being delicious, spinach brings many health benefits to the human body, especially for our eyes, blood, skin and more. This green leafy vegetable is rich in many vitamins such as A, C, K, minerals, iron, calcium, magnesium that are all very good for our bodies. Spinach can improve your eyesight, it can lower the risk of Alzheimer's disease, regulates blood pressure, strengthens the muscles, boosts your metabolism and helps your bones. Thus, it's a good idea to consume spinach often and this Spanakopita recipe will help you achieve this goal!
Spinach is delicious just as it is, fresh and flavorful, but when you combine it with a creamy vegan cheese and add some crunchy pastry, you're in for a treat! Serve this vegan Spanakopita for any meal of the day, it works just as good served for breakfast as it does as an appetizer or lunch. One of the best things about it is that you can even pack it and take it to go for lunch at school or work.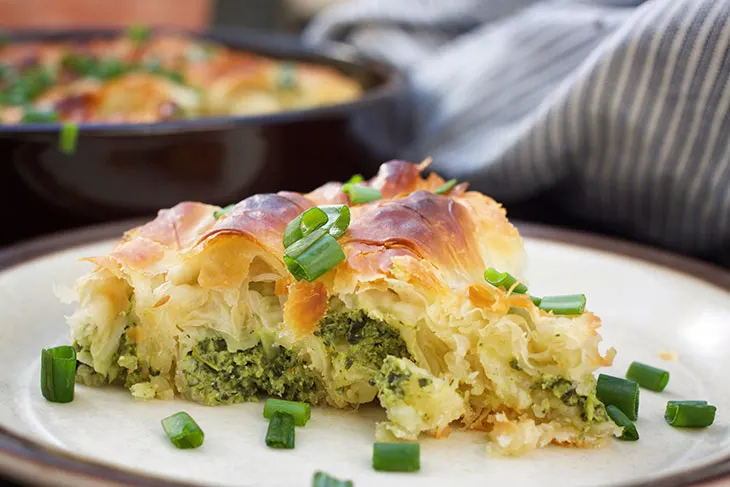 Greeks have also developed a vegan version of the spanakopita that they consume when they're feasting and for this, they left out the feta, dairy and eggs from the pastry dough. For my recipe, I used vegan phyllo sheets, smoked tofu, cashews and, of course, chopped spinach. Hope you'll like my vegan spinach pie recipe! Check it out below.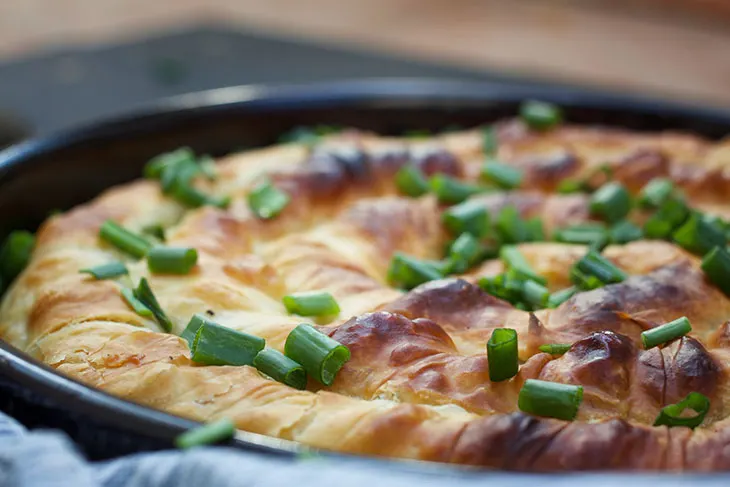 Yield: 6+
Greek Spinach Pie | Vegan Spanakopita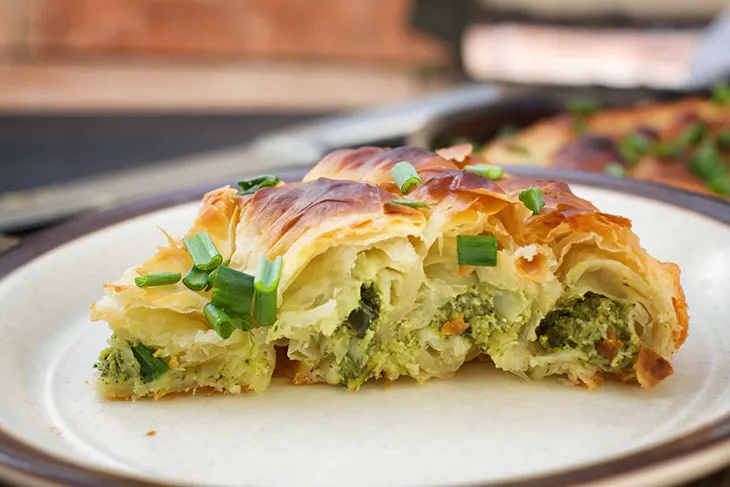 Here's how you can make the popular spanakopita - a delicious, savory, Greek spinach pie made with pastry and a soft spinach filling. Plus, it's vegan!
Ingredients
300g (2 cups) frozen chopped spinach
1 shallot, finely chopped
1 garlic cloves, minced
1 Tablespoon olive oil
500g (2 cups) crumbled smoked tofu
70g (½ cup) raw cashew nuts, finely chopped
15 phyllo sheets
120g (½ cup) vegan butter, melted
salt and pepper, to taste
3 Tbsp spring onion, chopped
Instructions
Pre-heat the oven to 180ºC.
In a large pan over medium heat, add the olive oil. Add the chopped shallot and minced garlic and saute for 2 minutes. Add the frozen spinach and cook for 7 minutes, or until the spinach is soft. Add salt and pepper to taste.
Add the crumbled smoked tofu and chopped cashew nuts to the spinach mixture and cook stirring for 2 minutes. Let the filling cool.
To create a phyllo-wrapped spiral spanakopita, lay down one or two sheets of pastry on a clean surface. Brush each piece with melted butter and top with three more sheets, then brush with more butter.
Spoon the spinach mixture along the edge, about 2cm wide. Roll the pastry into a long roll shape. Starting with one end, roll up the roll into a spiral shape. Put it in the middle of your baking dish, lightly brushed with olive oil. Prepare the next roll. Slot into the first roll. Repeat.
Cook for about 40 minutes or until is golden brown.
Sprinkle with chopped spring onion and serve.
Nutrition Information
Yield
6
Amount Per Serving
Calories

523
Total Fat

31.4g
Carbohydrates

35.2g
Protein

24.8g