Looking for a great fall-inspired recipe to warm you up inside on cold days? This vegan apple Streusel cake is the perfect option! It's easy and delicious!
Although sometimes perceived as too heavy or even unhealthy, German cuisine is full of wonderful recipes that have shaped the European gastronomy. One great example of such recipe is the apple Streusel cake, which we will be talking about today.
Streusel, which literally means "crumble" in German, is a crumble topping traditionally used on top of some German fruit pies. This crumbly topping is extremely simple, yet effective and it is made of a simple mixture of butter, flour and, of course, sugar. You can put the "streusel" on anything, from pies to cupcakes and cakes, but the most famous use for this special layer is the Streusel cake, also known under the name of Streuselkuchen (crumble cake).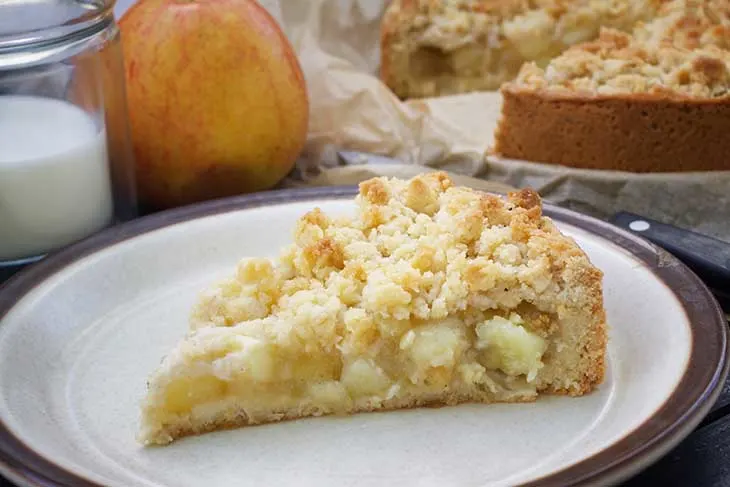 The Streusel cake is a very special and delicious type of German cake, often made with sour cherries or apples. It is considered to be the perfect cake that you can serve together with a big cup of coffee and milk or with a hot cup of tea, which also makes it ideal for breakfast. You can find different types of Streusel cakes in cafes all around Germany and trying an authentic recipe is a must if you are ever visiting this fascinating country.
The Apple Streusel cake is considered to be very similar to an apple strudel, although there are some big differences between the two. The streusel is similar to a three-layered cake, while the strudel is a type of thin pastry with a sweet filling.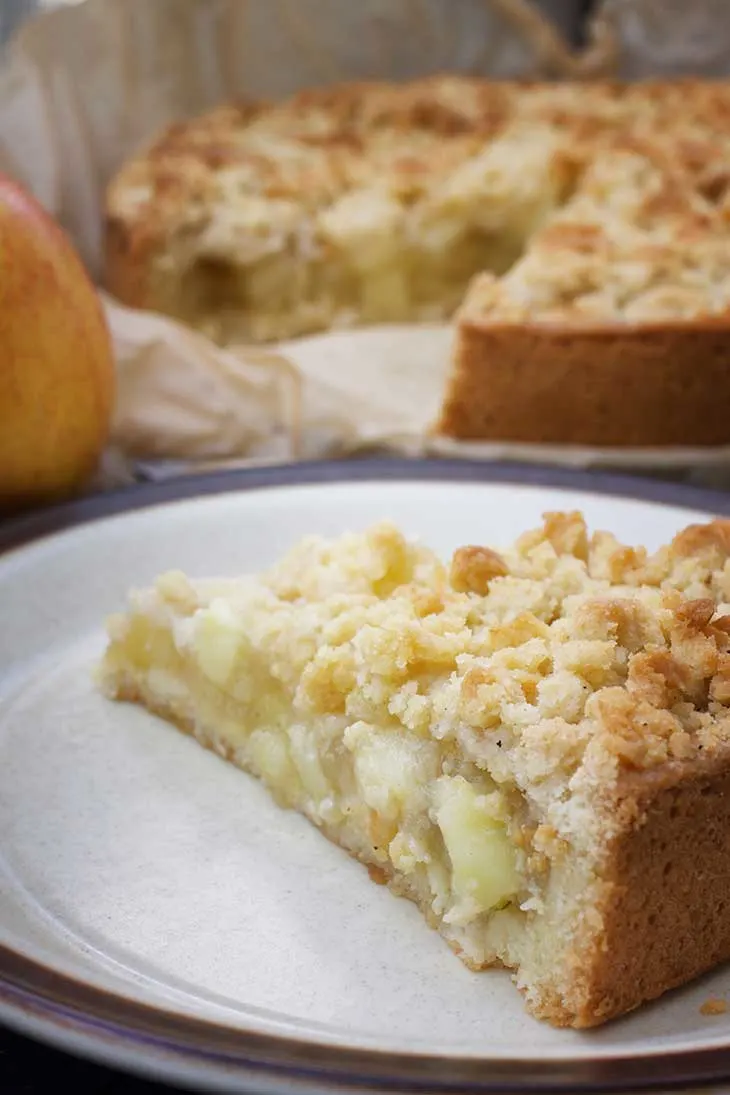 The sugary crumble used to top this kind of cakes is very similar in consistency and taste to a classic cookie, so you can understand why the streusel has become so incredibly famous and popular all around Germany and even in other parts of Europe!
The best thing about an apple streusel cake is that you can easily make it at home with not much effort. The entire "philosophy" of this cake is to make it with three different layers: the base, which is similar to a dense, classic cake batter, the apple filling which is soft and flavorful and the crumble, aka the actual streusel. The entire process is extremely simple and the results are really impressive!
This is the perfect fall recipe when apples are the "star" of every dessert! One great thing about this apple Streusel cake is that it's delicious hot as it is cold, which makes it ideal for spring, summer, autumn or winter. It will be crazy delicious any time of the year and it is the perfect, simple cake to consume on a daily basis.
For my vegan apple Streusel cake recipe, I used a very simple batter and a sweet, lemony filling made of apples and ground cinnamon. On top, I put some big chunks of streusel (the bigger the pieces, the better the texture!) made from scratch and I baked everything to perfection. Serve it with your favorite type of coffee and tea and enjoy an authentic German culinary experience! Happy cooking!
Yield: 6+
Apple Streusel Cake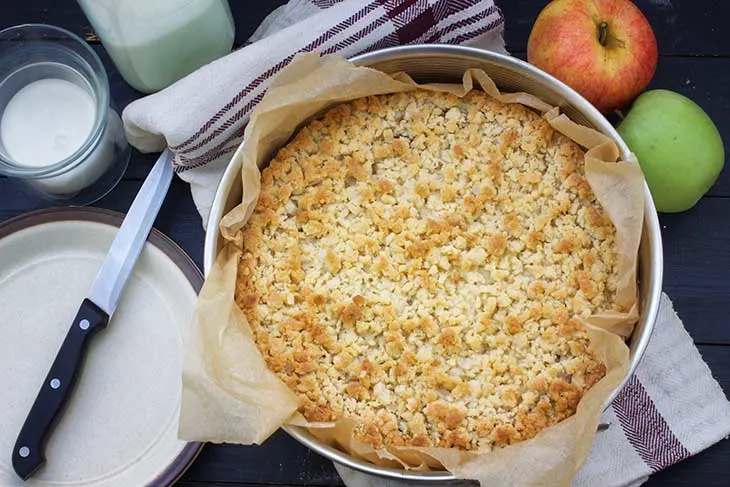 Looking for a great fall-inspired recipe to warm you up inside on cold days? This vegan apple Streusel cake is the perfect option! It's easy, delicious and super healthy!
Ingredients
For the filling:
160ml (⅔ cup) soy milk
3 Tbsp sugar
2 Tbsp cornstarch
a pinch of salt
1 tsp vanilla extract
For the streusel:
60g (½ cup) all-purpose flour
50g (¼ cup) sugar
½ tsp ground cinnamon
1/8 tsp salt
3 tsp coconut oil, room temperature
For the apple filling:
2 firm apples, peeled and cubed
1 Tbsp sugar
½ tsp ground cinnamon
1 tsp lemon zest
1 Tbsp lemon juice
For the cake batter:
120g (1 cup) flour
½ tsp baking powder
¼ tsp baking soda
¼ tsp salt
2 Tbsp coconut oil, room temperature
100g (½ cup) sugar
1 tsp vanilla extract
1 vegan egg, 1 Tbsp flaxseed meal + 2 Tbsp water
For the buttermilk:
120ml (½ cup) soy milk
2 tsp apple cider vinegar
Instructions
For the filling:
In a medium saucepan, whisk together all the filling ingredients, except the vanilla.
Heat it on low-medium and cook, stirring, until thick, for about 7 minutes. Do not boil. Add vanilla, let cool, cover and set aside.
For the streusel:
In a medium bowl combine the flour, sugar, cinnamon and salt. Stir in coconut oil until well combined. Refrigerate.
For the apples:
Combine the cubed apples, sugar, cinnamon, lemon zest and lemon juice in a bowl. Mix and set aside.
For the cake batter:
Heat oven to 200 C.
Mix the buttermilk ingredients and set aside.
Prepare the flax egg, set aside.
In a large bowl add flour, baking powder, baking soda and salt. Set aside.
In another bowl mix coconut oil and sugar with a mixer for about a minute. Add the vanilla and flax egg and mix for a few more seconds. Carefully add the flour mixture and "buttermilk" and mix on low power until well combined, for about a minute.
Cover your baking pan with baking paper.
Spread the batter onto the bottom of the prepared pan.
Spoon the filling evenly over the batter with a spoon.
Arrange the apples over the filling cream and then sprinkle the streusel evenly over the top, breaking it with your fingers.
Bake for 40 minutes.
Nutrition Information
Yield
6
Amount Per Serving
Calories

353
Total Fat

11.7g
Carbohydrates

58g
Protein

3.8g