Impress all your family and friends with these spooky and delicious cupcakes! These vegan spider cupcakes for Halloween are easy to make, tasty and kid-friendly!
Halloween is a world-famous celebration not only in America but in other parts of the world as well. Everybody is already accustomed with trick-or-treating, pumpkin carving and, of course, lots and lots of amazingly delicious Halloween-inspired desserts!
If you are a Halloween lover, then you will want to celebrate this special day in an epic way, right? I'm assuming you already got your costume idea ready so you're ready to go on the streets and impress everybody! But what better way to make the best out of this day than to decorate your house, carve some spooky pumpkins, invite some friends over and indulge in some of the best Halloween dishes and desserts? I'm telling you, this is the best idea!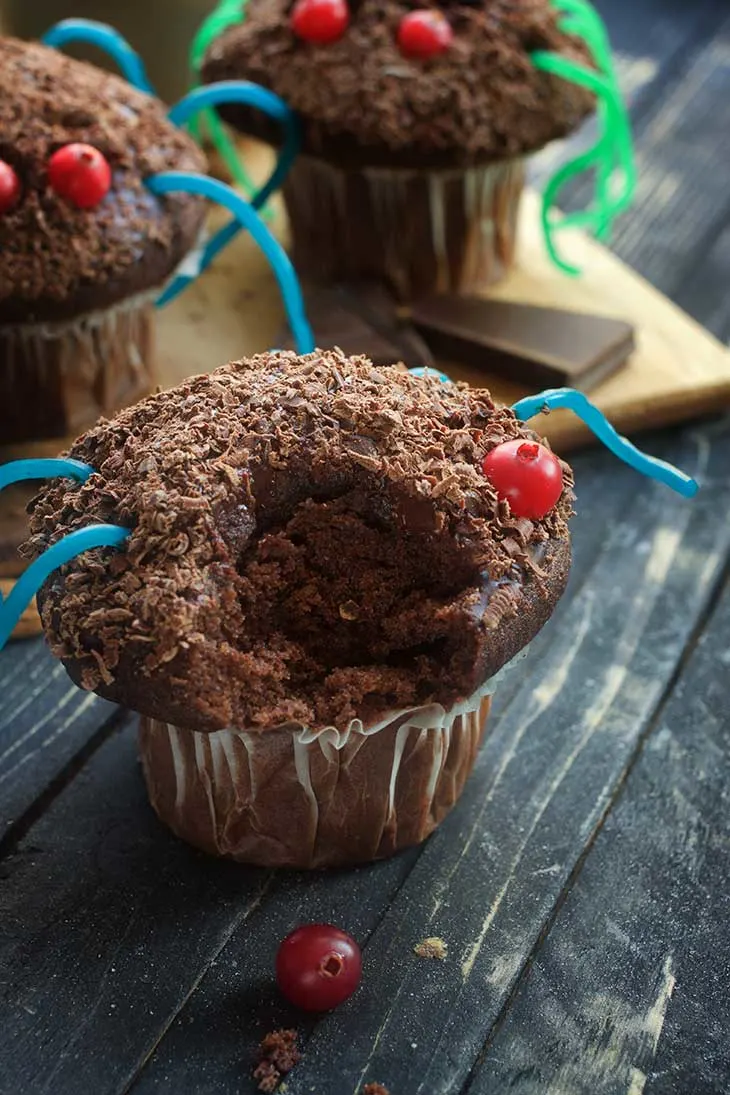 And we all know that no Halloween menu is complete without dessert, of course! In case you need some inspiration for this year's spooky treat, I'm here to help! These vegan spider cupcakes are not only gorgeously decorated and super delicious but also extremely easy to make!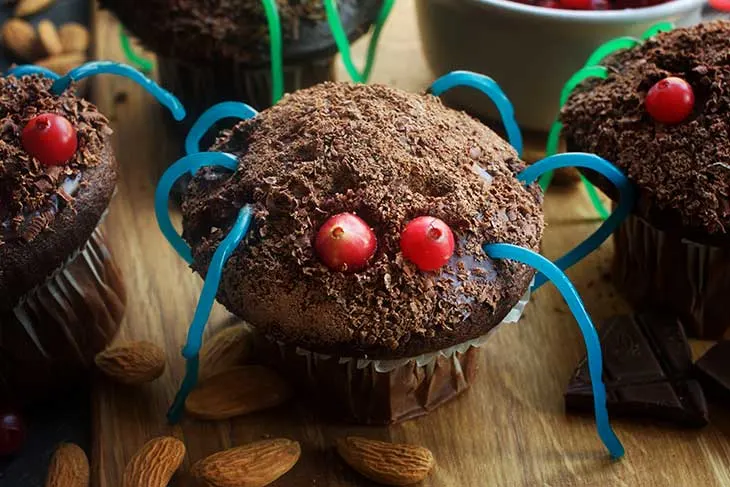 This is one of those fun-to-create desserts that anyone can make at home, regardless of their cooking, baking on cookie decorating experience. I'm not a big fan of decorating desserts as well, as I'm lacking the required patience to create intricate designs. But these cupcakes? Easy-peasy! Trust me when I say that literally, anyone can make them at home! Plus, I really believe that making desserts and decorating them is a very nice and pleasant way to spend some quality time together with your family or little ones.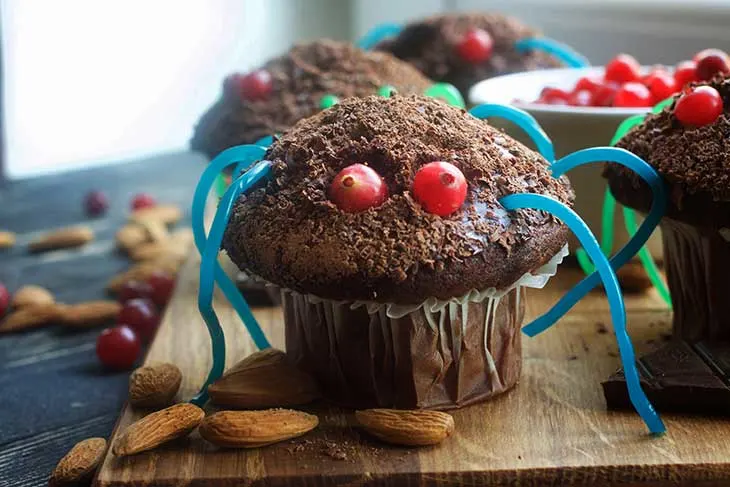 For this year's Halloween party, I chose to create some decadent, delicious chocolate cupcakes that everybody will love! These cupcakes are decorated in a very simple but effective way, using fruit strip candy, shredded dark chocolate, and some fresh cranberries in order to create some of the most adorable but spooky spider faces ever!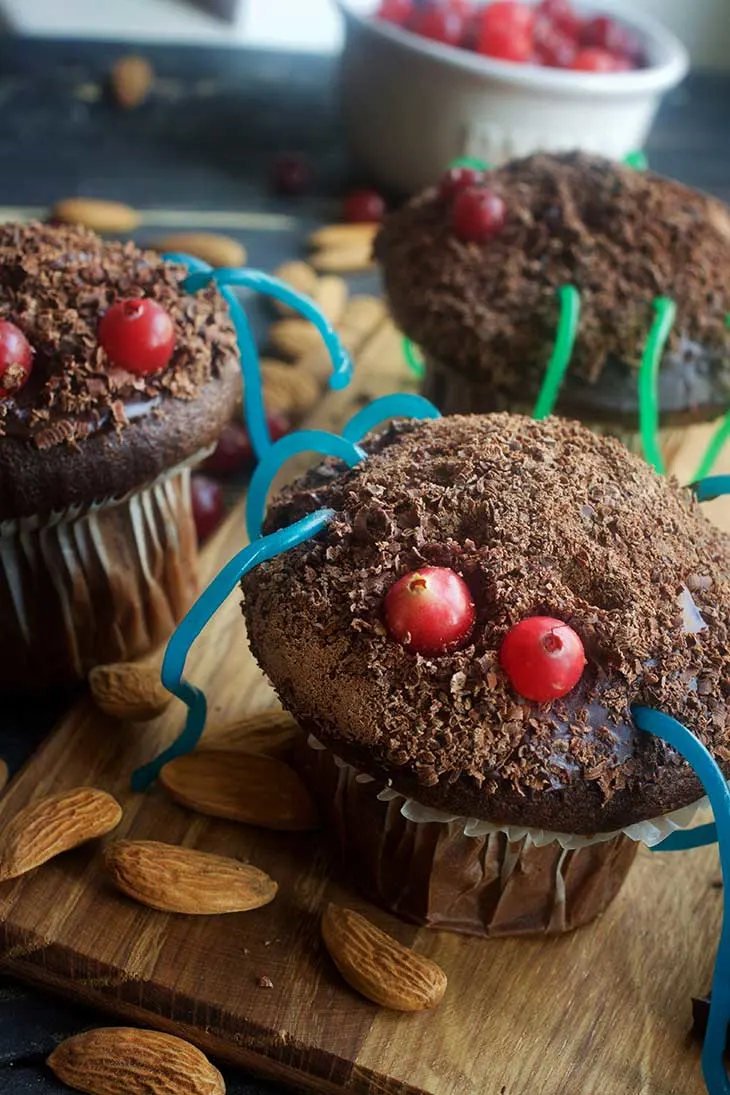 Dark chocolate is not only one of the most loved ingredients in the entire world, but it also comes with great health benefits. Although it can be high in calories, dark chocolate is a great source of antioxidants (as it contains polyphenols and flavanols) and it can reduce the risk of heart diseases, which is a great plus. And did you know that thanks to the flavonols, dark chocolate can even protect your skin from sun damage? Incredible, right?! The only secret behind chocolate is to consume it in low amounts, of course, and to try to buy the highest quality chocolate you can find, as that one is the most nutritious of them all.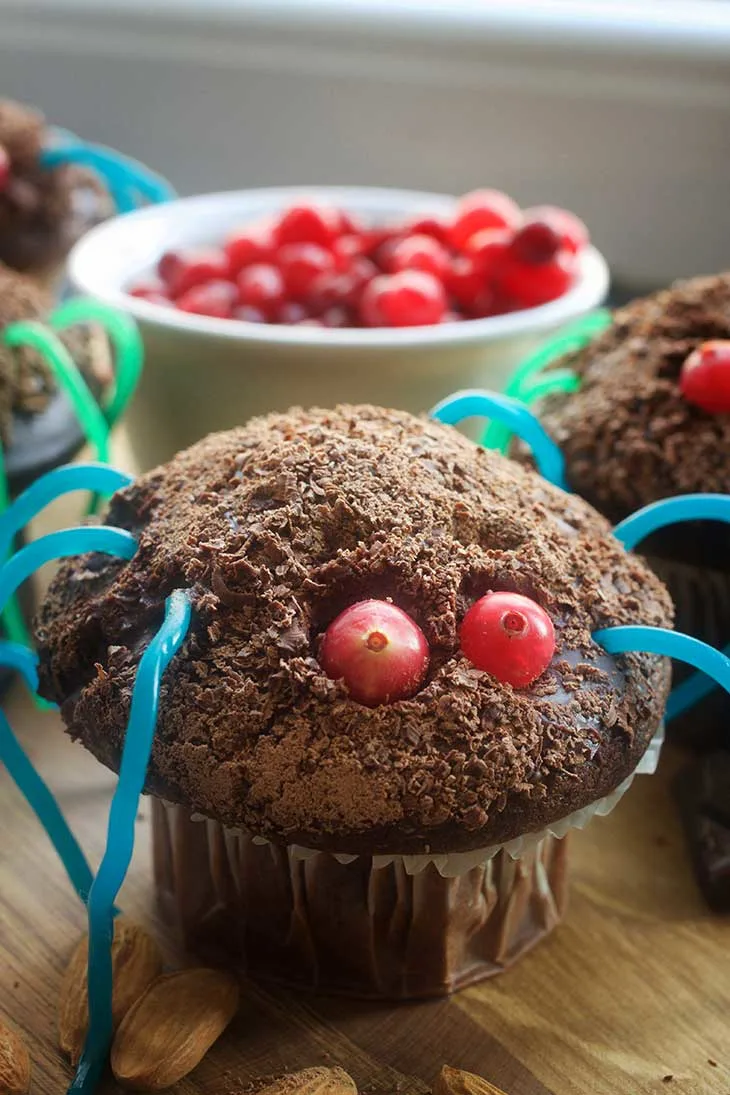 So what are you waiting for? Get your ingredients (don't forget about high-quality dark chocolate, of course) and baking tray ready and let's create some of the best vegan spider cupcakes for Halloween! Ready, steady, happy cooking!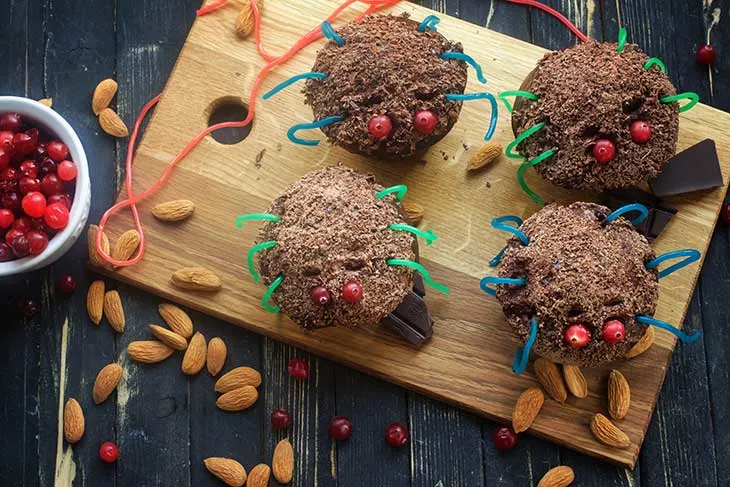 Yield: 6
Spider Cupcakes for Halloween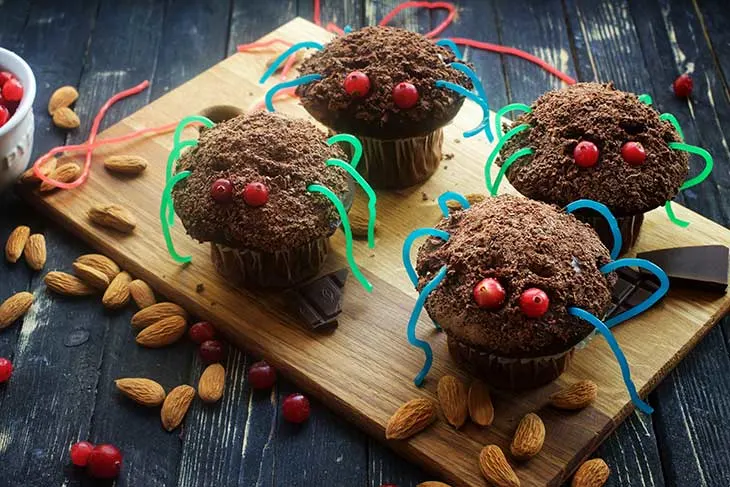 Impress all your family and friends with these spooky and delicious cupcakes! These vegan spider cupcakes for Halloween are easy to make, tasty and healthy!
Ingredients
For the cupcakes:
55g (⅓ cup) chocolate chips
Dry ingredients:
150g (1 ¼ cup) all-purpose flour
70g (⅓ cup) white sugar
¾ tsp baking powder
¼ tsp baking soda
3 Tbsp cocoa powder
¼ tsp salt
Wet ingredients:
1 Tbsp coconut oil, melted
150ml (⅔ cup) chocolate soy milk
½ tsp apple cider vinegar
½ tsp vanilla extract
For the frosting:
3 Tbsp dark chocolate chips
3 Tbsp vegan milk
For the decoration:
2 Tbsp dark chocolate, shredded
fruit strip candy
1 tbsp fresh cranberries
Instructions
Pre-heat the oven to 180°C.
In a mixing bowl combine all the dry ingredients.
Whisk, then add all the wet ingredients and whisk again until you get a smooth batter.
Equally, fill the batter in a cupcake pan lined with cupcake wrappers.
Add some chocolate chips on top of each cupcake.
Bake for about 20 minutes.
Let the cupcakes cool on a rack.
Meanwhile, prepare the frosting:
Heat the vegan milk in a small pot. Turn off the heat.
Add the chocolate chips and let it sit a minute.
Whisk until well incorporated and until you get a smooth frosting cream.
Dip the top of each cupcake in the frosting, then set aside for few minutes.
When the frosting is set, gently dip the top of the cupcakes in shredded chocolate.
Decorate each cupcake with strips candy and two fresh cranberries in order to get a spider cupcake.
Nutrition Information
Yield
6
Amount Per Serving
Calories

461
Total Fat

15g
Carbohydrates

70g
Protein

11.6g