Bourbon fan? You'll be in awe when you find out how to make this amazing winter-spiced herbal bourbon on the rocks. Perfect for the winter holidays!
I wasn't a fan of bourbon for a long time, but ever since I started being passionate about mixology and cocktail-making, I've been looking differently at this special liquor. You know, I came to the conclusion that mixology is an art itself and everything that happens inside a cocktail glass is done in a certain way because of a very clear reason. Just like that story I told you about the copper mugs in which the Basil Moscow Mule Cocktail is served, remember?
Let's take this bourbon on the rocks, for example. This type of drink "on the rocks" means that you have to pour it in a glass on top of one large ice cube instead of several, normal-sized ice cubes — hence the name. Why large, you might ask? Well, big ice cubes will melt slower than the small ones we're so used to, meaning your bourbon will be diluted at a slower pace. See, I told you there's a reason behind everything! It makes a lot of sense, right? Who likes a very diluted glass of bourbon, after all?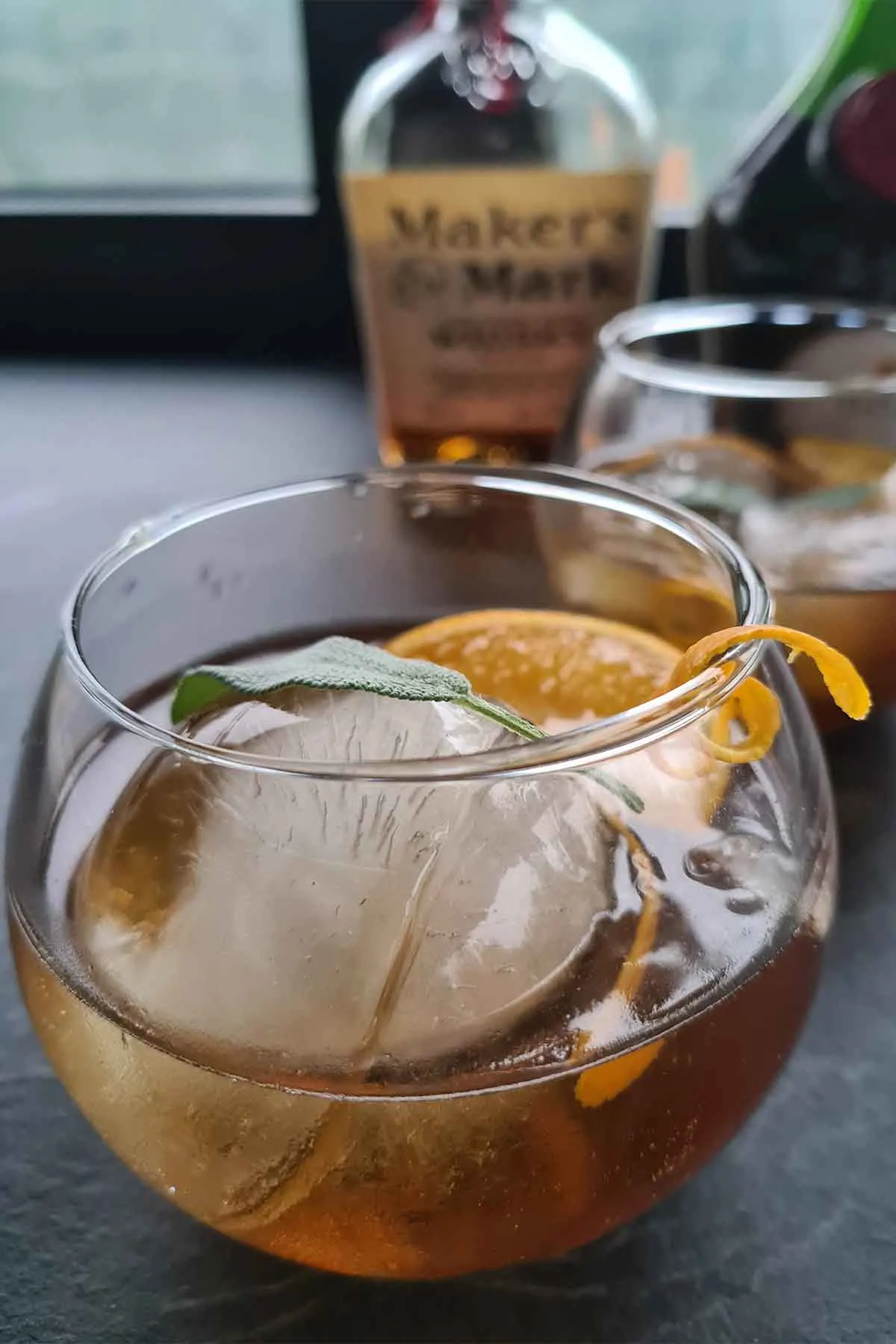 This winter version of the classic, old-fashioned cocktail is perfect for the upcoming holidays and it's part of my series of alcoholic winter holiday drinks! I made it sweeter, softer, and more flavored, so it's perfect for both men and women. I really wanted a pleasant cocktail that could be enjoyed by everyone at the Christmas table!
For my version of this wintery, Christmassy bourbon on the rocks, I used a mix of Maker's Mark Whisky and Benedictine liqueur (among other ingredients, of course). Let me explain my alcoholic choices.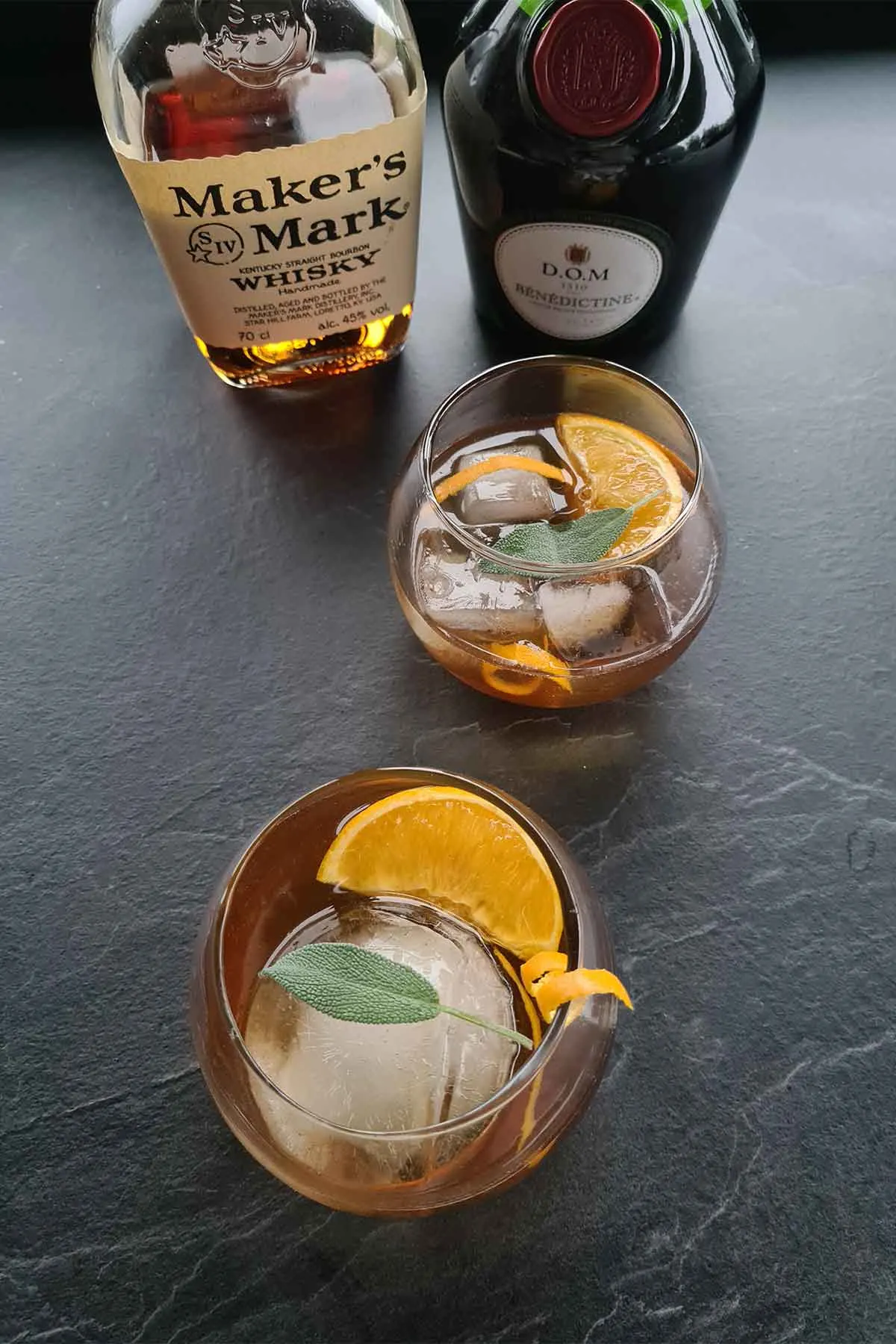 Maker's Mark Whisky is one of the best out there. They're a premium, Kentucky-based brand of handmade whisky. What's so special about it is that the whisky is distilled from red winter wheat instead of the classic rye. Then, the liquor is patiently aged in charred oak barrels for 5 to 8 years. Yes, it takes a while for this amazing whisky to be ready, but the flavor makes it all worthwhile, trust me! One of their mottos is that they make this whisky one bottle at a time in an old-fashioned way, just like when the founders made their first bottle. And I'm all for it!
What about the Benedictine Liqueur? This is such a special liquid! It's basically a herbal liqueur made of 27 flowers, spices, roots, berries, and plants. The recipe dates from the 19th century and its taste is very complex, I simply couldn't describe it. Benedictine is used in several types of cocktails, whenever you want a sweet addition to a strong drink combination.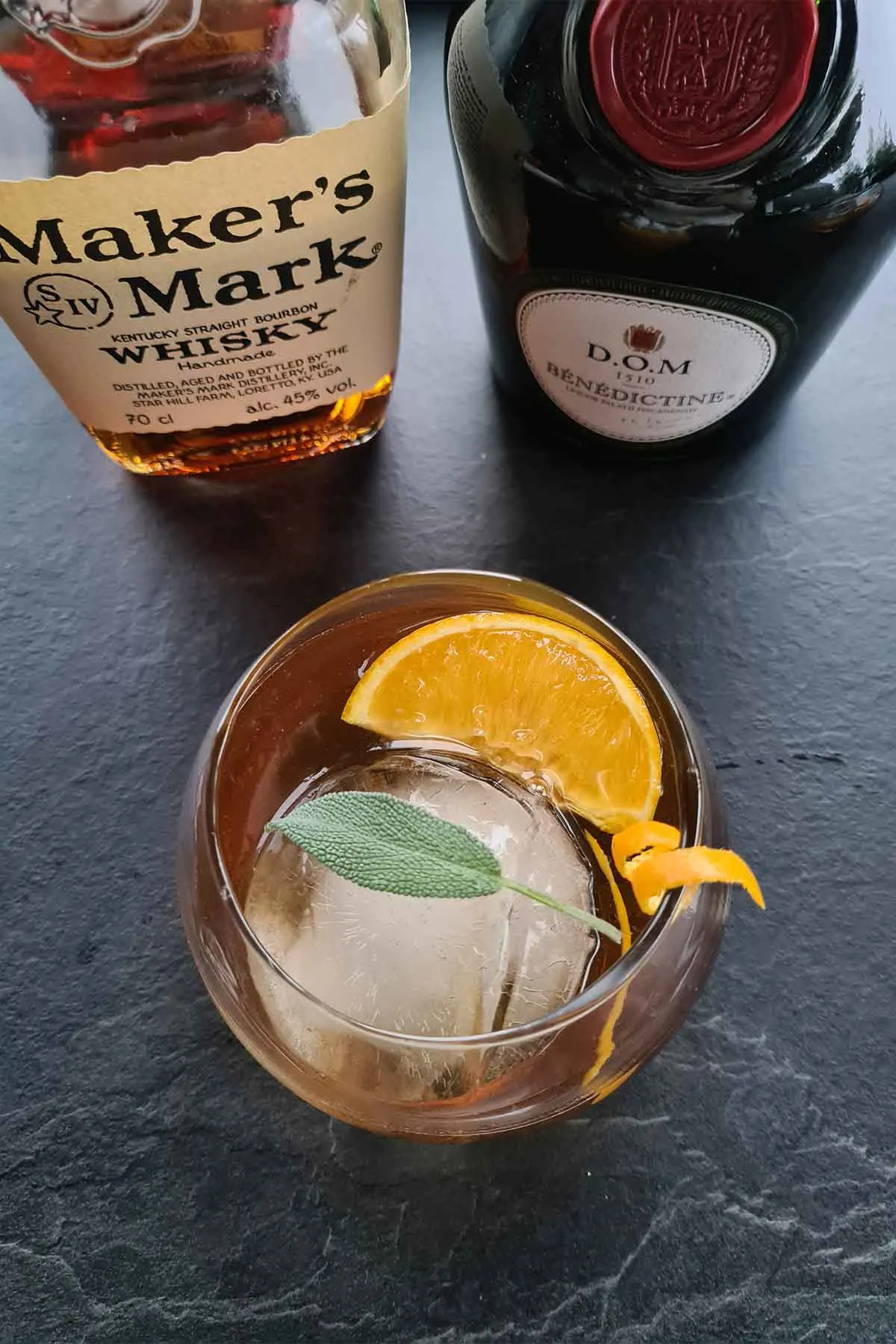 What makes this bourbon so… wintery? might also be a pretty good question. Well, I added some special wintery ingredients inside the glass, apart from the two alcohols presented above: a Winter Spice syrup that gets the job done in no time and some orange wedges.
If you take a look at the full recipe below and its instructions, you'll see that I smoked the glass with some dry sage leaves before adding the liquid. This is entirely optional, but it really adds a new level of flavor to the entire drink.
Smoking the glass is easy, you just need to take a few dry sage leaves and burn them lightly on a plate. While they burn, put the glass rim down on the plate, on top of the smoking sage and wait for a couple of minutes, while capturing the smoke inside the glass. Your glass is now smoked!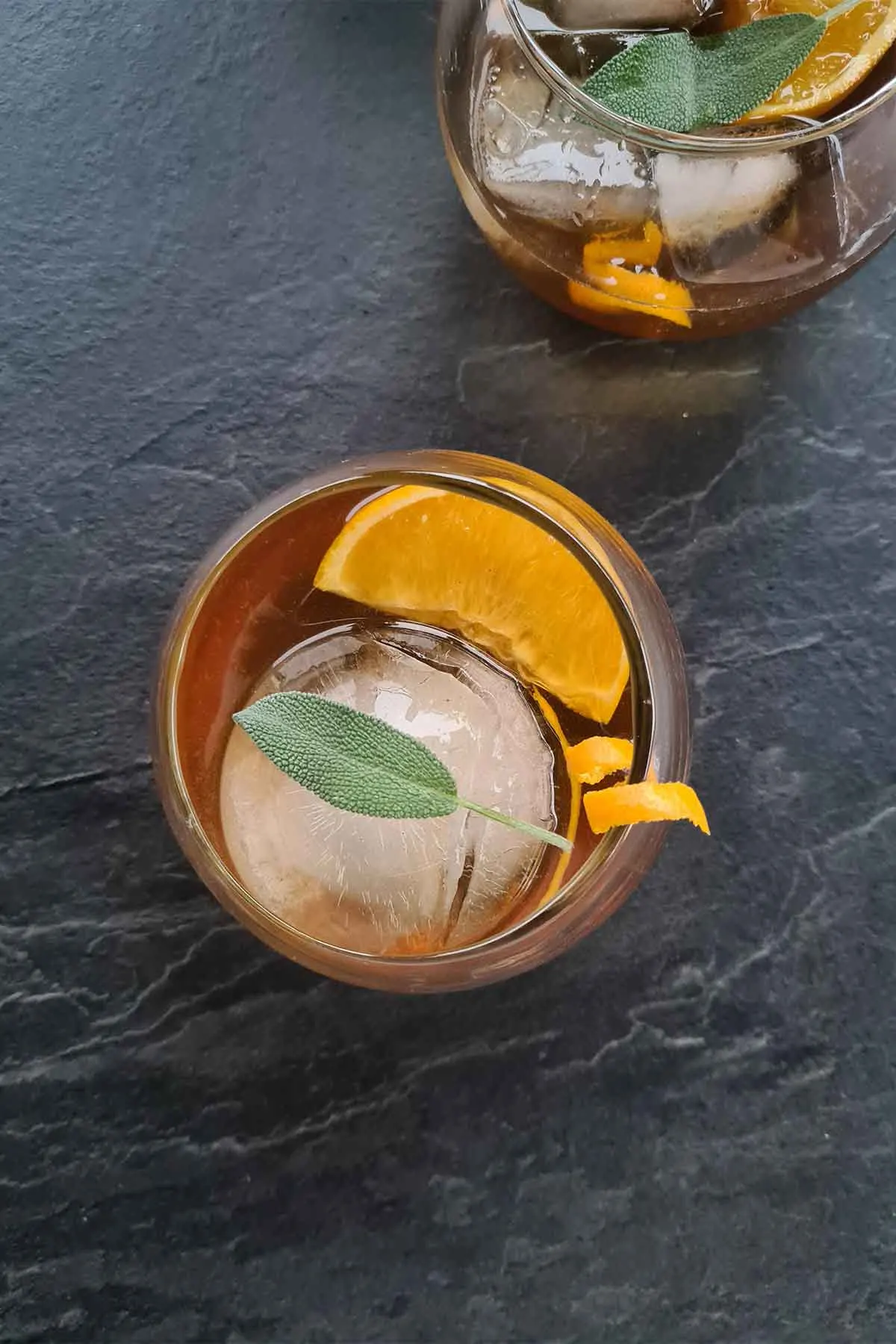 And if you want a nice extra tip except for the smoked glass, I recommend using the chilled glass technique as well for this winter-spiced herbal bourbon. For this, you only need to put the glass in the freezer for half an hour. Just remember to take it out only seconds before pouring the drink, smoking it, then adding the drink. The faster, the better!
This being said, I hope you'll try my special version of this winter-spiced herbal bourbon on the rocks soon. And if you're a woman that dislikes whisky, there's a big chance you might like this one, as it's well-balanced and soft, perfect for all tastes and preferences out there.
And if you decide to try it out and share it with your loved ones for these upcoming holidays, don't forget to leave a comment down below and let me know how it went. Happy holidays!
Yield: 1
Winter-Spiced Herbal Bourbon on the Rocks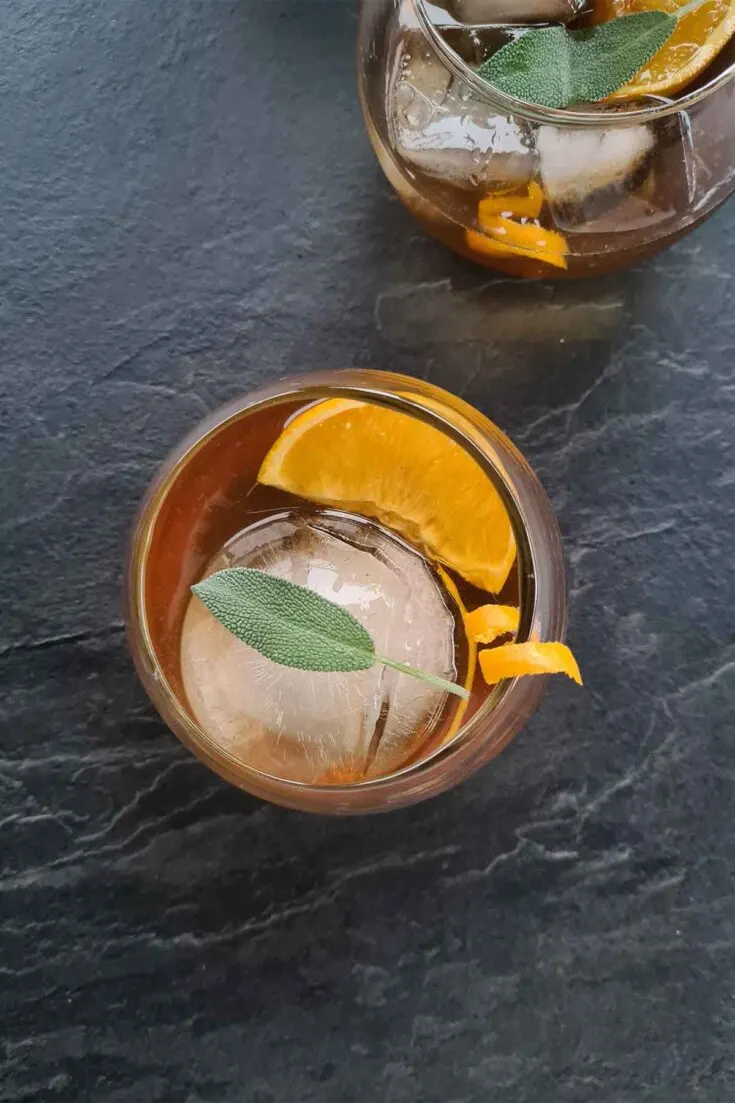 Bourbon fan? You'll be in awe when you find out how to make this amazing winter-spiced herbal bourbon on the rocks. Perfect for the winter holidays!
Ingredients
60ml (2 oz) bourbon - my favorite is Maker's Mark
15ml (½ oz) Benedictine liqueur
15ml (½ oz) Monin Winter Spice syrup
orange wedge + zest
1 sage leaf
optional - dry sage to smoke the glass
one large ice sphere - or large ice cubes
Instructions
In a shaker, add the bourbon, Benedictine, syrup, and 2-3 ice cubes. Shake well.

Use a chilled glass.

For this cocktail, I smoked the glass with some dry sage leaves. This is optional, but it adds to the experience. Add some leaves on a cutting board and light them on fire using a small torch or matchstick. Put the chilled glass over it, upside down, and let the smoke get into the glass.

Flip it, add the large ice cube or sphere and pour your cocktail from the shaker, onto the glass, using a strainer.

Add one orange wedge and decorate with orange zest and a sage leaf.