This cinnamon roll casserole is the ideal indulgence for lazy mornings or family brunches, offering an irresistible combination between the soft and fluffy texture of the rolls and the intense and sweet aroma of cinnamon.
Today's recipe is ideal for this season. Don't miss the opportunity to try this simple and quick cinnamon roll casserole recipe, which promises to impress you and make you come back for more! I hope that the information below will also interest and inspire you, about how to make cinnamon rolls really tasty, by improving the classic recipe with the help of a few tricks.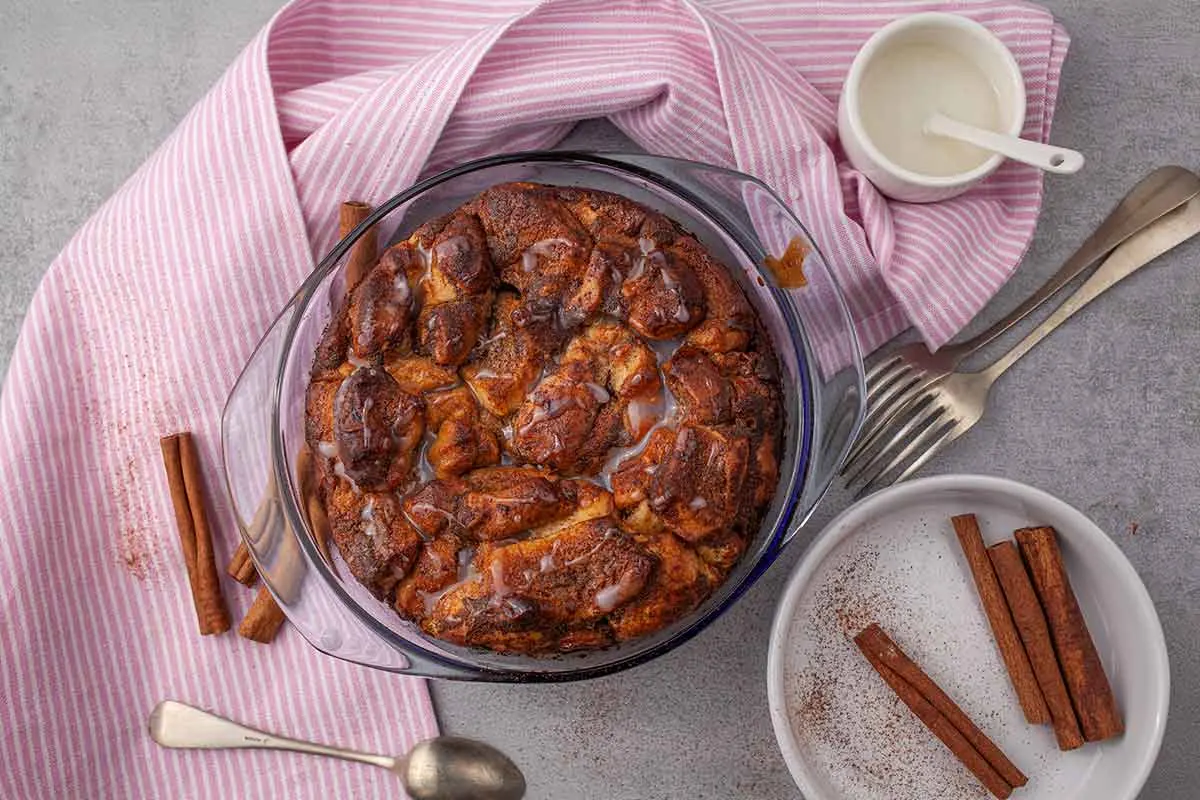 The origins of cinnamon rolls
Cinnamon rolls are a dessert loved all over the world, with origins that can be traced to Sweden, where they are known as "kanelbullar". Sweden is considered the birthplace of this sweet and aromatic delicacy.
"Kanelbullar" was born in the 1920s, when ingredients such as sugar, flour and butter became more accessible to the population after the First World War. The traditional Swedish recipe is slightly different from the American versions, generally having less sugar and a more subtle taste of cinnamon. Also, Swedes often add cardamom to the dough for a distinctive and complex taste.
When the Swedish immigrants arrived in the US, they brought the "kanelbullar" recipe with them. This was adapted and turned into what we know today as a cinnamon roll. The American version of this dessert is usually sweeter and richer, topped with a generous layer of sugar glaze or cream cheese.
Today, cinnamon rolls are a symbol of comfort and simple joy, being adored by people of all ages.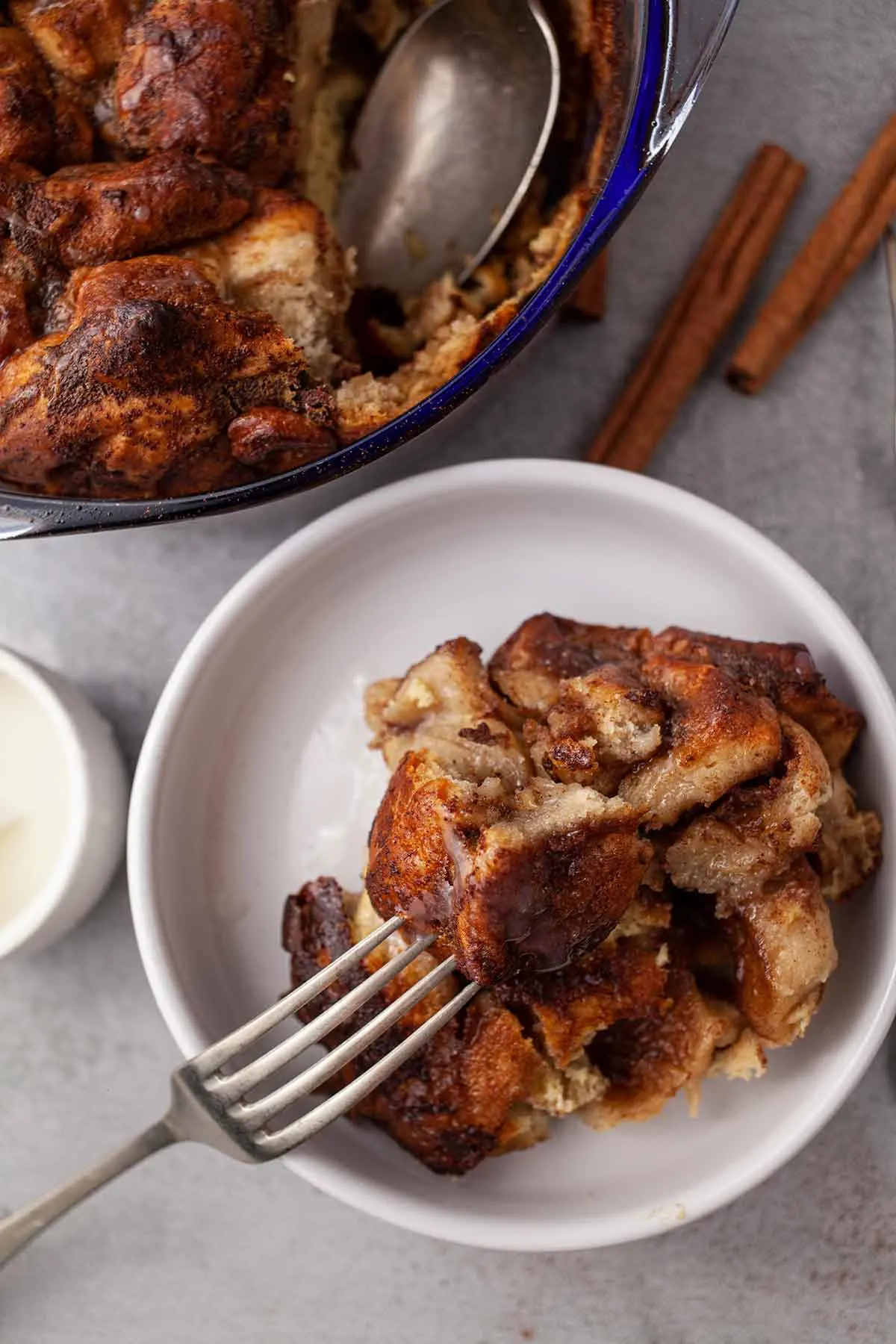 Recipe for cinnamon roll casserole
Yield: 8 servings
Cinnamon Roll Casserole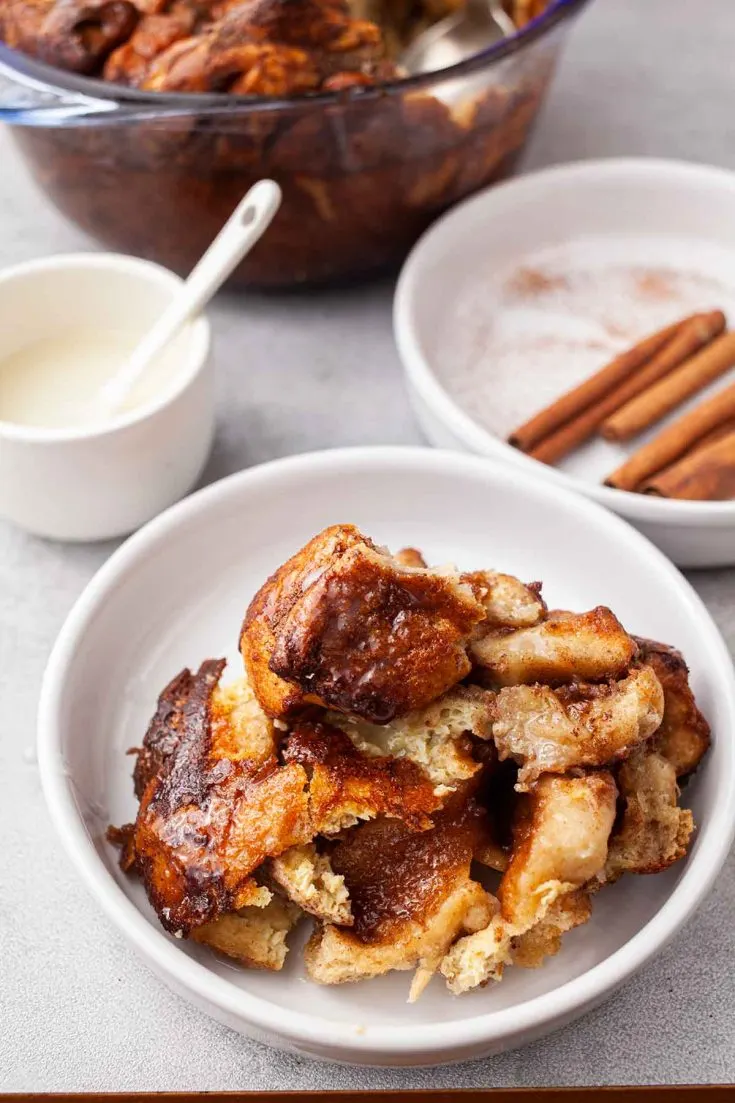 Indulge in the ultimate comfort treat with this Cinnamon Roll Casserole recipe! This is a perfect breakfast that will become your favorite.
Ingredients
Quick version:
8 store-bought, refrigerated cinnamon rolls, defrosted or tubed
Cinnamon rolls from scratch version (dough):
2 cups (250g) all-purpose flour
1/4 cup (50g) sugar
1/2 cup (130ml) whole milk
2 Tablespoons (30g) unsalted butter
2 tsp instant yeast
1 egg
2 pinches of salt
Cinnamon rolls from scratch version (filling):
2 Tablespoons (30g) unsalted butter, softened
1/4 cup (50g) brown sugar
1 tablespoon ground Ceylon cinnamon
For the cinnamon roll casserole custard:
2 large eggs
¼ cup milk
1 teaspoon vanilla
1 teaspoon cinnamon
2 tablespoons maple syrup
For the cinnamon roll casserole glaze:
½ cup powdered sugar
½ tablespoon milk
¼ teaspoon vanilla
Instructions
Make the cinnamon rolls (skip steps 1-7 if you use store-bought buns).
Prepare the dough by whisking flour, sugar, and salt in a large mixing bowl and setting it aside.
In a deep pan, combine milk and butter, then heat on stove until the butter melts and the mixture is warm but not hot (104°F/40°C). Stir in the yeast until it fully dissolves.
Introduce this liquid mixture to the set-aside dry ingredients, adding an egg as well. Combine using a spatula or a stand mixer with a paddle attachment on medium speed until a soft, pliable dough is achieved.
Turn the dough onto a floured surface and knead with floured hands for around 5 minutes until it forms a smooth ball. Add a bit more flour if the dough feels overly sticky or soft.
Place the dough in a bowl that's been lightly greased, covering it loosely. Let it sit for approximately 10 minutes while you prepare the filling.
For the filling, roll the rested dough into a rectangle measuring approximately 12 x 8 inches (30x20 cm). Spread softened butter over the surface, followed by a mixture of cinnamon and brown sugar sprinkled evenly on top.
Carefully roll the dough to form a log, slicing it into 8 equal portions. Arrange these rolls in a greased round baking pan.
Allow the rolls to rise by covering the pan with a clean towel, placing it in a warm area for 60 minutes until they have doubled in size.
Heat the oven to 180°C (356°F).
In a bowl, mix eggs, milk, vanilla and cinnamon until you get a homogeneous composition.
Pour the egg mixture over the rolls, distributing evenly. Then sprinkle with maple syrup.
Put the cinnamon roll casserole in the hot oven and leave it to bake for 30 minutes or until it is well browned on the surface.
Mix the ingredients for the glaze in a bowl.
Serve the cinnamon bun casserole hot and drizzled with glaze.
Nutrition Information
Yield
8
Serving Size
1
Amount Per Serving
Calories

416
Total Fat

11g
Saturated Fat

5g
Trans Fat

1g
Unsaturated Fat

4g
Cholesterol

127mg
Sodium

290mg
Carbohydrates

67g
Fiber

2g
Sugar

22g
Protein

12g
I strive to keep the information as accurate as possible but make no warranties regarding its accuracy. I encourage you to make your own calculations using your preferred nutrition calculator.
Filling ideas for cinnamon rolls
I chose to prepare the classic, simple version, but once you are familiar with the basic cinnamon rolls recipe, you can experiment with other types of fillings. Here are some suitable suggestions for improving this cinnamon roll breakfast casserole:
Apple filling:
• By adding grated apples or small pieces of ripe apples to the classic cinnamon filling, you get a fruity taste and a juicy texture. The apples add a layer of natural sweetness and a subtle acidity that balances the sweetness of the rolls.
Nuts filling:
• Chopped nuts (walnuts, hazelnuts, pecans or any other favorite type) add a special crunch and a rich aroma, which perfectly complements the jam and cinnamon flavors.
Raisins filling:
• Raisins or any other dried fruit can also be used to add texture and taste. Raisins bring a note of concentrated sweetness and a chewy texture.
Chocolate filling:
• Pieces of chocolate or roasted cocoa can be sprinkled over the cinnamon filling to create rolls with an intense and indulgent chocolate taste.
Cream Cheese Filling:
• A creamy cheese filling will add an element of creaminess, making the rolls even more decadent and satisfying.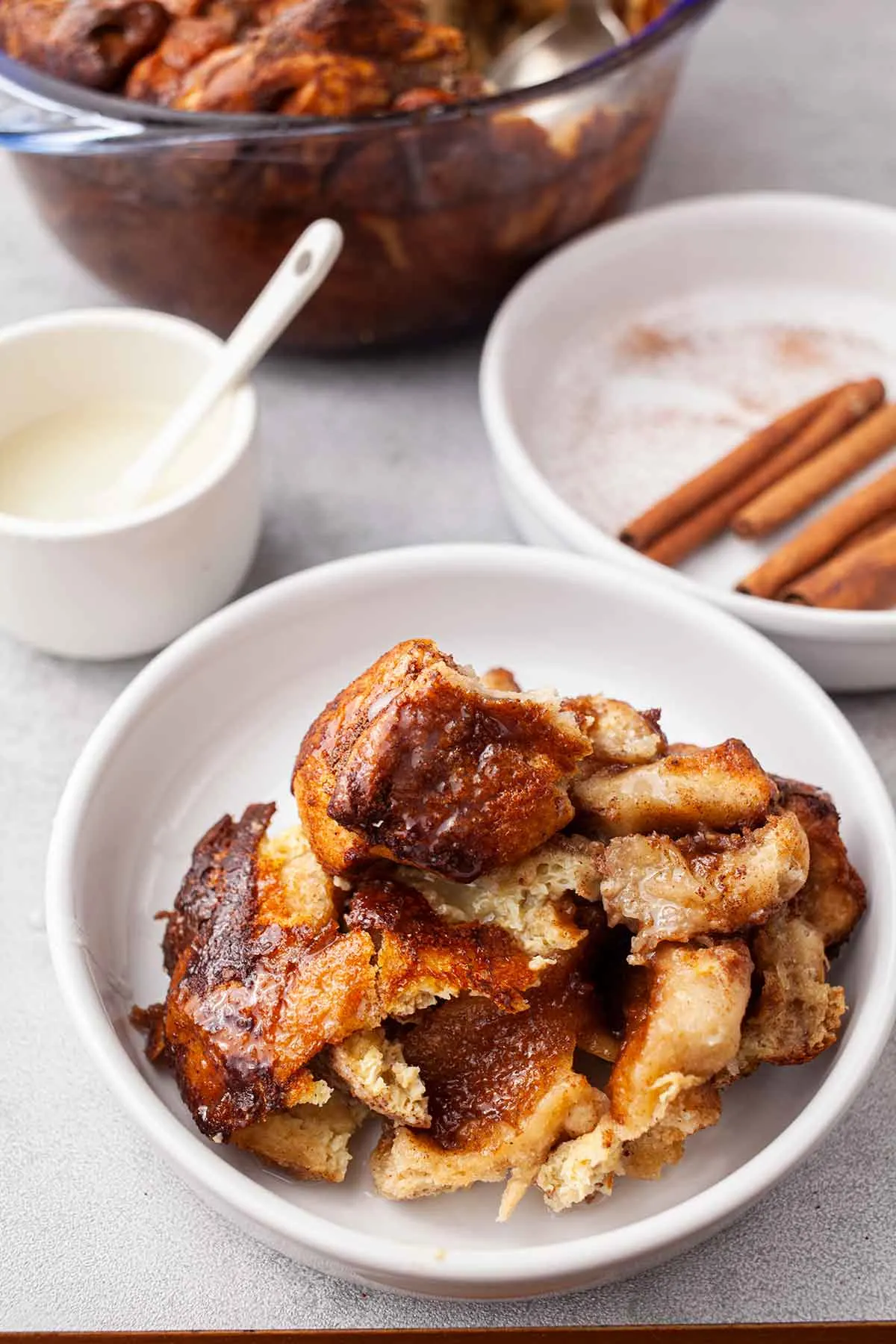 Glazing ideas for cinnamon bun casserole
The American cinnamon rolls recipe always comes packaged with a generous glaze on top. I chose the unglazed version, but if you want to experience a decadent dessert, here are some suggestions below:
Cheese Frosting:
• The classic cheese frosting is a creamy combination of Philadelphia cheese, butter, powdered sugar and vanilla extract. This glaze adds an element of luxury and a rich creaminess to the rolls.
Caramel glaze:
• A caramel glaze adds rich and buttery notes, with an intense sweetness and a sticky texture. You can use caramel prepared at home or ready-made from the store.
Chocolate Glaze:
• Melted chocolate or a chocolate ganache gives it a velvety texture and an intense and decadent taste. This option is perfect for chocolate lovers.
Sugar Icing:
• Simple but delicious, sugar glaze is made from powdered sugar and water or milk, offering pure sweetness and a sugary crust.
Citrus Flavor Glaze:
• Add grated zest and lemon or orange juice to the sugar glaze for a refreshing and acidic note that counterbalances the sweetness.
Coconut Glaze:
• Grated coconut and coconut milk can be added to the glaze, creating a tropical and exotic version, with a light texture and special taste.
Glaze with Aromatic Essences:
• Integrates different essences, such as almond, rum, or vanilla in the classic sugar glaze to offer different and intriguing flavors.
Vegan Glaze:
• For a vegan version, you can create a glaze of powdered sugar and vegetable milk, or opt for a pistachio or cashew-based glaze.
Flavoring variants
Add any of these to the recipe and completely transform its flavor. These flavoring ideas go very well with the strong cinnamon taste.
Vanilla
Nutmeg
Cardamom
Aromatic Essences:
• Various aromatic essences, such as almond, rum or orange, can be incorporated into the dough to offer different and interesting notes.
Citrus peel:
• Adding grated lemon, lime, orange or tangerine peel to the dough can provide a fresh and refreshing taste.
Cocoa
Instant coffee
Gingerbread Condiments:
• A combination of spices such as cloves, ginger and black pepper can bring a festive and celebratory note to the rolls.
Tips & Tricks for perfect cinnamon roll casserole
Temperature Control:
• The temperature of the ingredients and the environment in which you work has a significant impact. The ingredients, including eggs and butter, should be at room temperature to mix evenly.
Proper Dough Rising:
• Let the dough rise in a warm place. Proper fermentation is crucial for the soft and fluffy texture of the rolls.
Using Quality Cinnamon:
• Invest in quality cinnamon, as it is the key ingredient. Ceylon cinnamon is an excellent choice due to its fine and complex flavor.
Don't Overload with Filling:
• Although it is tempting to add a lot of filling, an excess can cause leaks during baking. It maintains a proper balance between the dough and the filling.
Preheating the Oven:
• A well-preheated oven ensures that the rolls bake evenly and rise properly.
Toothpick Test:
• Use a toothpick to check if the rolls are ready. This should come out clean, but with a few wet crumbs attached.
Proper Cooling:
• Let the rolls cool a little before adding the glaze. If the glaze is added too early, it will melt and run.
Storage:
• If you plan to keep them, do it without the glaze. Glaze them just before serving, to maintain the crispy texture.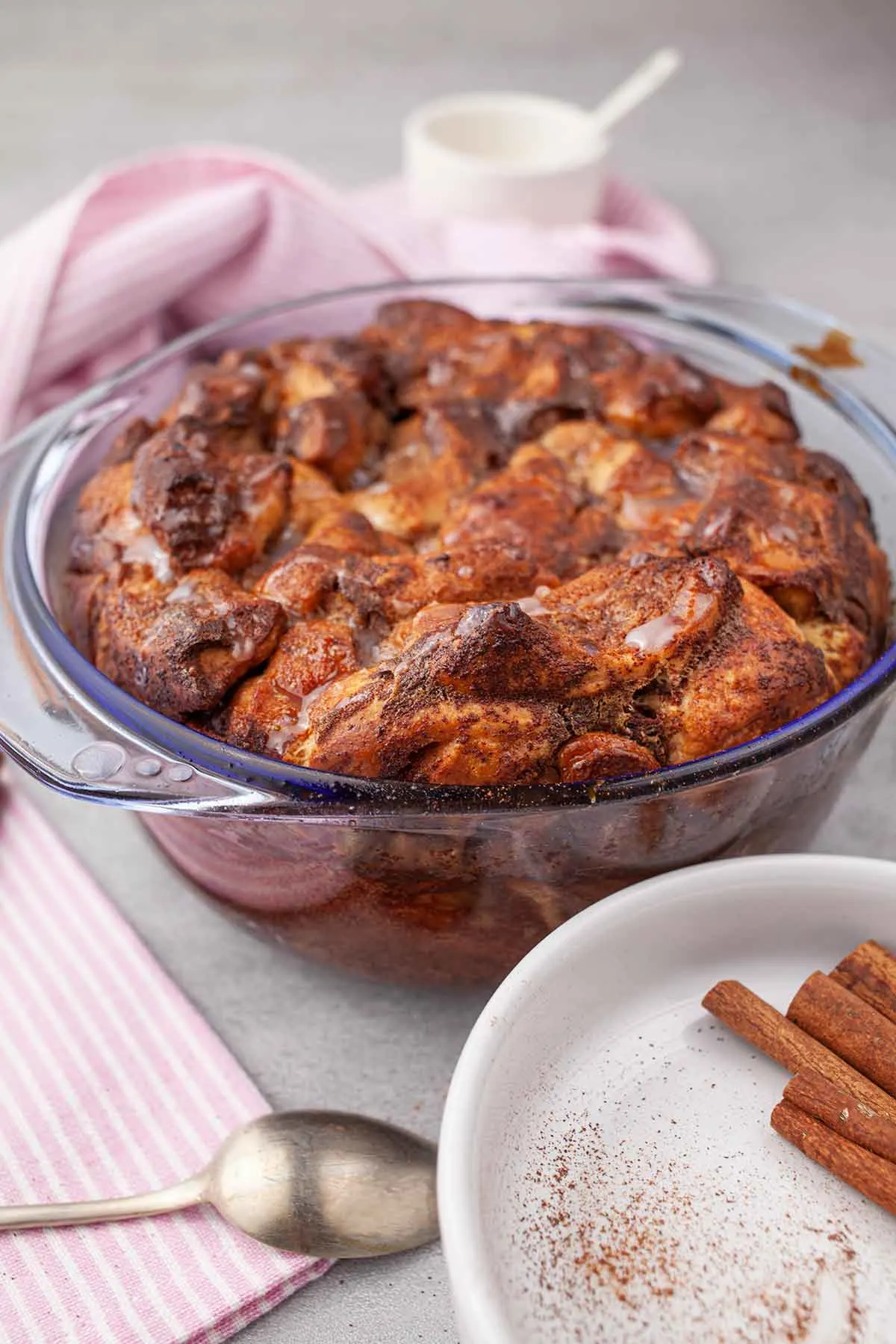 Crockpot Cinnamon Roll Casserole – is it possible? (Slow Cooker version)
Yes! Crafting a delightful cinnamon roll Crockpot recipe is an effortless venture that fills your kitchen with irresistible aromas. Simply layer your cinnamon rolls within the Crockpot, just like you would do in the oven tray. The low and slow cooking process cooks these to perfection.
Cooking a cinnamon roll casserole in a crockpot on a low setting typically takes about 2 to 3 hours. However, cooking times can vary based on the specific model and brand of your slow cooker, as well as the type and amount of cinnamon rolls you are using. It's always a good idea to start checking around the 2-hour mark to ensure you achieve the desired texture and doneness without overcooking. When the edges are golden and the center is set, your delightful treat is ready to be enjoyed! Always refer to your appliance's manual for any specific instructions or recommendations regarding cooking times and settings.
Gluten Free or Vegan Options
Since I now have access to a 100% cruelty-free & organic source of eggs and dairy, I started experimenting more with classic dessert recipes that contain these ingredients of animal origin. However, if you are looking for a vegan or gluten-free option, here are some tips below.
Gluten Free Options:
Gluten Free Flour:
• Replace regular flour with a quality gluten-free flour, which can be a mixture of rice flour, potato flour and tapioca flour. There are also ready-mixed flour variants, specially designed for baking, available commercially. I recommend Mix C Patisserie from Schar.
Xanthan Gum:
• Add xanthan gum if this ingredient is not included in the gluten-free flour mixture. It helps bind the dough, compensating for the lack of gluten.
Vegan Options:
Vegetable milk:
• Replace traditional dairy milk with vegetable milk, such as almond, soy, oat or coconut milk. Each offers a slightly different taste, so choose according to your preferences. Also try my rice milk recipes.
Vegan Butter:
• There are many varieties of vegetable butters on the market, which can replace traditional butter in the recipe for cinnamon rolls. You can also use my vegan butter recipe from the blog.
Egg Substitutes:
• Eggs can be replaced with vegan options, such as "chia egg" (one spoon of chia seeds mixed with three spoons of water), "flax egg" (one spoon of ground flax seeds with three spoons of water).

When making changes, it is always recommended to test the recipe before making it for a special occasion, as changing ingredients can affect the final texture and taste. Therefore, adapting the cinnamon roll recipe to be vegan or gluten-free may require some trial and error, but the result can be just as delicious and satisfying as the original version. Experiment with different substitutes and discover what works best for you!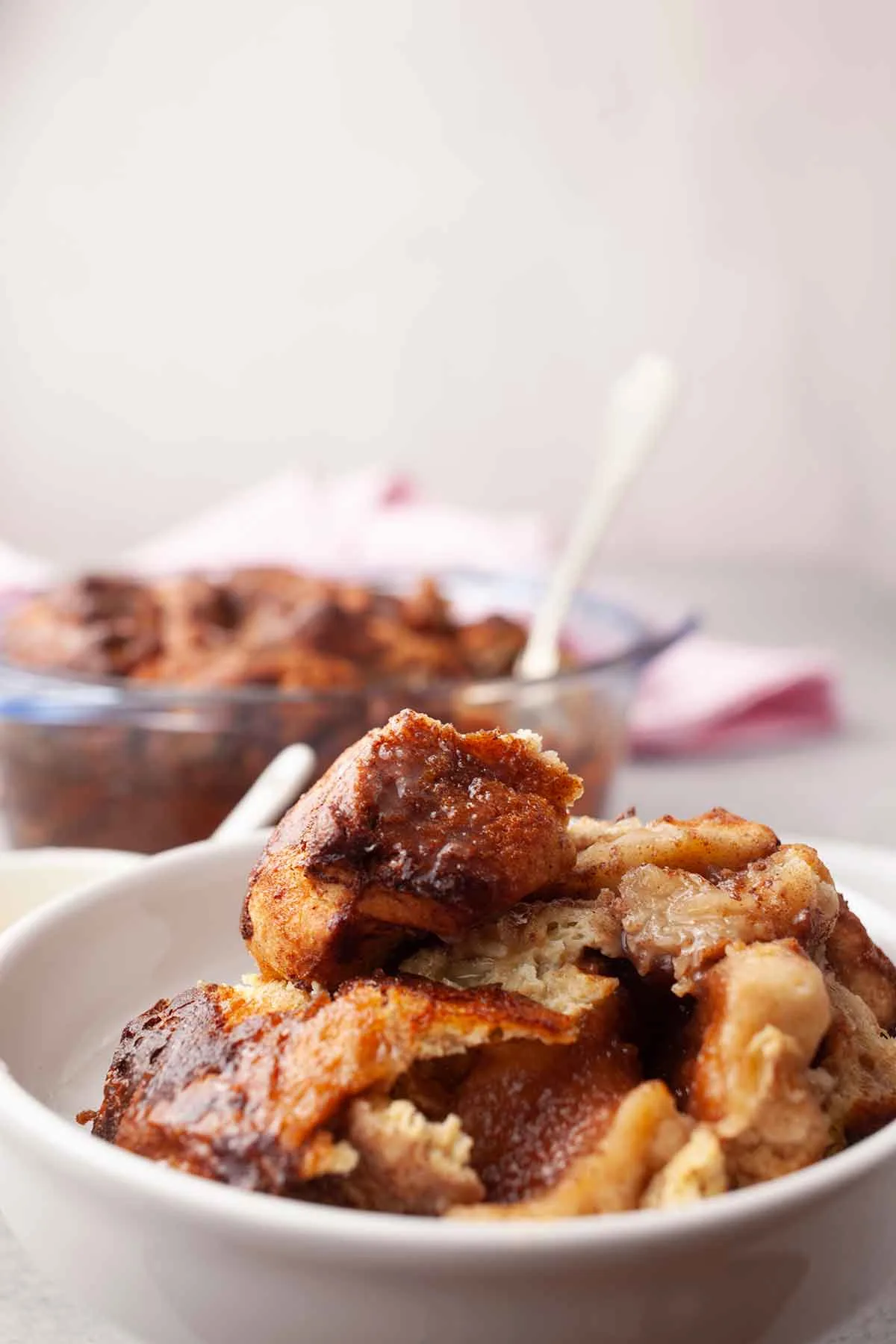 Storage and Reheating
Storage:
Refrigeration:
• If you have cinnamon rolls left, it is best to keep them in the refrigerator. Place the casserole or individual rolls in an airtight container or cover them with plastic wrap to prevent drying. In the refrigerator, they will keep well for up to 5 days.
Freezing:
• For longer storage, cinnamon rolls can be frozen. Before putting them in the freezer, make sure they have cooled completely. Use airtight containers specially designed for the freezer to prevent the formation of ice crystals on the rolls.
Reheating:
From the Fridge:
• Preheat the oven to 150°C (300°F). Place the rolls in the oven for about 10-15 minutes or until they are completely heated. For a softer texture, you can cover the rolls with aluminum foil during reheating.
From the Freezer:
• If the rolls were frozen, it is recommended to leave them to thaw in the refrigerator overnight before reheating. After they have thawed, follow the reheating steps from the refrigerator.
Useful advice:
Do not leave the rolls at room temperature for long periods, as they can become sticky and spoil.
Try to avoid repeated reheating, as this can negatively affect the texture and taste of the rolls.
I would love to hear how you played with my cinnamon roll casserole recipe! Have you tried new fillings or added a special glaze? Maybe you found a combination of flavors that will electrify the taste? I can't wait to hear your stories and culinary experiments!