This easy egg bake (egg casserole) is a morning delight with a fluffy texture, vibrant colors and a harmonious combination of aromas. This recipe entices you with the promise of a filling and nutritious breakfast, prepared without any hassle. A feast that combines flavor and health, perfect to start your day with energy and good mood!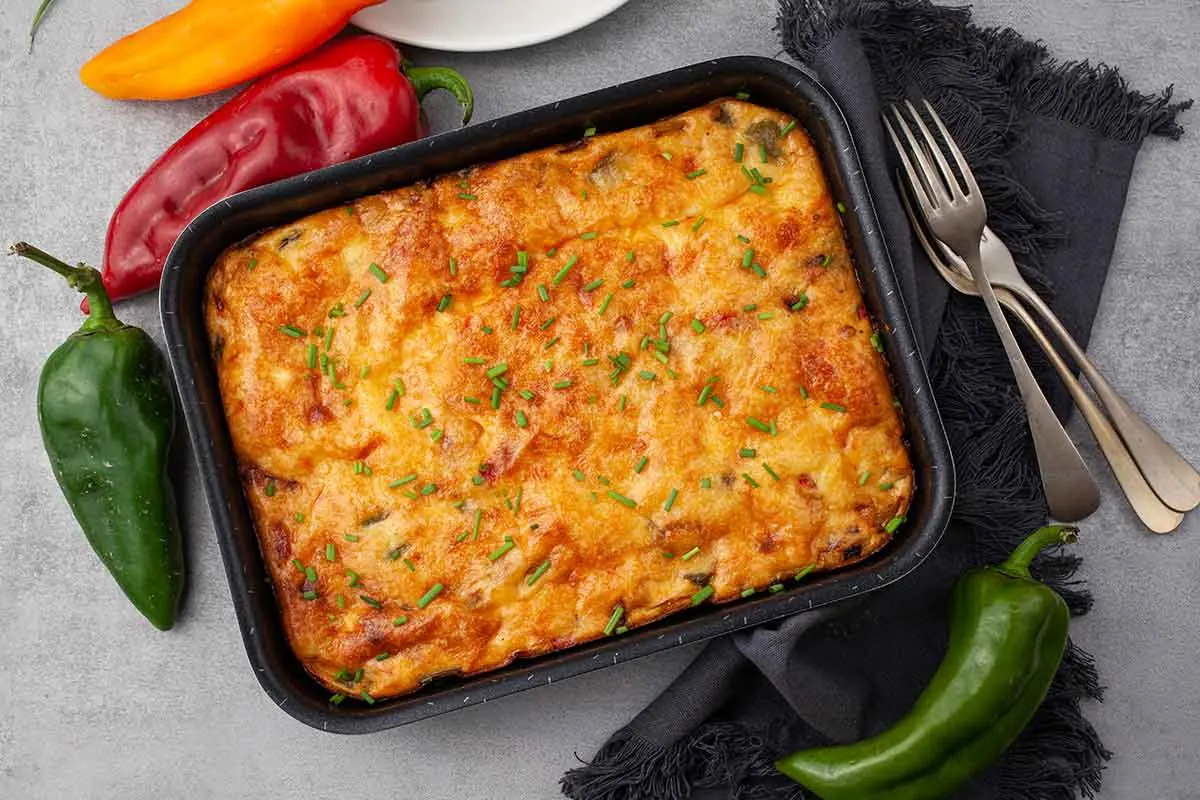 This egg casserole recipe is my favorite option for the after-party breakfast, when our friends stay over for next day's barbecue in the garden. It is ideal for larger groups or families, being very easy to prepare and does not require much time spent in the kitchen.
I have detailed below some ideas of extra toppings, flavors and ingredients that you can use to transform this baked omelette recipe. I hope you'll find it useful!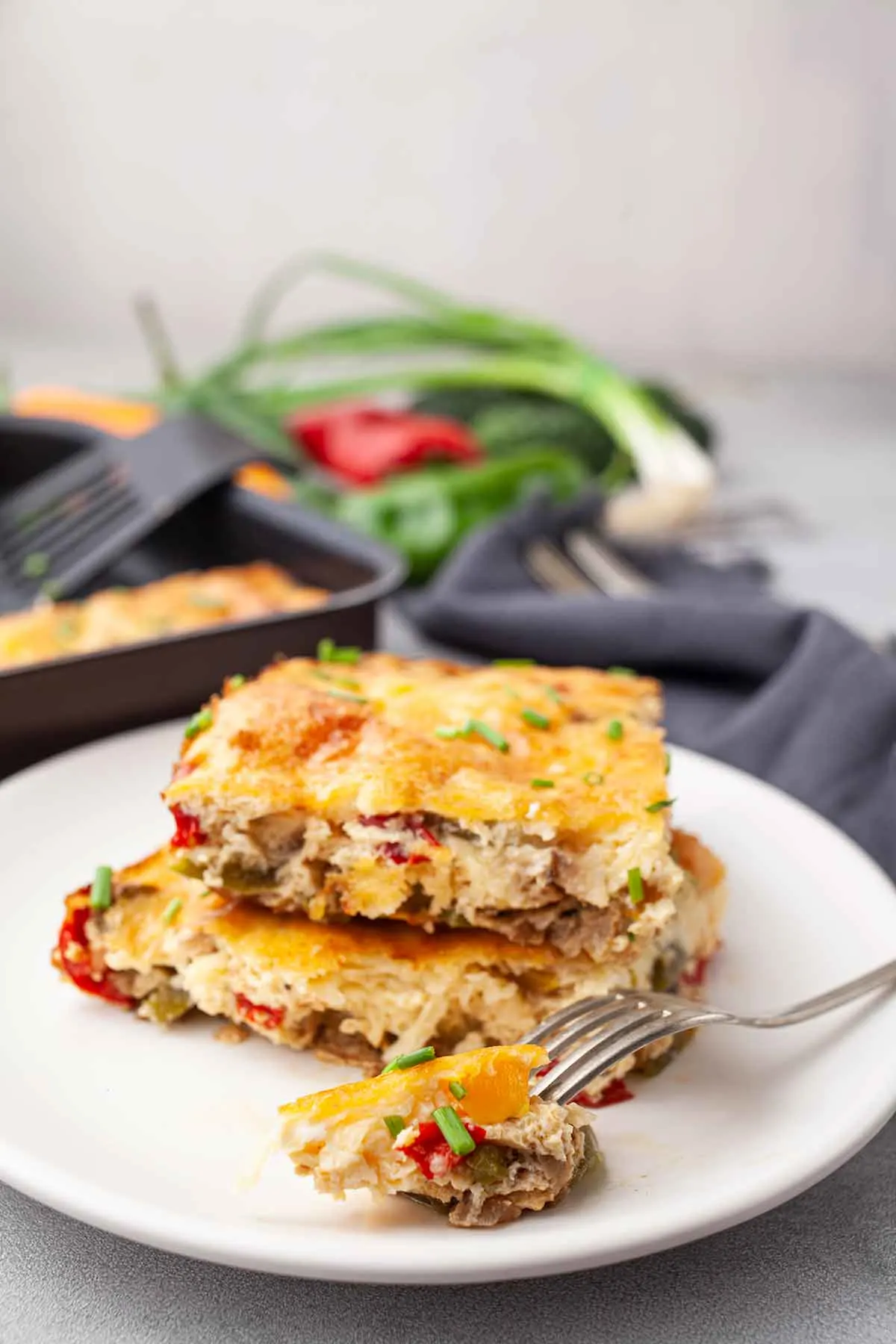 Additional protein options for breakfast egg casserole
Adding extra protein not only gives consistency and flavor to your egg bake, but also keeps you full for longer, providing the energy you need to start the day. I added both vegetarian, vegan and meat options.
Cheese:

Cheese is an excellent source of protein and calcium. You can opt for a more mature and salty cheese, such as Cheddar or Feta, for extra flavor. If you prefer a creamier texture, cream cheese or mozzarella are great choices. For a diet-friendly option, you can use low-fat cheese.

Ham:

Diced ham can be a delicious addition. Choose a quality ham, from local producers, without artificial preservatives. The ham can be lightly fried before being added to the composition to intensify its flavor.

Vegetarian Bacon:

If you want a vegetarian version of bacon, there are many plant-based alternatives available on the market. Vegetarian bacon can be made from textured soy proteins, mushrooms, or other vegetable ingredients, and adds that smoky and salty taste that perfectly complements the omelette. Also try my vegan bacon recipes.

Tofu or Tempeh:

For those who want a vegan alternative or simply want to avoid animal products, tofu and tempeh are excellent sources of protein. Make sure you drain them well and fry them lightly before adding them to the omelet to improve their texture and aroma. I recommend using smoked tofu or adding a pinch of smoked paprika to them before frying.

Chicken or Turkey:

Cooked and diced chicken or turkey can also be a protein-rich addition. Choose lean meat and cook it with minimal spices so as not to overshadow the taste of the other ingredients in the egg casserole. I do not recommend poultry bought from large stores and supermarkets. If you choose to eat meat, always look for local producers who offer decent conditions to the animals.
Tip:

Experiment with different protein combinations to find the perfect blend that suits your taste and nutritional needs. Each protein source brings a unique profile of flavors and textures that can enrich and diversify your breakfast egg casserole.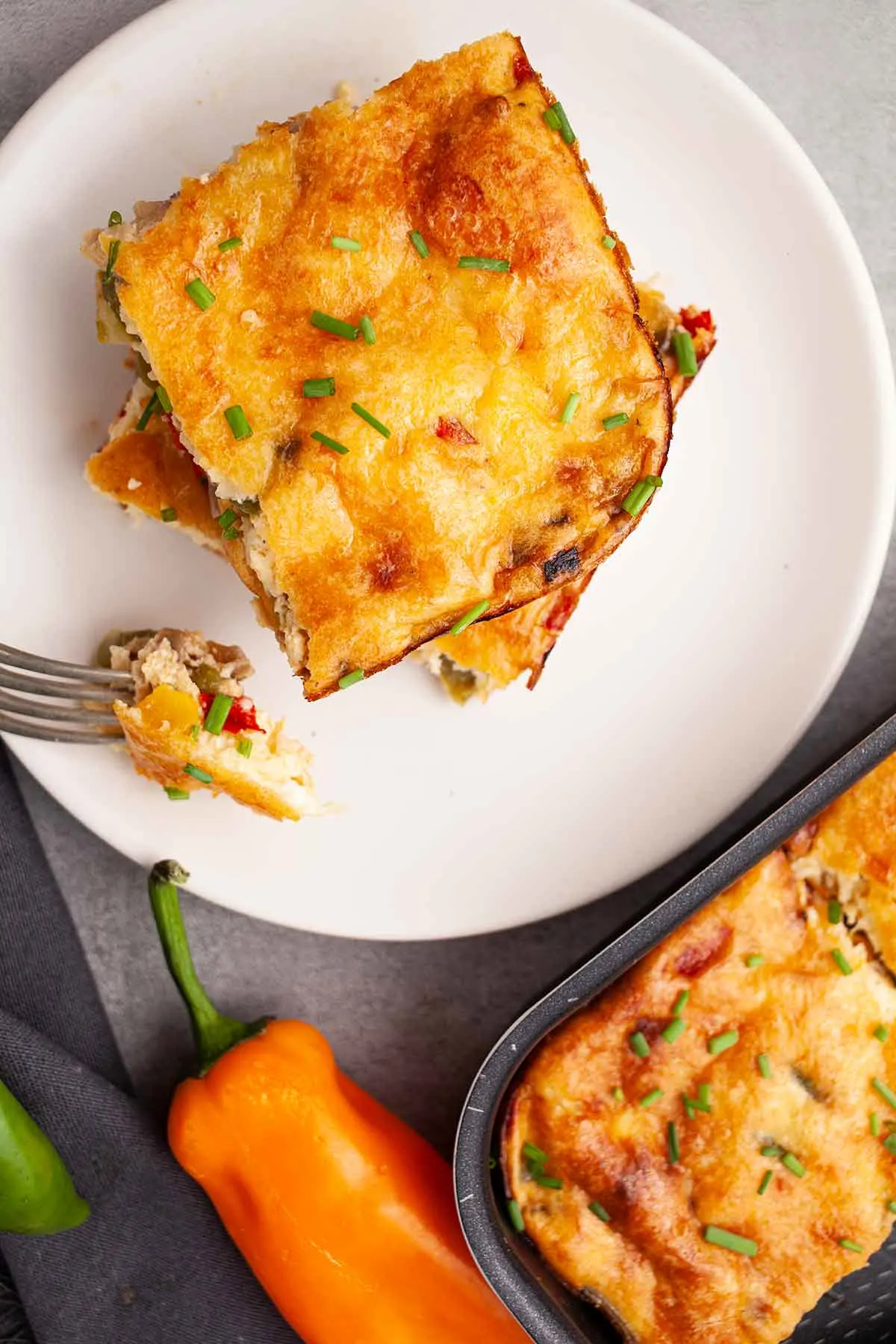 Spices and herbs suitable for an easy egg casserole
To give a unique taste to the easy egg bake, using the right spices and herbs is essential. They add layers of flavors and a delicious complexity to each bite.
Paprika:

Paprika, whether sweet, smoky or spicy, can add a wonderful nuance and vibrant color to your easy egg bake, giving it a slightly spicy and smoky taste.

Fresh Herbs:

Parsley, dill, coriander, or freshly chopped basil add a vibrant taste and a touch of freshness. Adding them just before serving keeps the flavors and colors alive.

Dried Herbs:

Oregano, rosemary, or dried thyme, all can add deep and complex notes to the egg bake casserole. Being more concentrated, use dry herbs sparingly.

Hot Spices:

If you prefer a spicy taste, chopped hot peppers, red pepper flakes, or even a splash of hot pepper sauce can bring an additional level of heat and intensity.

Curry or Turmeric:

For an exotic shade, adding curry powder or turmeric not only gives the easy egg casserole an attractive yellow color, but also a distinct taste and anti-inflammatory benefits.

Garlic and Onion Powder:

Garlic and onion powder are excellent options to add an additional taste without having their specific texture in the dish.

Mixture of Herbs and Spices:

There are also ready-made mixes of herbs and spices that can simplify the process, such as the Italian mix, herbs de Provence, or even a special mix for the egg casserole.
Tip:

Start with small amounts and adjust according to your preferences. Spices and herbs can completely transform a dish, so experiment and discover the combinations you like the most!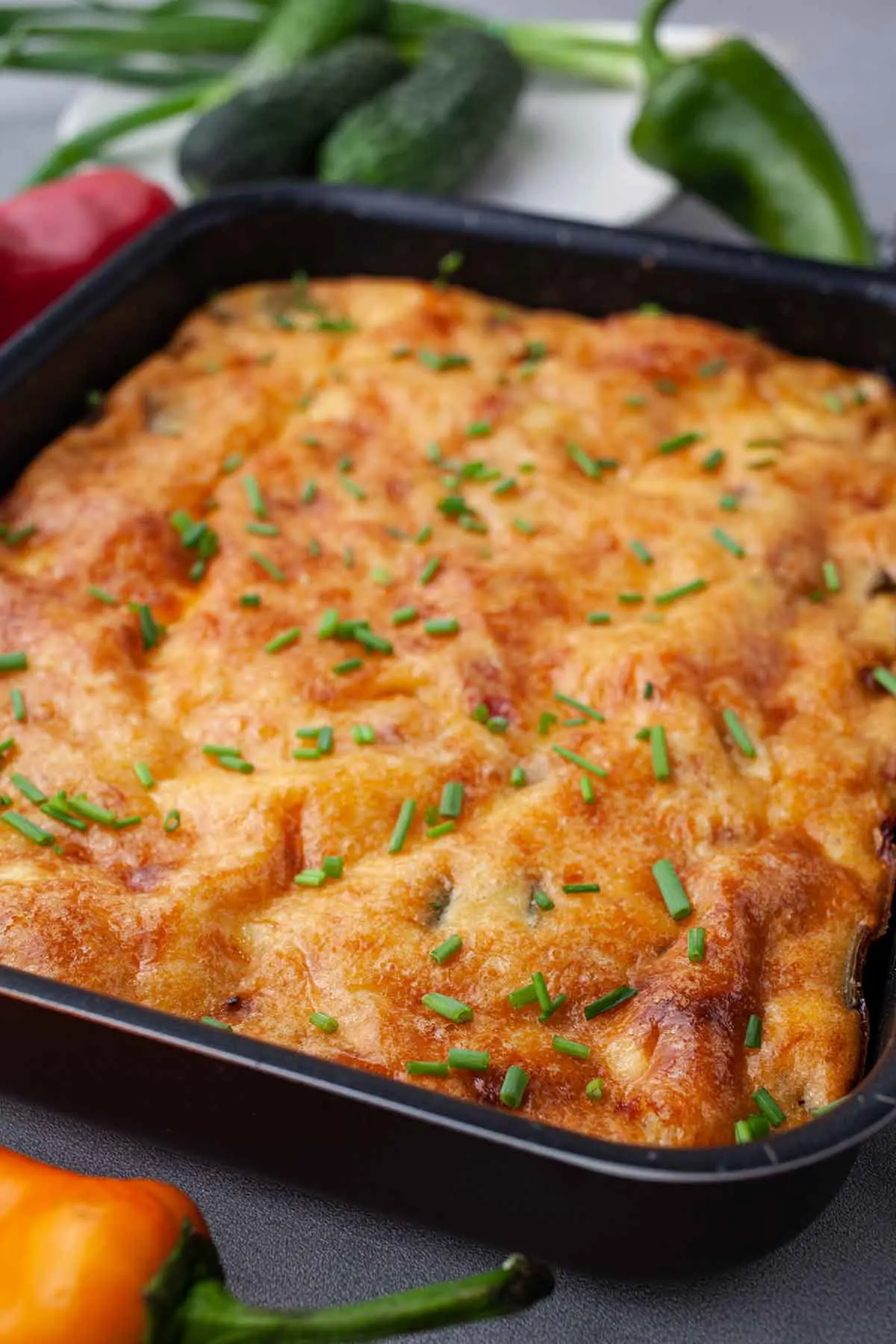 Easy egg bake vegetable combinations
Even if I made this egg bake recipe with peppers, onions and garlic, there are a multitude of other vegetables that can be included to diversify and enrich the taste profile and nutritional value of this baked vegetable omelette.
Broccoli and Cauliflower:
• These cruciferous vegetables add a nice texture and a slightly bitter taste. Cut them into small pieces and blanch them or lightly bake them before adding them to the egg bake.
Mushrooms:
• Mushrooms offer a "meaty" texture and a wonderful umami taste. Make sure you cook them beforehand to remove excess water.
Cherry tomatoes:
• Cherry tomatoes add sweetness, acidity and a vibrant color. Cut them in half before adding them.
Spinach or Kale:
• Fresh or lightly cooked greens add a healthy dose of iron and vitamins. Spinach and kale must be washed and finely chopped.
Eggplant or Pumpkin:
• Diced and cooked until they become slightly soft, these vegetables add a delicate taste and a pleasant texture.
Peas or Corn:
• For a sweet and crunchy note, frozen peas and corn are wonderful and practical additions.
Asparagus:
• Cut into small pieces and blanched, asparagus adds a refined touch and a crunchy texture.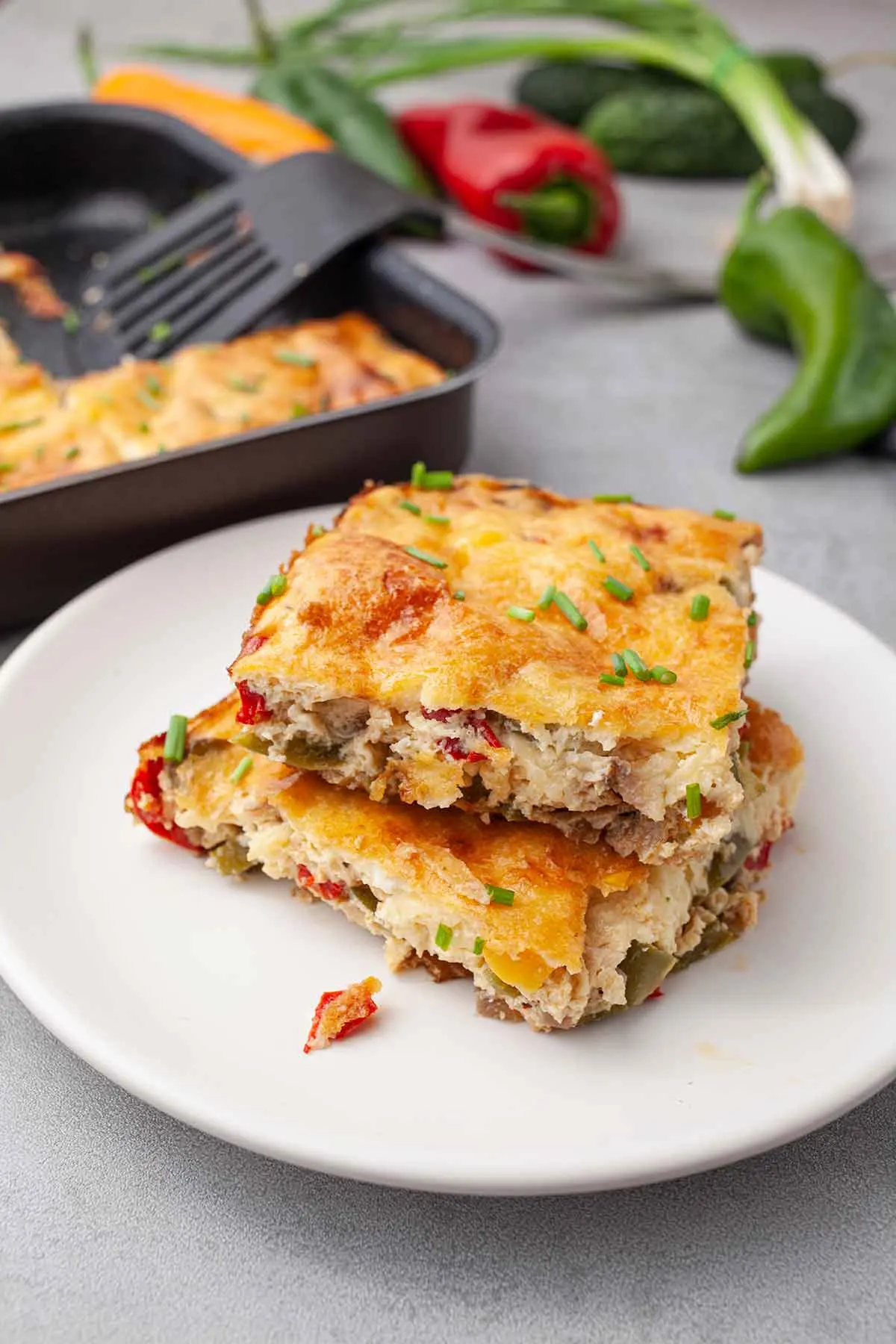 Method of Preparation:
Many vegetables release water during cooking, so it is recommended to cook them beforehand and drain the liquid to prevent a watery egg bake.
Vegetables can be lightly fried, baked, or blanched, depending on the texture and taste you want to achieve for your egg casserole.
Tip:

Do not hesitate to experiment with different combinations of vegetables depending on the season and your preferences. Each vegetable brings a unique set of nutrients and flavors, creating a delicious and balanced egg bake.
Easy egg bake recipe
Yield: 6
Easy Egg Bake (Egg Casserole)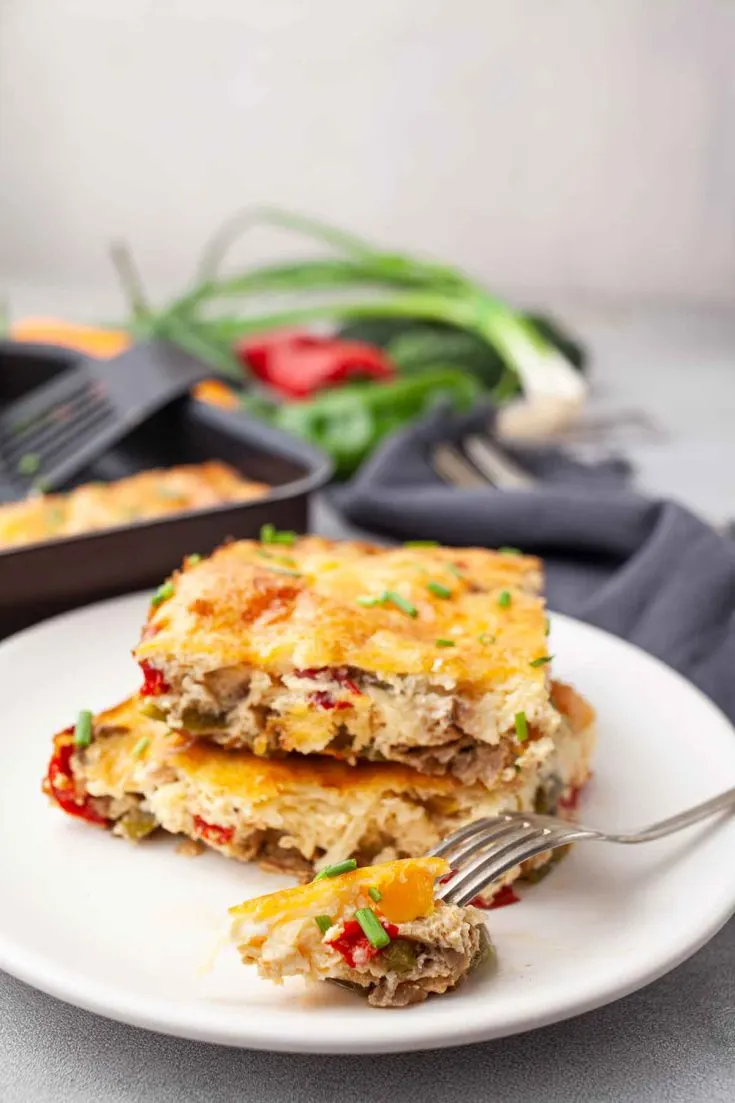 Dive into a delightful breakfast with our Easy Egg Bake recipe! A wholesome, flavorful egg casserole that's simple to make and perfect for starting your day right.
Ingredients
1 tablespoon ghee butter
1 onion, medium, chopped
1 garlic clove, crushed
1 red bell pepper, chopped
1 green bell pepper, chopped
8 large eggs, lightly beaten
½ teaspoon of salt
½ teaspoon pepper
1 cup Cheddar cheese, grated
Instructions
In a pan, on medium heat, add a spoonful of ghee.
When the ghee butter is melted, add the onion and garlic.
Then add the chopped peppers and cook, stirring, for 5 minutes.
Transfer the mixture of cooked vegetables to a bowl and set aside.
In a large bowl, add eggs, salt and pepper. Whisk. Then add the cooked vegetables, grated cheese and mix well.
Transfer the egg mixture to a casserole and place the casserole in the oven.
Leave to bake for 25 minutes or until browned and golden.
Let it cool for a 2-3 minutes before serving.
Nutrition Information
Yield
6
Serving Size
1
Amount Per Serving
Calories

209
Total Fat

15g
Saturated Fat

7g
Trans Fat

0g
Unsaturated Fat

6g
Cholesterol

272mg
Sodium

395mg
Carbohydrates

5g
Fiber

1g
Sugar

3g
Protein

13g
I strive to keep the information as accurate as possible but make no warranties regarding its accuracy. I encourage you to make your own calculations using your preferred nutrition calculator.