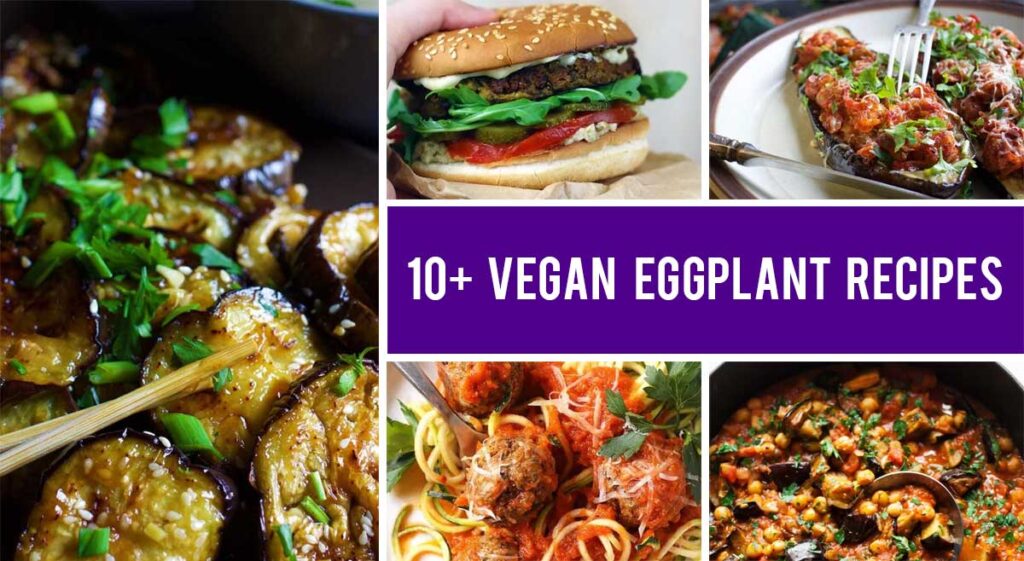 Looking for some yummy recipes? Here are 10+ vegan eggplant recipes you'll want to save for later. Super healthy and delicious!
What's not to love about eggplants? They're a great source of fiber and antioxidants, they're low in calories, and they taste delicious. But there's more: eggplants are also an excellent choice when you want to make a vegan dish.
They're versatile and easy-to-cook vegetables that can be used in many different types of recipes. In this list, you'll find 10+ vegan eggplant recipes that will inspire you to try out this healthy vegetable on your next dinner date or weeknight meal!
And in case you're not a fan of eggplants yet, here are some reasons that might change your mind:
Eggplants are low in calories. Moreover, they contain fewer calories than most other vegetables, making them a good choice for weight loss.
Eggplants are high in fiber and can help you feel full longer, which can prevent overeating. This makes them an excellent addition to any weight-loss program!
Eggplant is a good source of vitamins A, C, and potassium in addition to other essential nutrients.
In addition, eggplants contain precious antioxidants which may help reduce inflammation in the body.
Now that you know a bit about the many health benefits of eggplants, let's talk about how to use them in cooking! 🙂
As a vegetable that requires little more than a little salt, pepper, and olive oil to cook with, eggplant is one of the most versatile vegetables around. You can bake it in the oven, grill it on an outdoor grill or fry it up for some crispy bites of goodness.
Vegan eggplant recipes – quick ideas
Eggplant is an excellent replacement for meat in many vegan dishes. You can use eggplants to make omelets, tacos, sandwiches, and other dishes that usually feature chicken or beef.
Here are some ideas:
Make a vegan grilled cheese sandwich with grilled eggplant slices instead of cheese between the bread slices.
Use grated peeled eggplant as "meat" in spaghetti sauce or lasagna (or any other pasta dish).
Steam large pieces of peeled eggplant until soft then slice them into strips before adding them to stir fry.
You can also use eggplant as a burger patty in place of ground beef. Just slice the eggplant into thin rounds and pan-fry them with some olive oil until browned on both sides. Add some vegan cheese, lettuce, and tomato slices (or any other ingredients you like on your burgers) before serving!
Tips for cooking eggplant
Don't overcook your eggplant. When you're cooking eggplant, it's best to cook them on low heat and not rush the process. Overcooking can cause bitterness that will negatively affect the flavor of your dish.
Don't add salt before cooking. Adding salt before adding your eggplant can cause the water to escape too quickly, which will result in a soggy texture when cooked.
Don't use high heat. If you're cooking your eggplant on high heat, it will be difficult for any of the nutrients in the fruit to be released into its flesh. Instead, cook them on low heat so that they can absorb all of their delicious properties.
I hope this post has given you some inspiration to try cooking with eggplant. There are so many different ways to use eggplant in recipes and it's such a versatile vegetable that can be used in almost any dish. It is also a great healthy option for you!
To get started with your eggplant cooking adventure, check out my list of 10+ vegan eggplant recipes below!
Happy cooking! 🙂
10+ Vegan Eggplant Recipes You'll Want To Save For Later
Looking for some yummy recipes? Here are 10+ vegan eggplant recipes you'll want to save for later. Super healthy and delicious!